People from the era tell their stories.


Jody Wisternoff


You were born in Bristol. What did you like about it?
Well, without having had anything to compare it too at the time and due to the fact I've seen a lot of places in my travels, I'd say the relatively small scale and cozy vibe of Bristol is something I loved on a subconscious level. As for growing up and being involved in the music/rave scene at an early age, Bristol had a huge amount going for it some of which I was lucky enough to experience first hand :)

What music were you listening to in 1988?
1988, the 2nd summer of love lol! I'm pretty sure I was still at school then, and remember blasting stuff like De La Soul and KLF in the 6th form hut. Innocence were also really big at the time, Soul2Soul were huge and basically all the early Bristol stuff was starting to happen as well. Wishing on a Star by the Fresh4 had just been a huge hit in the charts, and I remember telling people at school that they were my friends' lol (or was this 1989??) Smith & Mighty were really starting to come through and had such a raw stripped back, bass heavy sound that it really appealed to me as a Hip-hop lover. The Wild Bunch were doing their thing and were just about to morph into Massive Attack, who used up a huge amount of my listening time. I was kind of into House but it hadn't fully got its hooks into me at this early stage, although tracks like KLF's What Time is Love definitely laid the groundwork for this to take place. Yea, 1988 was an amazing year and I was lucky enough to experience it at the height of my youth.

What made you think you could make music?
Probably the confidence you and Micky Installed in me as a kid, to be honest :) I just remember you guys being very encouraging when I started to show an interest in drum machines + synths etc, and it's probably these formative years that shape your attitude - so thanks for that xx

What equipment did you have? How did you get it?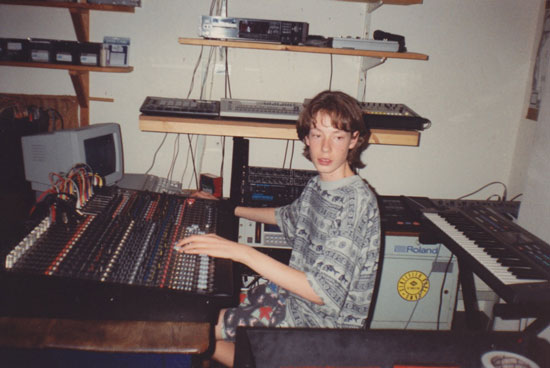 If you want to go all the way back to what I was initially inspired by, it was maybe a reel 2 reel tape machine we had that could do amazing dubby echo sounds and I remember me and Sam having so much fun with it . Shortly after that a friend of the family bought us a Casio CZ1000 and I think we managed to blag a 4-track cassette recorder from somewhere. Alongside my beloved Spectrum computer that was converted into a drum machine (Specdrum), and an SM58 my bro had won in a rap battle, we had enough to make rudimentary music. I was also using (destroying) my Dad's record player in a quest to learn how to scratch like DJ Jazzy Jeff :) Things went up to the next level a little bit further down the line when Smith & Mighty changed our life by sorting us out with a publishing advance which was enough to buy a full blown home studio - state of the art at the time (Akai S1000 Sampler, Studiomaster Mixing Desk, AtariST with cubase, 8 Track Fostex reel2reel, ALesis Quadraverb, Drawmer compressor/gate, etc etc...). Pretty sure I quit school the very next day lol...

What did it feel like to see your face in lots of music magazines?
Pretty cool actually, kind of like things were really happening and very confidence building. I didn't feel any pressure to deliver or anything, at that age you just run on instinct and I definitely didn't have a backup plan - it was music 100% or nothing at all lol... Although I do remember Mick giving me a year to start making money otherwise it was back to the A-levels...

Who were the people you met along the way?
Tristan B was very influential and was extremely generous and helpful in the early days (gave us a Gemini mixer). Paul Shurey (RIP) was also a great influence during the early rave days, having been a believer in the Sublove stuff and famously the curator of Universe/Tribal gathering. I remember meeting Dom Thrup back in 86 and he played me some Chicago house music, telling me this would be the next big thing, and I hated it lol... How times change ;)
Obviously meeting Smith & Mighty, plus all the family (Kelz, Krissy, Carlton etc), was important and inspiring. I remember hanging out with 3D ( Delg ) and Tricky Kid way back in the day, we brought along our TR808 drum machine to a little flat on Picton Street where there was a couple of Technics SL1200 decks set up, and jammed it out with my bro Sam and Tricky taking it in turns on the mic. Tim Westwood was also a great person to meet, he showed some support towards our record on Three Stripe which was amazing for me considering my love of hip-hop and N-Sign radio ( remember this ?? ) I did a lot of work with DJ Die as Sublove, who went on to smash it on jungle / drum'n'bass tip and is still on fire to this day.
Obviously meeting Nick Warren was a huge game changer for me, and was probably the start of what I am still doing to this day.

What did it feel like working with your brother?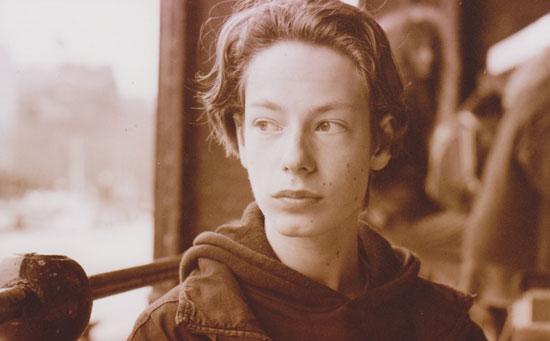 Totally chill, we were just kids trying to copy our favorite Run-Dmc and MC Shan tracks really lol. This is how you learn a trade, however, and I like to think we had a good vibe going on even if he might deny it... I still reckon his flow was amazing, and he held his own up against the Jungle Brothers in the Thekla I seem to remember - even if he did have to stand on a milk crate to be visible ha-ha.

What were the best things to happen, and the worst... and where did you play?
Doing Top of the Pops when Way Out West's 'The Gift' was a top 15 hit was an incredible experience, and every kid from my generation's dream! One of the strangest and maybe worst gigs we ever played was a Spanish dance festival in a place called Vigo. A large Bristol contingency were booked to play, alongside people like Sasha and The Orb, but there were literally no punters at all which led us to believe the whole thing was a money laundering mission. Plus, and we only realised later, but the beer we had been drinking on the rider was infact no-alcohol...

How did you meet Rob Smith + Ray Mighty? And who from Bristol do you still know?
Pretty sure through Micky and yourself lol?? As for people I still know, I keep bumping into Peter D when I go on my morning jogs lol. I see Krissy Kriss from time to time ... Rob Smith is still on the circuit and I've seen Ray Mighty here and there. A good friend of mine is very close to Carlton. I catch up with Die a few times a year...

What happened next?
The whole Way Out West thing I suppose, but this is another story and I'm sure all can be found online...

What are you doing now?
Still totally involved in the industry, busier than ever at the moment with worldwide tour dates most weekends and studio work taking up every waking hour ( alongside an idyllic family life, 2 kids + wife etc etc.. ). It is also encouraging to see the Bristol scene still going super strong, with some of the hottest labels (Future Boogie, Hypercolour, and Eton Messy) all based here and DJ's like Eats Everything doing so well. Viva Le Bristol xx
Interview with Jillo Wisternoff
Words © Jody Wisternoff
Photos © Jody Wisternoff and Jillo Wisternoff