People from the era tell their stories.


Shocwave with Gene Walsh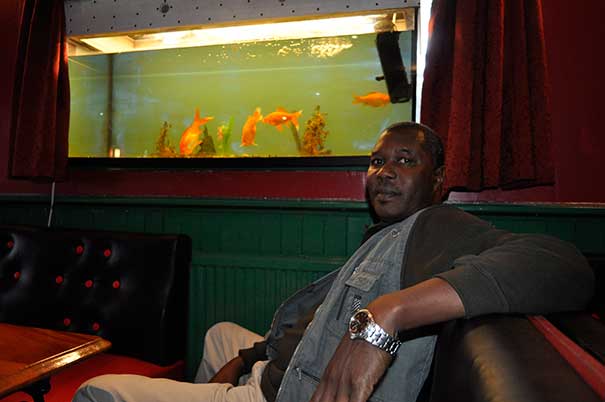 Interviewees:
Gene Walsh (GW), joint owner and founder of Shoc Wave Records (1979-late 90s)
Mike Darby (MD), owner and label head of Bristol Archive Records. Also ex-frontman and singer for The Rimshots, a pop reggae outfit whose first single, 'I Was Wrong', was released on Shoc Wave Records in 1980.
Unless otherwise stated the interviewee is Gene Walsh.

Where were you born?
I was born in the nature isle of the Caribbean, Dominica, on the 28th of November 1953.
How long did you stay and when did you leave?
I left Dominica on the 29th of October 1969. I was 14 and three quarters.
Did you come over on your own?
I came over with my half brother Kent Bernard. Our parents were here and we thought it would be a better life for us.
When you came over where did you stay?
I came to St.Werburghs, Bristol with my mum and step dad. They came over in the 50s.
Where did you go to school?
I spent 18 months in Lockleaze Comprehensive School.
Then what did you do?
I was 16 going on 17 and I got an apprenticeship at Rolls Royce. That's where I met Joshua Moses.
What was he doing there?
We were both apprentices as aircraft engineers. I ended up as a fitter-tester — I would fit and test the engines — working on the Olympus 593 and the Pegasus 501 engines.
When did you finish working at Rolls Royce?
I left Rolls Royce in 1982. I took redundancy, used a bit of money and began my own business and got ripped off. I was driving, doing courier work in a car for three months. Delivering letters or tenders all over the country — London, Manchester, Birmingham. The guy gave me a cheque and because of my good character the bank gave me the money without the cheque being cleared. At Christmas I went back in and she said, "the cheque you gave me hasn't cleared." Then I was in debt to the bank.
What did you do next?
A friend told me they were taking on part-time workers at Cadbury Schweppes in Keynsham, Bristol. I went there and got the job. I was there for 25 years.
How old were you then?
I took redundancy again when I was 51 in 2004. I live now in Dominica.
How long have you been back there?
Not long. I go and come back. I spend roughly a year there. England is a holiday for me now.
Tell me about Joshua Moses. When did you guys first start making music together?
We were going to set up a disco with decks, flashing lights and so forth. Then I started taking guitar lessons from a friend of a friend, an ex-teacher at school. I can't remember the name. He was a friend of Richard Branson who I met at a party one night. Richard Branson said, "you are a musician, you are from the West Indies, why aren't you doing something?" My guitar teacher said, "there you are, there is the encouragement. Go for it!" This was in 1972 and I was in my early 20s. So I learnt to play rhythm guitar and a little bit of bass guitar.
Mike Darby [MD]: That makes sense because Richard Branson in the 70s would have been thinking about setting up Virgin Records.
Gene Walsh [GW]: Did you know Richard Branson started in Bristol? It used to be at the Horsefair by John Lewis in the subway, he had a little record shop there. He left Bristol later and went to Islington.
This inspired me. It was coming up to Dominica's independence and I thought should I try writing a song for the independence celebrations. First, there was a song called Dominica Independence Fever on which I got Joshua to sing, play guitar, drums, keyboards and percussion. I got my girlfriend at that time, Teresa, to do a little backing vocals. I played the bass guitar, rhythm guitar and lead on that track.
In 1967 Dominica became self governing and in 1978 it gained its independence [Dominica had been a member of the short-lived West Indies Federation. In 1967 the country became a self governing associated state of the United Kingdom].
Was the song one you wrote completely from scratch or was it already a known national song?
No, I wrote the whole song. I wanted it to be a celebration song for the island.
Where was that recorded?
In Alma Vale Studio up in Clifton. The success of the record went down because on that year there was a hurricane that swept over the Caribbean. It was no time for celebration. It was a disaster.
Was this the first Shoc Wave record?
Yes it was. It was the beginning of Shoc Wave.
How did you get in contact with the Alma Vale studio?
I just looked it up in the paper. It was £90 an hour I think.
How did you get the records printed up?
I researched for a pressing plant, got friends to do the labels and had it done.
At that early time what was your distribution like?
Well to be honest with you I sold most of it in Rolls Royce. I sold about 1,200 in Rolls Royce to family and friends. It fell flat because of the hurricane, so we didn't get the distribution we wanted.
Janet Kay had a hit at the time called Silly Games, which was produced by Dennis Bovell [Kay became the first black British female to have a UK reggae hit with the song, which reached number two in the singles chart]. A friend of mine, Mike Bernard, was a friend of Patrick Cann who was the manager of the studio where Janet Kay recorded. Mike, who worked for Bosch supplying microphones and revox machines to the studio, dropped my name into conversation and I got a deal. We got £200 for the master of Independence Fever.
How did you know Mike Bernard?
We had our run-ins with girlfriends. We were very good friends, we went out together with girls. Things like that.
Was the Rolls Royce factory much bigger then than now?
Yes, at the time when I was there it had a workforce about 9,000 strong. You won't find 9,000 people working there now. Locally it was a big employer back then.
Where was the recording studio?
GW: In London. The record label that Janet Kay was on was called Arawak Records.
MD: At that time there weren't any record labels in the provinces were there?
GW: No, it was only Gene Walsh who said, "yeah, we can do it. Let's go for it!"
MD: Actually starting Shoc Wave was quite a revolutionary thing at that time, because then you would have another record label in Liverpool or Manchester start up, but before then it was all in London.
GW: Shall I tell you how Shoc Wave got its name? I was watching the news and there was something happening in Trinidad. The news reader said, "Right now Trinidad is going through a political shock wave." I was like "shock wave!"
So Arawak bought the master tape off you for Independence Fever?
GW: Yes, the producer Patrick Cann.
MD: After Independence Fever the second record was the Joshua Moses single 'Pretty Girl'. Tell us who played on that?
GW: Yes, Donovan Jackson and Larry Wilson. It was Joshua Moses' first single.
Joshua Moses worked with Dennis Bovell. Was Bovell ever involved with Shoc Wave at all?
No.
Where was Pretty Girl recorded?
Crescent Studios in Bath, with Glen Tommey and David Lord as engineers.
What about Mad Professor [producer Neil Fraser]?
I never met him.
Buggs Durrant was saying he worked with him.
GW: Yes, but that wouldn't have been to do with Shoc Wave.
MD: So you released the second single. What was your vision for where Shoc Wave was going at that time? One record, and you are just having a go, but as soon as you have made two records you are a proper record label. Once you'd dropped the second record as a 12″ single what was your plan? Where did you see it going?
GW: My plan then was to find out how to make money from records. The way you make money from making records is by publishing the work that you do. Selling the records is good but the money is in publishing. We switched from looking for a hit to collecting a catalogue to apply for the necessary licences to become a publisher and move into publishing. We went in that direction rather than looking for a hit.
MD: Who was involved with you then in Unitone Publishing?
GW: The publishing company was Fitzgerald Watson, Melford Gardener, Joshua Moses.
MD: These were all Bristol people?
GW: Yes, they were.
Is Unitone publishing still going?
GW: No. It finished in the early 90s.
MD: So how did you meet everyone?
GW: I met Melford at Lockleaze School. I met Fitzy along the way through musicians.
MD: So how did you finance it?
GW: By hook and by crook, it was tough.
MD: Where did you think the record label would go? What was your dream, your vision for the St Mark's Road building? If that would have happened you would have taken over but it didn't happen.
GW: Our vision was naturally to be the record label from Bristol before anybody else got there. To make some money, be an umbrella for people to come to and progress under, and to give a little music to Bristol.
MD: At that time Bristol had three other record labels: Heartbeat Records, Fried Egg Records and Wavelength Records. Did you talk to those people or were you on your own?
GW: No, we were on our own because the style of music we were doing was completely different. We were doing the style of music we knew. It was later we decided to branch out to see what else was out there.
MD: Your immediate style was reggae?
GW: Yes, reggae, calypso, soca.
MD: So why did you create these other little imprint labels that things like Buggs Durrant's 'Disco Jump' or Nite Watch came out on? Nite Watch's original 7″ record is today actually quite a sought after, collectible piece of work.
GW: Spiral Records, for example, was controlled by Fitzgerald Watson. He was soul music orientated. He had the soul selection on that label. A little further on, our names started getting a bit bigger and we joined people like Pinnacle Distribution. We found a guy who was very interested in Nite Watch. He wanted his own label. He wanted to license Nite Watch and' Get Down (Cause I Love Your Body)'. His girlfriend worked for Warner Bros. and he thought by using his label to go through Warner Bros. we would have had a hit.
MD: Did you license it again to another label?
GW: No.
MD: At the time I remember you saying to me that you wanted to try and get Talisman and Black Roots on your label. Then you would have become truly one source for reggae music in Bristol. Why do you think that didn't happen?
GW: I don't know, maybe they didn't have faith in me, maybe I didn't know enough about the music industry.
When did Black Roots set up their own record label?
MD: 1980.
GW: At that time there were lots of different things going on. Not just the music, I was involved in a little consortium who had visions that we could be importers and exporters of this and that. Maybe coal, peppers or Yams. When I put forward my ideas they thought they were far-fetched. They thought there was no way we could have done it because we were too small, blah, blah, blah. Yet today somebody else in London is doing the very same idea I had, and sending supplies to Bristol. It's the very person who was sat down at the table with me at that time. I do it a bit now on my own.
Today you [Mike] are doing what I wanted to do 30 years ago. I think Shoc Wave was too advanced for its time.
MD: What I think is an interesting story is Gene had Unitone Publishing and out of that came the imprint label Spiral Records. What Gene wanted to do was pull in the other bands, not necessarily the indie or punk bands but the big reggae bands, so that he could run all the reggae in Bristol, and that's exactly what I am doing today. That's the irony of the whole thing: they all come to me now and run through me and Gene wanted to do that all those years ago.
So, Gene, you were on record number four with Shoc Wave, why did you then pick up The Rimshots?
GW: Well, The Rimshots' type of music was happening. The music was changing a little from reggae to ska: you had The Beat, The Selecter. I said, "let's put our eggs in that basket and see what happens." You try and try, that's all you can do.
When were The Rimshots playing together?
MD: 1980-2.
GW: We kept on a long time. We had a publishing company, we had channel 4 just breaking in, we had The Rimshots supporting The Beat.
Can you tell me about Channel 4?
GW: They had just started setting up and because of the franchises they had to have local bands to represent the area. So they came to Shoc Wave.
MD: You had programs like RPM [Rectangular Picture Machine presented by Andy Baten Foster, 1979-84] on the BBC. You did The Rimshots single and then you did the No Desposit record, which I thought was quite radical.
GW: Once again, not desperation but just trying to please people. I did a wicked interview with somebody and they changed my words. What I said was not what was written in the NME. That's why I don't like doing interviews. The way it came out in the interview was that I was trying to bribe people.
I tried to capture the whole scope of Bristol's music and that's why I got No Deposit to do a couple of tracks, but there was a lot of nastiness going on. Whether they wanted to suppress Bristol I don't know. It was meant to be a nice interview but it ended up me having to do some not very pleasant things to get an apology.
MD: After the No Deposit single I remember that was the time when you started to think about these premises on St Mark's Road. A base for a recording studio, a publishing company, rehearsal rooms. Tell us about that because that would have been mega if you could have done that.
GW: On St Mark's road there was an old bakery, we went and had a look at it and it was big enough for offices, rehearsal rooms, a recording studio and a shop front. Next door was a council house which was dilapidated. We applied to the council and the council said, "yes, you can have it as long as you do what you say you are going to do with it." Then it became about getting the money to refurbish it. We didn't get the money but that would have been the dream. To have all the facilities in one place. I think we would then have had all the artists come around.
When was this?
GW: This was during the 90s. By then we had quite a few tracks. It didn't make money but we were collecting tracks.
MD: How did you get Mikey Taylor [ex-keyboard player for Black Roots]?
GW: Bristol is a small community so all the musicians know each other. Mikey was the guy who was the best keyboard player I've ever come across. He respected my work and I respected him and always supported him.
MD: Where did you used to record then? You stopped hiring out studios and started to record with Mikey didn't you? Recording with Sweet Energy and those sort of bands.
GW: We went back up to Alma Vale studio. We did quite a lot of work there and at Sound Conception on Gloucester Road. Where did we record your song [Mike]?
MD: Crescent Studios.
GW: We also did some work in Rockfield Studios with Buggs Durrant in Monmouthshire with the producer Roger Lomas.
MD: What was he famous for?
GW: He produced Bad Manners' stuff. Sally James' husband was his manager and because of that I met them.
MD: So what did Teresa your then girlfriend used to do?
GW: She was the company secretary, she did all of the accounts. She did very well out of Shoc Wave because we sent her to college, to night school and then she became a computer operator and programmer and so forth. This is why we have respect.
MD: So when did you stop then? What happened?
GW: I can't say. I can't go there.
MD: There was a falling out then? So if we were to bring out a Shoc Wave compilation album would that be a problem?
GW: No, there wouldn't be a problem.
MD: So Shoc Wave stopped but the publishing company kept going?
GW: Yes, Shoc Wave stopped in the late 90s. Then Wella the hair company took the name Shock Wave and put it all over the place as a hair gel. When you cease as a company someone else will take the name. This is why I am now Shockers instead of Shoc Wave.
MD: OK, it's 2012, what was your biggest success from running the record label?
GW: Two bottles of red cap and one case of beer [laughs]!
MD: No, be serious. Was it a particular record you released?
GW: I think my biggest success is watching what is going on now, seeing Mike Darby doing what I dreamt of doing. No it's true. When I look back I think yes that is what I wanted to do. I give you respect.
MD: Why I wanted this interview was because the whole model of Bristol Archive Records is really what Gene was trying to do.
GW: He is showing me where I went wrong. But perhaps if I hadn't have started, Mike wouldn't be doing this now. He might have been doing other similar things, but thanks to Mike Darby Shoc Wave is alive now and is being carried on. You know I went to a friends' house yesterday and he said, "Yeah, there is this guy Mike Darby and he has music and he has some music of mine".
Buggs Durrant said to me that the only money he ever got from his music was the cheque that you [Mike] sent him.
MD: I never made anything either!
GW: Yes, that was the way it was. Mike sent me some money and I looked at it and said right this isn't buying anything else except two bottles of red cap and a case of beer. And that is what I had for my Christmas. I looked at it and said, "yes, go on Mike." I'm proud, very proud of him.
MD: It is funny, it is living again. The musicians are gigging again. The whole thing has come back to haunt us 30 years later.
GW: Which is good because I am telling you Mike, in the next two years something big is going to happen in Bristol. You are going to ring me and say "Gene this is it. This is where we are now." And I am going to say, "OK, go on, go ahead."
MD: OK, well can I tell you this bit of news and see what you reaction is. Can you remember Fashion records in the 80s and 90s?
GW: I can't remember.
MD: Smiley Culture...
GW: Yes.
MD: Well they have just come on board. We have access to their whole back catalogue to go through Reggae Archive Records [a subsidiary of Bristol Archive Records].
GW: Licence?
MD: Yes. It will only help the Bristol music scene. It will elevate the whole thing. Apart from Green Sleeves and Trojan that was the third biggest record label. It was based in London. If you can crack London you have half a chance but we could never crack London in the old days. That is half the reason why things didn't quite come to fruition in the past.
GW: We did get some airplay.
MD: On radio 1 and so forth?
GW: No, Radio 1 only gave us a mention once by Al Stewart. He said, "I would like to play you a record by Nite Watch but I can't." I think John Peel might have spun Mike's track.
MD: What about Fitzy is he still in the music industry?
GW: Yes, he is very well. With G-Spot, Wayne Mashall. At the moment I could be involved with their stuff but I am just waiting for something. I've had enough of, "I will do this, I will do that." Mike Darby has done it. Wayne has got a production team in London that he wants me to coordinate. I want us to work together but he is being a bit reluctant at the moment.
The actual base of the record label was often in peoples' houses and front rooms. You had somewhere on Stapleton Road in Fitzy's house is that right?
GW: Well, we started off in Easton on Anstey Street. From there we moved into another house which was Fitzy's house.
So was there not a place on Stapleton Road?
GW: I think what you mean is Fitzy's place on Anstey Street, which was near Stapleton Road.
Then was there a place in St Andrew's?
GW: Yes, that was my place. Who told you that, Buggs? He is brilliant. After that there was Grimsbury Road in Kingswood.
Tell me about the progression of the music. You started out with soca and calypso and then moved to reggae and Ska and later funk and disco as well.
GW: Yes, on the Nite Watch single on our subsidiary Channel records.
Shoc Wave recorded all over didn't it? Crescent studios in Bath, Alma Vale in Clifton, Buggs Durrant was at Horizon in Weston-super-Mare — were you involved with that? I know that you sometimes distributed for them even when Shoc Wave weren't involved with the actual making of the record.
GW: I did work with them. I forgot about that. I actually invested in Horizon Studio, but I am not going there either.
Buggs also said he did some recording with Shoc Wave up a mountain near Cardiff.
GW: That was Rockfield in Monmouthshire.
Is there a recording studio in Redland that you used to use?
GW: That was Right Track Studios.
Were there other studios?
GW: No that was it. We did a lot of rehearsals in Grimsbury Road.
Buggs mentioned that you set up something for him with Capital Radio in London. Is this true?
We had musicians from The Beat, Ranking Roger's mob. We had them rehearse some songs and we went to Capital Radio for a session. You know that is one tape I never had. It was a nice little session.
MD: Where's the tape? Did you lose it?
GW: Capital Radio used to put out studio recorded music in the early hours of the morning. We actually got paid for that.
Obviously, having already spoken to Buggs Durrant about Shoc Wave perhaps we are talking too much about things that he was involved in...
GW: Sharon Bengamin was there. She sang with The Rimshots. Sharon and Sharon.
Who was the other Sharon?
MD: Sharon Wynter.
Buggs also says there was an event in Goldiggers in Chippenham called The Best Band in the West.
GW: [To Mike] Did you do that?
MD: Probably.
Buggs said that Restriction also played as well.
GW: It was a competition organised by Channel 4. Buggs came second and I think Restriction came first.
Was that something you did a lot of?
GW: No. They contacted me and because they were bands I was involved with I put them forward.
Can you tell me about some of the work you did with Sharon Bengamin?
GW: Yes. I wrote a song called Mr Guy for her.
You did quite a lot of songwriting which has perhaps been underplayed in this interview. You are yourself a musician.
GW: I wrote Mr Guy and played the bass guitar and worked with Joshua, Larry and Donovan Jackson. Back then we were a tight unit together.
Who were Second City Sounds?
MD: That was a band. It was a Music TEK production, which is Mikey Taylor.
GW: I might have filtered it through but I didn't do to much to that.
MD: Who is Haswell?
GW: Haswell were twins from Weston-super-Mare. Both of the guys were good musicians. They worked a lot in Horizon studios but that was the beginning of the end of Shoc Wave and I don't want to go there. We also had Robbie Gill he was quite promising. We had him on GMTV This Morning.
Who were the band Sweet Energy?
GW: Gosh. I can't remember. Marilyn something...
MD: Maryiln McFarlane. She is one of the singers from Smith and Mighty. She was on Three Stripe Records with Rob Smith.
What about Felix DC?
GW: Felix The Cat, he is a singer, producer, keyboard player and musician. He is a genius.
Can you tell me about the regular musicians you got to play for you to put the records together?
GW: Larry Wilson, Donovan Jackson, Joshua Moses, Dennison Joseph from Talisman, Richard Gibbons the keyboard player and Vin Gordon the trumpet player. That's it.
MD: Which record did he play on? He is a massively famous musician and played with Black Roots.
GW: He played on Baby Come Back (Home)
OK, as a final point I have noticed that several times there have been avenues of conversation you have not wanted to go down. It sounds like towards the end keeping Shoc Wave going was quite stressful. Would you like to say a few final remarks about your lasting memories of that time?
GW: I would do it all again if I could. I am glad I started it and I am glad Mike is finishing it. When I lie on my sofa at 9 o'clock watching the X-Files my collection of what Mike is doing now is right there on my side and I am happy with that. That's all I can say. I have confidence in this guy and I know something is going to happen. I am cool. I can drink my guinness now and then when my wages come in. I get my pension on the 16th of this month [laughs]!