RELEASES

Wholesale and Retail enquiries please email for prices info@bristolarchiverecords.com
Search the Record Shop
Me – "Crows Nightingales SHOCK (Best of Me 1991-1995)"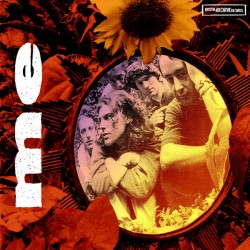 "Crows Nightingales SHOCK (Best of Me 1991-1995)"
by Me
Released on Limited Edition CD and Digital – 16th July 2021 via Bristol Archive Records
On 16th July 2021 Bristol Archive Records are releasing "Crows Nightingales SHOCK (Best of Me 1991-1995)". This will be the first UK-released collection drawn from the many records put out in the early '90s by Bristol-based Anglo-Irish troubadours Me. With Me cited by NME at the time as "effortlessly the best band in Bristol", this new selection of the band's best work showcases the very distinctive sounds of the widely praised but often misunderstood Anglo-Irish pop-visionaries.
With four gifted songwriters onboard, Me's songs were always bound to be insightful, wilful, hook-laden, bathed in soaring pop-sensibility and propelled upwards by tightly ecstatic vocal harmonies. Championed in their day (1988-1996) by the likes of John Peel, Mark Radcliffe and even Bob Harris, Me toured widely – USA, France, Czechia & UK – while putting out two richly varied double-albums and a handful of diverse and distinctive EP's.
This new collection invites a new audience to hear the often unpigeonholeable talents of Me, yet also gathers a fair sample of the band's recorded output for the initiated, who may be wondering where and how to hear Me's music now. Bristol Archive Records will also be re-releasing Me's entire back catalogue via all digital platforms.
"Crows Nightingales SHOCK" will present Me's exceptional poetic-psychedelic vision to a 21st century audience, indeed, new listeners will now be able to hear why Radiohead, during their promotion of 'Ok Computer', cited Me as a key creative influence.
This new Best of Me collection will highlight the group's song writing diversity: epic, tender, fevered, ahead-of-its-time, and just plain gloriously odd! Me were a band who were proud to put out all their records on pioneering Bristol indie label PopGod Records. But this new launch is doubly exciting in that it hopes to reach an entirely new audience, particularly with the expertise and experience of Bristol Archive behind it.
Me & Bristol Archive Records are thrilled to announce this new anthology, which in turn will help to reassert, in timely fashion, Me's justified position as one of the all-time-great Bristol bands.
"Crows Nightingales SHOCK (Best of Me 1991-1995)" is released by Bristol Archive Records on Limited Edition CD on 16th July 2021, distributed by Shellshock and available from good retailers worldwide.
bandcamp
CD
£10.99
Release date: 16th July 2021
Darkwave The 80's (The Dark Side of Bristol) – Various Artists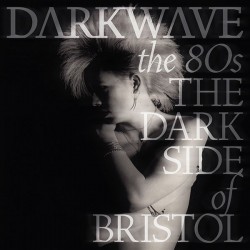 "Darkwave The 80's (The Dark Side of Bristol)"
by Various Artists
Released on Limited Edition CD – 25th June 2021 via Bristol Archive Records
Quentin Crisp going clubbing, Friar Tuck locked in a dancer's cage, an ageing man in yellow speedos on roller skates and a 70-year-old flashing her knickers whilst doing the Can Can on the dance floor! Members of the Cure, Bauhaus and Echo and the Bunnymen passing through and Bristol's beautifully preened punks waltzing to the Blue Danube by Strauss. All of these events and many more were happening at a club that was legendary and at the centre of a music scene that this compilation album represents.
The Bastille run by David Darling was a meeting point, party scene and the musical glue that tied these bands together. Bands that became internationally known such as Specimen and Claytown Troupe and others that made the Bristol scene an interesting and unique one. This album features Specimen, Claytown Troupe, Fear of Darkness, Necromancy, The Escape, The Royal Assassins, Ananda Maya, Temple, Exit Stance, Our Violet Hour, The Long March, Idiot Sideshow, Unity Station and Valve. It's an album that represents the darker side of Punk, Post Punk and then the scene that became known as Goth but represents the variety of musical influences and styles that were involved in those scenes.
This never before documented Bristol scene is acknowledged as having been a huge influence on Bristol's and the nations musical culture. Dedicated to the Bastille and its founder David Darling and with a sagely doff of the cap to music journalist Dave Massey (NME, Sounds) who supported and wrote about this scene in the mainstream and local music press at the time, this compilation presents the first overview of this scene. Another project instigated by Mike Darby and the wonderful Bristol Archive Records.
"Darkwave The 80's (The Dark Side of Bristol)" is released by Bristol Archive Records on Limited Edition CD on 25th June 2021, distributed by Shellshock and available from good retailers worldwide.
bandcamp
CD
£10.99
Release Date: 25th June 2021
Stormtrooper – "Every Now and Then"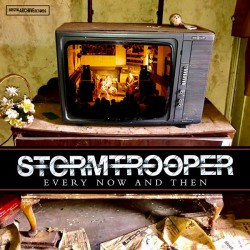 "Every Now and Then"
by Stormtrooper
Released on CD and Digital Download 26TH February 2021 via Bristol Archive Records
It began with a chance phone call from Mike Darby (Bristol Archive Records) regarding a possible remastering and release of the 1980/81 Stormtrooper (Crescent and S.A.M Studios) demo tapes which ultimately led to in 2016 'Pride Before a Fall The 1981 Lost Album'. This motivated Stormtrooper to get together for one last time to rediscover and recreate past works that never made it to the studios the first time around. On the back of 'wall to wall' astonishingly good album reviews and several successful promotional gigs, as well as remarkably (after a hiatus of 36 years!) being voted top band at the prestigious 2017 Brofest rock festival, their aim was to dot the I's and cross the T's on their 'previously unrecorded' back catalogue of songs, to replicate them sonically as close to the original '80's Stormtrooper recordings as they could, in most cases utilising the exact same instruments and effects that were used back in the day! Although two of the seven fell by the wayside, the remaining five songs provide a large chunk of 'Every Now and Then'.
It is hard to pigeonhole Stormtrooper's particular brand of rock music. Like many rock bands from the late '70's and early '80's who fell under the banner of 'The New Wave Of British Heavy Metal' a comfortable one cap fits all, Stormtrooper were far from 'NWOBHM'. Over the six years (1975-1981) that they were together, the dramatic rise from a rather naive tentative Hartcliffe School sixth form band to a confident, highly motivated, and highly drilled, technical rock combo was there for all to see. They could easily hold their own with any of their peers or rivals. This led to in 1980, local Bristol label 'Heartbeat Records' signing them up and releasing the double A side single 'Pride Before a Fall/Still Comin' Home'. Stormtrooper were at this point being touted as Britain's answer to Rush, but they always retained their aggressive 'street wise' almost punk like attitude which gave Stormtrooper their unique signature sound.
The five 'oldies' on the album reflect Stormtrooper's evolution over that six-year period. From the funk rock fusion of 'Boggs Song' to the sword and sorcery of 'Flight of Fantasy'. There is the classic crowd pleaser 'Mississippi Boogie' which does what it says on the tin! 'Joker or The Fool' is a song which probably reflects more closely aspects of the NWOBHM era, lyrics and vocal melody provided and sung originally by Paul Merrell who went on to join and record with NWOBHM giants Jaguar. Last but not least 'Staff of Life' of which a live recording of the song was discovered after many months of searching, and what a classic song it turned out to be, encompassing everything Stormtrooper was about in less than five minutes in one song!
If that was the 'Then' of 'Every Now and Then', the 'Now' reflects where Stormtrooper (as individuals and collectively) are musically today. However, much they have drifted apart, after 36 years they can still amazingly create that unique signature Stormtrooper sound!
With original vocalist Nigel Lloyd having hung up his Stormtrooper hat after the conclusion of the 'Then', the 'Now' vocal duties were undertaken by founder member Bass, Moog Taurus and keyboard player Colin 'Boggy' Bond (formally with Meatloaf, Stampede and The Bernie Torme Band) and guest vocalist Andy Milsom (lead singer previously with Bristol band's Hunted and Ragged Union). The line-up is completed by founder member Bob Starling as always on guitars and Nick Hancox on drums.
With individual music tastes changing radically over the years, this collection of new songs reflects that. With the addition of big backing vocals, 60's aggressive Pop, Melodic Rock with a bit of Classic and Prog Rock thrown in the mix for good measure! But as always framed with Stormtrooper's aggressive Punk Rock attitude to the fore.
If the Pop Rock song 'ETA' is not a hit single I do not know what is!!! The two Melodic Rock songs written by Bob Starling 'As It all Disappears' and 'Hand Grenade' feature the talents of Andy Milsom with his specific brand of catchy lyrics, vocal melody, style, and delivery. 'The Birds' lyrically closely follows the Hitchcock movie of the same name, I'd call it '60's Pop with attitude! 'Silverman', more of a traditional rock song, has the Deep Purple 'Burn' added attraction of duel lead vocals. 'Melodica' is a ripper of a tune that powers on from beginning to end and packs a hell of a punch! The aptly named 'In the End' as it is the last track on the album is a musical tour de force, with everything but the kitchen sink thrown in. It would not sound out of place in an Andrew Lloyd Webber production! The blazing guitar solo provided by Bob Starling at his best, rounds this fantastic collection off nicely.
The original Stormtrooper may have played their last gig in 2017 and written their last song in 1981, but today's Stormtrooper in whatever guise it takes, with the two founder members at the helm, are more than capable of producing great music in true Stormtrooper fashion!
bandcamp
CD
£10.00
Release Date: 26th February 2021
Cass Carnaby – "Learn to Love It!"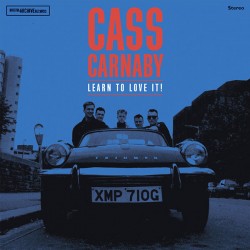 "Learn to Love It!"
by Cass Carnaby
Released on Special 'Limited edition (flip back sleeve) vinyl replica CD' (300 copies only) and Digital Download 9th October 2020 via Bristol Archive Records
Formed out of the ashes of Bristol band Blue Riverside, members Sean Parry, Neil Garland and Pat Evans recruited Phil Elvins and Andy Baker in July 1986 to form The Cass Carnaby Five, a name taken from a puppet band on an episode of Thunderbirds.
They soon set about writing a set of original songs about sex, love, drinking, 60's TV superheroes and what was going on in their lives, rapidly picking up a large loyal fan base that followed them everywhere over the next three years.
The band underwent various member changes during that time and a streamlining of their name, but the music remained the same. Loud, in your face Punk R&B, with always outrageous front man Neil Garland a cross between Steve Marriott and Johnny Rotten. They appealed to Scooter Boys, Mods and Garage Rock fans.
Over the time they were together Cass Carnaby gigged heavily all over the UK, recorded 28 studio tracks but only released one well-received 45 single, 'Captain Scarlet'.
Here on this (Special Limited Edition) CD album is a selection of those wonderful and never heard before tracks. Whenever the band wrote songs or had to make decisions they weren't sure about, drummer Pat Evans would simply shout – 'Learn to Love It!' and so you have it!
bandcamp
CD
£10.00
Release Date: 9th October 2020
The Psychodaisies – "Oh No! Not These Again!"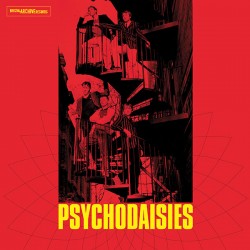 "Oh No! Not These Again!"
by The Psychodaisies
Released on Special 'Limited edition (flip back sleeve) vinyl replica CD' (300 copies only) and Digital Download 4th September 2020 via Bristol Archive Records
Always energetic, always full throttle and always entertaining, The Psychodaisies first got together in Bristol in 1994 and very quickly became a force to be reckoned with on the live circuit. Although formed from members of local rock 'n roll bands, they were heavily influenced by the Mid 60's Freak Beat scene. Fuzzy guitars, Vox Organ riffs & soaring harmonies were the basis of their early sound. Their musical menagerie never truly fitted into any specific genre, so it was hardly surprising that they drew crowds from all walks of life, even gaining the attention of the late, great John Peel.
Although incredibly young, the most surprising thing about The Psychodaisies was the rate of development over the 4 short years that they were together. Their only official independent release was a psychedelic powerhouse called Poppers released on Rubber Kandi Records. However, by the time of their next recording only 6 months later, they were sonically closer to The Pretty Things' Baron Saturday than Pretty Flamingo by Manfred Mann. It was this mutual musical growth that kept The Psychodaisies in touch with their fanbase.
Made up of two sets of brothers and a drummer they met after school, the band along with their manager Andy Baker, were a close-knit group. There was only ever one line-up change when in 1997, Terry called time on playing Bass and was replaced by Richard Mizen. By the time they decided to stop they had gained a loyal following, recorded 5 demos, been played on radio countless times, and received plaudits from the press for their live shows. One can only wonder what they would have achieved given the investment and guidance of a record label.
bandcamp
CD
£10.00
Release Date: 4th September 2020
Apache Dropout – 'Yellow Fever' (The Best of Apache Dropout)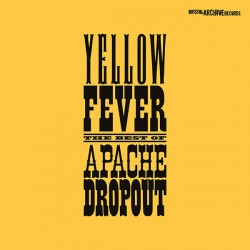 "Yellow Fever" (The Best of Apache Dropout)
by Apache Dropout
Released on CD and Digital Download 3rd July 2020 via Bristol Archive Records
Apache Dropout were formed in 1990 when revoltingly good-looking failed rock star Mike Crawford returned to Bristol after a distant brush with fame in the USA and met Richard Beale recently departed from Head, drunk on words at a children's birthday party. This union resulted in three albums, 'Hey Dopey', 'Live', and 'Masters' which the press described as 'An English REM' – Mojo, 'Classic British song writing similar to Aztec Camera' – Record Collector.
As a band they were doomed but the songs play on in a hopeless honky-tonk hotel in the land of lost legends. Imagine a down and out Exile era Rolling Stones armed with a Tascam 8 track, tincture of opium, cider, the works of Malcolm Lowry and a stack of skin flicks. In their hometown of Bristol, they are still spoken about with the hushed reverence and respect reserved for the all-time greats and this compilation serves to share these hidden gems with the new world.
Apache Dropout: Those Who Have Served:
Adrian Utley, Alex Lee, Andy Price, Angelo Bruschini, Bill Waine, Ben Christie, Bob Locke, Clive Deamer, Charlie Jones, Charlie Rose, Corin Dingley, Gina Griffin, Jamie Hill, John E Vistic, Jon Chilcot (RIP), Joe Allen, James Ryan, Kenny MacDonald, Marc Clements, Paul Horlicks, Tim Jukes, Stew Jackson and Reg Evans.
Yellow Fever (The Best of Apache Dropout) is an album of beautifully crafted songs from the rich vaults of Bristol's vast musical history and is released on 3rd July 2020 via Bristol Archive Records.
bandcamp
CD
£8.00
Release Date: 3rd July 2020
The X-Certs – 'Fussing & Fighting'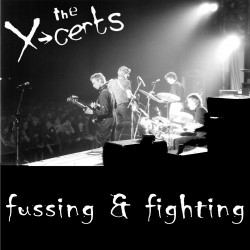 "Fussing & Fighting"
by The X-Certs
Released for the first time on CD 28th June 2019 via Bristol Archive Records
From the very beginning the band were politically motivated and early gigs were filled with songs detailing the frustrations of the time. The political stance of the songs earned the attentions of The Socialist Workers Party and organisations like Rock Against Racism, who invited the band to play at many functions (usually on the back of a lorry ending in a confrontation with the police). The association with R.A.R. helped to promote the band and a dedicated following started to form, some of whom would travel with the band to gigs, in the back of a hired Ford Transit van (sitting on an amplifier if they were lucky, being crushed under one if not!) It was mad, chaotic and full of energetic fun.
The early line up of The X-Certs recorded a number of tracks for Simon Edwards at Heartbeat Records and their first release was "Blue Movies" on the 4 Alternatives EP, shortly followed by "Anthem" on the wonderful Avon Calling compilation album. By 1979 The X-Certs had come a long way in a short time, a Manager was on board and the band were beginning to expand and experiment outside of the "punk" musical boundaries (including introducing a Reggae element into their set), but individual passions within the band were pulling in different directions and eventually Chris Bostock replaced Phil on Bass. With a new member, the band went through a period of intensive rehearsing and gigging, becoming a much tighter unit and with confidence, flexed their musical muscle, found their own sound/direction and started to consolidate their reputation as an important West Country band, especially on the live circuit.
The band became a popular opening act for visiting bands to Bristol and played with The Only Ones, The Angelic Upstarts, Pere Ubu, The Associates and The Buzzcocks, to name a few, but the pinnacle was undoubtedly when they were given the opportunity to open for The Clash during their 16 Tons Tour, at Sophia Gardens, Cardiff on 11 February 1980. The X-Certs arrived in their hired transit for their sound check, only to be told they would need to pay the Lighting Engineer £50.00 if they wanted any lights. A quick emptying of pockets and the money was scraped together, they took up their positions and the stage was illuminated with light. "You need to pay the Sound Engineer £50.00 to" came the sucker punch. Penniless and unable to pay, the biggest gig of their career so far was turning into a disaster an hour before the doors opened.
Nicky "Topper" Headon (The Clash's drummer) appeared to ask what was going on and when told, in true punk camaraderie, he muttered "Fuck that, I'll mix you meself!" So, with Topper's assistance, an hour later The X-Certs opened the gig; with The Clash watching the performance from the wings and 4500 in the audience dancing up and down, could it get any better?
Shortly after supporting The Clash, Simon was replaced by Kevin Mills on guitar and the band looked to forge ahead. It was 1980 and the new line up began to hone their musical sound and direction even further, introducing more reggae influenced tracks and becoming the tightest version of The X-Certs so far. The band continued to gig extensively, but this year also saw the them spending more time in the studio, perfecting recording skills (with the guidance of Steve Street) and preparing to take themselves onto a more mature musical level; the fun and spontaneity from the live sets wasn't lost though, and always ready to try something new for a different sound, the band experimented by recording the backing vocals for "Stop The Fussing And Fighting" in the Studio toilets! Early October saw the band in GBH Studios laying down a pre-recording demo, mid October they were in Crescent Studios, Bath, recording "Queen & Country" and "Visions Of Fate" for the Bristol Recorder 2 album and a few weeks later they were back at Crescent Studios recording their first single for Recreational Records, a self penned reggae number, "Together".
The tracks recorded in that period demonstrated they were now as comfortable in the studio as they were playing live and the even though there had been some changes along the way, the politically motivated passion and rawness was still there, bursting through. A headlining gig at Tiffany's, Clifton in November, the planned release of the single in January 1981 and it looked as if the doors to dreams were beginning to open, but by Christmas it was as good as over.
Bernie Rhodes had tempted some of the best musicians in Bristol away to professional contracts as Subway Sect and then later JoBoxers, this left The X-Certs without Chris on Bass. "Together" the single was released in January and received nightly airplay from John Peel, A-Side and B-Side Dub version. Kid Jensen gave it coverage on his Radio 1 tea time show too, but the band had hit a brick wall. Despite an extensive search for a replacement Bass player and a London gig promoting the single (with a stand in Bassist), the musical chemistry had been lost and the journey that started with such excitement in 1978, fizzled out in early 1981.
bandcamp
CD
£9.00
Release Date: 28th June 2019
The Escape – 'Live in 1982'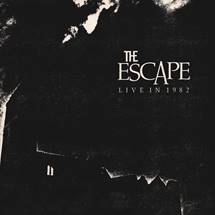 "Live in 1982"
by The Escape
Released on CD and Digital Download 27th July 2018 via Bristol Archive Records
From the stale suburbs, sleepy satellite dormitory districts of the outer reaches and inner city vacant Victorian vicinities of Bristol, three young men came together in the city with a vision to make the public sit up and listen. They wanted to get out there and gave themselves the right kind of name – The Escape.
They were fuelled on a diet of Comsat Angels, Bauhaus, Killing Joke, Echo and the Bunnymen, Television, Southern Death Cult, Theatre of Hate and the combined content of a typical John Peel radio programme, out there fanzines and the most alienated individual anywhere with their prized record collection. A constant input of dark, Goth, strident and nowhere to go angst and alienation combined with a desire to make serious waves drove the band.
In their electric live performances throughout 1982 The Escape seemed at the time like a band of brothers and a tight unit both musically and artistically. Bassist, Stuart Morgan, provided rooted but also sharp-edged lines and visual hair action; drummer Emil (just Emil, no surname) was an intense-eyed polyrhythmic machine of shockwave pulsating percussion, and guitarist / vocalist, Alan Griffiths created sonic mayhem to accompany his tales of searching and scorching assessment of life.
The music industry soon took note. The Escape were given a live review preceded by a full page feature in Sounds before they had even released any material. The NME wrote a smaller feature and the band got attention from local and national radio and TV, leading to sessions and appearances on BBC Radio One and the Beeb's new music show, 'The Oxford Road Show'.
None of the live recordings have ever been released – until now – in what is a seminal release on Bristol Archive Records. 'The Escape Live in 1982' features the band in their pomp playing at student union venues in their home city and in London, as well at a club in the appropriately dystopian surroundings of Basildon in Essex.
Stuart and the now, sadly, late Alan Griffiths – this album is something of a tribute to him – went on to work with U2 and Tears for Fears respectively. Emil stopped playing music altogether in order to eventually to pursue his interest in photography.
But these live recordings show the three of them blasting with early twenties energy, passion and sense of adventure. This is the sound of a young guitar band in full flow and at the top of their all too short game.
The questions were always calling for The Escape, and they answered most of them. Listening to this album may do the same for you.
bandcamp
CD
Pre-Order
£9.00
Release Date: 27th July 2018
The Cobras – 'The Striking Sound of the Cobras'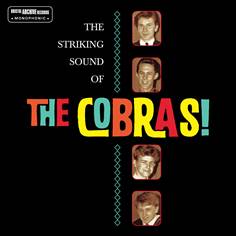 "The Striking Sound of the Cobras"
by The Cobras
Released on CD and Digital Download 29th June 2018 via Bristol Archive Records
Presented in a vinyl replica, greyboard-backed, front laminated 'flipback' sleeve (emulating a 1965-era LP release) with a vinyl style black CD and sleevenote insert.
Comes with a faithful reproduction of an April 1965 edition of Western Scene; a Bristol-based music paper, copies of which are now extremely hard to find.
The influence of Rock n' Roll cannot be underestimated, it has permeated all aspects of British life over the last 70 years. Fashion and Art owe something to the genre, but of course its influence on music has been the most significant. Rock n' Roll gave us such musical luminaries as Elvis Presley, Chuck Berry, Little Richard and Jerry Lee Lewis to name but a few. But it wasn't just the American artists that caught the attention of the record buying public, there was the home- grown talent as well, such as Cliff Richard and The Shadows, Johnny Kidd and the Pirates, Billy Fury and even The Beatles who all tried to emulate their American heroes.
Bristol four-piece band The Cobras were no exception, coming from a generation that had been weaned on the likes of Frank Sinatra, Bing Crosby and Dean Martin, a style of music that was more identifiable with their parent's teenage years than their own. Like most teenagers The Cobras were looking for their own form of excitement, an excitement they were to find in Rock n' Roll and its many derivatives such as Californian Surf Music.
Formed in the early 1960's, the Cobras through hard work and perseverance reached a level of musicianship that enabled them to credibly cover many of the hits of the day as well as performing their own material. Luckily for us they had the foresight to record for posterity many of their practise sessions, live performances, and very limited self-financed studio time.
Listening to the 14 tracks contained on this CD some 50 years later, is a real treat. Compositions from household names such as Chuck Berry, Gene Pitney, Bruce Welch, Little Richard, Duane Eddy and Lee Hazelwood sound as good today as they did when they were first performed all those years ago. And it wasn't just Rock n' Roll that The Cobras could turn their hand too, the Hazelwood/Eddy composition 3.30 Blues really hits the mark, but it's the self-penned tunes that really show what might had been had the Cobras landed that elusive recording deal. Their superb composition "Ghoulash" could easily have been included on any Shadows album or film soundtrack of the day.
The Cobras were never going to topple The Shadows from their exalted position, but with a little bit of luck, encouragement and guidance who knows what they might have achieved.
bandcamp
CD
Pre-Order
£12.00
Release Date: 29th June 2018
The Bristol Reggae Explosion – Best of the 70's and 80's – Various Artists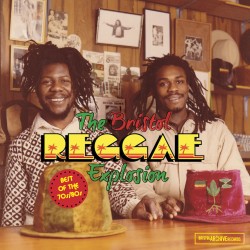 "The Bristol Reggae Explosion – Best of the 70's and 80's"
by Various Artists
Released on CD and Digital Download 25th May 2018 via Bristol Archive Records
Eight years ago, Bristol Archive Records released "The Bristol Reggae Explosion 1978 – 1983", probably the first attempt to document the development of a localised British reggae scene and capture that unique period of the late seventies and early eighties. Despite many hurdles, it was a time that allowed the music to thrive as a voice for a mostly disenfranchised black Bristolian community centred around the inner-city areas of St. Pauls and Easton. The rich vein of recordings made against the odds and ranging from roots through dub to Lovers' Rock, struck a chord with a worldwide audience and allowed us to continue our musical exploration with a further two volumes painting a vivid picture of a scene that was in danger of being forgotten and lost to history.
With the first two volumes deleted and before we continue the story of Bristol reggae with further volumes, we decided we should keep many of the best tracks readily available with a single album compiled from the first three Bristol Reggae Explosions, "The Bristol Reggae Explosion – Best of the 70's and 80's".
This new compilation contains 17 tracks kicking off with "Africa (Is Our Land)", the Dennis Bovell produced classic from Joshua Moses, originally released in 1979 on the More Cut label and a record that regularly fetches three figures for original copies purely on its musical strengths. Joshua makes a second appearance with "Rise Up", a track taken from "Joshua To Jashwha Thirty Years in The Wilderness" which gives a career spanning overview of one of Bristol's most unique voices.
Another distinctive voice is Bunny Marrett represented by his rare 1980 12" cut, originally released on Shoc Wave, "Times Are Getting Harder", a nice slice of underground British roots. In contrast, his second contribution is the more jazz influenced "I'm Free". With a musical career spanning more than fifty years Bunny can probably lay claim to be the patriarch of the local scene. Founding members of Talisman Dennison Joseph and Dehvan Othieno started their musical careers more than forty years ago as Revelation Rockers. Under both names Talisman lead the field with three contributions, "Jah Praises", "Takin' The Strain (Cave Mix)" and the 7" mix of "Dole Age". It's good to know that this label's reissues helped encourage Talisman to reform in 2010 and since then they've gone from strength to strength, even surpassing the great performances they gave in the seventies and eighties.
Two other bands that share very similar line-ups are Zion Band and Restriction, the latter being formed by members of the former. The two bands provide a brace of nice early eighties tracks, "Twelve Tribes" and "Four Point Plan", both originally released on scarce local 12" pressings. The St. Paul's riot of 1980 provides inspiration for 3-D production's "Riot", an overlooked gem when originally released on 7" and a single which is very difficult to find, even in Bristol. Like the rest of the tracks on the album it's worthy of wider exposure.
The late great Popsy Curious, who provided this label with so much encouragement and support, showcases his own unique style with "Chant Down Bobby Rome" before making a second appearance with an entirely different approach as part of Vibes with "My Love". Vibes also featured Veereal and the vocal talents of Winston Minott who lent his distinctive voice to Cool Runnings on the soulful "Playhouse" and "You Can't Pay Me". Unfortunately, female voices are somewhat scarce in the reggae world, but we were able to include Sharon Bengamin's top drawer slice of Lovers' Rock "Mr. Guy". Last and by no means least is another veteran of the Bristol scene Dennis McCalla aka Dallas and "Peacemaker".
"The Bristol Reggae Explosion – Best of the 70's and 80's" is the perfect introduction to the amazing underground reggae scene that flourished without any support from major labels and bears testimony to the talents of the original Bristol bass sound. The album is released on CD and digital download on 25th May 2018, distributed by Shellshock and available from leading retailers and on major digital platforms.
bandcamp
CD
Pre-order
£9.00
Release Date: 25th May 2018