People from the era tell their stories.


Flynn (Fresh 4)

I was born in Bristol Southmead Hospital and grew up in south Bristol, Knowle West.
What I love about Bristol is the people and in the music scene I really found some great people.
I have always loved music but I guess my inspiration was my older brother Rickey aka Thom, he was making mix tapes with his twin tape deck, he would edit it like crazy and it sounded really good. I loved it. He also had a great record collection, funk, soul, disco, two tone, early hip hop, Sugar Hill … it was all there. Then he brought home a cassette tape of Wild Style, That was when I knew that I could make music and be a part of that scene. It was all about turntables and rapping break dancing and graffiti.
The first people I met were local crew's at warehouse parties and Castle Green where there were break-dancing battles and amazing music being played by people like UD4, KC Rock, E-Force, Dirty Den, FBI, Soul Twins, City Rockers, Manfred, 2Bad and The Wild Bunch.
I heard about Tru Funk Posse from DJ Die. He was going round to see Jody, who was making music with and for his brother Sam to rap over. He said I should check them out so I did and they are good people. I spent a lot of time with the whole family it was a good time.
I didn't get to see my face on the side of a bus, but I did see it at the local Gap store and that was crazy, didn't know what to make of it, but I'm glad I had that experience. The day of the photo shoot was amazing - lots of fun, good to see behind the scenes and how it all turned out. At the time of the single it was like two things going on.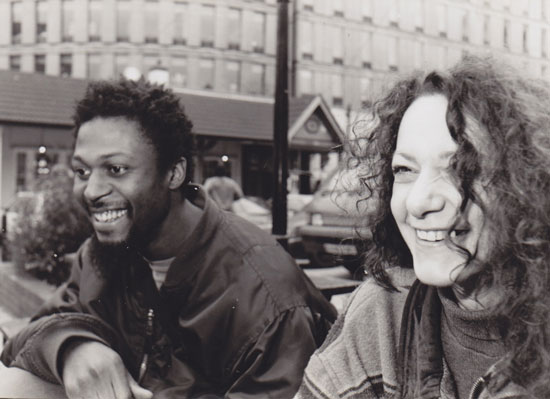 Flynn and Flora
There was the thing happening with my family and friends where they got to see the video and the pictures in magazines and all the hype, which was really good for me to see that excitement for what we had done... and the other side was the running around, the work part of it, where we had to be somewhere to do recording, or interviews it was all good, I didn't get time to really take it all in... it was just happening.
Interview with Jillo Wisternoff
Words © Flynn