People from the era tell their stories.


Jamie Hill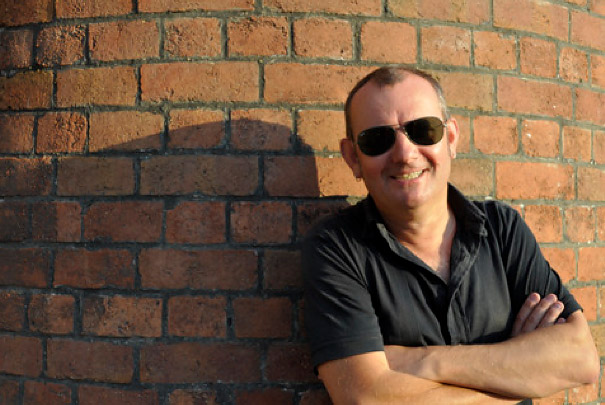 Jamie Hill
by Alex Cater - Jeli Sound Archive / Bristol Archive Records
During the eighties Jamie Hill was a drummer in various bands including Head and the multi-drummer bands Animal Magic and Mouth. To the ear much separates the bands Hill played for. The music ranges from the adrenaline fuelled tribal wig outs on Mouth's 1981 single Ooh, Ah Yeah! to Animal Magic's funky Standard Man, 1982. However stylistically they share a unique blend of punk and funk that was prevalent in Bristol at that time.
Head contained the band members Nick Sheppard of The Cortinas and The Clash as well as Gareth Sager of The Pop Group and Rip Rig and Panic. While Mouth featured Rob Merrill who later drummed for Roni Size plus Nelle Hooper an original member of The Wild Bunch and the producer of Massive Attack's first album.
Hill's work brought him full circle as he was employed by Vital Distribution connected to the well known Revolver Record shop, which is where the Mouth and Animal Magic singles were first released on Recreational Records. At Vital Distribution during the 90s he also worked on distributing Oasis's records and the UK distribution of Nirvana's Bleach.
In this interview Hill talks about the city's music scene during the 70s and 80s, touring with The Slits, recording at the BBC and dining out with Joe Strummer.

This interview was conducted in collaboration with Bristol Archive Records.
So what were your early musical experiences like?
Liking typical raucous guitar bands in the seventies your Thin Lizzys, Alex Harvey, people like that, but also I saw Can when I was about 15, Captain Beefheart. I mean back in those days you only really had the old Lacarno, which is the Academy now is. My first gig in 1972 was Hawkwind believe it or not, I was 12 and I saw Thin Lizzy there. Then we used to go to gigs at the Colston Hall. In those days about six or seven of us would go and we would by two tickets because obviously we didn't have much money and you would go in and one of you would go back out with the ticket stub and you would keep doing it en masse. We would all huddle up on the seats, about six or seven of you watching any old band pretty much.
You gradually establish what you like. Saw some good gigs, things like Doctor Feelgood in 1975, Brilliant. Certainly things like Can were pretty special, Captain Beefheart obviously, things that were a little bit out there a little bit different. I guess that by the time Punk came round in 76, 77, I think my first punk gig then was probably watching the Damned supporting Marc Bolan a few weeks before he was killed. Then obviously things like the White Riot tour, there was a week where there was the White riot tour, The Clash, The Slits, Buzzcocks, Subway Sect. That was like at the start of the week, middle of the week was Television, Blondie, The Cortinas, and then it was the Ramones and Talking Heads, all in this seven day period. Seeing all these seminal New York bands and seminal English bands from that era. Obviously there was many more in that period of time.
Some Fantastic gigs. Basically throughout all my late teens I saw all those type of bands also because I had always been interested in drumming I had always liked Funk type stuff, which I must of heard via my sister and some of her friends and reggae stuff. My sister was like a skinhead girl, she wouldn't thank me for saying that, many years ago when I was like 12, so I knew about ska and stuff like that and just like minded folk. I went to schools that produced various musicians over the years. Gareth Sager, I went to secondary school with him, I went to primary school with Mark Stewart from The Pop Group. These are the movers and shakers in Bristol.
Are these schools still going?
Yeah.
What were they called?
Westbury park primary school and I went to Cotham Grammar school, Mark went to Bristol Grammar school along with Nick Sheppard from The Cortinas, Bruce Smith, Gareth from The Pop Group all went to Cotham. I can't remember where Simon went. Mike Fewins was from Cotham as was Jeremy Valentine and Dexter Dalwood, a well known artist. We were all on the coat tails of that scene and to be fair those guys were probably the first guys to go up to London and up to The Roxy and check all that stuff out. It filtered back to guys like me I suppose. Then just started getting into more obscure stuff, more jazz based stuff through little party nights we used to have via The Pop Group and other bands like the Glaxo Babies.
What were the party nights like?
They could be anything from Paul Stewart, Mark's brother, being buried in rubble in a basement flat in Cotham Hill somewhere as a sort of art installation to just free jazz playing. Just good fun. Everybody always liked James Brown style back beat funk and the Ohio Players, good stuff not the cheesy stuff. A party could be anything from total noise to everyone hitting the floor. Interesting.
You were in a band called Mouth and a band called Animal Magic, could you explain the line up of each and describe the transition between the two?
Well, Mouth was an interesting line up because it was basically three drummers, Rob Merrill who went on to play with Roni Size and other people. Rob's a fantastic drummer and always was, really talented drummer. He played the kit and me and a little known chap called Nellee Hooper who now moves in slightly different circles, we both played multiple toms and percussion instruments and syn drums and things like that. We had a guitar player called Andy Guy who also doubled up on trumpet and we all did backing vocals and the odd spoken word type thing because we were pretty short on material. We used to rehearse up in my flat in Clifton. We did a couple of gigs around town and then one day at a rock against racism or right to work thing, which was at the Lacarno, which I think Talisman were headlining, we were on the bill.
An old friend of mine from school who was a tour manager saw us, and he invited us to support The Slits on what turned out to be their last tour. We bit his hand off for that, said why not this will be fun, I hired a car and we all just crammed into it, slept in one hotel room, had a really good time. Ended up in Scotland up north. Good fun. Good gigs. Adrian Sherwood was doing the front of house mixing and he mixed us every night and he had a great input. Just a cool guy apart from the fact he's a genius producer sound guy. To have somebody like that come up to you and say that was great I love what you do, do you mind if I do a few bits and pieces here and there. Of course you know you're lapping it up. It was really good experience, you got to meet lots of people. Funnily enough I met Viv from the slits a few weeks ago, I hadn't seen her for about 25 years, which was pretty strange.
What were the circumstances of that?
She was doing a gig in Bristol, just a solo gig at The Thunderbolt, a couple of weeks ago. That happened for a year or so, we didn't write an awful lot of stuff. It wasn't going anywhere and they basically kicked me out of the band and carried on as a three piece and did another single. I think it was on Y records, which was the label that The Pop Group put their stuff out. I think they toured again up north with Pigbag, just as a three piece. It was one of those things, basically Rob and Andy could have done it on their own probably with out anybody else.
I immediately got asked to join Animal Magic who had already record an EP which was on the same label that the first Mouth single was on. I met those guys, I didn't know any of them. I initially join as a percussion player because Rob Boswell was playing the kit and gradually we sort of morphed it into a two kit situation and I played percussion as well around my kit. Rob played the basic sort of back beat, and I sort of improvised over the top, we did a couple of singles, we did a lot of radio 1 sessions for John Peel and Kid Jensen [David "Kid' Jensen] that went down really well and got played a lot. They were a really good experience because you got to and use the BBC studios at Maida Vale. If you work properly there, don't muck about, don't waste the engineers time and get out by ten o'clock at night they really like you and they invite you back. We actually made quite a bit of money out of those which was cool, but just the experience was great. They stop short of letting you borrow things like the timpanis from the orchestra studios. They let me borrow a vibraphone just for a number we made up on the stop. I really wanted to play the timpanis. I said can I have those four timpanis? No.
That band ran for a couple of years I suppose, a couple of EPs, a couple of singles we played all around the place. It was good and then it kind of just petered out really. We split into two camps. Howard and Rob formed a band called the birth of Sharon, with a guy called Jimmy Galvin, who you may or may not know about. He's a prominent artist in town he still makes music and I've played with him a long time ago. There is talk about doing some more stuff. He's been on the scene a long time. A guy called Andy Fairley who sadly is no longer with us, Andy was a great friend of Paul Stewart, Mark's brother, really great guy with words, very eccentric guy. Lived up the hill here in flats on Jacob's Wells. His parents were council workers and big cider drinkers and they used drive a three wheeler Renault thing and drive Andy round to cider pubs at 5 o'clock in the afternoon. He ended up with a strange up bring, but he was really sharp with his sort of spoken word stuff and he could sing as well. Sadly he died about 10-11 years ago now. He got very ill, kind of survived the bad illness but kind of just lapsed I guess. He was really good fun, but you could almost say, his presences was a bit like Bristol's Captain Beefheart to a certain degree.
They had that band Birth of Sharon, we formed another band which didn't really do anything, we did some recordings and I've probably still got them on demo somewhere, then we all sort of drifted into different things. Mark and Jill played with a band called A Guchi who I eventually played with. Again it was very much a jazz type thing. I played in a band called 27th Day with some new musicians I met which I really enjoyed, which was guitar, bass, drums and saxophone. We used to play at places like The Avon Gorge Hotel because they had Jazz nights there. We had another guy called Charlie Asha Papa who was from the Ivory Coast and he was teaching Simon our guitarist African guitar playing which is obviously very different. He used to sit in with us, and occasionally we backed him, which was quite an experience because he was used to doing six-hour sets, and I wasn't. I remember doing a gig at the Thekla and getting to three hours and just thinking. I can't play any more, I've got no more ideas, I am completely spent. They were all good experiences, and as you are probably well aware already lots of people overlapped.
Meanwhile The Pop Group had morphed into Pigbag, Rip Rig and Panic, Mark Stewart's stuff, Bruce [Smith] had gone to play with Public Image, after playing with Rip Rig and Panic. Loads of different things going on, Rip Rig and Panic kind of morphed into Float Up CP, I briefly played with them. I think we played at Ashton Court once as a pick up rhythm section for them, you could get away with it and we needed a few other people from different bands, there were a few other bands like Maximum joy, Screaming Dance who were around at that time. Different people, again overlapping musicians.
Until 84, 85 I supposed, Gareth Sager got in touch with the Nick Sheppard from The Cortinas and the last Clash line up, to form a guitar based band, which he hadn't really done before, more of a kind of rock band than an arty band. We had Rich Beale, who did all the artwork for The Pop Group, Rich was going to sing. Nick and I were playing in a jazz band called The Night Caps with a guy called Mike Crawford, who I was renting a flat off of at the time on City road. You may not have heard of Mike but he's still very much involved in local music in many ways. I keep my drum kit down at his still to this day because he's got a rehearsal room there. Gareth came to the studio and said well let's get Jamie in on drums, can you get a bass player? We got Mark Taylor, because, Mark had always been a really expressive player. We rehearsed solidly, proper rehearsing, in the daytime. I was also playing in a band called Spunk Congo with Howard and Mark from Animal Magic which was this psycho-billy-voodoo band, which was quite fun. I was doing that, rehearsing with Head, and playing with The Night Caps and doing drum lessons, so I was playing all the time. It was a cool time but something had to go, so Spunk Congo had to go, I left them because I was run out of time. My knees were killing me drumming all the time. They carried on for a while, eventually Head got up and running and, The Moon Club became our kind of base really. We used to rehearse there and play there a lot, we used to DJ there.
Where is that now?
The Moon Club is the Lakota Club, just off of Stokes Croft. Back fields, and down backfields was Steve Street's old studio whose name escapes me. That's where we used to rehearse, in the very early days of Head. Eventually we used to store our gear at Moon Club because they had a basement rehearsal area, so that was really cool. They also had a recording studio there and people like Sooty who used to be in Vice Squad, was the sound engineer there, he really liked our band, he used to do all our sessions there, he basically came out on the road with us and did front of house for us and stuff like that. Again all these people have sort of morphed over the years. Head got signed to Demon Records and we did an album for them. I got kicked out of that because those were the days of early drum machines. I am not a machine. I probably play better now than I could back then. They wanted everything to be right. The guy who replaced me said you should have played on the album I've done and I should have played on the album you've done. It was that sort of scenario. They went on to sign for Virgin, did a couple more albums, Virgin lost interest and they became something like Phil Collin's Tax Loss I believe.
I kind of felt I was well out of it really. I didn't really like what they were doing in the end anyway I've got to be honest. The first album was good, it had some good stuff on it, gigs used to go well. Gareth and Nick were based up in London but had family in Bristol. Obviously it was cheaper to rehearse in Bristol, a lot easier to get a block booking. We did a lot of gigs in London and all over the place. I presume they played abroad they must have done. They ended up supporting a thing called Bad News that was a comedy band with Adrian Edmondson and all those guys. Comedy Store people, they did a bit like Spinal Tap but an English version. They actually went out on tour with them. Head supported them, played the Colston Hall, places like that. I probably would have walked out of there anyway at that point, I just thought that was ridiculous. But I supposed all the people that put up money, you got to pay the piper you know, in hind sight I thought it was just a rubbish move on their part.
Around when did Head start?
I guess around 84, because the album came out in 86 I think.
Could you describe the sound or stylistic differences between Animal Magic, Mouth and Head?
Mouth because of the drumming aspect I supposed it was quite tribal. It almost had rockabilly guitar type stuff, some heavy chords but quite minimal, but with punctuations of trumpet, we had early syn drums, effects, things like that. A lot of us came from playing jazz rhythms really fast, really good funk rhythms, so it was a real mixture of stuff. Quite a unique band, I've never heard a band that sounded like them since. Animal Magic was basically a song based thing but capable of letting loose and going pretty wild. We would do free improvisation stuff when we had the chance and good studios. Basically song based with Howard writing most of the lyrics and structured songs sometimes just structured around a fairly normal four piece guitar and drums and then adding bits on, horn riffs solos and different percussion. So it was quite nice, some stuff just sat straight away other stuff took a little bit longer to work out. Quite a mixture.
And Head was obviously again song based, because of the people involved and with what other people had done, capable of doing all kinds of different types of music. Nick had just come out of The Clash he turned up at rehearsal with all these Clash flight cases that he hadn't painted the name out yet, very nice guitars that probably belonged to Mick Jones, one of which got knocked over and broken which was tragic.
Who broke it?
Not me, might have been Nick actually. He's in Australia now I did reminded him about it recently because on facebook he put some photos from the time. He bought a load of Gibson TV's which is what Mick Jones always used. If you go touring America you'd turn up at venues, you'd get the local guitar shop coming round, "we've got some of these are you interested?" They knew damn well you cant buy them over here. They were pretty tidy and certainly worth a lot of money today if you still had them so it was bit of a sad day, sombre mood that afternoon, I don't think Nick came back to rehearsal that afternoon. Nick's a great guitarist, Gareth's a great guitarist and Mark's bass was great, it was just a question of where are we going to put the rhythms. It took a little while to evolve, somethings were there straight away others didn't and we had time to work on stuff. Some stuff was a bit hit and miss, some of it was great immediately. I thought and so did a lot of other people. Rich is a great singer as well. Fairly popular band on the live circuit to a point in time.
Things kind of change, I cant really comment when I wasn't in the band. The second album was really good, the third album I was a bit lukewarm about. The second album all the songs seemed to fit together. The first album just seemed a bit bitty, I just felt we've got better stuff than that we should have put on, not that track or maybe that track. We did a version of Me and Misses Jones, the old philly soul thing that used to go down an absolute bomb. Everyone said you've got to release that as a single it's a hit it's going to chart. Everybody was releasing cover versions at that time and we just sort of said no lets do something else. We released our own songs basically, which was financially probably a mistake but what the hell. It's just your integrity.
Head what was their sound like?
At times it was quite heavy, allsorts of stuff, Nick and Gareth were great guitar players. Some of Gareth's solos were great and having seen him five or six months ago with the reformed Pop Group he's still just blasting out the guitar solos that are just his unique style. There are two or three tracks that I can think of he did with Head, I just like listening to the solos alone, they are brilliant. Nick was a bit more of a traditional rock guitarist, but we were well capable of doing anything in that band. And we did at times
Which punk and funk bands did you appreciate on the local scene and when you were gigging?
I can't really think of any funk bands, not in the term of its original guise I suppose. We used to go to funky clubs, hang out and dance. I can think of reggae bands, I can't think of any Bristol funk bands.
The punk bands, there were loads of them like the pigs. I was lucky enough to see most of those classic bands, bands like The Android Pups in Bristol, The X-Certs. I can't remember them all. There were really good gigs at Barton Hill Youth Club, Siouxsie and the Banshees would play, they would be supported by a local band, Adam Ant, all kinds of people before they went on to bigger things. The Cortinas did some good stuff, not all of it... sorry. Some of it was good.
When you say there weren't any Bristol funk bands, what would you define Pigbag as being? From my understanding I thought they were a funk band?
Well there are funk elements, all of these bands took elements, Pigbag were quite percussive, yeah they had a horn section.
Just having a horn section doesn't make them a funk band?
No not in my book anyway, no they certainly did some funky stuff, with hindsight in a modern way. It was quite tribal some of their stuff, a lot of percussion on it. It was quite fast I supposed. If you are going to talk about funk bands then most of them are fairly slow, the actual beat is fairly slow. Until you get onto really cool things like Defunct American bands like that, a lot of it's quite slow and harks back to what King Curtis would have done in the late 60s. Musicians who played on Aretha Franklin's greatest songs, great rhythm sections like Bernard Purdie, people like that.
How would you define Bristol's interpretation of funk music?
They would take a beat or a guitar riff or whatever, which you could say was a fairly bog standard type of thing you might hear on a James Brown track and just add stuff to it and take it in a different direction. I think that was the difference between a lot of bands that came out of that period, whether it got industrialised or dubbed up, or whatever, different layers on different sounds. If you bought an ice cream and you chucked nuts on it, or you chucked sundae on it, or whatever, you threw bricks at it. Whatever sticks I supposed, people try different things, just new avenues. I think that's probably the fairest way to describe it.
What was the Bristol music scene like at that time?
I guess coming out of the mid-seventies, when there had been more hippy bands, when you had Ashton Court Festival up in front of the Mansion house rather than the big thing that it became later on. You obviously had the r'n'b stroke punk stuff that morphed into what we have been talking about. The Dug Out Club up Park Row which is long gone, was a night club that I first went to when I was 16. I was quite short when I was 16 so I was lucky to get in. That was a scene for a lot of people for along time, certainly the Wild Bunch, Massive Attack scene, the DJs, Nellie, and Grantley would have all started in there, amongst other places as well. Then you had clubs nearby, all long gone sadly.
Live music in terms of Bristol, you had a lot of little clubs, back in the punk days, there was obviously the Bamboo Club, which was a west-Indian club that Tony Bullimore used to run, the sailor, what am I talking about, business man I should say, failed sailor.
Why was he a failed sailor, how can you be a failed sailor?
Because he was rescued out of the Australian Ocean, he was doing a round the world race, a very lucky man to be alive. He owned the Bamboo club, bands like The Only Ones played there, Bristol punk bands. The Sex Pistols were due to play there, on what was called the SPOTS tour, (Sex Pistols On Tour). When they were banned from everywhere they did a tour -SPOTS tonight at the bamboo- but the bamboo went up in flames. Rumour has it that it was an insurance job, but we won't go into that because that's libellous. Even the poster for the night that it went up had flames going all up it, so who knows.
There were other little clubs like the BG Club, which was round the corner from the Bamboo, I saw a classic gig with The Slits and The Spitfire Boys, it was just mental and you had national front guys coming round, slightly football orientated so you get these bust ups and rumbles going on. We used to have gigs at Bower Ashton, that was a little later. Saw Jonny Thunders and the Heartbreakers, supported by The Pop Group and somebody else up at Ashley Down, Barton Hill Youth Club did loads of gigs, you had various other clubs that are five minutes from where we are sitting now that are no longer there. The Green Rooms, The Stone House Club, The Western Star Domino Club, that's where Head did their first gig in Bristol. All these little smallish venues.
You obviously had the Colston Hall and The Lacarno as it was then. Bands like The Cortinas got to play The Lacarno, I am pretty certain The Pop Group did as well, they were obviously part of the scene as well until they changed to different things. A lot of the small venues have disappeared, there's other ones now. Bristol got to the point where, the other key place was trinity hall, I saw one of Joy Division's last gigs there, New Order played one of their first gigs there. They had some brilliant gigs, like The Cramps played there. Too many to mention.
That was a really good venue but they were all of a certain size, it got to the point where in the early 80s Bristol needed a really big venue. Here we are 30 years later and Bristol still needs a big venue. Something like The Newport Centre, which has been going 30 years in Newport. They were talking about doing something by Temple Meads a few years ago. It never materialised, a load of money got wasted.
Do you have any anecdotes involving notable people?
One of the funniest nights I had was with Mark Stewart and Garry Clail who did the On-U sound stuff and Joe Strummer. Joe did a gig with his American band, this was after The Clash. Obviously Mark knew him from early punk days. I knew of him obviously, I knew other guys from The Clash, because of Nick and being in Head. I met Paul Simonon and Mick Jones just in the pub in London you know. We used to play football with them at the Warwick on Portobello road. We used to meet these people on a Saturday night and play football with them, not all of them but some of them. But Strummer I didn't know and we ended up in a restaurant in Park Street late at night. I think its well documented that strummer was quite a crafty bugger, he was obviously after Mark's girlfriend. To cut a long story short he left me Mark, Gary to pay this bill and we didn't have any money, in this quite heavy restaurant, in the early hours of the morning. To this day I can't remember how we got out of it. I would imagine it was Garry Clail's very smooth tongue that did the trick, Gary had been there, done it and talked his way out of it. I don't think we ended up washing the dishes but it was that sort of scenario and strummer buggered off with Marks girl anyway. Quite a funny night but it changes your opinion of people like that, god rest his soul he's not here to defend himself. So that was quite funny.
In particular do you want to talk about what you were doing with Revolver Records?
Obviously I knew, of Revolver from being on Recreation Records and just knowing people that worked in there. A good friend Pete Felt worked for them, still does believe it or not, Grantley from massive attack used to work there, in fact my sister in law Debbie used to work there, various people.
In those days that was the sort of place where you could buy good reggae stuff. Adrian Sherwood used to deliver records that he had done. That's how they used to do it way back. My friend Pete worked for them, and as they became a bigger company, got larger premises, became a proper distribution company. In 1989 I got a job via him and worked for them till 2000, I worked for them for 11 years basically, became one of their warehouse managers until it became a bit corporate. Got bombed out of that 11 years ago.
Obviously it being a very unique working environment and watching the company grow. We did all of Oasis's stuff from the first single, we went from turning over a million one year, 12 months later we turned over 12 million. On the back of Oasis we did Nirvana's first album that was on an American independent label, after the success of Never Mind that was really selling. The Oasis thing was unprecedented I don't think there had ever been sales like it, the singles continually selling right the way through the third album, it was astonishing how many records that band sold.
With that we picked up allsorts of labels like 4AD obviously Creation. It got be a very big company, loads of guys, I mean Mark who was in Animal Magic worked with me, loads of different people. It was a cool place to go and work and as I said when I was younger I never wanted to do a 9-5 but it was a bit different there, because everyone was up for the music. We all had to work hard it was cool everyday you would go home with goodies, guest list for gigs, t-shirts, records, CD's, loads of stuff, it was quite a unique place. That got hammered into me when I got made redundant from there that I would never work in an environment like that again. It was scummy [work after Revolver], you see that side of life you think that's why I didn't want to do that all those years ago. Working for revolver became Vital ([PIAS] UK Distribution) and still is Vital. It helped me buy a house, things like that. Obviously now the physical distribution element has changed as the entire market has changed with the internet and downloading. There is still a bit of physical distribution going on and Vital have an office in London. They must have a warehouse somewhere, not in the scale that we used to have. Sad really it's a funny business but that's another story.
What year and what dates were you working there?
1989-2000, I was 29 when I started working there and about 40 when I finished. And the rest is history.
Ok thank you very much Jamie for talking to us, it's been really good.
My pleasure. Excellent.
Interview conducted by Alex Cater