People from the era tell their stories.


Chris Brown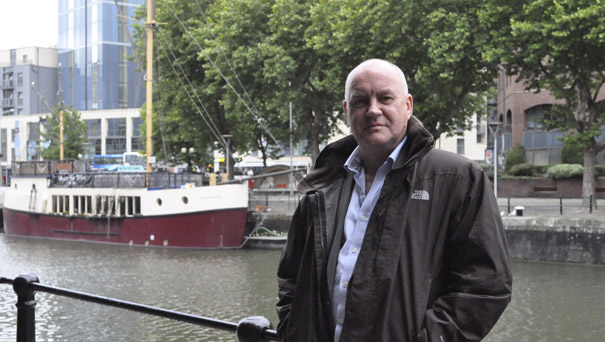 So would you like to introduce yourself Chris?
Hi, my name's Chris Brown, I am 55 years old, born and bred in Bristol. I've lived here all my life and grew up in Henbury. In my teenage years I got involved in football. I used to follow Bristol Rovers and I got involved a bit in football hooliganism. Nothing too major, I was never a major player. I was also right into my music, in the seventies especially. The full gamut of music from those days: ska, reggae, soul, funk, right through to punk. A few years ago I wrote a book about this period, it originally came out as Bovver, it has been reissued under the name of Booted and Suited. It tells the tale of a lad growing up in Bristol in the 70s, his passions, what he got involved in and some recollections from other people as well.
So what were your early experiences of music like?
I think like a lot of people I was influenced by my siblings. I was certainly influenced by my brother. My brother was a bit of a mod and so as the 70s started, and I was 14 or 15, I could hear these incredible sounds coming out of his bedroom - apart from the obvious. A lot of Jamaican music. In the early 70s I was listening to a lot of ska, motown and soul. It was probably that that influenced me more than anything. As a 14 or 15 year old you didn't hear any of this music on a radio station, you had to go out of your way to find it. Perhaps my earliest recollection of a great record was Guns of Navarone by the Skatalites. I can remember to this day hearing that and coming out of my brothers bedroom and thinking, "what was that?" It was like nothing else that I had ever heard.
Growing up you were involved in football, can you tell me a bit about that.
Well, I started actually going to football about the late 60s, following Rovers. I can't say that there was any connection between music and football in those days but I do recall later in the early 70s a lot of the skinhead music would be played at football. It would come over a tannoy, you would always hear Liquidator, to this day at a lot of football clubs still play it. It has become a very well known chant.
Who was that by?
That's Harry J and the All-Stars. You probably are familiar with it. It's played at a lot of premiership games. I certainly remember almost every club in the country playing it. Chelsea in particular have adopted it as their song. All the fans would sing along to it. The football fans would singing along to the music that was played and perhaps adapt the lyrics. I think that is very well known, especially back in the 60s with Liverpool and how they adopted You'll Never Walk Alone. It was purely because it was a record in the charts by a local band. That did sweep across the country and I certainly remember in the early 70s you heard things like, Let's Dance by Chris Montez. That got adapted too: instead of Lets Dance, it became Let's Fight. There wasn't a real association with this music, you wouldn't go out and buy it. With T.Rex, you wouldn't hear them being sung but turned into football songs instead. Especially when glam rock took hold. That was very much a boot boy image, so Slade became very popular with a lot of boot boys. Even dare I say it Gary Glitter, Rod Stewart, people like that. I would say that that music was probably closer associated with football than reggae and soul was.
Who wrote You'll Never Walk Alone and what was the significance of that?
You'll Never Walk Alone was Gerry Marsden and the Pacemakers. It was purely because they were a Liverpool band and they were singing that song and Ferry Cross The Mersey. Then there were Beatles songs as well, they just latched on to that. You used to get the whole crowd singing along. It was just a bit of entertainment really but as the 60s or 70s progressed that singing developed a darker side. A lot of it wasn't just about supporting your club, it would be about being offensive to the visiting fans. In fact I've heard this story about a famous song by Jim Reeves called Distant Drums. Somebody once said this was the first football hooligan song. It was in the charts, I think mid-to late 60s, awful song to be honest but football hooligans sung it for the first time about the opposition fans. Instead of singing "I hear the sound of distant drums," they sang "I hear the sound of distant bums, over there, over there, and how do they smell? Like fucking Hell." It was the first time that instead of singing about your club and in support of your club you were actually singing your hatred of other fans. So it was quite a watershed record. I think from then on, come the 70s, just about every song was a song about hating the other fans and the violence you would inflict on them. It got quite bad. Most of the singing was not about your own team at all, it was all about the opposition.
What musicians do you remember seeing and where?
There is something quite odd about white working class kids, they were never that fanatical about their music enough to go and see bands. A lot of the hippy kids or the jitters as we called them were into their progressive rock and that sort of stuff. They would be absolutely fanatical about early Pink Floyd and Led Zeppelin and other such bands that I can't even recall - to me they were that bad. It seemed to consumed them; they had to buy the latest album and they had to go and see the band. With a lot of white working class kids it wasn't like that. You were just in it for two or three minutes of entertainment, so your songs would be your favourites from Motown or the Trojan label. The artists didn't mean so much, the record did. It meant something about in the pub, in the club or in the youth club, something you could sing along to or dance along to with your girlfriend.
There were more records in the late 60s but that was a bit before my time. There was the soul reviews, the Stax reviews and Atlantic. They would come over and get a good following from the mods, skinheads, suedeheads and smoothies but you didn't have that association, you didn't have a real pull or desire to go and see these bands. I certainly didn't. I bought singles but I can't think of one group or singer that I was fanatical about that I needed to go and see. What's more because it was Jamaican artists they didn't really appear in the venues that you could readily go along to. I mean the famous club in Bristol was the Bamboo Club, sadly no longer there. That was in St Pauls. For a guy of my age and size, it wasn't really the sort of place that I could visit. I would see the bands that were playing there, you would see the adverts in the evening post all the time and I would have loved to have gone along to see them. People like Derrick Morgan, Laurel Aitken and Prince Buster but sadly it wasn't to be. I honestly think the first band I went to see was Hot Chocolate down in the Colston Hall. It really doesn't do my credibility that much good but I remember seeing them. In what was the old Top Rank - later called Romeo and Juliet's or Bailey's - I saw Chairmen of the Board, Delfonics and a couple of other bands like that. It was because they were there on a Saturday night and you were going there with your girlfriend anyway. Good nights. The first real one that sticks in my mind was the Fat Back Band at the Colston Hall, probably about '75 or '76. That was absolutely massive, all the soul fans were out in force that night. That was quite a credible night.
Where were they from?
Fat Back Band? Obviously an American band, I don't know where they were based. It's because I am not a fanatical anorak about them. I have seen them a couple of times since. Probably some of the guys, might be from Chicago. Great band, they still turn out really good music.
So why did you call them the jitters?
Jitters? I don't know really, it was a derogatory thing obviously. We were skinheads and you didn't really like anybody with long hair. They were generally known as hippies but we called them jitters. That was just how we knew them. Of course there were the bikers as well, who you were a bit more scared of, they were also know as greasers and greebos. You wouldn't call them a greebo to their face though because they always tended to be a lot bigger than us. So yes, there were some interesting times and interesting battles with them in the early 70s, but jitters you just looked down your nose at them. I can't think why they had been called jitters.
So why wouldn't you go to the Bamboo Club, or why was that not to be?
Quite a few white kids did go there, but in its hayday I was too young, simple as that. It was a licensed bar, I couldn't have gone in there. They had a record store down below and I remember going to that one Saturday afternoon. I believe quite a few white skinheads did go there in the late 60s to early 70s and the mods would have gone there as well. I did go there in the late 70s actually because then they started putting on punk acts. I saw a few punk bands there and I did have tickets to go and see the famous SPOTs tour, which stood for Sex Pistols On Tour because they couldn't tour under their own name - no venue would put them up. They didn't play that day. I did have a ticket and I had that ticket in my wallet until a few years ago. We were all set to go and low and behold the weekend before they were set to play the whole place burnt down. So that would have been '77, '78. It never reopened, that was when it shut. One of the great regrets I've got is I never got to see the Sex Pistols even though I had a ticket for them.
If you wanted to buy your vinyl records there was a very well known shop on Picton street called RCA records. That stood for Record Collectors Association. It was run by a guy called Ray and his dad. It was really the only place you could get west Indian music or soul music. Even then you wouldn't know the records because as I said earlier you couldn't hear this music at all, a lot of it was word of mouth. You would go down on the Saturday morning and they would just play music and you would try and buy it, I say try and buy it because a lot of people would say, "I'll have that one," and the RCA might only have one copy of it. It was a great little shop, full, absolutely jam packed with records and singles. It just had a great vibe in there and was a really nice place to hang around on a Saturday and buy music. But to actually go and see live bands, that just wasn't the done thing for us really.
Do you remember any local bands or artists?
No, in my early days I just wasn't into it. Later in the seventies, yes, I suppose the most well known one was The Cortinas. I never saw them, I didn't think they were that great to be honest. I didn't know their music. The pub I used to go to had a lot of the punks in there. I suppose I really wanted to hear The Sex Pistols, The Clash, The Jam, Lurkers, The Damned, people like that. The Cortinas didn't really float my boat. So no, I wasn't really aware of local bands. I can't really think of anybody, I am not saying they weren't out there, it just wasn't my thing at the time.
What importance does Derrick Morgan's single Moon Hop have to you?
Derrick Morgan was a great... he still is, he's still alive actually. I saw him a few years ago. A very underrated...
He must be very old.
He is very old and virtually blind now. I didn't realise at the time when I started writing the book but I was very clear that I was going to write the book about the 70s. So it was quite obvious where it was going to start, January 1st, 1970. I looked back at what records were around in those days, because I would have been young then. I was only 14, I cant say I was right into my music. I was hearing it from a certain brother's bedroom and that was about it. I've got Moon Hop but I didn't realise when it came out, it was when I looked back at the charts of those days that I spotted it. It had just hit the charts, it made number 49 or 50 in the charts and was there for only one week. For people who are looking for top classic records of the seventies it wouldn't even register but for a lot of skinheads it was a big, big, record. Actually, it did sell a lot but because it sold in specialist shops like RCA it didn't register in the national charts. They did have a following. Desmond Decker was at number one the year before, 1969, with Israelites. That was monumental, to get a reggae record at number one. There was a lot of stuff by say The Maytals, Derrick Morgan, Prince Buster, Jimmy Cliff, people like that. There were a lot of them around. That record [Moon Hop] it just seemed insignificant to everybody but to me that was the height of his stardom in this country. Then low and behold when I went to check the end of the 70s, the last record in the charts of 1979 was an E.P. by The Specials. It was a live E.P. called The Special AKA Live! and on that was a track called Skinhead Moonstomp which of course a lot of people would have heard of. Moonstomp was originally done by Symarip but it was in fact a version of Derrick Morgan's Moon Hop. So there he was at the end of the decade the very same record, or near enough, in the charts. I just thought that is an amazing coincidence. It was nice to write about it.
So who were the Ashby Brothers?
Well in the mid 70s, say '74 onwards, funk really became massive in the country. All of the clubs were playing funk music and again it was music you couldn't get to hear. Very little of it was played on the radio. There were a few specialist programs on Saturday evening but you couldn't really get to hear of it much. Even in the mainstream clubs so a lot of the small clubs were playing it: funk music and heavy soul. Two of the main exponents of it were a couple of brothers, Steve and Adrian Ashby. They started up a club called called the Avon Soul Army. They had been doing local gigs and touring around but they got a venue in the 70s at a club called the Guildhall Tavern, which was in a small street. The building is still there, it became Fosters, the cellar bar is still there.
The Ashby's just started playing really good funk music, especially on a Saturday lunch time. A lot of us would go there before we went to football, we would be there one Saturday[Rovers] and City fans would be there the next. There usually wasn't much trouble, I think they did Saturday evenings as well though, there might have been some trouble then. It was great, they played this music from across the Atlantic and if you didn't know what it was you used to go up and ask someone. They would tell you what it was. They used to produce their own charts, print them and hand them out. Those charts were based on requests and how popular the music was. Back then you would be talking about stuff like Juggy Jones and Inside of America, Oliver Sain and Bus Stop, Brass Construction, Fat Back Band, Ohio Players. Cracking stuff, I mean we were mad for it. You could get it in specialist shops in Bristol but a lot of it you had to go up to London for. I remember going up to London and buying some myself.
How did you go up? By bus?
I actually hitchhiked up.
That must have been an ordeal?
No, you could get around. I think hitchhiking was more popular in those days than it is now. It was just an accepted way of doing it. I think it was Tower Records, around Piccadilly where you could get it from. There were outlets here, a few specialist shops who sold it, there was one up Park street called Revolver. They used to sell it. But the Ashbys were incredibly popular and well known. They are behind the Soul Train night that is still going now. Massive now. Together with a couple of other guys, Paul Alexander, Lee Haskins, a few others.
What's Soul Train?
It's a sort of revivalist disco. They tend to do them just on bank holidays. They are now down at Motion. It started off as a reunion really for the Guildhall Tavern boys. God knows how many years ago they started, ten or fifteen. It has grown. To me I would say it has got a little commercial. A lot of the younger ones tend to go there now however when they first started it was really people who could remember those good old days. I won't knock them now, they are still playing and are incredibly popular. As well as the Ashbys there was Seymour Baugh and his selecta Superfly, they were probably the first black DJs that I used to go and see. I remember them from the Cellar Bar in The Rummer. It was great going down there on Sunday nights. It was the first place where I got to hear of classic soul and real good funk music. So that would be maybe '73,'74. I was quite young then. There was another guy as well who was a white guy, Paul Russell. It was just a really good time. The black and white kids used to mix, there didn't really used to be any trouble because everybody was just going there for the music... and the women obviously, which does help.
What did Paul Russell play, did he do anything different?
No, he was the same. I mean there were a lot of DJs on the circuit in those days but most of them were the Jimmy Saville sorts.
Can you explain what you mean?
Very commercial music. The sort of stuff you would hear at weddings, birthdays and even dare I say it bar mitzvahs. Where as these guys were playing music that the kids wanted to hear. They were very specialist, they wouldn't play anything from the charts, in fact if any of the records that they did play then subsequently did get in the charts they would usually stop playing them. That was something that they said.
I would definitely say that the first sort of top DJs that I remember seeing in Bristol would have been, Paul Russell, Seymour and Superfly, then just after that came the Ashbys.
So what was the kind of time period, can you give a vague date?
Yes, when I first started seeing them it would have been about '73. They may have been performing before that but that was definitely when I remember hearing them. The '74,'73 period and definitely in the Rummer. They went on for a long time after that, I think they were at places like The Western Star Domino Club.
Did you ever go there?
I did occasionally, that would have been the late 70s, early 80s. The height of the soul and funk scene was '75,'76. The year 1976 being that incredibly hot summer that some of us of a certain age can remember well. The music was just out of this world. The best really.
Would you like to expand on that a bit?
I think '76 was a seminal year, there was some great music about and it sort of mixed with the weather. Funk music just fell in line. Brass Construction especially. Their album had come out. That was a seminal album. Some of the tracks on that were brilliant. Movin, that was just awesome. Changin, reminds me of Donald Byrd who came out at the same time with Change [makes you want to hustle)]. That always reminds me of that period. That was a really fabulous time. Within a year or two to me it was sort of on the wane because punk started to come along. Things changed, and funk music went a little more underground. It went jazz funk with Lonnie Liston Smith and people like that. It was just getting a bit too jazzy, for me. I didn't really get into it. Punk came along, at first I just thought what the hell's all this, I just didn't understand it, but it didn't take long for me to really get into punk. From about '77 that was it, I was just into my punk big time.
Was 1976 a bit of an explosion year for punk, was it definitely 1977?
If you talk to people really in the know, Malcolm McLaren and Tim Williams. They are going to say 76.
Was there a fall out between what was going on in London and when it came to the wider youth culture?
I think '76 was quite a seminal year, whether it was that heat I don't know but things were definitely changing in London. Malcolm McLaren was really looking for a new direction. He had been over to New York and had been working with the New York Dolls. I think he wanted to do that in this country, he wanted to prove that virtually anything can sell as long as it has the right image. His shop [Sex] had been going for several years and when he got The Sex Pistols together it was that that was the explosion that ignited punk rock. There's a lot of debate as to where did punk rock start. It is certainly New York and London. He was the brains behind it, it really launched it. By the time that it did spread to the rest of the country, it was '77. Of course it was the jubilee year for the queen. There was a lot of anarchy. There were a lot of people against the monarchy, against what they stood for and against the queen. '77 just made it but I would say '76 was perhaps what ignited it. Then it followed on, and in '77 it really exploded.
So who is Roy Savage?
Well when we are talking of the punk scene in Bristol, there would have been a lot of people involved in it but one particular friend of mine was a guy called Roy, Roy Savage. I knew him from football. He was quite a character. In his earlier days he was always known as Rod because he looked like Rod Stewart. He used to have his spikey hair and his tartan scarf. I always remember him going through a clock work orange period as well dressed all in white and eye make up. He was a good character, Roy. I liked him a lot. I remember him as a DJ, he used to probably appear at a lot of places but where I remember him from is a rather seedy pub in St Pauls called The British Queen or The BQ. On Saturday lunch times DJs used to appear and that's where I remember Roy. He used to go under the name of Play Misty For Me, which was a reference to an old Clint Eastwood film, where Clint Eastwood is a DJ and he's being stalked by some woman. I am not quite sure what the relevance was to Roy or Bristol. He played punk and he also played a fair bit of reggae. Reggae was making a bit of a come back then in '77, sort of dub reggae, the heavier stuff, which I was never particularly fond of. I was more of a ska, rocksteady and reggae man. A lot of white kids couldn't really associate with dub, it was a bit difficult, it was all about Babylon and rastas. Not our scene at the time but dub when you heard it in a club was pretty impressive. It made your ears bleed. Roy mixed in a bit of dub with punk and it went down well. It was at the time when in London you had The Clash and Don Letts was their producer, they were crossing over into this music as well. You listened to the clash and it was virtually all based on Jamaica rhythms. They did Police and Thieves for instance by Junior Murvin. Then of course you had two tone which was the same sort of thing a bit later, to us in Bristol listening to Roy on a Saturday lunch time was pretty good going really.
Do you remember DJ Derek?
Not in those days, I probably would have come across him in RCA records but I didn't know of him back then. I can't remember the first time I saw him but he's massive now isn't he? He has appeared at Glastonbury. I have certainly seen him a lot over the years at places like The Black Swan. I've been to the Black Swan quite a lot, I've seen a fair few bands. I went to a gig in Reading as well to see Derrick Morgan: Derrick Morgan, Laurel Aitken and Owen Gray were there and DJ Derek was on the bill as well. I've certainly seen him and know of him. I don't know when Derrick started actually doing DJing, I think he was like a lot of people, just collected reggae. I think he may have been down the Star and Garter first in St Pauls, which we did used to go to but not when it was a music pub. In the late 70s we used to go back to the Star and Garter but that was just for late drinking. It wasn't known as a music pub then, so I think Derek must have got into it in the late 80s.
So when were you going to the Star and Garter?
We were going there in the late 70s because a mate of ours went out with the landlady's daughter but it wasn't a music pub then.
Do you have any anecdotes involving notable people?
There was the event at The BQ, which has become a bit notorious. The Slits were performing there and it has been rumoured that Don Letts was the manager that night, but I am not sure if that's true. It did end up in a big riot. Quite violent and vicious.
How many people were involved?
I am trying to think back now, I mean it was a small pokey pub. It was packed, with mostly punks and skinheads - let's say of the right wing persuasion. There was a lot of fascist chanting going on. The Slits were heckled off stage. There was a lot of stuff thrown at them and what not. A black roadie came on to clear all the gear off and got attacked himself. The rumour afterwards was that that guy was Don Letts because he used to manage The Slits. That was the rumour, whether it's true or not I don't know.
I've since met and chatted to Prince Buster, that was at the Bierkeller a few years ago - incredible character. When I did go to see Derrick Morgan I actually asked him to write something in my book because the first page of my book does mention Derrick Morgan. I've been a fan of his nearly since those early days. Of course he is actually blind now. When I went back stage to meet him I explained the book to him and read out the first page. He was chuffed to bits, he said "oh great." I asked him if he could sign it, he said he would. This was actually in Reading town hall and it was just on the desk there. He went to write in my book and he put the 'best wishes' and when he wrote the 'Derrick Morgan' bit he was actually off the edge of the page and he wrote on the desk. I don't think he even realised so all I've got in my book is 'Best wishes' and then I think there's the 'D' of Derrick and that's about it. The rest of it he has written on a desk in Reading town hall. I'm sure somebody went to work the next day and thought who has been writing on my desk. I didn't really rub shoulders with any musicians from those days at all.
Tell me about Prince Buster?
Prince Buster is still going, he must be in his 70's now. He was a real hero to the mods and the skinheads, he did songs like Big Five, Ten Commandments, Al Capone, which were all great records. If you asked a lot of kids what records they bought they probably would say Tighten Up or Tighten Up Volume II and Prince Buster's Greatest Hits. I would say that if you didn't have either of those two records in your record collection you are not a bona fide skinhead. He was that important to us.
So what were skinhead fashions like?
They were great, they looked superb. Some of them obviously looked militaristic but it was really smart. Quite expensive clothing actually. Take away the big boots which everybody associates with skinheads and there were some really nice clothes; tonic suits, Trevira suits, Ben Sherman shirts, Brutus shirts, the shoes would have been loafers or brogues, sheep skin coats. All of this stuff was not cheap. The famous Harrington jacket, the original was actually called a Baracuta jacket, not many of us could afford them in those days so you would get stuff that looked like it. A lot of the gear we would get was actually from ex-army stores, Marcruss down on Hotwells road was a favourite. It's still there now. We would get the old suede or leather zip up bomber jackets, which we believed were from the Korean war. Whether they were or not I don't know. Of course a lot of pubs and clubs stopped you going in if you were wearing boots and the rest of it. The fashion did tone down a bit, hence the tonic suits and shoes like loafers and brogues. It was very smart it might be a bit different when you went to football. You might put on more of your fighting gear, older clothes and boots. That was the original skinheads, late 60s early 70s. Then there was a skinhead revival in the late 70s, which I wasn't part of really. I didn't associate with that. That was when it got very uniform. They wore flying jackets, just about everybody was wearing those olive green jackets; skin tight jeans often bleached, worn halfway up the calves; highly polished Doctor Martin boots with all sorts of different coloured laces that were meant to associate themselves with different views. It was very political, which in the early 70s it wasn't. That lot in the late 70s, I tried to disassociate from them.
In what way was it political?
They were very right wing. It was odd, a lot of them didn't even get into reggae music at all. They did the two tone thing and they got into Oi! - a sort of offshoot from punk. It just wasn't my scene at all. They weren't all like that, don't get me wrong. A lot of them tried to emulate the spirit of the '69 skinheads, which were the original skinheads, they weren't racialist in anyway but the breed from the late 70s early 80s was to me fundamentally different.
Do think there was a reason behind that?
Well, at the time the NF [National front] were really gaining ground in this country. We had a labour government then, late 70s, there were a lot of problems in this country - you had winters of discontent. Then the Tories got voted in in 1979 and there was just a massive amount of friction on the streets, massive unemployment and a lot of white working class kids blamed the immigrants. Of which I did as well, so as much as I didn't get wrapped up in the fashion of the second generation skinheads I suppose that's when - to my shame - I did get involved in right wing politics. A lot of kids did for all the wrong reasons and I did as well. You went to football, football had some dark times and the NF were recruiting at football grounds. You saw it as a way out.
Scapegoating?
Yes, thankfully most of us saw through it in a year or two and realised that that's not what it's all about. You went back to your roots and thought "well hold on a minute this just isn't right, how can I have associated myself with black music all of my life and now make out like I am a racist." We went with the flow. If there is something I have regrets about it's that period.
Sometimes it is quite difficult to think for yourself.
It was a long time ago now and with football the terraces really were a nasty horrible place. It was an extension of the violence that showed itself in politics and in hating somebody for them being a different colour. Then to me that was what happened. To me there was a lot of hate in the country. And it just got wrapped up in taking on the immigrants.
So could you talk a bit about the hooliganism? I guess you have in your book.
I never wrote the book to be a sort of manual to football hooliganism. There is a lot of this hooli-lit out there. Mine was never meant to be about that, mine was about trying to put the story straight about what the 70s was like, about its music, fashion, culture. I guess because I was a Rovers fan and I regularly went to football, it was the constant in my life. That's why the book is known as one of those hooli-lit books as well but it's not up there with Cass by Cass Pennant, or Scally by Andy Nicholls. To me they are really promoting the violence. I never wanted it to be like that but it has got lumped in with those. I am not denying it, I was involved in football hooliganism and I'm not trying to make out I was a major player, I wasn't. For a lot of kids who went to football in those days, if you were a teenager and you stood at the ends of football stadiums it was almost inevitable that you would get involved in trouble because it was so rife. I almost grew up with football hooliganism, I started going in 1968 when really it was just starting. I just thought it was the norm. I though that's what everybody did. I've found people my age who were into football in those days and didn't get involved in football hooliganism, to me that seems odd. People might think "what are you on about?" but that's how it seemed to me. That's what you did, you went to football on a Saturday afternoon and you got in a fight. I just couldn't see anything wrong with that. I'm not talking about really nasty stuff. You went away, you tried to get on their end, or visiting fans would try to get on your end so therefore you fought with them to get them off.
You followed the team to away games?
I followed Rovers to away stadiums around the country, yes. Wherever they were playing, most weeks in those days I would go on unofficial coaches not run by the club. There might only be 50-100 of you, not a lot. You'd go to some godforsaken northern place and have a few drinks, get on their end, have a fight, get thrown out, get arrested and chucked back to Bristol.
Was that part of the appeal?
Definitely. I don't think there were many who got involved in it accidentally. There was a certain amount of fair play, you didn't get involved with fights with people who weren't like you. You just took it for granted that if they came onto your end they wanted a fight and vice versa. If you went on that end of the ground you wanted a fight. You didn't really get involved with young kids, or scarfers as they are now known - people who don't want to fight. That's just what you did.
The scarfers were people who just wore the team's colours?
Yes they are sought of known as that now. People who wear the shirts and the scarves so therefore they are not game, if you like. Back then as a teenager, if I spotted another teenager wearing a scarf then I would leave them alone but if I saw another lad who looked just like me, dressed just like me, acted like me, then he was game for a punch in the mouth; the same as I was.
Do you have any lasting memories of the period?
Many, that whole 70s I think was a great decade. A lot of people look back on it and they smirk or they take the piss out of it, and think it's got no credibility. It is scorned because of the fashion and the music. People have just got it so wrong about that decade. They will always go on about flares and afros, it just wasn't like that at all. The start of it was the skinheads, the smoothies - great fashion. Yes, it lost its way a bit with glam rock but ended again with a fashionable look. In '79 you had every sort of fashion you could imagine on the streets, you had soul boys; the early casual movement, the casuals were starting to wear their early designer clothes; you had skinheads again; you had suedeheads; you had teddy boys they had come back; you had mods who were making a massive come back; you had absolutely everything. That was just in the late seventies, so in the rest of the decade you had everything going on. Plus you had the music, there was just the best music. I really think the 70s was the best and yet people remember it for afros, velvet and ABBA.
And bad wallpaper.
There was a lot of bad wallpaper. A lot of clothing was brown, as were the cars - I don't know why. There was a lot of crap stuff, I'm not denying it but underneath all that it was the best.
Thanks a lot.
Thank you.
Alex Cater Nov 2011