People from the era tell their stories.


Richard Burley
The Story of the Hanham Hopefuls or Is the Circle Half Full or Half Empty and Other Such Rubbish
By Richard Burley

Reading this back I realise that it could be the story of almost anybody who wanted to be a musician in the 1960s/70s: the aspirations, the fallings-out, the power struggles, the winners and losers, the blood! Still, here's my small part of it. It was a roller coaster ride (to quote Texan songwriter James McMurtry, 'it's a damned short movie - how'd we ever get here?') but I wouldn't have missed it for the world - the squalid rehearsal rooms, the funny little gigs, the scheming and plotting, the sitting night after night at Crockers wishing we were up there playing, the wondrous, transcendent moments when the music all made sense (even if it was in 25/8, whatever that is).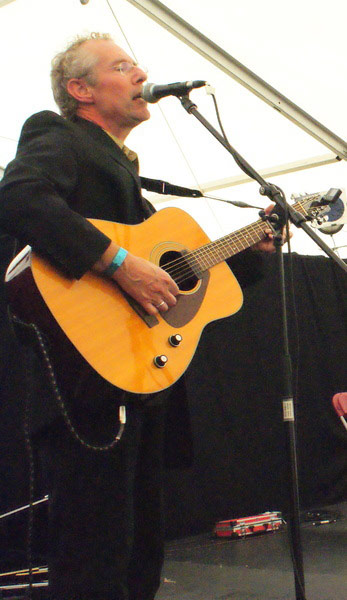 In the summer of 1976 I graduated from Reading University with a degree in English and came back to my hometown, Bristol, to work in the library at the University there (what else can you do with an English degree? Don't answer that). Before I'd gone away I'd been an adolescent hopeful, not sure if I wanted to be in the Rolling Stones or The Liverpool Scene and had played music with friends in bedrooms, church halls, etc, never really doubting that the big time was just around the corner.
Before long I joined up with an old friend, Dave Willmott, who had a band out in Kingswood called Down to Earth and needed a singer (having recently lost the resident one). I wasn't too keen at first because I considered myself a guitar player and songwriter rather than a singer, but Dave and I were good friends, very musically simpatico (having grown up together as budding songwriters and guitar heroes) and any band with Dave in it didn't need another lead guitar player, so following a delegation from the band to my bedsit in Redland where I was in bed, weakened by a 'flu virus and thus low on resistance, I joined. We had no doubts that we were going to be successful and I used to find myself often worrying how I was going to tell my hard-working parents that I was going to be a rock n' roll star - a bit different from now, when it might be seen as an acceptable career move by today's parents.
We used to haunt the upstairs bar of a pub on Cotham Hill, called Crockers. They had live music most nights of the week. There we'd sit, watching the aristocracy of Bristol bands at the time: Loony Tunes (with Roger Pomphrey, later briefly of Eurythmics, on guitar), the wonderful Dragons (with the brilliant Huw Gower on lead guitar), Planetz and my favourites, Back to Back, who played wonderful soul and funk. We picked apart every note they played mercilessly, because we knew we were going to surpass them, good though they were. There were no punk bands and we wouldn't have gone to see them if there were - we were 'serious' musicians. It took an old friend forcing me to listen to The Clash before I 'got it' where punk was concerned.
Down to Earth practised in the basement of a laundrette somewhere along Regent Street/High Street in Kingswood, with Dave and bass player, Rob Pompey, living above in suitable young man squalor. On rhythm guitar was John Andrews and on drums, Mike Hoddinott. These two were neighbours, still living at home in Tudor Road, Hanham, where I originated from, but were both much younger than me - Mike was 15 at the time. The music was all self-penned stuff written by Dave and didn't really fit any style - it was an odd fusion of Folk/Rock and Jazz -Rock with a definite nod to early Yes.
We practiced a couple of nights a week and at weekends but never played any gigs for some reason (though they had played just one to a home audience, across the road at Kingswood church hall, before I joined). The two most remarkable things about the band were the obvious burgeoning of Dave's guitar-playing and songwriting and the meteoric development of Mike Hoddinott's drum technique, the progression of which Dave made his mission to encourage, so that he had a drummer to match the growing sophistication of his own playing.
Down to Earth inevitably came to grief (I can't remember why now, though I recall Rob, morose and love-lorn, playing Elton John's 'Don't Let the Sun Go Down on Me' repeatedly whilst Dave was brimming over with enthusiasm for Daryl Stuermer's guitar lines on Jean Luc Ponty's Aurora album, so I guess musical difference probably had something to do with it). There was a hiatus until we all (minus Rob Pompey) came together in 1977 as Full Circle. We rehearsed manically at Holy Trinity Vicarage near Old Market, with me on vocals, Dave on lead guitar, John on rhythm guitar, Mike on drums and a guy from Birmingham, called Eric, on bass and keyboards. There were several bands all rehearsing at the vicarage, many of their band members actually living there as well, so it was a lively, if somewhat sonically-disorientating place at times. It was particularly mind-blowing when the radio calls from Trinity Road Police Station opposite came screaming through our speakers whilst we were playing.
Full Circle showed just how much and how quickly Dave and Mike had developed as musicians. Dave's playing and writing was becoming increasingly complex, as was Mike's technique. The Yes direction was even more dominant, as indeed was Dave's hold over the band. Although I did get at least one of my songs into the set and we co-wrote a couple, it was very clearly a vehicle for his musical expression. This was actually (though frustrating for me as a songwriter) very good for us and made us grow as musicians very quickly as we strove to realise Dave's very particular vision.
Eric soon became a casualty, as he wasn't really signed up for this, and we persuaded John Andrews to switch from guitar to bass, which he did very well, acquiring a Fender Jazz bass and giving it his best shot. We were then short of a keyboard player and Dave identified one he thought suitable. His name was Ben and lived somewhere of Chandos Road in Redland. At this point I was beginning to find the Dave's domination of the band difficult to handle, since I wanted to perform my own material, so when Ben was asked to join without, shall we say, too much referral to the opinion of the rest of the band I decided to quit. I had just seen John Martyn at the Anson Rooms in the University Union as well and that just made me want to break out on my own (this was a damascene moment for me and is still the yardstick by which I regulate my musical efforts).
Full Circle carried on, naturally, with Dave taking over lead vocals. We had played a few gigs by then (including the good old Bamboo Club in St Paul's on a bill with The Vultures and The Cortinas - saying everything you need to know about the British music scene at the time: a jazz/prog rock band (us) on the bottom of the bill, a ska/reggae band, The Vultures, and a happening punk band, The Cortinas) on the top of the bill). There were also a couple of gigs we didn't play: we never got the chance to play a club called Chutes on Park Street, though we'd been booked, because it closed down - very sad, as we saw it as quite a prestigious gig; and we never got to play the Bamboo Club for, I think the third time, because it got burned down (the night before the Sex Pistols were due to play there) and so we couldn't fulfil our booking. The band continued to gig fitfully after I left: certainly they played Crockers on Cotham Hill and The Granary as everyone did in those days. A recording was made in a Bristol studio and things looked quite bright for the band, but again I believe it foundered and Dave went of to play for a band up in Leeds for a while. These were lean times for musicians who were not playing Punk or Reggae - gigs were few and far between.
In 1980 with Punk safely over and a revived interest in more complex music, Dave, Mike and myself decided to team up again and brought in Bob Shipway on bass. We practised at the Dockland Settlement until around the time of the St Paul's Riots but I didn't feel things had really changed and decided to go back to college.
Dave and Mike went on to be successful in music. I believe a version of Full Circle toured with Sister Sledge in the 1980s and indeed another version is still playing today, though I believe that Dave has taken the band in instrumental Jazz-Rock direction. Mike Hoddinott, of course, is now an internationally known and respected drummer, as indeed he deserves to be.
I played in a folk duo, Escape Committee, with a guy called Chris for a while, (playing the Stonehouse Folk Club I recall and committing the twin sins of playing a 'rock' beat and refusing to get off when we should have - actually they were very nice about it) then I returned to college. I flirted with music a bit in the intervening years but didn't really get back into it seriously until 2006. Since then I have been performing as a solo singer/songwriter and recorded an album Time Spent Counting Magpies with Bath producer Richard Riley in 2009 which picked up some good reviews in magazines like Maverick, and some airplay, particularly in the USA; and I also play in an Americans fusion string band, Appalachia, which is going from strength to strength, playing pubs, arts centres and festivals.
Is the big time still just around the corner? I wouldn't think so for a moment. The trick is not to care and I don't; I write, play and sing with good friends and it is just part of my life, like breathing.
Frankly I'm not sure there is such a thing as the big time anymore and amen to that.
http://www.myspace.com/richardgburley
www.reverbnation.com/richardburley