People from the era tell their stories.


Soultrain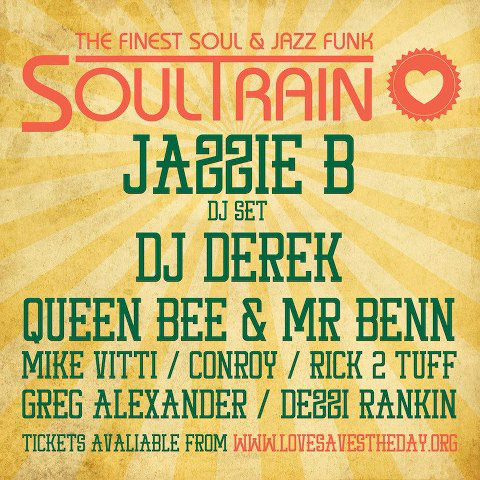 In December 1992 Soultrain DJ's launched a 70s & 80s one off reunion , the rest as they say is history. We haven't stopped since says one of the founding Soultrain DJ's Paul Alexander.
Launching Soultrain was a milestone and landmark that has resulted in Bristol's favourite Soul Institution and probably the longest running club night in the country.
Let's face it how many clubnights have been running for 22 years and are still going strong ?
With roots and origins tracing back to the early 70's Massive Attack quote Soultrain DJ's as 'early influencers on the Bristol sound'.
There was also a BBC radio 6 documentary that researched early Bristol 70s scene we would love to hear back if anyone has a copy.
Founding members of Soultrain were Paul Alexander , John Stallard , Jason Lumbar , Adrian & Steve Ashby and Steve Phillips.
(Chris Brown book bovver credits Adrian , Steve & Paul as pioneers of 70s soul and funk).
In 2001 Soultrain brought US funksters the Fatback Band to Bristol for the first time in 25 years, playing all their hits live at Soultrain. Hits like I found Loving, Wicky Wacky, Bus Stop, Backstroking and Spanish Hustle. This night lives long in the memory. Paul is still in direct contact with the Fatback band leader Bill Curtis, with whom we have become very friendly and once acted as tour managers to the band. The Fatbacks quote 'Soultrain : sure know how to party'.

Enter the summer of 2004 Soultrain were invited to host the Dance Tent at the Glastonbury festival. In front of 10,000 funksters Soultrain held it down playing funk 45's with the Fatback Band, Sister Sledge, Gwen Dickey (ex Rose Royce) and Jazzy B's Soul to Soul all appearing live . Soultrain re-appeared in 2004 and 2014 at Glastonbury . In addition to Glastonbury Soultrain have held it's own stage for 2 years running @ Love Saves The Day in 2013 and 2014 which also occurred at mini-v-fest.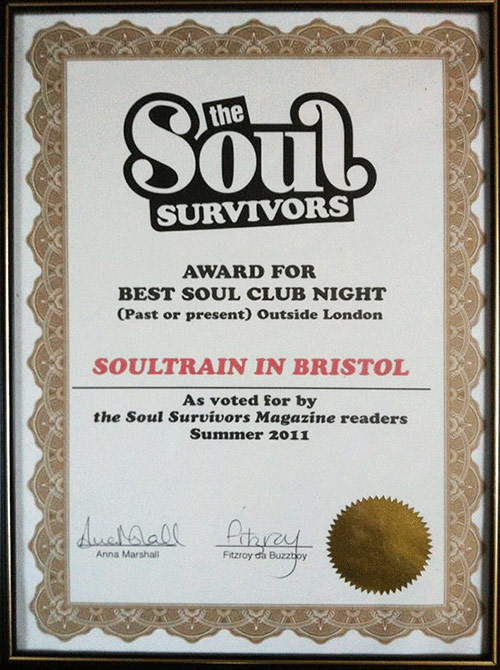 In 2005 Soultrain DJ's appeared with Alexander O'Neal on a soul week-ender, other artiste we have worked with over the last decade include Gil Scot Heron, Light of the World , Loose Ends , Omar , Roy Ayers , Shaggy , Soul 2 Soul , Nile Rodgers , Martine Girault , Pee Wee Ellis , Mica Paris , Womack & Womack , Rose Royce , Edwin Starr , Heatwave , Average White Band , DJ's Jazzie B , Norman Jay and Craig Charles .
In 2012 Soultrain were awarded by The Soul Survivor Magazine The Top Soul Night outside of London past & present . In 2013 we were runners up .
After 22 years of a very successful club nights Soultrain DJ's launched their own internet radio station in 2013 , the soundtrack is the finest in 70s & 80s soul and jazz funk Soultrain DJ's is a collective , passionate about 70s & 80s soul and jazz funk , we have over 3,500 facebook members in addition to our own data base of subscribers who have signed up for our newsletters in excess of 1400.
Funksters from all over the UK have travelled to our award winning legendary soul club nights and we are passionate about keeping the Funk Alive.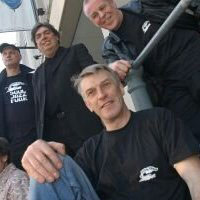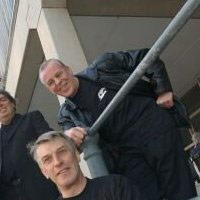 You can check out our music on www.soultrainradio.co.uk
Many Thanks
With Kind Regards
Paul Alexander
www.soultrainradio.co.uk
http://www.youtube.com/watch?v=dcR1gwRRbQc
http://www.residentadvisor.net/event.aspx?499912
http://www.bristolpost.co.uk/Soul-Train-club-night-celebrates-20th-anniversary/story-16759146-detail/story.html
WAY OUT WEST VIDEOS