People from the era tell their stories.


Buggs Durrant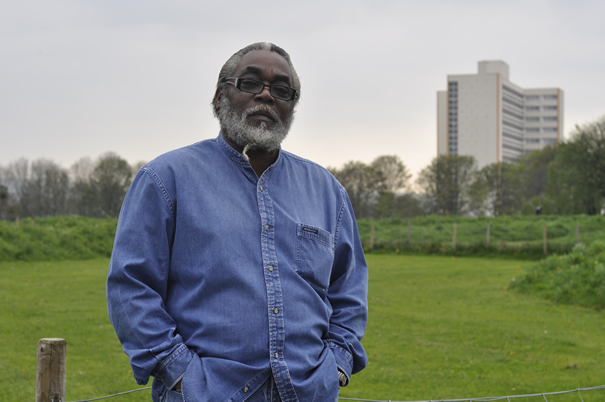 Could we talk about before Shoc Wave started and the St Paul's Festival singing competitions?
Yes, years ago, back in the days of the old Bamboo Club there was a yearly St Paul's Festival competition. Most young people in Bristol at the time were performers, singers dancers, writers, but there was nobody there to bring out the talent. These competitions were the only time we could let off steam to show what we could do. Each year the winner of the competition would get to perform at the Mayfair Suite, which was the biggest dance in Bristol; you had to put on your best clothes to go there.
Where was that?
The New Bristol Centre, near by what is now the O2 academy.
Near the old Locarno?
Yes. The winner of the St Paul's singing competition would get to do a show there. That was the place to be back in the day.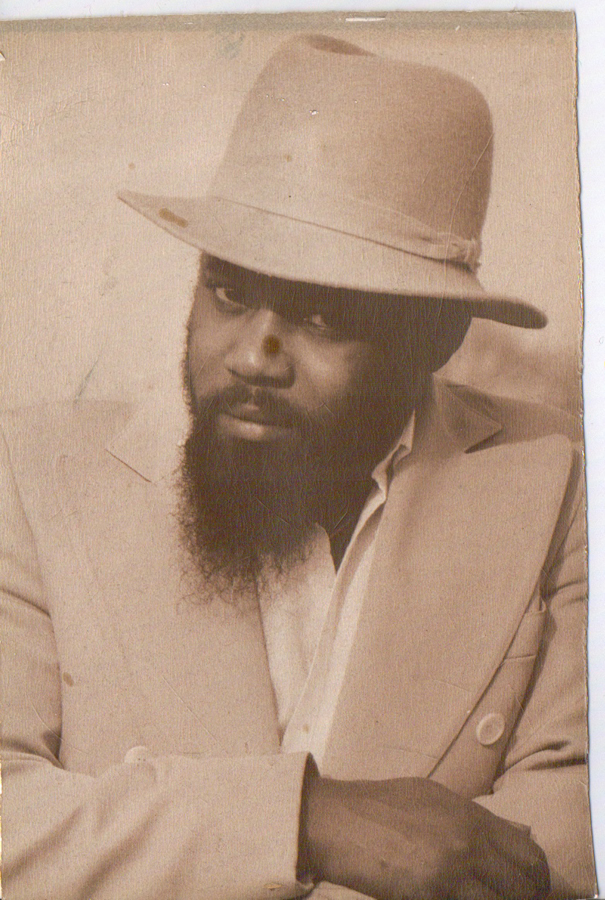 The Mayfair Suite, was it an extra stage upstairs in the Locarno?
It was a big stage, in a massive room upstairs. Anybody who was anybody had to be there on that particular night. It was a community event. Everybody looked forward to the St Paul's competition. I won it three times, Glen Crooks won it, Joshua Moses won it, and from that we came together and formed the Black Flames.
Obviously, you knew Joshua and Glen before they won, but was the St Paul's singing competition a way of gauging which musicians were rising talents?
As guys we were always jamming together like those guys in America on the street corner. We used to go to each other's houses and just jam and sing songs together. The funny thing about it was that the harmonies just fell into place. Nobody said, "you sing bass, I'll sing sing tenor." We knew we had something, but there was nobody around to channel those talents. We were like boxers in the dark really.
We got together and said, "let's form something." At the time I had some Drifters and Platters records, who were famous harmony groups. I used to play them to the guys all the time and say, "listen to this, this is what I want to do." So we formed the Black Flames.
The name came about when we were walking across Ashley Road where it meets with Grosvenor road. We were heading for St Agnes Park and coming up with different ideas, Lee Francis said, "what about The Blue Flames." I said, "no, there is already a Blue Flames; Georgie Fame and The Blue Flames." He said, "Black Flames." I said, "Yeah, that's unique! You've seen red fire, you've seen green flames, you get black smoke, but you've never seen a black flame." I'll never forget what he said to me, he said: "As long as one of us has a band let's keep this name going." And we have always kept it, from 1974 until now, Black Flames is still going. The spelling has changed — to begin with it was spelt B-L-A-C-K-F-L-A-M-E-S, now it's B-L-A-K-F-L-A-M-E-Z — but it's the same Black Flames.
A band that I played with at the Bamboo Club were looking for a singer and we exchanged phone numbers. After about five years later, around about the time that we had just started up the Black Flames, they came to Bristol looking for me. I never saw them, they came and left their phone number at the Black and white Café. When I rang they said they wanted a singer because they had an audition for New Faces, which was a television talent show. I explained to them that I had a band with three singers but they said that they only wanted one.
We got a car together and went up to Chorley in Lancashire to see them. When we got there the father, who was the manager of the band said they only had accommodation for one person: me. I said to him, "if they cant stay I'm not staying, but anyway listen to this." We sang one of our songs and blew them away. He said, "you can all stay, we will find somewhere for you."
What were the names of the performers in Lancashire?
The bass player was Melvin Greaves (Babsy). Then there were the three Williams brothers, Tyrone, Kenneth and Lloyd, and their father Aaron.
How difficult was it to get your music out there? How difficult would it have been to get records produced?
Well, we weren't really interested in getting records out. We were more interested in live performance. When we went up to Lancashire we had a great opportunity to play to different people. Lancashire was a great spot for music, as far as I was concerned, because when people came out on a Saturday night they came out to enjoy themselves. It was great performing for those people.
We were all learning at the time. They pushed me to the front but I was learning because we were all young. I was getting more of an experience than them. It was great fun.
How did the New Faces TV show go?
Unfortunately that fell through.
How old were you when you performed at the Lacarno and won?
I was 15. That was back in 1968. It was my first competition. Probably about five years after that, I won a competition at the Bamboo Club as well.
I also represented Bristol at disco dancing. I entered a competition at what was the old Top Rank in Broadmead and came first. I won £25, which back then was a lot of money. I had to go for the finals in a hotel in Sheffield and stay overnight, but there needed to be two of us so a friend of mine at the time called Dyer – who I haven't seen in years – came with me and was my partner. Five girls won it in the end with a disco dancing formation.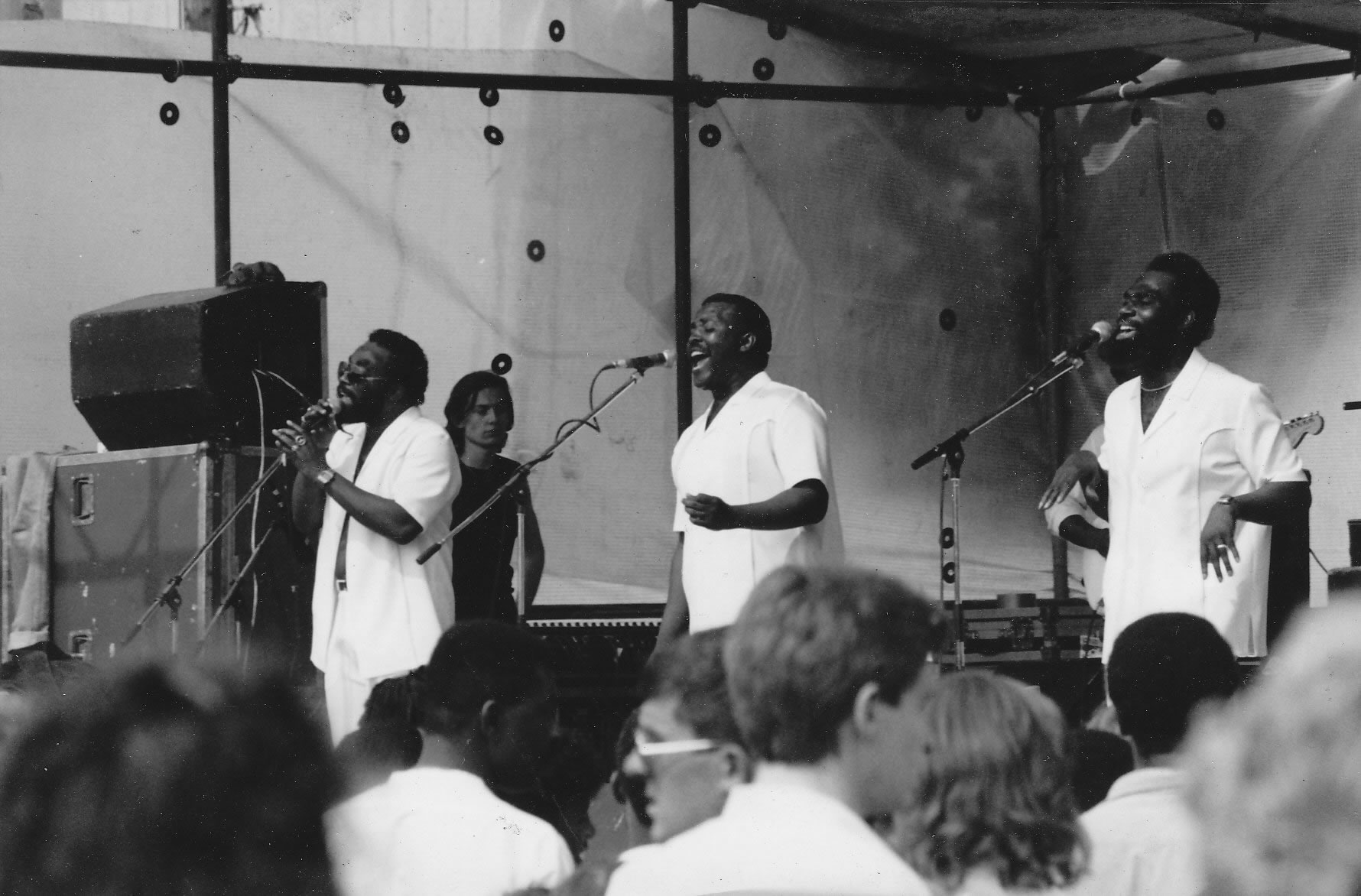 Could you talk me through Black Flames' on-off history?
We got together in 1974, myself, Joshua Moses, Glen Crooks, Lee Francis then we disbanded sometime around 1975-76. We got back together again in the late 80s for about five years, but with just two original members, which was myself and Glen Crooks. The rest of the members at that time were Popsy Barrett (also Popsy Curious), Winston Minott, Steve Reid and Ricky Smith. Later we had Squeaky.
Does Squeaky have a first name?
[Laughs] Everybody knows squeaky. Squeaky D, Squeaky Dinnell.
By the early 90s we split up again and next got back together in 2000. The band has remained active ever since. The new line up at that point was Garry and Nigel Chapel, Steve Reed, Keith Douglas and Chris Evans.
How was the music different when you reformed?
From being originally a Drifters style band we were playing soul and reggae.
You worked with the Shoc Wave record label throughout the 80s releasing a number of records: You Are Gone, 1980; Gonna Make Your Body Get Up, 1982; Baby Come Back, 1984; Give Me A Try 1986. Do you know what the meaning was behind the name Shock Wave?
I think it was something that just sounded good at the time. Something that said we are going to shock Bristol or the world.
Had you known Shoc Wave founder/producer Gene Walsh for a long time?
Yes for years, we all sort of grew up together.
When was the first time the two of you got in contact to start working together to make records?
We were always talking about things like that. He was technologically minded, a do-it-yourself kind of guy, he could build anything. He was always talking about recordings and stuff like that, and he knew we all liked singing. It wasn't something that we sat round and planned, it just came together organically.
Was Gene the guy who you had the most contact with throughout the years?
Yes.
There were two other people involved weren't there? What are your recollections of them?
I used to see Melford Gardener when he used to come in to meetings but I wasn't ever involved in the meetings themselves because that was only for management. I knew Melford before but as far as involvement in the company is concerned I wouldn't know what role he played. I knew he was a partner.
What about Gene Walsh, and Fitz Watson?
They were like right hand and left hand together. They were the main force behind the company. I saw more of them than I did of Melford.
Was there anyone else that you thought in particular was involved with the running of the Label.
Teresa, at the time she was Gene's girlfriend, so they were close and she had a big interest in it.
What was here surname?
I can't remember Melford, or Joshua would know.
Prior to the record label being set up what kind of outlets were there for you?
Not many. A lot of us didn't have any contacts in London. So if we tried to get anything out it would have been through a friend of a friend. It wasn't like going directly to a record company. Even if we had approached a record company they would have said, "give it to me and I'll see what I can do." And they would hand it to someone else who would probably just chuck it in the bin. It would never get to the person we wanted it to get to. Really, it was like walking in the dark more than anything else.
Guys like Gene, they were the ones who knew people and managed to get doors opened for them. They knew what to say and who to talk to so we just left it up to them, all we did was the recordings.
What do you see Shoc Wave's role as being in the music scene at that time?
Well, Shoc Wave gave me exposure really, because at one point You Are Gone was top of the playlist in Gloucester. It was record of the week and beat Billy Joel into second place. When I tuned into the radio station it was like I was living in Gloucester the way they were talking about me: "Our own West Country Buggsy." It was record of the week and played all that week. Then it was number three in the Bristol Evening Post's chart as well, and the rolling stones were number one. It was the most played record on Radio West [later GWR] and number ten on the Bubbling Under chart [A chart beneath the chart that currently includes 25 songs but in the past has contained as many as 35 positions ranked #101 to #135].
Then again, it never got the exposure it should have because we were all young and we were all learning at the time. If you have a record that is record of the week on one local radio station and the most played on the other it should get more exposure. Something should have happened and nothing did. Perhaps the people who were handling it at the time didn't understand. It was all trial and error, we were feeling our way. They had an idea, which was a good idea but they needed help, somebody stronger to steer them in the right direction and show them how to go about things. They were learning how to run a record label as they went along.
Was You Are Gone the first single that you did with them?
Yes.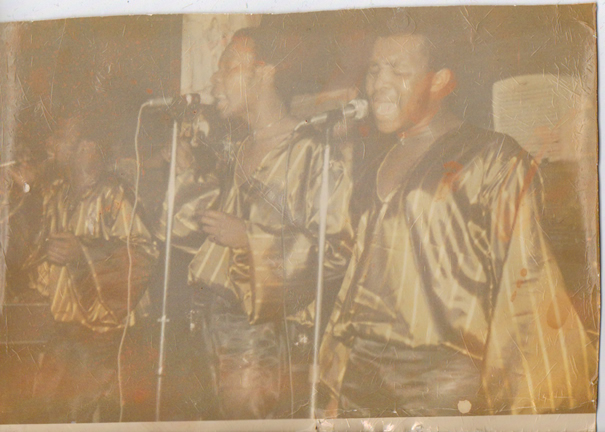 I guess things must have changed a lot since then, nowadays you have specialist community radio stations like Ujima, and St Pauls Carnival today is a massive annual event.
St Paul's Festival back then was more of a festival. It was for kids, everybody came and enjoyed it but it was made for the kids. St Paul's Festival today is just a big market. I wouldn't even call it St Paul's Festival now. Back in the day we had the stage, we were performing for free, because it was our festival. Like I said there were plenty of young people who were performers, there were dancers and singers. Now if you sing at the St Paul's Festival this year you cant sing next year. They are getting people from out of town and paying them big money to perform, yet those people never invite anyone from St Paul's to play at their festivals or their dos.
So to me, St Paul's Festival is just a market to sell stuff. That's all it is. All these out of towners come, pay a couple of quid for a stall, park up their van, make loads of money and draw the money out of the community. You want a stall? You can't get a stall. You have to write in and you've got to go to the committee. It's your festival for gods sake, it's St Paul's Festival for St Paul's people.
Other than Shoc Wave was there anywhere else you could have gone to get your music out?
No, not catering for us. Not at that time.
You said you had seen Melford at meetings for Shoc Wave, where were these meetings held?
No, I wasn't ever at the meetings. I saw him in passing as he was going to the meetings. Maybe I was with Gene or Fitzy chatting about something and it was time for their meeting, so I left as he was coming in. We never really sat down and discussed anything.
Where was that based?
That was on Stapleton Road in Fitzy's house.
Was Shoc Wave running just out of people's houses or front rooms?
Yes.
Do you remember anything about how there might have been a house where it was being run from in St Andrews. Do you remember anything about that?
It could have been Gene who was living there.
Do you know anything about their plans to move to St Marks road and maybe set up a recording studio?
I heard that talk, I didn't know whether they didn't have enough funds to get a mortgage for the building or what, but their was talk about setting up a big company there.
Tell me about the progression of the music recorded for Shoc Wave, because it started out doing mainly reggae stuff and moved on to doing disco and funk. What would you put that down to?
It was just moving with the times. Music was changing so fast, from reggae to funk to jazz funk, to disco. You know it was just switching all the time. I think they were just trying to get something to compete with the market. For example the Michael Jackson song Out of My Life, well, You Are Gone was in the same sort of feel.
Was that an intentional thing?
Intentional in the sense that it was a weepy.
Tell me about Gene recording the Dominican national anthem Independence Fever? There were two versions weren't there?
Yes, one version was me and Steve Reid, and the other one was Joshua Moses. Also, the horn section was from the Royal Air Force in Weston-super-Mare. It was about three or four session guys from a proper military band. We recorded it in Weston in a recording studio called Horizon.
Why did Gene record two different versions of Independence Fever?
I think he wanted to record something from this country here to take back because he now had his own company. Maybe he was trying to find a market which was new to them over there. The diction would sound different to them so might be considered something new. We did sing some of the words in French [English is the official language of Dominica though a French creole is commonly spoken].
Shock wave connected up lots of different dots: we record You Are Gone and Disco Jump [1980] in Crescent Studios in Bath; Gonna Make Your Body Get Up [1982] near Cardiff in Wales, I can't remember the name of the studio, it was up a mountain somewhere; Baby Come Back [1984] in Redland, Bristol, produced by Gene Walsh and engineered by the Mad Scientist, who was a white guy mixing reggae music at that time. Our album Give Me A Try [1986] was recorded at Horizon and paid for by the band but then distributed by Shoc Wave.
Tell me about the Capital Radio show in London that you did?
Gene organised it and I went down. In the entrance there were two boards saying "Capital Radio Welcomes Sylvester Stallone," and "Capital Radio Welcomes Buggsy Durrant." Me and Sylvester Stallone, we both came through the big doors at the same time and were greeted by two ushers, he went to the left, and I, to the right. While I was recording I could see Michael Aspel recording his BBC show in the studio next door.
How did the Capital Radio show come about?
I think Gene sent a tape up to them and they liked the tape, so I went up to do a live recording. I did about five or six original songs and the following year they came back and asked me to do it again.
When was this?
The late 80s or early 90s.
Who were the backing band?
We rehearsed in Coventry with various guys. I can remember the bass player was from The Specials, the drummer used to play with Percy Sledge, there were some rock guitarists. Various artists, most of them were session players. It wasn't a band as such.
We did a show with Black Flames for HTV, which wasn't organised through Shoc Wave. It was for a program called A Woman's Guide to Adultery, filmed in the Clifton Victoria Rooms. It was about ten seconds of us performing on stage in the background of a particular scene. One of our songs was used as the theme music, which was appropriate for the show because it was called Brand New Lover.
Tell me about something else that Gene organised, The Best Band in the West?
The Best Band in The West was a talent competition that took place at the Golddiggers club in Chippenham and was televised on HTV. It involved all kinds of different acts from all over the West Country. I represented Bristol, with Restriction as my backing band. Another Bristol band Jacuzzi also performed there.
Did you ever get a sense of the company having a definitive plan?
No, but from what I can gather it was based on a lot of hoping. There was a lot of hoping: hoping that they would get it right, that something would click and that somebody would hear one of the tracks. At one point when You Are Gone was released they had some board meeting and single came up because I had sold two copies in the chart shop in Gloucester. When the shop sold some records it went straight into their computer and they were wondering, "who is this guy Buggsy Durrant? Let's investigate this because we have never heard of him before."
They got this feedback at the meeting, that this record store was asking about their artists. That could have been an opportunity, however it was never followed up, they were sat back waiting to hear a bigger noise. They should have got on the phone and said, "we've got this, and we would like you to distribute this." The record was in the chart and wasn't even available certain shops. It's the lack of experience, that's what it is.
Gene Walsh was from Dominica. Where were Fitz Watson and Melford Gardener from?
Jamaica.
Do you know anything about Unitone Publishing?
I know it has been renamed Bristol Underground Sounds but I don't know what happened with the first one.
What does Gene Walsh do nowadays?
Well, I couldn't really tell you because he is in Dominica. He went back there, but I think he is still doing his publishing and stuff.
What does Melford Gardener do?
He is the owner of the Black Swan pub.
How long has he owned it?
About, two years now.
What has Fitz Watson done?
He has a studio outside London. I call it the pot and pan studio, because its an open plan studio that opens into a kitchen and he is always cooking in there.
Thank you Buggs for taking part in this interview.
That's all right.
Alex Cater April 2012