People from the era tell their stories.


Dan Ratchet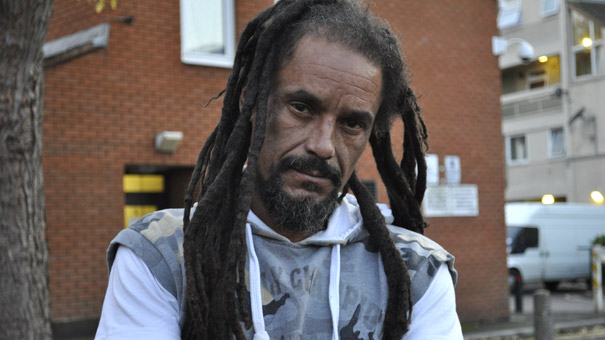 Have you always been a solo performer?
No, when I started out I was going down the youth club at about 13. We had a little band up there made of a few local guys and called ourselves Jah Children. In school I had a good woodwork teacher and he helped me to make an electric guitar.
That's amazing.
Yes, I am left-handed and it was difficult to find a guitar. I mean, I expect left-handed guitars were around but they weren't easy to come by. I can play the guitar upside-down with a right-handed guitar. I can't play it the right-handed way but I can play a right-handed guitar the left-handed way. So I did that for years before I got hold of a proper left-handed guitar.

Is that when it is all strung the same but you are literally playing it upside-down, so the highest notes are at the top and the bass strings are at the bottom?
Yes, I could have shown you. I have my guitar just there but I got a trapped nerve in my back about three weeks ago. You can see, [with difficulty he makes a fist] I don't know what happened, it's in this hand, it was in my back but I can't open up my hand properly. So I can't really clench my strings. It's like learning again. I can't hold my keys so I don't know what's going on. I will eventually take a day off from work and try and suss out what's going on because I need to play my guitar when it's called for. You know that time when your guitar is calling you? You have to answer. I mean I can go downstairs and put on a dub CD and sing but that's not the same. It's still an outlet for me but the guitar is where I started from.
Going back to Jah Children, we started up a band at the youth club. We went for the Prince's Trust award and I think they gave us some money for the youth club to get the equipment, so we started up from there. Back then I was the guitarist, I wasn't a singer yet. I was the rhythm guitarist and just progressed from there. People who inspired me obviously include Bob Marley. I never met him but I remember him playing on The Old Grey Whistle Test in 1972 or '74.
That was back in the day when Petter Tosh was on The Old Grey Whistle Test. Obviously I have been influenced by reggae music but my dad used to buy records as well. He used to have a little sound system and hold blues nights. My dad has passed away now. When I was younger he used to give me the mic, I wasn't singing, I would be holding the mic and wondering what to do. My dad would even say to me, "go like, umm chicky," [mimics the reggae guitar rhythm] and get me to sing the rhythm. That's what I started off with. This is bringing back the old days to me.

Who was in Jah Children? Were these school friends of yours or friends from the youth club, and which youth club was that?
Southmead Youth Club.
When you grew up did you stay in contact with these people? Did they go on to have musical careers?
No. There's my brethren [points to a photo]. There I am about 18.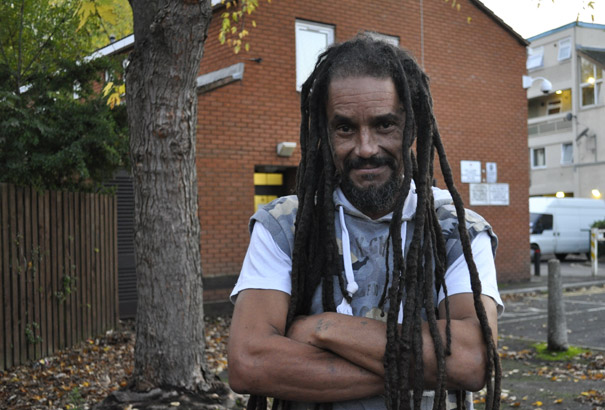 Whose on the left and right?
That's Benji, Benji B. That's one of my closest brethren but I haven't seen him in a while. That one there is Papa, he used to play the bongo drums. Benji was a percussionist as well.

What were their first and second names? Is Benjamin his first name?
His real name is Paul Monroe. Papa T is Trevor Walker.

Is this a separate thing to Jah Children?
Yes, they were in Jah Children with me. I was brought up in Southmead from about the age of five. There was only a minority of black people in Southmead at that time - only about ten strong - so when we went to youth club we all hung out together. In those times obviously as you can see, I was a Ras. I was a Ras when I was about 12, back when I first got influenced by Bob Marley and the Rastafari movement from The Old Grey Whistle Test.

Can you remember the woodwork teacher's name?
Mr Mills.

He must have really let you do what you wanted.
It was just the first steps. I am so glad that I found music as an outlet because if you don't have an outlet you get a bit lost. Especially when you're young and your brain is still developing. Now I am at an age when not many things worry me.

How old were you when you first started Jah Children?
I would have been about 13 or 14. I had to be in by 9pm or 10pm because that was when the youth club finished. I would be in by that time for my mums sake. I wasn't a naughty kid, I was a disciplined youth. I would never swear or smoke in front of my mum or my dad.
You would never find a more blessed man than my dad. My dads a black man and I am mixed race. My dad has never slagged a black or white person off. My dad didn't swear, smoke or drink. He wasn't posh, he was just a normal man. My mum did, my real mum. As a kid I wasn't brought up by my real mother. At that time being mixed race, or black, or Indian, or anything was hard. It was a hard time. I didn't know that one of my parents - my mum - was white. I didn't know that until I was about 11. My brother found out before me and questioned our mum; the woman who we thought was our mum who brought us up. My dad's original wife was black and from Jamaica, my dad was a bit of a player at that time, he played away with my real mum. I don't know what happened. I never got the full story but I can say that I was in the best of hands anyway.
My dads wife, who I call mum, brought me and my brother up. When I say mum I could mean two people. I respect my mum who brought me into the world because she never got rid of me, even if she didn't bring me up. I've never been rude enough to ask the true questions and find out why. I had information when I was growing up, people saying it was because of this or that, which was unfair for me and my brother. It's just a real mixed up situation but I think it has made me who I am, because I've always had an insight into god even from a kid. I won't go into that now because when you start talking about that people think you have a screw loose. I've done that and I've come back to reality and reality is still telling me the same thing. I've grown from a kid to a man and sorted out everything and I know that I am on the right road.
I was born in October, I am a libra and libras are quite emotional. I am not talking about soppy emotions, they feel vibrations, I think that's what makes my songs sound the way they do. When I am singing about something happy it's coming from the heart. I am a man of the heart. For me music has kind of let me down in a certain way throughout the years. I was so focused and I've worked hard with a lot of people but I haven't seen the progress I would have liked. Some of them were trying to do it for their own benefit. Now I am talking about stuff that has happened since working with Simbarashe. He is the only one who has done anything positive, he took me to meet people I didn't even know at that time. Like Sugar Minott, Sly and Robbie, Channel One Studio, Aquarius Studio and Tuff Gong.

When Jah Children split up did you continued to work with some of the guys from the band?
Yes, Papa T, but life hit him hard and he lost control. They had him sectioned, his heads gone. It was a different time and life was hard. My dad came here in 1956, I was born in 1963, back then black and white didn't really mingle. My mum and my dad did and there are a lot of mixed race people in Liverpool but generally they weren't brought up as a family. Either the mother didn't want them, the dad didn't want them or the mother wanted them and the dad left. That was how it was.
My youngest son he's what they call quarter-caste, I am mixed race and his mum is white. His brother is from a different mother, me and his mum are both mixed race so he is as well. My daughter carries more of my colour but she is quarter-caste. I am always trying to tell my youngest son not to worry about it. I have gone though that, being in the middle, and if anyone says, "what colour are you?" I tell him to say "I am a human being." There isn't any colour.
Coming back to Papa T, sometimes when I see him on the street he can respond to me. Instantly there is a connection between us because we go back a long way. I can chat to him on a level that no one else can. I can say, "remember when we went to youth club together?" We share those memories.

After Jah Children what did you do? How old were you when you did the Sweet Rosie album?
Well, now you are talking on a professional level. What we have just been chatting about is the build up. At 18 I still wasn't there, I had just left the youth club, we had moved on to other things. I was still using my guitar, still going to the 12 Tribes [one of the Mansions of the Rastafarian movement]. That was more popular when I was growing up. There are only a few rastamen left now, they are disappearing, at least visual rastas are. You don't have to have dreads to be a rasta. When I grew dreads I did it as a statement but we have all moved on.
From when I left home at 17 till when I was 21 I was in a relationship with a school friend. When that ended it effected me badly. I ended up going to Jamaica to see my granny. When I broke up with her I thought the world could not go on, it was my first love, I was devastated. All of sudden my uncle asked me if I wanted to go to Jamaica to see my granny. It was perfect timing. I ended up going to Jamaica, spending sometime with my granny, then coming back and meeting up with Simba. I found out that he is my relative. Me and Simba are cousins. It started up from there really.
I can't leave out the sound systems though. The sound systems helped me out a lot along the way. It wasn't all about bands. It really started out watching the sound systems. Flipping, Bass I [St Pauls based sound system]. Now Striker [producer with Bass I, founded the Lions Den] has archives of my music that no one else has. If he still has them he has some of my best work. That was called The Lion's Den. He is part of the whole set up with Simbarashe and Talisman.

Who is Bass I?
There was Striker, Tappa [selecta] and Skabba [joint operator with striker].

Where were they playing, were they Bristol sound systems?
Yes, from St Pauls. Back then you didn't have the squabble between Easton and St Pauls. It was all about sound systems. If you had a beef with a man, you set your sound system up and played against him one to one. That's how we used to beef it out: you would let your MCs deal with it. The ones who I followed and who gave me the mic were called Raiders 32. They still exist today, the original guy Tony Brown [deceased] was a very popular guy.

Simba said he met you when Joshua Moses brought you round to his house.
Simba is right. I was young then, it didn't even mean anything to me at the time. I didn't even know Simba was my cousin. My dad was round there playing dominoes, he used to like playing that, it was a regular game for every household. I went round there, I knew his mum but I didn't really see Simba or anyone else. I used to see him walking around town but I didn't know he was connected to me. People know family, if you look at a person and they are related to you they stand out, there is a connection. Everywhere I went I saw this man and then all of a sudden I went to his house with Joshua Moses and his mum came downstairs and said, "Simba, did you know that's your cousin?"
I was about 23, still maturing and hungry for my music. It meant everything. It was like a message I had to send out. If they had let me loose in those days I may have been the next Bob Marley [laughs], but maybe for the wrong reasons. It takes time, maybe my part was to stay silent for a while. I sang a lot of lovers rock and didn't really engage my mind. I know I am a rasta but I didn't sing about my roots or tell about how I see life. I kind of hid that and sang about [sings], "Oh girl, you look so good, and if I marry you." Instead of, "King Selassie I, the truth of kings, you know he is the lord of lords, high is the revelation time, you better get it into your mind."

Tell me about the making of the album?
Well, the making of the album is mainly down to Simbarashe, I am just glad to be apart of what Simba set up. The only thing I am good at is delivering my message or my vocals and singing my songs. All the business, all the setting up, getting the musicians together, how it all happened is all through Simbarashe Tongogara. When you were saying you wanted to come round and speak to me about these people I was like, "Oh my god." At that time I wasn't even aware of the level of people that he had got to work on the album. I have been with the top level of reggae musicians and I didn't even realise it.

Wasn't Earl Chinna Smith there?
Yes, and High times.

You are the main singer on the album aren't you?
Yes.

Obviously, Sweet Rosie is a stand-out track. What were the other tracks that you really liked?
Ekome is Unity .and AfricanPolicies. That was a very hard track. It was about president Botta, you can see how many years ago that was. President Botta was the president of South Africa when Nelson Mandela was in prison.

Was he resisting change?
Yes, "We no want, African Policies, that keeps us in slavery."

There was some recording in London and in Jamaica as well.
That's right, in Channel One studio.

It must have taken a long time making the album, was it a year?
It wasn't even a year, it was in a couple of months. We did Sweet Rosie between Jamaica and a community radio station in London. I'll tell you how mad it was, my son was born just as I was doing Sweet Rosie, he was born over that weekend. I couldn't get back because my car broke down and I was stuck in London. I was supposed to go over and come straight back because I knew my misses was going to have a baby. I said to her, "don't you have this baby until I come back." In those times you had to have a good car to drive to London, I had a crap car and it overheated. I went into the studio to do the vocals but couldn't get home. I got the phone call the day after from my dad and he said, "she has had the baby." A lot of it after that was Channel One Studio. That doesn't exist any more.
I remember walking in - this is to show you where my head was at when I was 23 - even though I was in Jamaica and was with the top musicians I didn't understand who they basically were. I was sat with Sugar Minott in Channel One Studio and he was waiting. He had gone into the studio but wanted a break and was waiting for the producer to say, "go on yes, that's OK." I had come over from England and when I went into the studio there were about 30 men in there, all looking through the glass. They had Sly and Robbie in there. I was just amazed to be there, I wasn't thinking any further than that. They were all there looking in and then all of a sudden Simba said something to one of them - Simba knew everybody - "This is my cousin, and he can sing!" Then he asked me, "are you ready?" I didn't even have a track in my head really. I had to just say, "yes." When I went into the booth there was still 30 people standing around, probably all thinking: "here's this English man whose come over here to Jamaica, let's see what he's made of." I went in there and sang If Jah Should Leave Me. [sings] "If Jah should leave me I would have no where to go. If Jah should leave me I would just fade away. So I will always give thanks and praise asking Jah to guide me the way from my fear and my foes, my enemies because they are many." And boom, it went down, they looked at Simba and all said: "Where did you get him from? Where did you get this Englishman?" So that was inspiring. Though still nothing was happening for me if you understand. I was still far away from my goal. Maybe I am moving closer now, it took twenty odd years for the ball to start rolling. I've kept it going because I am an artist, I am still here to do the job. I was in a coma for 19 days.

When did that happen?
In 1997. Somebody left some Methadone in a fizzy drink bottle in the fridge and I came in after a few drinks. I went to the fridge and swigged it down not knowing what it was. I didn't know anything else until 19 days later. I had to learn to walk and remember who I was. Rotten, I was on the brink of life and death.
There was a lot of build up, I was doing stuff with Fresh Blood, which is good. I'll give them my blessings, they have an album of me right now. I worked with them for over ten years.

So with the album do you remember working with Aswad?
Aswad, they are on there.

Simba was the producer and you were the singer, did you come in to do your vocal parts and then leave?
No, it wasn't that I left, I stuck around. You've got Predator or Hutchy as he is also known, he was around in his young days. He was massive in the old days. When I listen back Ragga Muffin Girl [Ratchet's track made with Technical Honours], I hadn't even heard that in years. I had forgotten all about that album. That was in the period when I first met Hutchy. Wow, when I hear that album it just puts me back into that space in time with Simbarashe, Hutchy, Talisman and High Times. Us all being together in the same room, it was like soldiers but musical soldiers. We were all on it. I've had to kind of ease off because I was so into the music and it wasn't happening for me quickly enough. Sometimes unless you are good on the business side the route isn't there and you have to grow up. So I just let everything go for a while. Like now, I go to work and work pays me, work is there and I can still do my music when it is ready for me - because I am always ready.
Now, what I am working on at the moment is helping the young up and coming rappers. I'm not just a reggae singer now. My name is Dan 'Versatile' Ratchet! I can sing soul and I've been working with the hip hop kids and the rappers. We are running this with John Stokes and Steve Redman. They are the ones who basically founded The Music Works. We have put on a few shows for the up and coming rappers. I am always the only reggae singer though. They have me up as the granddaddy of reggae. Every now and again they put on stuff down The Tunnels. Do you know the Tunnels?

No, I don't actually.
They are down on Temple Meads, every couple of months. I help out with that. Basically, it has been a long journey. It has been a mad mad journey but the fact is I am still here.

OK, let's do a bit of a round up of everything because it would be good to get all the names in of the people you have worked with. When you started out you were in Jah Children, how many people were in that?
Five.

Then when that split up you continued to work with some of the guys. Was that anything formal or was that just jamming?
What did we call ourselves? It will come to me later.
Then you did a sound system for a couple of years?
That was with Raiders 32 and Tony Brown.

Around that time you broke up with your long term girlfriend.
That was when I had just turned 21.

After that you went to Jamaica, how long were you there for?
About three or four months. I had to really clear my head.

When you got back what did you do?

Quite a few things. Freedom City, I think they are on that second album [Bristol Reggae Explosion]. Twelve Tribes. We went to Germany as well, acting.

Was this the Arts Opportunity Theatre?
Yes.

At this point you are still 21, 22?
At this stage with Arts Opportunity I would have been about 18 or 19.

So you went to Germany with the Arts Opportunity Theatre when you were 18, 19? That really is an opportunity!
I remember thanking them for the trip.

It sounds like it really did its job.
It did. I was living in Southmead and watching Points West when it came on the TV. I saw what they were doing and the next minute I was there. I went there and got involved but I couldn't take other peoples places who were already there. I had to join a waiting list. I couldn't jump right in and be the main act. Carl Williams he was the main guy. He does kick boxing now. He could be interesting as well. If you want to find him.

When you recorded the album you were about 23? Do you want to give a bit of a run down about some of the stuff that you were up to afterwards?
That's where it comes into Fresh Blood which was founded by Pat Heart.

Is Fresh Blood on the Reggae Explosion Album?
No, but they have got a reggae album with me on. If you hear Ragga Muffin Girl, that was way back and that was with Technical Honours. Those musicians are still around, Mikey [Taylor] used to be the organist with Black Roots. They were the foundation of Technical Honours who created Ragga Muffin Girl.
Then I was in Fresh Blood. I have always been the middle man. I would be working with someone and then link them to somebody else. It never works well that way though. It's better if I just deal with them.

Are there any projects now that you are doing?
I do a Bob Marley tribute act. Plus there is The Music Works, that's working with young rappers and singers. We went to Germany recently, I took my daughter, we got a coach with about 25 people and went to Germany to do a gig.
It sounds like it has come full circle then, Arts Opportunity helped you out and now you are repaying the favour.
When I am working with these young ones and I go up and do my stuff, I am not trying to put them off, I am just local guy, but most of them are like [mimes jaw dropping]. However I am like that when they come on stage and perform, Bristol has some really good talent and it's getting better. It's been a long road, I'm still here and I am ready, I just need some gigs and some work.

OK Dan, thank you.
Thank you.
Alex Cater - Nov 2011