People from the era tell their stories.


papa Roots Dave Fisher & Thabiti

The first half of the interview is exclusively with Dave Fisher. Once Thabiti (pronounced bee tee) joins in the conversation each of the speakers is then identified by their name.

What are your earliest memories of music?
Well, my earliest memories of music would be from when, on a Sunday my mother would be in the front room. Every West Indian family would have their front room where nobody would go. It would have the best furniture that nobody would sit on. Me and my mother would go into the front room to play records.

What kind of records were you listening to?
It would be Dennis Alcapone and Prince Buster, even some Jim Reeves as well. That was just how it was on a Sunday.

Were you born in Bristol?
Yes.

What were the early experiences that got you into playing? Was Enterprise the first thing that you did?
No, the first thing I did was called Channel One with my school friends George House and Michael Edwards.

Was this a play on the original Channel One studio's name?
Yes.

Was this a sound system?
In the early stages, yes. It was a sound system but it wasn't a big sound system. It was a little Sound City valve guitar amp, which was 60 or 70 watts. We had a turntable and twelve inch speakers, which we made some little boxes for. But that didn't last long.

So how old were you when that happened?
14 or 15.

You were still at school at this point, which one did you go to?
Whitefield.

Who were you doing this with?
My friends Michael Edwards and George House.

Were any of these people later part of Enterprise?
No, this was before Enterprise but George House's older brother was in Enterprise.

Did you play for anyone or were you just messing around?
No, we played. There were other sound systems around at the same time. We did house parties, it was a clash even back then and two sounds would play against each other. Even back then that was going on. That has always been the format from then until now, two sounds playing against each other.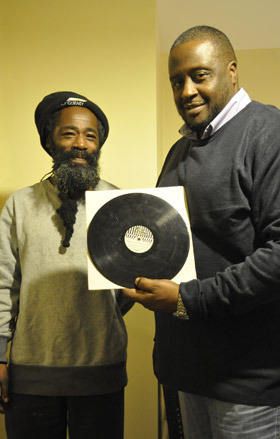 Who were the people you were battling against?
Well at that time funnily enough it was Meritone who is now Jah Lokko [Dion/ Unique Star].

What has he gone on to do?
He is still playing sound systems now, that's Big D, Unique Star. He plays on Passion FM.

He does stuff with Dub Club now doesn't he?
That's right. It is full circle, Bristol together again [Dave Fisher also works on Dub Club].

So these house parties, were they just you friend's house parties?
We did about two or three until the sound got destroyed. We used to practise and play a lot of music at my friend Michael Edwards' house but his mother was kind of militant. One day she got fed up, I was coming home from school and I thought I would go round to Michael's house. I knocked on the door and he said, "come up stairs." So I went up stairs to his room and I couldn't see the amp and the turn table. I said, "where is the amp and turntable?" He said, "come here, look through the window." His mother had thrown it out of the window. [Laughs] That was it, that was the end of Channel One, truly it didn't last long. However we had links with Enterprise though Michael House, because George House was my best friend. That was the link.

What did Michael Edwards do when you worked on Channel One?
We all chipped in, he was the operator at the time.

But no one had any specific roles?
That's right.

Did George House go and work with you on Enterprise?
No, when that happened to the sound system I needed another outlet. I ended up following Enterprise, I did that through Michael House. That's how I ended up round there.

Why wasn't George House involved as well, was he just not interested?
Yes.

Did George House or Michael Edwards go on to do anything else?
No.

You were about 16 or 17 when you started with Enterprise. Who was already working for the sound system at that time?
Curtis Francis, MC and founding member; Michael Mullings, MC; Patrick Morrison; Ronald Morrison; Erol Morrison; Barry Thomas; Keith Douglas; Donovan Weise; Michael House; Erol Plumber

Was your specific role in the beginning just a general dogsbody?
Yes, boxboy as we called them. Basically, you'd carry sound boxes or wires.

Do you remember the first gig that you did or the first place that you played?
The Ventures youth club opposite the St Georges school [now The City Academy Bristol]. It used to be a youth club on Russel Town Avenue. A lot of dances would go on there. My first dance with Enterprise was a dance in there against King Edwards from London. That is now Channel One sound [Mikey Dread and Jah T merged their fathers sound system - Admiral Bailey - with the King Edwards sound system in 1975, taking the name Channel One in 1979].

Tell me a bit about that night?
As I remember it, Ventures was a really good sized venue. When the main lights were turned off and the sound system was in the corner they would have red and yellow lights on their control panel beaming across the dance hall. The music was playing, the bassline pumping and with people in the hall dancing the place is hot - the walls were sweating. That was what it was really like back in the day.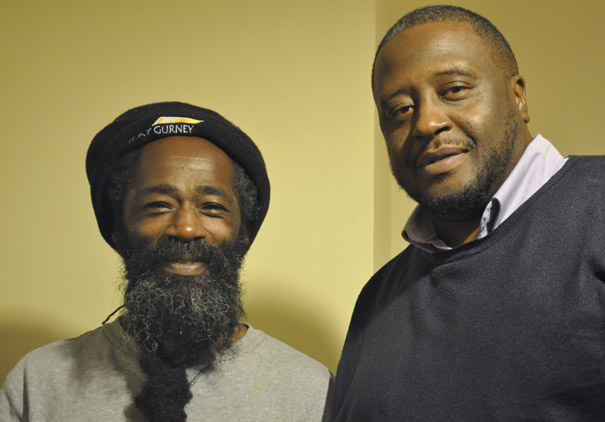 Were there a lot of people there?
Yes, because we never had anything else. That's what we had, so believe me those dances were packed! And it was a good sized venue, I am talking 3-500 people. That place was rammed. Like I said, we never had anything else.

That is a really big capacity.
What you have to remember is that it is all about health and safety now. A lot of these clubs could handle the capacity but because of health and safety they wont allow them to.

Could you explain the connectivity between reggae bands and sound systems?
Well, back in the day, if there was a band you would get a sound system because the local sound system for that area had a bit more traction. It would have a following from the people in that area. Promoters knew that if the sound system was there, plus a band, they were onto a winner. He knows he can get people through the door.

Did bands and sound systems play together on the same stage ever?
I wouldn't say the same stage, you would have a sound system warming up the venue. Let's say the venue opens at 8pm. The band won't come on stage until about 10-11pm and in the mean time the sound system would be getting them whipped up ready for the stage show.

You were saying that sound systems would play tunes to let the bands know whether to release a single. Tell me about that.
There were a lot of producers back in Jamaica. Big sound systems like Fatman from London, Mafia Tone from Birmingham, Jah Shaka from London, Bismarck from Birmingham - all of these sound systems may have a contact with a studio in Jamaica. Perhaps it is King Tubby's or Channel One and they may send them tunes that are going to be released but they get pre-release or early advanced copies. They would get these tunes before anybody else could get them. They may have a clash or battle with another sound system. On that night whoever plays the best music would win. That is what it is all about. That's how your sound system is rated, do you play good music?

With Enterprise who was your toaster?
At that time it was Curtis Francis and Mike Mullings but then guest DJs might pass through the area and come up on the mic as well.

How long did Enterprise go on for?
It went in two phases, it started in '75-6 then they kind of stopped about '81-2 because by that time everybody was getting older, they were going to college, having families, getting on with their lives.
It's something you love doing but really and truly it's a hobby. Some people say it's my life, I understand what they are saying. The reality is if you can earn money from it then that's all well and good but if you can't you have to deal with reality and you need a job or you have a family.
Like I was saying with the sound systems, it was kind of dying down. The sound systems stopped playing, got put down for two years. Then the sound bit me because I wanted to build the sound system back up. When I went to talk to the rest of my brothers - they are all my bigger brothers, my family, they brought me up - the first thing they said to me was get a crew together. "If you have a crew then you can have the sound system but if you don't have a crew we are not going to give it to you." I went and came back. "Have you got your crew? Then here you go."

When did you start the second time?
'82.

What was this called?
It was still called Enterprise.

Who did you have with you at that point?
Maurice Gale, Roger Organ, Michael Edwards, Michael Gabbidon, Stix [Mr C. Cameron].

Does Stix have a second name?
No, it's just Stix. Also the DJs General [Eric McCarthy], Budgi Dread [Collin Greenwood], Spider [Gary Morrison].

Were these all people you were at school with?
Yes, apart from Spider because he was younger and General because he was from Birmingham.

Can we talk about why sound systems seemed to stop?
Dave Fisher: For a while it was more roots music being played and dances were packed. The style of music changed, it wasn't roots, it was more ragga, rubber dub or whatever. There were a lot of arguments at the dances and the women got fed up and then the men stopped coming too.
Thabiti: They got fed up because they knew every time they went to a dance all they were going to see, sooner or later, was a gang of men flow from one corner to the other corner. They knew what was going on. Even you knew it. Personally for me, I can remember my parents saying I hope you don't go out tonight. Even they knew.

What were they fighting over?
Dave Fisher: Over sounds, just over music

Thabiti: Someone would buy this Bob Marley track and go around saying that only they could play it. Of course, as soon as you have said that someone else will play three pieces of music by Bob Marley. Now, they would want to find out how the other person got hold of it. If it is so exclusive how come that other person is playing it? Either you have to have stronger music to answer them or send your boys over. It became a bit of a battlefield. You came to the club thinking it would be all right and then someone would get beaten up. Soon the clubs stopped hiring out and stopped calling up the sound systems because it was being predominantly followed by undesirables.
In the 70s and 80s when they first started playing music it was predominantly rasta music, then it was American music where the theme of the music was money and guns. Then it went to an even crazier level and people tried to stop anyone else from ripping off their sound. Bob Marley says that when music hits you, you don't feel any pain - that it's got to be about joy. You would go home at the end of the night with your woman, having both enjoyed yourselves. Rather than killing anyone. That was the whole point of the music.
The younger generation, Dave and myself, we were probably buying bigger amplifiers than our parents were. Then when we stopped playing for a bit we found out that newer sound systems were using 34,000 watt basslines. I was using 200 watt back in my day. It's such a vast difference from when we were playing music 30 years ago. Music changes and you have to adapt.
Sound systems are beginning to become... not popular but coming back. Us guys, nowadays are trying to show sound systems in a better light. Usually you would use a sound system to battle but right now it's about other things. They did cut it down, it was all about money and suddenly people couldn't get licences if they were playing sound systems in their places. Clubs began making you use their in-house system. When we first got into this business, you could have gone to lots of places, Birmingham or London, but now there are a lot less venues available. There are only four places in Bristol that I know of. It is a dying breed but because the live bands have come back there is something about sound systems that the younger generation is getting interested in.
Dave Fisher: There are a lot of sound systems that are good but where are the venues? In Bristol we are lucky, we have four venues.

What are they?
Dave Fisher: Malcolm X, Trinity, Black Swan and Motion.
With the new version of Enterprise, where did you play?
Dave Fisher: To be honest a lot of times we played in Cardiff and Wales - we did a hell of a lot of stuff in Wales. We did a lot of dances in the New Ocean club. At a lot of the shows we had Barrington Levy, Sugar Minott, Freddie McGregor and Dennis Brown all on the bill. A lot of work in Casablanca as well as Quaker's City [now closed].

When did that start to tail off?
Dave Fisher: Towards '91-2.

What was the reasoning for that?
Dave Fisher: Really, it was because apart from these big promotions that went on we were putting on the majority of dances ourselves. My first crew, they moved on because you have to live your life, they were a bit older than me as well. They had their time and moved on. Then in the early 90s that was my time to move on. There is so much work, you have to work and cram it in. There are a lot of sound systems around today but they don't get any work because they are waiting for some man to call them. You have to do something with yourself.

So you didn't do anything for a while and then is this when you started Papa Roots with Thabiti?
Dave Fisher: Yes, Fire-T.

Fire-T?
Thabiti: Yes, Fire and Tee.

I thought your name was Thabiti?
Thabiti: It is but when I am with the sound systems I am Fire-T.

Is Thabiti your first name?
Thabiti: It is my name, it is the only name that I've got, Thabiti. They call me Fire T when I am on the set. I don't know why. It is a radio name I used. I have always been involved in music but me and Dave have been friends for years. We were actually spending our money going to shows and I said to him: "what are we doing? We could play a better show than this." He said, "Yes, but that was years ago." I said, "we could play a better show now." He thought it was a joke.
Dave Fisher: We played our first show at the Trinity Centre with King Tubby's in 2004/5.

You had a decade off. Now, is it just the two of you?
Thabiti: Yes.

Thabiti, what were you up to before?
Thabiti: I've played with lots of Bristol and London sound systems but never fully committed to a sound system before. This sound system is my sound.

Before were you a bit like some of the MCs who would guest on Dave's Enterprise?
Thabiti: No, I was never like that. This only came about because there is just the two of us. I am not really an MC. I select music or pick tunes. I will play something that I don't like but the majority of people will love, because when I can make you enjoy yourself like that it makes me a better selecta. Really, when we are playing the music it is about spreading a message. I only started going on the microphone because it was just me and him - I knew that I didn't need to do a lot. When you are a bit older, a bit wiser, it does get a bit easier. If I am honest he is a better mic man than me but he wont chat the mic. I will stand up and do it because I am proud of what we have got and I know that other people will appreciate it.
Thabiti: These are the shows that we were doing before the Bristol Dub Club was getting recognised [points to flyers]. In the beginning we actually called ourselves the Bristol Roots Syndicate because no one would come in with us. It was when we did this show [points to another flyer] with Lokko and Teshuvah as Papa Roots that is when we changed it over to the Bristol Dub Club. Before that everything was just our own production.

I remember you were saying Jah Lokko...
Thabiti: A long time friend and my long time nemesis. We don't have any war but we understand what it is about. The next time he sees me I will play two different tunes that he hasn't got.

A bit of healthy competition?
Thabiti:Yes, it is only about furthering each other. This is what we have been doing. We would like a bit more support but we aren't worried because we have been doing all right. It is being recognised but we are waiting for the promoters from the other side of town, to give us a call. But we aren't worried because a lot of people are coming and seeing what we do for themselves. We are very versatile at what we do anyway.

Originally this was a night called Dub Encounters, was that a regular night?
Thabiti: We took over the Black Swan for a few months, once a month we put on a show. I think our first Bristol Dub Club date was against Earthquake [Mar 7, 09].

How long had you been doing Dub Encounters?
Dave Fisher: Before Dub Encounters started we were doing all these promotions. After we had done all of this promotion [points to flyers] that's when we started Dub Encounters.

How long had that been going, was this something you had just started?
Thabiti: No, it started in 2007. [Points] Friday 2nd of November 2007. That one was with Negus Melody meets Hytal rockers meets Papa Roots. Here's one we did one with Lokko on the 5th of April 2008. [To Dave Fisher] Actually you said six years but I think it's longer than that. The Jah Shaka show here [points to another flyer] is from 2005. That was just before they stole his sound system.

Some people just stole it?
Thabiti: Yes.

Does it feel like there is resurgence in sound systems now?
Dave Fisher: There is a resurgence. The only problem is that there isn't enough venues. In Bristol we are lucky because if you wanted to go to a dance every month you could.

Has the crowd changed?

Dave Fisher: It has because when we first started off playing sound systems the audience was predominantly black and now it has reversed. The black man is the minority [laughs].

Thabiti: Actually what we are starting to find now is that it's not just white people, even Asians are coming in large numbers now. It's inclusive, which is what we wanted.

Do you think that there is a cyclical nature to dub music? Has the audience who were listening to drum'n'bass and jungle started to rediscover dub music?
Dave Fisher: Well, that could be happening but there is also a very young element. How old are you?

I'm 24.
Dave Fisher: I don't know what you are into but you, yourself, know that you have friends who are going to these things.

Thabiti: Sooner or later the things that are said in the dub music rubs off in your daily language. It comes into your household because that is how infectious the music is. At first you will hear it played on our sound system and the next thing you know it is living with you.

Dave Fisher: The important thing is the message of peace and love. If you go to a roots dance you don't have to worry about anything whereas If you go down town you don't know if you are going to get a bottle in your head.
OK, thank you for your time Dave and Thabiti. It's been a great interview.