People from the era tell their stories.


Dennis McCalla aka Dallas
Dallas
by Alex Cater - Jeli Sound Archive / Bristol Archive Records
Dennis McCalla aka Dallas, is a reggae singer and songwriter from Bristol who has supported well known acts like Ken Boothe, Millie Jackson, Pat Kelly, and The Temptations as well as playing Glastonbury festival. His close ties with Black Roots, one of the city's biggest reggae bands, has lead him to perform with them as a guest vocalist as well as supporting artist on a number of occasions.
Born in Jamaica, in his early life he came into contact with reggae, ska, and r'n'b before moving to England in 1963 where he encountered new forms of music, such as jazz and pop. In particular he passionately remembers a book called The Record Songbook which contained the lyrics of all the current hits of the day. 'I don't think I write how they normally write in Jamaica, I think my style of writing was formed in the English form through the Record Song Book.'
His first performance was a talent competition at the Bamboo Club as part of a harmony trio called The Mighty Triers. They won, the success being especially sweet because it was guest judged by one of the groups biggest influences, Derrick Morgan. His fellow bandmate Delroy O'Gilvie later going on to become the lead singer in Black Roots.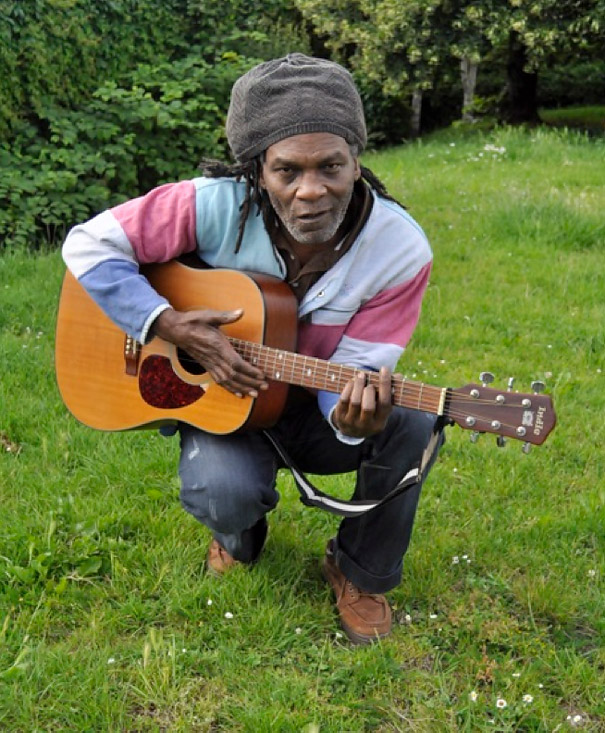 Dallas' tumultuous life, full of ups and downs, has fed into his songwriting. His recent song Jah By My Side has received lots of air play on local radio station Ujima and and another track Peacemaker has been re-released on The Bristol Reggae Explosion by Bristol Archive Record's.
This interview was conducted in collaboration with Bristol Archive Records.

So what were your early musical experiences like?
Well, I started out from way in Jamaica, I was about six or seven when I started out singing. In Jamaica when the sound system played they put the loud speakers up in the trees and you could hear it for miles around. Sometimes we would go to the shop and punch from the jukebox and listen to our favourite songs and our favourite singers. There were a few times when I would have gone to school and did school productions. So I started out singing pretty early in Jamaica. I came to England in 1963.
Starting out who were your influences in the wider music industry and locally?
Derek Morgan was my favourite singer from Jamaica.
What singles did he release?
He did [sings] "You said it I am a blazing fire." He did housewives' choice, he did lots of songs he was Jamaica's favourite son. There was another singer, they were in competition, Prince Buster. They used to make songs about each other. They released a lot of songs but my influence was Derrick Morgan, especially the song I mentioned previously, Blazing Fire and Housewives' Choice. He used to sing with a girl called Patsy, Derrick and Patsy, yes they were my influences.
What was it about them that you liked so much?
Well, it's the way that he sings [sings] " You said it I am a blazing fire." It was the way he put his lyrics over. He did a song called "Monday, I wrote and told you I was all alone and blue. Tuesday, I wrote again, baby I said I love no one, no one, no one but you. No I don't." Seven Letter "This is my seven letter babe." You know what I mean? I think a lot of Derrick Morgan's style of singing has rubbed off on me in a lot of ways.
When I came to England it was a bit different. Weekends in Jamaica, on Saturday and Friday there was always a dance. When I came over here my parents tended to be playing Jim Reeves on a Sunday. "I hear the sound of distant drums." It was completely different. I had a lot of influences because during my time over here and going to school, I think I started to listen to a different type of music. Over in Jamaica you would only listen to the reggae music that we were hearing. You would hear one or two soul songs coming over from America. I don't think at that time there were any great writers in Jamaica. You could rephrase that a bit but most of the songs you were hearing they were American songs that were recorded in blue beat or ska.
When I came here, living not far from here actually. When I went to school I think my music expanded because suddenly I was listening to jazz and pop. I think one of my strongest influences came from the Record Song Book. The Record Song Book was a book that was out every month and it gave you all of the songs that were popular in the charts at the time. So I would go to the shop and I would buy it, it was only 25p. I would buy it and go home and I would switch the radio on then I'd have this song book and then when they played certain songs you would see me going through trying to find them. I think my writing, the way I write, I think it has kind of come from the Record Song Book. I don't think I write how they normally write in Jamaica, I think my style of writing was formed in the English form through the Record Song Book.
I'd been listening to a lot of music. Now I am influenced by all sorts of different kind of music. I am a reggae singer but I know there's all other kinds of music out there so I've never been restricted to just one type of style. Black Roots are my favourite local act, there are quite a few local acts around. I've known them and played with them over the years. I went to school with most of the members in Black Roots.
Were you in their classes?
No we weren't in the same class but we've been running together from school.
Which school was this?
Baptist Mills Secondary. The one up by the motorway. There's a lot who are making good music, but like I said my favourite is Black Roots. My singer friend Winston Minott sings for Cool Runnings, Joshua Moses, Linda B, Bev G, Sharon Benjamin. I could go on.
So what was it about Black Roots that was so important to you?
Because Black Roots were writing original songs.
Was that different, did some of the other artists play covers?
Yeah they were covering songs.
I guess that was quite common at that time.
Yeah, not everyone can write. Black Roots were writing original songs and they had meaning. They were very meaningful. I could draw inspiration from them.
So what was the politics of the local music scene like?
The politics? There was loads of it. There was a time coming up to the 80's and through the 90's that there was a lot of bitchiness. It wasn't pretty. That was why nothing could come out. Even though some of us were performing, there were loads of shows happening but we couldn't get anything together collectively.
Lots of infighting?
Yes, I myself probably have played a bit of a part in it. It was very difficult. I think now that everyone has realised that the ego tripping that was happening caused us to be where we are right now. I think we are looking at it now and saying that shouldn't have happened. To me really and truly I don't think its different from anywhere else. You get a lot of bitching where 'I am better than you' or 'your music isn't good enough.' Looking back on it now there was a lot of music but none of it was getting out. Sometimes we laughed about it. We reckoned we were black listed because I mean Black Roots went to a certain height didn't they. They didn't fold but they stopped performing. They had things on the internet but they stopped performing.
I guess it's also worth mentioning Nubian Records, didn't they start their own record label?
Yes.
And why was that? Why did they do that?
I suppose they couldn't get a record deal. Maybe with the type of songs they were singing, they were better off starting their own record label. EMI or all of those big labels don't want to take you on. They might think that it's counter productive because they're looking for these cheesy pop songs. They aren't looking for the guys who are saying, 'hang on here I am hungry and I want food to eat, you've got all the food over there, why cant you give me some?' They're not saying that they are going to take it but 'yes we are going to come and get some.' I mean I made Peacemaker, with lyrics like 'everyday there's war in Africa, black and white fighting each other, Oh Jah send down a peacemaker.'
Peacemaker was a record that you made?
Yes.
Where did you make this record?
I made it in Weston.
Weston-super-Mare? What kind of year was this?
84, with Liam Henshall.
Who was the band as well, what was their name?
The band was Street Life. It was just one track and a dub. What it was, they did it for me. Street Life were a Weston-super-Mare based band, you know that place is very good for musicians.
What happened to them?
I don't know. I haven't heard anything from Street Life for a couple of years now.
This seems like an interesting time to talk about The Mighty Triers.
The Mighty Triers consisted of myself Delroy O'Gilvie and Carlton Thompson.
What did Delroy go on to do?
Delroy went on to join up with Black Roots. Carlton retired even though in the last couple of years we did try to bring him out of retirement.
So what kind of time was this, how old are you and what year was it?
This was in the 70s. I think I was in my teens, coming up or just out of my teens. My first public singing performance was when we The Mighty Triers won the singing competition at the Bamboo Club.
What kind of an act were you?
We were a threesome, a trio.
Did you do harmonies?
Yeah we sung in harmonies, and I tell you what. We were pretty good as well.
You must have been to win.
Yeah we were pretty good. We had a manager right, there was a guy who put us together and looking back on it now he knew what he was doing. He's dead and gone now, rest in peace.
What was his name?
Vince. Looking back on it now I admire him. He had very good hearing for music because what he would do is put on the record or grammar phone. It was the old Blue Spot, have you ever seen one? Most people from Jamaica would have a Blue Spot Gram, they can have a drink in one compartment and the music, all built in one. Gram they called it Blue Spot Gram. What he'd do, he would go into the room and put the record on and turn it down. You're singing and he kept on turning it down until you couldn't hear it but you had to maintain the same level of singing. Then what he would do, he would start to turn it up and the music would come right in sync with what you're singing. If it wasn't you were out. He knew what he was doing, looking back on it now.
Then one day we were rehearsing, myself, Delroy O'Gilvie and Carlton. He wasn't at the house when I got there. About half an hour after he came in with a guitar he walked over and he gave me the guitar and he said 'Dennis learn to play.' I mean he didn't say anything after to let me understand the importance of what he did and what he said. Years after I could see what was happening because he knew at that stage that out of the three of us I was the singer. He gave me a guitar, he must have bought that guitar and gave it to me. If I had cottoned onto the significance of that I probably would have gone further. I played around with it a couple of times then the next thing I am in prison. Years after when things are not running the way I wanted, I said to myself if only I had realised the significance of what he did that day with my other two friends I probably would have been better off.
How did you meet him? Was he a family friend?
No I knew him, he knew me, but he was more friendly with Delroy O'Gilvie. They were working at the same place, which is a place called Smelting in Avonmouth when they decided to put the band together. When we went to the competition he didn't turn up. I think because as far as he was concerned there was only one result. He expected us to win. We went there to win. We were very well prepared. Being on stage the very first time, looking at it back now, must have been pretty terrifying. I can still remember the song we did as well. [sings] 'The sun is shining, yes it's smiling, I might tell a joke, I might start to laughing, but in my heart it's raining, oh in my heart it's raining.' I still remember it as if it was then. When we got back and told him, he didn't expect any other result because we were well prepared.
What he did as well, which looking back on it was pretty smart, he tested us to see which one was the lead singer. His specific wording was, 'now we are going to see which on of you is the lead singer, which one of you is the lead vocal.' I was lead, I knew that even then because I have only ever sung lead from Jamaica. It was pretty nerve racking, I remember it as well when we did the Bamboo because it was rammed. When they called out The Might Triers and we were gong through the crowd people were blocking my way because they didn't know me as a singer. They were blocking my way because I had never sung before. 'Where you going?' 'Hang on here I am The Mighty Triers.' It was good night.
I had a chance to have gone to wherever with Derrick Morgan and I tell you what. He was my hero. I told you that previously. He wanted me to come with them.
Was he there that night?
Yeah, he was the judge and he was my hero. I don't know if I ever did tell him but he was my hero. His people they wanted me to come with them but because they didn't want the three of us. You know when you are a bit younger you are more in touch with loyalty. Well there's three of us singing, you don't want them too? I am not going. Now if you are a bit older you tend to be a bit more throat-cutting a bit more self-centred but when you are younger you tend to have a bit more loyalty and I didn't go. Years after people said to me 'Dallas you remember when Derrick Morgan wanted you to come with them? You know what could have done now, what would have happened?' If I had gone with them at the age of 16, 17, I probably would have been big in reggae music. I would have gone with them wherever, in London or wherever, I would have got my name known because I am young. They would have brought me on their show. When you are young you can sing much better than when you are older because you didn't smoke, you didn't …
Your voice ages as well. Yeah
I probably would have learned a lot more. I have always looked at it and said to myself if your hero calls you and you don't go. You know what I mean? Your hero. He calls me and I didn't go. It was fun. He's still singing mind.
So what are your first recollections of Black Roots and when did you first see them play? You subsequently played with them didn't you?
Yeah I played with them but they played in Bath, they did a couple of shows in Bristol. Black Roots supported Steel Pulse and Aswad. I have worked with Black Roots several times but I go way beyond that because I have been friendly with members in the band.
So what was your set up with your solo work? Did you have a backing track?
Sometimes I used a backing band, sometimes I used a backing track.
What was the name of the backing band that you had?
Jasco-D were my backing band.
You guested with lots of band right? What year were you with Jasco-D?
85,6,7 coming up.
How did that kind of fade away?
We faded away even before we started.
Right, why was this?
We did a few gigs and then The Tropic wanted to manage us.
The Tropic was?
The Tropic nightclub.
Where is that?
That's off Gloucester road.
Where is it now?
That's The Bank. The Bank wanted to manage us right. They were going to get us, new instruments, a place to rehearse, which would be in The Bank, and then we would play there once every two months. That in itself was pretty smart to me. Well, we had a contract for 6 months because we were functioning as a band. We did a few gigs you know. But what happened was we went to see a solicitor with the contract, but I had a manager. Myself I had a personal manager.
Who was that?
Vincent, oh my manager? the girl one? she was Shelly. She was a student at Bristol University. Shelly and her boyfriend, we were going to start getting work through them at the university because they were there as well it would be easy for us to get gigs. Her boyfriend he was the one who did all of the technical stuff, you know when an amp goes, there's something wrong with the amp or the mike. He was the one who would get his soldering iron and he did the logos for the band Jasco-D.
So after 6 months we went to see the manager you know and we sat around this table. Everyone in the band I brought them into the band except two guys the bass player, Dave and another guy named Alan. He's now killed himself, fumigated himself over a woman. They were practising somewhere I was passing and heard them playing. Went in and joined them up. So we were the core of the band, so everyone else we brought them in.
So when we went to sign the contract out of the blue, just to show you the kind of bitchiness that was going on. This guy named Sonny, he's playing the keyboard he's playing with Linda B's band, but he left and came to play with my band. I brought Linda B now, she's a friend of mine, into my band. When we went to sign the contract I decided well there's two things. I am the lead singer in the band and I am the leader of the band because there were certain people in the band that other people wanted to get rid of. I would say no that cannot run, that cannot happen because you can't get rid of someone who is talented and bring someone in who is not talented in this band. The more talented people in your band, it might be difficult to work with but the band can go further if they are working together. If there are three talented people in the band then they can set up everything for the rest. That band will go further than a band with just one talented person. Take The Beatles, Status Quo.
Out of the blue suddenly they said that they didn't want me to be the leader of the band and they didn't want me to be the lead singer. He now that was playing in Linda's band was saying that she was a better singer than me. Well if she was a better singer than me, why didn't you stay in her band? Well my manager she was shocked, the management of The Bank they were shocked because the only reason they wanted to sign Jasco-D was because of me. So the contract couldn't run. I am not going to go and sign up a band where I am not the lead singer in the band.
Ok, so can we have an update on what you have been up to in the last few years?
In the last few years I brought out The Best of Dallas, my album. I brought out my single Jah By My Side. Believe it or not it was number one on Ujima for about 3 weeks.
Wow Cool. Ujima is the…
Local radio station.
Where are these albums or singles available, are they on the internet?
Well they will become collectors items because I only did 100, maybe 200 because by the time I did the sleeves and did everything in the studio it cost me a lot of money that I didn't have. They are all on the internet and youtube but I don't know if you would be able to get them in the shops. You wouldn't be able to go to a shop and get them. Not any more. They were at Genesis, a few. They are not out there now on a big scale.
Apart from that I did a Millie Jackson and Ken Boothe show which was in February [2011].
Ok, where was that?
The O2 Academy and I did a charity show after that that was down at Spring Garden, Hotwells. At the moment I am just writing and hopefully some shows will come up.
Do you want to talk a bit about Glastonbury?
Yeah, I did Glastonbury last year with Troy Ellis and The Long Shot Band. That was an experience in itself. It was a good day. Janet Clark was on it as well.
What stage did you play.
West Holts.
Tell me a bit about The Temptations. You supported The Temptations didn't you?
Yeah I supported John Holt and The Temptations. They were pretty hot stuff you know, The Temptations, if I remember them from when I was younger. They're not all the same members because you know with a band like that members go and they put in a replacement. The gig, there was about 700, 800 people there. It was a pretty good night. John Holt was also on the bill.
So what are you're lasting memories about the period from the 1970s-80s in Bristol.
It was very good, there were a few heartbreaks in between but the music was good. The music that was coming out was good. It all fell apart but the overall of it was good. It's a pity that nothing was done, that what we are doing now didn't come then.
Cool. Thanks Dallas.
Interview by Alex Cater