Bands 1982 - Onwards

PLEASE REFER TO THE DISCOGRAPHY SECTION FOR FURTHER INFORMATION ON MANY BANDS NOT LISTED IN THIS SECTION
Startled Insects
Startled Insects was a British New Wave instrumental jazz group. Their music was a unique mix of experimental synthesizer textures and ethnic rhythms.
History and Biography
Startled Insects began around 1983 in Bristol, England as a collective of three talented producers/multi-instrumentalists, Tim Norfolk, Bob Locke and Richard Grassby-Lewis. Very little information has ever been published about the band -- the participants' names did not appear on any of the album sleeves, nor were any pictures ever published. Nevertheless the band managed to generate considerable excitement with their first self-published EP and single, enough that Island Records signed them to their new Antilles New Directions label. Their first album for Island, Curse of the Pheromones (1987), was an underground hit, and the group performed several well-received multi-media tours. In 1990 they were commissioned by the BBC to score a ground-breaking 90-minute documentary entitled "Lifepulse - a Natural Thriller" which attempted to tell the story of evolution on Earth using nothing but BBC Wildlife footage and music. In 1995 they provided the score for another BBC documentary, "The Private Life of Plants."
In 1996 Richard Grassby-Lewis officially left the group. Tim Norfolk and Bob Locke continued on as simply The Insects (dropping "Startled"). In addition to production duties for various artists they started co-writing for Bristol bands such as Massive Attack, for whom they wrote two hit songs for their Protection album - "Karma Coma" and "Euro Child." They co-wrote and arranged "The Hunter Gets Captured by The Game" as featured on the "Batman Forever" soundtrack and "I Want You" for Madonna's Bedtime Stories. Meanwhile Richard Grassby-Lewis has also continued production duties for artists such as Najma Akhtar as well as TV and film scoring work.
Startled Insects 'Underworld' 12"
The Insects began to receive commissions to write music for other documentary specials, including several National Geographic Specials. One of these, Life at the Edge, won them the Emmy Award for Best Score. By 1997, The Insects had written music for several documentaries, an animated feature film (The Secret Adventures of Tom Thumb), many commercials, two CD-ROMs and a feature film, "Love and Death on Long Island," starring John Hurt and Jason Priestley. They also wrote music for Aardman Animations' Angry Kid. More recently they have written scores for XX/XY (starring Mark Ruffalo) and Owning Mahowny (featuring Philip Seymour Hoffman & Minnie Driver). They've also received much critical acclaim for the work on the ITV series "Wire in the Blood," now in its sixth season.
As well as film and TV work, The Insects continue to write and produce for other artists. They have produced Alison Moyet's newest gold-selling album, Hometime. Other assignments include the track "Human" as featured on the Goldfrapp album. Most recent project is a collaboration with Sean Cook (formerly of Spiritualized and Lupine Howl) called The Flies. Their album "All Too Human" was released in 2007 to much critical acclaim.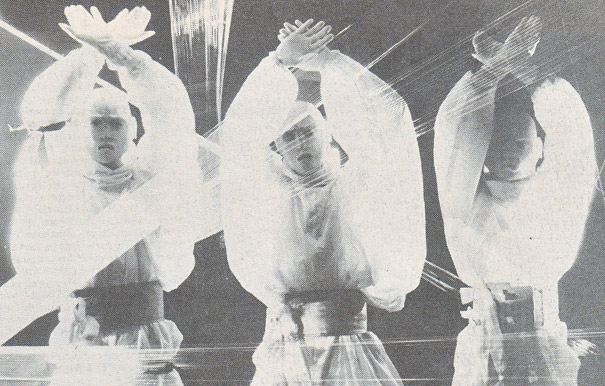 Discography
Startled Insects (a.k.a. Overzoom) (EP, Antenna Records AN10A ML1, 1984)
"Underworld (Short)" / "Black Spring" / "Underworld (Long)" (12" single, Antenna Records BUG T01, 1985)
The Mini LPs (incl. all of above) (CDR, 2ndSight Records SSCD007, 2000)
Curse of the Pheromones (LP, Island/Antilles Records AN 8708, 1987)
Curse of the Pheromones (CD, Island/Antilles Records 7 90630-2, 1991)
Curse of the Pheromones (CDR, 2ndSight Records SSCD009, 2000)
Lifepulse (CD, Island Records, 1991)
Lifepulse (CDR, 2ndSight Records SSCD010, 2000)
Skin (a collaboration with Biggie Tembo* of The Bhundu Boys) (CD, Island Records, 1994)
Skin (CDR, 2ndSight Records SSCD004, 1998)
From an original article by Colin Allen on Wikipedia