Bands 1982 - Onwards

PLEASE REFER TO THE DISCOGRAPHY SECTION FOR FURTHER INFORMATION ON MANY BANDS NOT LISTED IN THIS SECTION
Claytown Troupe

In 1984 the UK Rock scene was about to re-invent itself out of it's Punk & Gothic roots, bands such as The Cult, Sisters Of Mercy & The Mission were reaching wider international audiences, whilst re-inventing the 'follower' phenomena that came with Punk, which saw a network of hardcore fans travelling the country to every gig with their kit-bags and styles that although unrecognized, would become a huge influence right up to the grunge scene of the 90's and beyond into the new-rock of today.
This new audience created an opening for many bands that otherwise would have had little support beyond the independent scene, giving major record labels and promoters a new category to work with, 'Alternative Rock'.
One of those people who had followed bands since 'the Ruts' was Christian Riou, inspired by the power and passion of the new groups, he decided to form a band that could take it's ideas from the audience itself, it was christened the Claytown Troupe.
Over the next three years, and a variety of members, the band found it's feet with a line-up that would release two international albums on Island and EMI Records, 'Through The Veil' and 'Out There', then further singles including anthemic classics such as 'Prayer', 'Hey Lord', 'Ways Of Love', 'Real Life' and "Wanted It All'.
With a reputation as a brilliant and exciting live band, they toured all over Europe and into the US, with sell out shows at the Marquee, Astoria Theatre and The Town & Country Club (the Forum) in London, supporting many well-known acts such as The Cult on their 'Sonic Temple' tour at major venues such as Wembley Arena and the NEC, the list also included Pearl Jam, The Wonder Stuff, The Damned, Julian Cope, The Godfathers and The Mission amongst others.
In 1992, after parting company with EMI, Andy, Paul and Ben decided to leave the band for pastures new, Christian was back to where he had started in 1984 and the Claytown Troupe has been on hold ever since.
Their sales were in the hundreds of thousands, but the band never made a chart entry higher than the top 50, becoming a 'cult bands-cult band'. Although through their success, the Claytown Troupe gave a helping hand to other bands and individuals that would go on to work and influence the music industry, so their legacy can still be seen today.

Interview with vocalist Christian Riou 28/10/06
"I first heard of Punk Rock as a 12 year old boy from my older brother in the summer of 1976, and was amazed at the passion that it awoke in a generation that was still hung over from Bowie and Roxy Music.
I would watch them travel from gig to gig wherever a new group was playing, from the 'Sex Pistols', 'The Damned' to 'The Clash', it was a voyage of discovery where they could connect with like minded people and feel that they were purposely setting themselves apart from the norm."
Within two years it was seen as an essential part of raising a bands' profile, to have a dedicated fan base which became known as a 'Following', this scene then created sub-groups and styles that showed affiliations with certain bands, from Punk to the emerging new wave that started with 'Joy Division'.
"I had a school Punk group in 1979, our first gig was supporting Bristol's 'Vice Squad', I started going to as many gigs as possible, catching the tail end of Punk, but wanted to see the bands that were starting out, bands that I thought had the extra passion, and the first time I experienced this was seeing 'Theatre Of Hate' and 'Killing Joke' in 1980."
Between 1981 and 1984, there were some amazing new acts, from Bauhaus, The Sisters Of Mercy, Play Dead and Danse Society in the darker Gothic mould, through to the commercial vibes of 'New Order', 'Echo and the Bunnymen' and 'The Smiths' who were setting the mainstream alight.
Then there was an emergence of a new breed of fans that Christian gravitated towards, they were following 'The Southern Death Cult', 'Play Dead' & 'New Model Army', these groups embraced their audience and fashions, and were creating a new scene with it's own codes and faces, it was similar to the elements that had convinced him in the early Punk days.
"I visited a famed local clairvoyant who was uncannily accurate with her predictions, I went to see her for fun but was amazed when she informed me that I should form a band, call it the 'Clayton Troop', and it would have success, she said it would never be massive, but would take me to America and was part of my path in life, it was everything a 19 year-old wants to hear, so I re-christened it 'Claytown Troupe', and off I went on my new mission."
At the same time 'The Southern Death Cult' became 'The Death Cult', guitars were getting bigger, hair was getting longer, and the following were getting hungry."
Further information on this amazing band can be found at Claytown Troupe

Discography:
Through The Veil
1989. ISLAND 422-842 344
REAL LIFE
ALABAMA
HEY LORD
PRAYER
WONDER
BURY MY HEART
HATE TO HATE
LOVE IS
TELL ME
CHIRICAHUA SUN
THE VEIL
EVERY PART OF ME
The Album was recorded in late '88 through to spring '89 at Jam Studios in Finsbury Park, then mixed at Air Studios In Oxford St., we remixed some of it at Gooseberry Studios in Tulse Hill. It was produced by Ron Fair (now head of A & M Records) & Ralph Jezzard (who went on to produce 'EMF' & form 'Grand Theft Audio'.
The cover was shot in the mountains of North Wales, some of it in a quarry that was used to film 'Star Wars' & 'Willow', there were fake prop skulls lying around, or maybe forgotten actors!
The vinyl included a free 12" of more creative mixes, plus we wanted to offer something extra for the money as the CD was becoming the format of choice, these days it would be up against a DVD.
"The cover photo was not the one I chose, the record label slipped it in without telling us when we were on tour, the cover of the cassette is what it should have been which made it to the back cover."
The Haida Sun face logo is a North West Coast American Indian symbol, it's also Christian's tattoo which he had done after seeing the American Indian Dance Theatre, this kind of design has featured throughout history in all cultures, but although Christian knew it was setting the band up by using Indian imagery, it felt right, that's all, they could have used anything, but were inspired by the kind of independence & spirit that the Indians represent, in the same way that Rock and Roll & Harley Davidson's can to people.
It reached 74 in the UK charts, but sold thousands of copies around the world, you only have to search on Google or Ebay to see how far it reached!
"I hope that it gave fans a good time, & perhaps for a while, a soundtrack to their lives, amusingly, I remember Eddie Veddor from 'Pearl Jam' telling me that Stone was constantly playing him the album when he first joined! "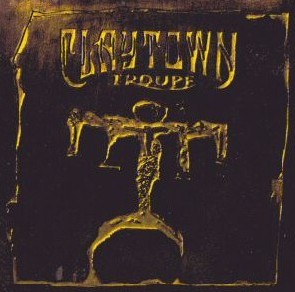 Out There
1992. EMI CDP96571
"In the beginning was the word, and the word was testicles..." It's comforting to know that some things don't change. Vocalist Christian Riou's toilet humour is still very much prominent, having even signed into the hotel under the name Juan Testicle. He is, however, still very serious when it comes to discussing the band, and the machinations of the music industry.
"We decided to leave Island after the takeover from Polygram, because we didn't think some of the people who took over would understand what the band was about, "he says. "We also needed a change. We took two years to write this new album and when you put that kind of commitment and that kind of work into something you've got to make sure that the people working around it are right." It seems incongruous that you took time out when things were going so well for the band. Having built up a large following and won over a lot of critics, most bands would have capitalised by continuing to churn out the goods.
"We just needed a break from it," Chris explains. "We'd played for years in sweaty little clubs really working hard, then suddenly we were selling out all these big venues. It was like the real impact had gone. We just wanted to go away and redefine and rediscover ourselves." "Living in New York for a while was the froth on top of the beer. It kind of all brought it to a head, and we're all much better for it.
A lot of bands are too scared to wait some time and write a really good album, because they don't get paid by the record company until they've got some product. That wasn't important to us. Let some other sucker go and release an album every year to pay for their mortgages. We just wanted to make a record and release it when the time was right." According to Christian that time is now, with the new stream of more alternative rock bands. "In 1990, rock became a dirty word for most people. Theres so many good bands coming through now, like Soundgarden, Pearl Jam and Alice in Chains, who are redefining rock as being something off the wall, something alternative, but at the same time with a hard edge which is what it should be about.
"It shouldn't be about singing about cars and girls, it should be about real experiences, which is what those bands do. Unfortunately the majority of the rock scene in 1990 wasn't doing that. Now it seems to be coming more real, which is why the time is right now to release this record." Produced by David Bianco in the Hit Factory, New York (where Lennon last recorded), 'Out There' is proof at last that Britain has still got the capability to produce rock bands that can retain their originality without becoming 'Americanised'.
Despite their time in the States and signing the deal with the American office of EMI, the Claytown Troupe remain resoundingly British. "LA is about who you are, not what you are and New York is about what you are, not who you are," states Christian with a grin. "In New York you can just hang and meet people and meet other bands. We chose to record there rather than Britain because our label and producer were American. It's the album we wanted, how people react to it is their business."
It seems ridiculous that a homegrown band has to look to the States for recognition of their worth. "The rock scene in Britain is getting really healthy again, but it still seems that a lot of the music press and the people at the record companies are still very narrow minded." Chris sighs. "They're all very straight ex-train spotters.
They listen to rock music, but they don't fully understand it. In America they respect rock because they grew up with it, and they live it. It seems that in Britain everything is viewed through binoculars - everything looks so great far away that they fail to notice what's under their nose."
With the strength of 'Out There', hopefully a few people will be getting their eyes wiped.
Trish Jaega, Rock Power Magazine, 1992.