Various Artists
Music From a Festival Field ARC315CD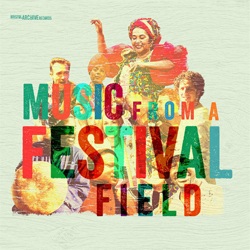 Hamid Baroudi - Sidi
Toto La Momposina - La Paloma
Pato Banton - Groovin'
Ghostland - Faith In Love
David D'Or - Lecha Dodi
Nusrat Fateh Ali Khan - Ya Mohammed Bula Lo
Kanda Bongo Man - Ekipe
The Well Oiled Sisters - You Got My Heart
Michael Messer's Mitra - Any Way The Wind Blows
Purna Das Baul, Bapi Das Baul & Manju Das - Sonogo Ayaan Dada
Perunika Trio - Ta Ne Se Si, Mome, Naspalo
Ben Baddoo - Kpanlogo
Feat. Bruno Mello and Trumpet Boy y su Trompeta de Exito - Felicidad
Billy Cobham and Asere - Panama
Lior - This Old Love
Chartwell Dutiro - Shumba ya Mukwashi (The Lion Spirit of a Hunter)
Womad co-founder Thomas Brooman has written his autobiography, My Festival Romance, to be published by Tangent Books on 2nd June 2017.
As a musical companion to the book, Thomas has put together a great selection of rare and unreleased tracks by artists from all over the world. All of them relate to the lifelong passion for music that Thomas expresses in his book. Many of these artists have played at Womad Festivals in years gone by and other tracks are simply some of his all-time favourites.
"All of the artists featured are fantastic and fearless collaborators, making music that reaches across cultural divides and established genres. It has been a privilege of my life to have worked with all of them."
The compilation kicks off with the fantastic groove of Algerian superstar Hamid Baroudi. Sidi is the title track to Hamid's third solo album, released in 1990. Highlights continue with Colombian Latin Grammy winner Totó la Momposina and then Groovin' by Pato Banton.
Ghostland bring a brilliant track called Faith in Love featuring a guest vocal performance from Cara Dillon. David D'Or performs a Jewish liturgical song in the Hebrew language, an emotive, haunting arrangement of Lecha Dodi. followed by Pakistani Qawwali singer Nusrat Fateh Ali Khan. Every track is outstanding. Other artists featured are Kanda Bongo Man from Central Africa, The Well Oiled Sisters, Michael Messer's Mitra and Billy Cobham, working with Cuban band Asere. The compilation concludes with a beautiful song by Lior, one of Australia's best-loved singer songwriters, and then The Lion Spirit of the Hunter by Chartwell Dutiro from Zimbabwe.
My Festival Romance is an affectionate account of artists and music, people and places, dedicated to the teams that brought these many events together and to audiences all over the world. Music from a Festival Field captures the spirit of the book.
The Bristol Heavy Rock Explosion ARC303CD
Lautrec Mean Gasoline
Bronz Ask No Questions
Magic Muscle Free As A Bird
Claytown Troupe Hey Lord
Shiva Not There
Stormtrooper In The State In The City
Hunted Strangers
Voodoo Crazy
Mirror Mirror Domino Effect
Brabazon Having The Time of my Life
Headmaster Kids Said Rock
Jaguar Stormchild
Gazer Give It To Me
Metropolis DC Snake Madness
Stampede Shadows of The Night
Onslaught Metal Forces 2013
Amebix The Power Remains
The critically sanctioned history of Bristol music tells us that the melting pot of punk and sound systems spawned a generation of musicians who skipped arm-in-arm from hip hangout the Dugout Club to conquer the world with the fabled 'Bristol Sound'. All of which is true. But it's not the whole story. That great sage Mr. Rob Zombie has described metal as the biggest underground movement in the world. There are outposts in every major city - even cooler-than-thou Bristol. Mostly unnoticed by the local and national press, the city's hard rock and metal acts have created an impressive and remarkably diverse body of work over the years.
Of course, we shouldn't over-state the case. Bristol isn't the West Midlands. The city has never produced a Led Zeppelin, a Black Sabbath or a Judas Priest. Nor has there ever been a local hard rock/metal 'scene' as such; indeed, many of the bands in this compilation are not known to one another. If you choose to play this type of music, you cannot afford to succumb to the great Bristol band syndrome of cliquishness and insularity. No metal band has the slightest chance of becoming a big fish in this small pond. So as much through necessity as ambition - and there's been no shortage of the latter quality - Bristol's purveyors of the heavy stuff have tended to be much more outward-facing than their peers. And the rest of the world has been listening, from the NWOBHM-obsessed likes of Metallica's Lars Ulrich and James Hetfield lapping up Jaguar's proto-speed-metal and recycling it into world-conquering thrash to Max Cavalera of Brazil's Sepultura and key members of the early Scandinavian black/death metal scene gorging on the hugely influential anarcho-punk/metal crossover of Amebix.
Spanning nearly 25 years from the early '70s to the mid-'90s, The Bristol Rock Explosion celebrates the city's unfairly overlooked rock talent. Its 17 tracks, many of them rare and previously unreleased, also take in early space rockers Magic Muscle, punk rockers-turned-thrash metal titans Onslaught, the mighty goth-rockers Claytown Troupe, Shiva's pioneering prog-metal, the accomplished classic rock of Lautrec and Stampede, classy melodic rockers Bronz, Headmaster's saucy pin-up rock, the '90s sounds of Voodoo and Mirror Mirror, and much, much more.
Additionally, the extensive, anecdote-rich sleeve notes tell the frequently eye-opening stories behind this great music, written by Robin Askew
Careless Ways ep ARC293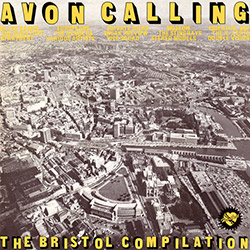 Glaxo Babies It's Irrational
Europeans On The Continent
Europeans On The Continent
Moskow Too Much Commotion
Essential Bop Chronicle
Directors What You've Got
The Various Artists Own Up
Sneak Preview Slugweird
The Stingrays Sound
The X-Certs Anthem
Apartment The Alternative
The Numbers Cross Slide
Vice Squad Nothing
Stereo Models Move Fast Stay Ahead
Double Vision My Dead Mother
After the huge success of Attrix Records' Brighton compilation Vaultage 78, there was something of a vogue for regional albums, and the obvious man to throw the West Country's musical hat into the ring was Simon Edwards, head honcho of Bristol punk and post-punk indie label Heartbeat.
When Heartbeat distributors Cherry Red demurred, Edwards convinced them with the 4 Alternatives EP featuring excellent tracks by The X-Certs, 48 Hours, Joe Public and The Numbers. It more than did the job, though only The X-Certs went on to appear on the album. It was recorded at Crescent Studios, Bath, with David Lord and Glen Tommey at the controls with two bands recording per day, one in the morning and one in the afternoon, sharing gear where possible. This was a fantastic studio, but not cheap so time was of the essence. The finished result, Avon Calling, was everything that Simon and Cherry Red had hoped for and then some. It's now regarded as a post-punk and pop-punk classic and a cult favourite in countries like Japan, where The Stingrays tour every year, and their Avon Calling track Sound is a show-stopper every night.
The ever-canny John Peel declared Avon Calling "…really the standard by which the others must be judged in future because it really is superb. There are fifteen tracks on the LP, genuinely not a bad one amongst them and a lot of really good stuff." And he wasn't wrong, of course.
All tracks digitally restored and remastered by Bristol's legendary recording engineer Steve Street.
Avon Calling comes home so to speak and gets a welcome rerelease via the Bristol Archive Records imprint. Released on CD and Digital Download on 21st October 2016.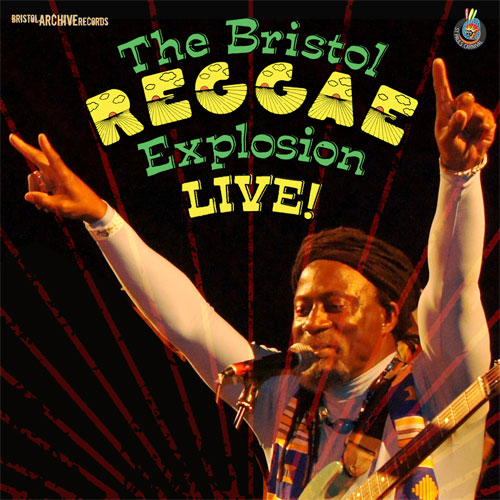 17 Track CD / 11 Track DVD & Digital Download. Released 3rdJune 2013.
For the past three years, Bristol Archive Records have shone the spotlight on the City's musical legacy, particularly reggae. Last year we decided we'd turn the spotlight on the artists themselves and so in August, a who's who of Bristol reggae artists gathered together for The Bristol Reggae Explosion Live. It was a unique chance to enjoy more than ten of the city's finest veterans sharing the same stage, in some cases for the first time in two decades.
bandcamp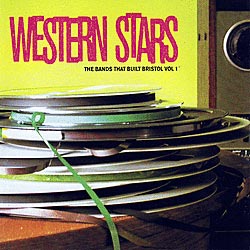 bandcamp
GLAXOBABIES THIS IS YOUR LIFE
GARDEZ DARKX BLISS
THE SPICS YOU AND ME
THE NUMBERS ALTERNATIVE SUICIDE
ELECTRIC GUITARS CONTINENTAL SHELF
APARTMENT THE CAR
SHOES FOR INDUSTRY THE INVASION OF THE FRENCH BOYFRIENDS
ESSENTIAL BOP RAIDERS BLUES
FISHFOOD THE MODERN DANCE CRAZE
ART OBJECTS HARD OBJECTS
VARIOUS ARTISTS TIME OF MY LIFE
TALISMAN DOLE AGE (EXTENDED VERSION)
EUROPEANS - Europeans (J Cole)
Originally released on Heartbeat Records, Pulse 2
7" Vinyl Single - copyright control - 1978
GLAXOBABIES - This Is Your Life (Glaxobabies) Originally released on Heartbeat Records, Pulse 3
12" Vinyl 4 Track EP - Heartbeat Music / Cherry Red Music - 1979
GARDEZ DARKX - Bliss (Gardez)
Originally released on Wavelength Records, Hurt 2
7" Vinyl Single - copyright control - 1979
THE SPICS - You & Me (Shennan / Dangerfield)
Originally released on Wavelength Records, Hurt 1
7" Vinyl Single - copyright control - 1979
THE NUMBERS - Alternative Suicide (McCawley)
Originally released on Heartbeat Records, The 4 Alternatives, Pulse 4
7" Vinyl EP- Heartbeat / Cherry Red Music - 1979
ELECTRIC GUITARS - Continental Shelf (Electric Guitars)
Originally released on Fried Egg Records, Egg 012
7" Vinyl Single - copyright control - 1980
APARTMENT - The Car (Griffiths / White / Emil)
Originally released on Heartbeat Records, Pulse 7
7" Vinyl Single - Heartbeat / Cherry Red Music - 1980
SHOES FOR INDUSTRY - Invasion Of The French Boyfriends (Davies / Porter / Chappells)
Originally released and taken from the album - "Talk Like A Whelk" on Fried Egg Records, Fry 1
12" Vinyl Album - Fried Egg Music / Heath Levy - 1980
ESSENTIAL BOP - Raiders Blues (Essential Bop)
Originally released on Monopause Records, Moan 1001
7" Vinyl Single - Speaking Dice Music - 1980
FISHFOOD - The Modern Dance Craze (Fishfood)
Originally released and taken from The Recorder 2, Bristol Recorder Records, BR 002
12" Vinyl Album - copyright control - 1980
ART OBJECTS - Hard Objects (Art Objects)
Originally released on Fried Egg Records, Egg 007
7" Vinyl Single - copyright control - 1980
THE X-CERTS - Queen And Country (Clive Arnold)
Originally released and taken from The Recorder 2,Bristol Recorder Records, BR 002
12" vinyl Album - Recreational Music - 1980
VARIOUS ARTISTS - Time Of My Life (J.J.Key)
Originally released and taken from 'The Solo Album', Various Artists Records, VA 1
12" Vinyl Album - Serious Pop Music - 1981
TALISMAN - Dole Age (Extended Version) (Joseph / Talisman)
Originally released on Recreational Records, Sport 12
12" Vinyl Single - Recreational Music - 1981
The back bar of The Lion, Cliftonwood, once I'd found it, was the place to hang. The glitterati met and talked in loud voices of big name supports and 'pie in the sky' record deals, but here too 'yet-to-be exploited' innovations were realised. Bands were formed, shuffled and renamed. No one had any money, signing on was fine if you said you were a poet, all our clothes were from second hand shops and DIY record production was the toast of the day. Heartbeat, Fried Egg, Wavelength recorded The Spics, Shoes for Industry, Various Artists, Gardez Darkx, The Europeans, The Untouchables, Wild Beasts, Essential Bop and more. Avon Calling became the first Bristol compilation album and in the absence of anyone spotting my potential as a lead vocalist, I became the first female DJ down the Dug Out.
Gill Loats


Ah, Bristol in the punk era! Guitars, cafes, speed and conspiracy theories. Originally one of the main punk centres (early attention for the Cortinas, Social Security and The Pop Group), by 1979 it had settled into the position it holds today - self-sufficient bohemianism with a hint of cross - over and the occasional defining moment to interest the outside world.
By the turn of the decade, the original punk-oriented labels were already looking beyond the city to fame and big bucks (yeah right) and not reflecting the uniquely pungent flavour of punk, pop, pilfering, piss-take and pretension that has always characterised this inland port.
Gerard Langley


This compilation is designed as a tribute to all the bands from the period 1978 - 1981. They should never be forgotten.
Mike Darby

CREDITS
This compilation could not have happened without the support and approval from Simon Edwards (Heartbeat), Andy Leighton (Fried Egg), Thos Brooman (Wavelength and The Recorder), Steve Bush, Dan Catsis, Mike Crawford, Jonjo Key, Alan Griffiths, Steve Street (The Main Man!), Des and Dennison and Latif Gardez.
Thankyou.
Fried Egg Records - E(gg)clecticARC006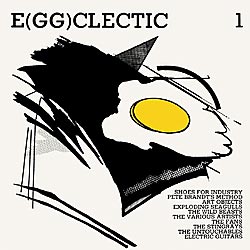 SHOES FOR INDUSTRY JERUSALEM
PETE BRANDT'S METHOD POSITIVE THINKING
ART OBJECTS HARD OBJECTS
EXPLODING SEAGULLS
JOHNNY RUNS FOR PAREGORIC
THE WILD BEASTS MINIMUM MAXIMUM
SHOES FOR INDUSTRY
INVASION OF THE FRENCH BOYFRIENDS
THE VARIOUS ARTISTS ORIGINAL MIXED UP KID
THE FANS FOLLOWING YOU
THE STINGRAYS EXCEPTIONS
THE VARIOUS ARTISTS UNOFFICIAL SECRETS
THE UNTOUCHABLES KEEP ON WALKING
ELECTRIC GUITARS CONTIENTAL SHELF
This compilation was originally released on Fried Egg Records in 1980.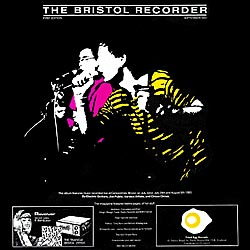 ELECTRIC GUITARS CONTINENTAL SHELF
ELECTRIC GUITARS DUMB WORDS
ELECTRIC GUITARS LE CAMPING
ELECTRIC GUITARS MAGIC SURFACES
CIRCUS CIRCUS FRIENDS WILL
CIRCUS CIRCUS SQUARES OF THE CITY
CIRCUS CIRCUS LIVING LIES
VARIOUS ARTISTS UNLUCKY IN LOVE
VARIOUS ARTISTS UPMARKETTE
VARIOUS ARTISTS QUESTIONIARRE?
VARIOUS ARTISTS OTHER PEOPLE'S PARTIES
JOE PUBLIC YELLOW RUNS FOREVER
JOE PUBLIC TIME, PLEASE
JOE PUBLIC PART-TIME BOY
Recorded live at Cawardines, Queens Road, Bristol 8 in 1980
Originally released on Wavelength Records BR001
The concept was unique - to release a record with a magazine in a gate fold sleeve.

Cast of thank yous: Bob Hooton, Stephen Pritchard, Dave Choen,Nick Fox, Debbie Cleverley,Rachel Morgan, Rachel Swan, and Vee Gee (the typing pool): Paul Graham, Jo Swan, John Michael, Frances Gapper, Val, Griff, Gerard Langley, Paul Davies, Danica and Steve (Devious Designers), Thos Brooman.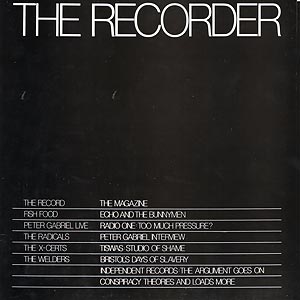 Fish Food - Dry Ice Hot
Fish Food - Seventeen Eels
Fish Food - Modern Dance Craze
The Radicals - Nights of Passion
The Radicals - Time Out
The Radicals - Soul Eternal
The X-Certs - Queen and Country
The X-Certs - Visions of Fate
The Welders - Voices
Tracks 4, 5 and 6 from the original vinyl release have been excluded form this re-release as they were three live tracks by Peter Gabriel as follows:
Not One Of Us
Humdrum
Ain't That Peculiar
All tracks copyright control except:
Tracks 7 and 8 Recreational Music
Track 9 Doublejay Entertainments
Fish Food are:
Andy - Voice
Howard Purse - Guitar
Doug White - Bass
Danny Duck (alias Daniel Swan) - Drums
The origins of this band are unknown. They live in a disused church hall near Bristol's Docks. This is where they practice. Fish Food have played four times in the last year (1980). They took three and a half hours to record the music for this album.
The X-Certs are:
Clive Arnold - Guitar and Vocals
Chris Bostock - Bass and Vocal
Neil Mackie - Drums
Kev Mills - Guitar
Of all the bands that started up in Bristol during the 77-78 period, the X-Certs are one of only a handful remaining. Originally the local heroes of every spikey-haired person ( and honour now bestowed to Vice Squad ), the X-Certs have grown older. wiser and they can now play their instruments. Their first recordings were for Heartbeat Records, 'Blue Movies' can be heard on the Four Alternatives ep and 'Anthem' was featured on the Avon Calling compilation LP.

Their improvement during the intervening eighteen months has been substantial and the introduction of Chris and Kev to the line up has added maturity and power to the bands set. The X-Certs remain one of Bristols best and most popular live bands and a reggae influence now features in about fifty per cent of their material.
The Radicals are:
John - Singing, Guitar and Percussion
King - Bass
Donald - Drums
Martin - Trumpet
Rob - Keyboards
Wendy - Backing Vocals
The Radicals is one of those terrible names that gets thought up when a group of musicians have to find a name for themselves. This is a way of saying that The Radicals do not really exist as such. The songs are written by John and King. John used to play percussion with The Spics, King is a well known musician form the St Pauls area of Bristol.
The Welders are:
Phil Harrison - Keyboards, drums
Stuart Gordon - Guitars, vocals, percussion
James Warren -Tesco Bass, Backing Vocals
This group of musicians from Bath are better known as The Korgis and recorded this one track for The Bristol Recorder using a different name
The Studio tracks on this album were recorded and mixed 16 to 20 October, 1980 at Crescent Studios Bath. They were engineered by David Lord and assisted by the wonderful Steve Street.
This version of the Recorder was conceived and produced by Martin Elbourne, Jonathan Arthur and Thos Brooman with the invaluable help of the following:
Bob Charles
Steve Bryne
Danica Gacesa
Jo Swan
David Cohen
Stephen Pritchard
Dave, Niki and Angi
Henry and Eric
John Michael
Mr Gotts
Out West
Graham Carey
David Gentle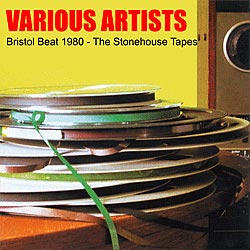 Creature Beat - Sister of Troy
Creature Beat - Cambodia
Sound To Light - Army
Sound To Light - Part of The System
Stingrays - Dancing
Stingrays - Darling
Stingrays - Happy
Color Tapes - Sound of Silence
Color Tapes - Guns To The Disco
Traiters - Mexico
Mayfair - Attitudes
Mayfair - Redland Park
Siren - Almost In love
Siren - Mr C.O
Recorded live at The Famous Stonehouse, Bristol between 8/3/1980 and 15/3/1980.
Steve Street engineered and Produced on the Dougy Mobile with editing completed by Martin Elliott.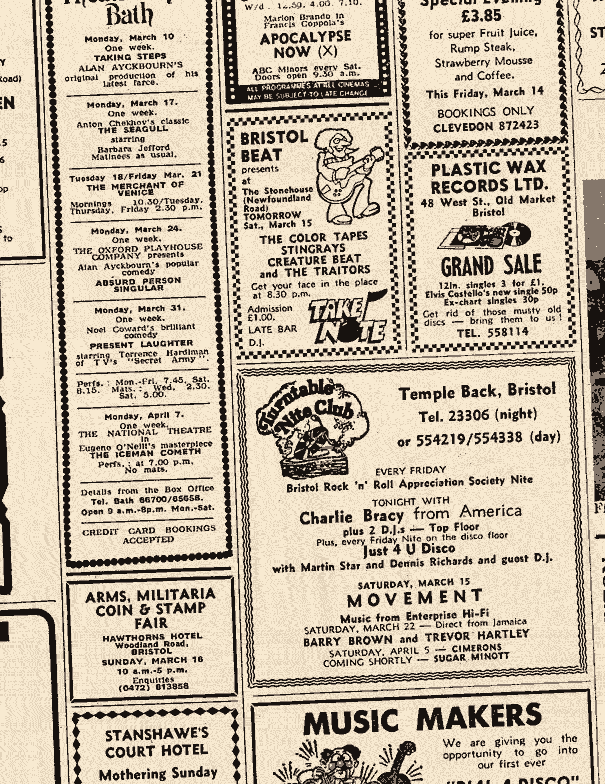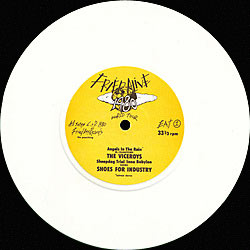 The Stingrays - Countdown
Exploding Seagulls - Johnny Runs for Paregoric
The Various Artists - Original Mixed Up Kid
The Viceroys - Angels In the Rain
Shoes For Industry - Sheepdog Trial Inna Babylon
Originally released in 1980 but only ever sold at Fried Egg Records Gigs never distributed officially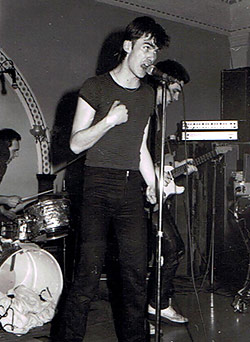 The Viceroys
The Bristol Roots ExplosionARC279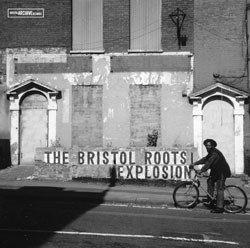 Big Roy - Ethiopia Revelation
Revelation rockers - Culture
Joshua Moses - Africa (Is Our Land)
Bunny Marrett - Times Are Getting Harder
3D Production - Riot
Rhythmites - Nation Integration
Restriction - Calling For Mercy
Zion Band - Twelve Tribes
Talisman - Dole Age (7" Mix)
Nine tracks of classic Bristol Roots Reggae including two previously unreleased tracks. The LP comes with a limited edition, signed, numbered poster (100 copies) only available from Band camp and the Bristol Archive Records website:
Includes digital pre-order of The Bristol Roots Explosion. You get 1 track now (streaming via the free Bandcamp app and also available as a high-quality download in MP3, FLAC and more), plus the complete album the moment it's released.
Shipping out on or around 20 February 2016 edition of 100