Vitus Dance – Jump on board (1979)
1. Down at The Park
2. Inter City Living
3. Problem Parade
4. I'm In Control
Founder member and guitarist Mark Byrne shares his memories.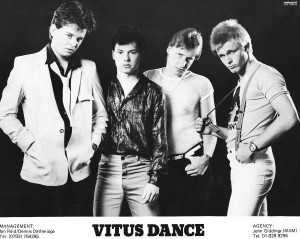 We formed in February 1979. I had returned to Bristol after a short spell living in London, trying to join or start up a new wave band. I got back in touch with drummer Kearin Wright and guitarist Kevin McFadden as the three of us had played in bands together on and off since school days. Bass player Malcolm Young had posted an advert in the NME looking for a band to join, so we asked him to audition and on hearing him play, knew that the foursome was complete.
After a few months spent song writing and rehearsing we felt tight as a band and ready to rock. A weekly residency was blagged at local hotspot The Crown Cellar Bar which we were soon packing out.
Meanwhile I'd grabbed the attention of Swindon band XTC's management team, which led to them taking us on and getting us gigs at the Bristol Locarno concert venue as second on the bill to LA punk stars The Dickies and soon after, UK power pop band The Records.
Studio time was booked at Sound Conception in Bristol with more local gigs played, including the well renowned Granary Club. DJ John Peel got to know about us and after hearing our studio demos, a recording session was booked for September 25th at BBC's Maida Vale complex, which was broadcast nine days later.
Tour dates soon followed:
1979
October 9th Reading Target Club
11th Weston Super Mare Sloopy's Club
18th Weston Super Mare Sloopy's Club
21st London Marquee Club (support act to Toyah Wilcox)
23rd London Nashville (support act to Classix Nouveau)
24th London Music Machine (support act to Sore Throat)
27th Bristol Crown Cellar Bar
November 1st London Fulham Greyhound
3rd Birmingham Underworld (support act to UB40)
6th London Hope and Anchor
13th Bristol Stonehouse
15th London Nashville (support act to The Screams)
21st Bristol Granary Club (support act to Generation X)
28th Twickenham West London College (support act to The Members)
1980
January   11th Exmouth Pavilion
After the tour, we decided to take some time out to write more songs. 1979 had been a great year and we felt that we'd achieved a lot in a short period of time. The gigs had been so full of energy and excitement. Generation X were awesome to watch and hang out with. The UB40 gig was promoted as a Punky Reggae Party and it truly was. The John Peel session was ace! All the recordings were done in one or two takes. We were booked in for a whole day at Maida Vale but were finished in a few hours and left the Sound Engineer to it. The band Madness, who like us were just starting out, happened to be in the next studio along the corridor and we enjoyed chatting together over cups of tea in the canteen.
As a bunch of guys, with our crew, we clowned around a lot and had wild times and fun. As far as I know there are only three surviving photographs of the band and they're here in this archive. We travelled to Birmingham to do the shoot and after getting bored with the 'all stand in a line' format, started to mess around as usual, which then led to the chaotic photo being taken that typified us. Standing left to right in the more standard photograph is Kevin, Mark, Kearin and Malcolm.
It turned out that Vitus Dance never did get back together after our break. Kevin and I had both shared the lead vocal roles yet there was a vibe emerging that a single frontman would better suit the line-up. Also, I was of the opinion that we were too late on the scene. Chrysalis, Virgin, CBS and Island records had passed on us and the Synth Pop bands as well as the New Romantics were just about to take off big time. As I write this, I'm thinking back to a time forty years ago and to be honest I can't really remember why? We were young and moved on without too much deep thought.
Kevin and Kearin formed Misdemeanour and later on Malcolm and I became Voice of Nature.