Gold – Bristol Rock
Gold was formed in 1979 in Bristol, England by guitarists Jon Dalton and Pete Willey. The two had previously played before in the rock band Graffiti but this was more of a junior effort that played some school gigs and "prom" events. Gold was the boys' first serious band. Jon was 17 and Pete was 19 when they formed Gold. The remaining members of Gold "MK 1″ were, bassist, Andy Scott and Drummer Steve Dawson.
Like many of their contemporaries, Gold had grown up listening to first generation rock and metal bands like: Led Zeppelin, Deep Purple, Black Sabbath, Free and later acts like Thin Lizzie and Queen.
The first Gold's music was a combination of space and glam rock served over heavy metal beats. Their set featured space-opera epics like "Mountain Queen" (remembered as a three part trilogy although only the first "movement" was ever recorded). Mountain Queen referenced concepts of "Wisdom Castles" and "Crystal Isles" rendered with a deeper than usual vocal style and a number of tempo changes that suggested the Canadian rockers "Rush" as well as a spacey guitar playout reminiscent of the hippy/space rock leaders: Gong and Steve Hillage who were immensely influential in the West of England at that time.
The band quickly gained a reputation beyond their years and were asked to play live at the prestigious "Granary" club in Bristol. Word spread quickly and Gold soon began attracting larger and larger crowds. At this point, it's probably true to say that Willey brought the soulful, rocky elements to the music while Dalton supplied the more cosmic side to the proceedings.
One of Gold MK 1′s biggest crowd pleasers was the Power Ballad: "Is My Love In Vain". A song of struggle and unrequited love with the obligatory "epic" guitar solo in the middle, IMLIV was picked up by legendary rock DJ: Al Read and broadcast numerous times on BBC Regional Radio; even though he had to do so with a taped version as it never made a vinyl release!. Another notable Gold tune of the time was the hard rocker: "Change For The Better" which featured a slamming Stones-AC/DC type backbeat and laconic vocal harmonies from Willey and Dalton. This was perhaps the first sign of where later Gold music was headed.
After nine months or so, Andy Scott decided he wanted to pursue other music styles and the, much loved, bassist left in an amicable split. His replacement Paul Summerill was the perfect match for the band and began the season of Gold MK 2.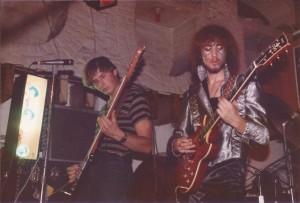 Paul's ferocious Rickenbacker sound was a combination of a chiming high end coupled with the characteristic deep, "Ricky" growl particularly when amplified by his massive Electrovoice bass stack.
Gold MK 2 attracted the interest of a local manager who is, sadly, now only remembered as "Jeff". Jeff really believed in Gold and suggested that the band should build their fan base by not only focusing on their own following but by putting on Heavy Metal extravaganzas with other top local HM bands. The strategy worked and soon all of the bands involved benefited from the cross-pollination of their respective fan bases.
Gold headlined many of these gigs working with acts like Stormtrooper, Jaguar and Cheltenham based, Stealer.
By now Gold were regular features on the local metal scene playing all the famous Bristol rock venues like The Granary, Tiffany's, The Locarno, The Stonehouse, The Hollybush and many more. This was also about the same time that the stirrings of a new movement the "New Wave of British Heavy Metal" was beginning to take hold in concert with support from the popular national weekly paper "Sounds". Gold saw this as a great potential opportunity but were frustrated by the lack of interest from record companies and the press, despite their strong following and sell-out gigs.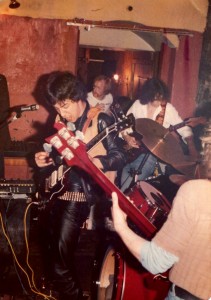 As a result, Gold split for a while in early 1981. Willey and Summerill formed a power trio with ex. "Shiva" drummer, Phil Williams. Meanwhile Dalton took off on a completely different tangent playing with the jazz-funk outfit "Climax" for a while. But the draw of the rock scene and the constant pleading of the fans proved too much and eventually Dalton folded back in with the power trio to form the 3rd and last iteration of Gold.
If Gold MK 1 was the "Space" Gold, Gold MK 3 was definitely the "Rock" Gold. Phil Williams had the drum sound of a great rock "pro". He had also mastered the lazy Hard-Rock backbeat so reminiscent of bands like Free, Bad Company and, even AC/DC. In terms of sheer tightness and quality, the live Gold 3 were streets ahead of Gold 1. This also introduced the band to a new and almost totally unexpected phenomenon: full dancefloors!
Gold MK 3 did keep some of the "old" space material like section one of the Mountain Queen to please the long-term fans but also introduced a lot more, straight-ahead, hard rockers like the slide guitar driven "Freight Train" and the street-fighting "This Place Never Changes". By now it was not uncommon for the fans, a diverse mixture of bikers (most of the Gold members were also bikers), hippies and head-bangers to reward the band with so many set encores that pub landlords and concert promoters had to throw the venue lights up to get the fans to finally drink up and go home. Gold were on a roll and convinced that great times lay ahead then, several months later, tragedy struck.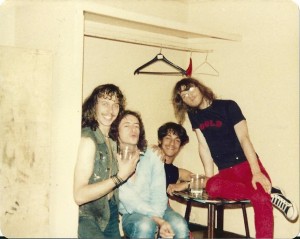 Gold were now touring nationally. They played venues in places like Southend, Norwich, Doncaster and the Midlands and also throughout South Wales where they enjoyed great support. Many of their Bristol fans also got on their bikes and in their cars to see them play around the country. One night after a particularly late travel back from an out of town gig. The band parked their van outside Dalton's home and, for once, didn't take the time to unload their equipment. The following morning Dalton awoke to find the van and all of the band's equipment had been stolen. The only item left was one of Dalton's guitars which he had taken in to play a little while before finally crashing out.
The band were devastated. They had no insurance and were completely broke. They fought with how or if they could continue. Commercial forces were trying to mold them into a typical NWOBHM band but Gold valued their musical diversity. They also saw the writing on the wall with regard to the up-coming neo-classical metal with its month-long solos and, often, second rate song structures which is something they didn't want to entertain given that Gold had always been a tune-based band. With that in mind and with a wider sense of change in the air with the continued rise of Punk and New Wave, the band decided to finally call it a day.
Dalton moved to the Midlands for a short-lived stint with Prog-Rockers "Guizer Jarl" but eventfully took up a career as a touring session musician as did drummer Phil Williams. In fact the two did play once more in a hard rock cover band providing entertainment for, predominately, British and American ex-pats in the Middle east, particularly Dubai.
Dalton returned to the UK in the late 1980s and formed his last band with Pete Willey, the Latin-Jazz "Dit Da" which signaled the beginning of his transition from rock to jazz guitar which continued with his move to the US (Dalton is part Native American) in 1999. In 2003 he signed with the California jazz label: Innervision Records whom he has recorded for ever since.
Pete Willey remained in Bristol as a much respected guitar tutor and educator as well as giving frequent live appearances on guitar AND bass. Phil Williams lives in Corfu and runs a pan-European P.A. and sound reinforcement company. Paul Summerill remains true to his roots as a popular rock and blues musician in the West of England. He's also an avid curator of all things "Gold".
With the exception of the aforementioned "Muscle Power", Gold never had any commercial releases but they did visit the studio on several occasions as well as pulling recordings from the mixing desk on many live gigs. They distributed the music in the form of affordable tape cassette releases to their friends and fans.
The various Gold members still get contacted by those fans who remember the band, the music, the bike runs and the parties (Gold threw a lot of parties

) Many still own those old Gold recordings and still play them to this day.