The Cortinas – 'Summer in the City' – Free Download
NEWS
FREE DIGITAL DOWNLOAD
The Cortinas – 'Summer in The City' (Previously unreleased and never heard before)
Available from 14th March 2016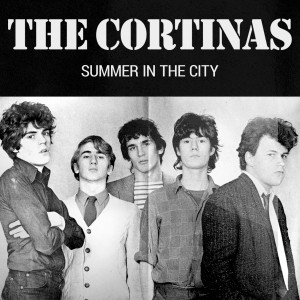 To download and listen click on the link or copy/paste into your browser: https://soundcloud.com/bristolarchiverecords/the-cortinas-summer-in-the-city
Summer in City was recorded on Wednesday 5 April 1978 ('12 noon- 8am') at Trident Studio, London W1. It was produced by Will Birch who reviewed one of our earliest gigs at The Roxy in Sounds (one of 3 or 4 national weekly music papers. Imagine.), perhaps our first, supporting The Stranglers. Anyway it would have been very early 1977, the first 100 days. The review was outstanding so we assumed that he had got the name of the band wrong. We also recognised the writer; Will Birch was the drummer in the Kursaal Flyers, a band that we had admired from the mid – 70s. The Kursaals were from Southend and played what can only be described as western-swing-tinged classic pop. They were a great live band, very theatrical and retro. Paul Shuttleworth, the singer, had a sort of flamboyant spiv image. They didn't just play music. They were an act. They were a show. So the review was an endorsement from someone we admired.
That initial connection with the Kursaals was cemented later that year when we toured with them as support, having passed on an offer to tour with The Stranglers to the Pop Group (whatever happened to them?). By then we had done two Step Forward singles and were growing out of the punk thing, writing songs that were looking for pop magic, and had somehow obtained a contract with CBS. So the tour was an opportunity to test and refine the songs. It was also a great laugh. At the end of it, for reasons we didn't quite grasp, the Kursaals called it a day.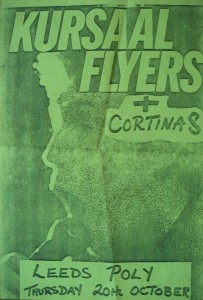 After that we did the album, True Romances. I think that during the recording everyone had some sense of waiting for something to happen. It didn't. What we didn't understand was production. And neither did the producer. It's very flat and doesn't have a direction. That's not to say it would have been any better with a proper producer and we made the mistake of thinking in terms of a live sound which, it turns out, has to be produced. But the songs had actually moved away from that and we didn't know it. The album slipped out to, at best, sympathetic reviews, although John Peel had some kind words for it. CBS had probably been expecting a more cartoonish punky-wunky Vibrators record.
So after that, we were at a bit of a loose end. In fact, we were a bit bored. Then Miles Copeland suggested we do some recording with Will Birch. It was logical and exciting. We decided to do a cover and after having a go at Love's version of Bacharach's Little Red Book, (to sing Bacharach you actually have to be able to sing) The Lovin Spoonful's Summer In The City was rehearsed and off we trotted to the world famous Trident Studios. It was as if we had been beamed onto the bridge of the Starship Enterprise.
I think we had imagined that producing records was all about someone knowing how to push some secret buttons on a machine. That's part of it. But the main thing is about getting a performance. I think this recording shows that Will Birch knew how to do that. No big fuss or mystique. No psychology. But it wasn't really enough to revive our enthusiasm. Other moods had started to emerge and we were pretty clear that we didn't want to end up like those rock casualties reminiscing 40 years later about what might have been. Will went on to form The Records and subsequently produced (The Yachts, The Long Ryders), wrote music, journalism, and No Sleep Till Canvey Island: The Great Pub Rock Revolution (2004) and Ian Dury: The Definitive Biography (2010. who once, during the Kursaals Tour, told me to 'fuck off').
A few years ago Will contacted me – because of the internet – and told me that he had transferred the analogue tape to digital. We didn't have any copies so of course we wanted to hear it. I think we thought it was better than we remembered. Then we ummed and ahhed about what to do with it! Eventually we decided that Bristol Archive Records was the right outlet. There were a few wobbles on the original so Steve Street, engineer on The Cortinas GBH demos (also available through Bristol Archive Records), pressed some secret buttons and sorted them out. I have heard it said that The Cortinas were whisked away from punkdom and exploited by the evil music industry. If only. Who knows? We might have got a Huey Lewis and The News support slot – Touring Germany – In February.
Jeremy Valentine – March 2016.
Tags: 1978, Free Download, Punk, punk rock, Summer in the City, the cortinas