RELEASES

Wholesale and Retail enquiries please email for prices info@bristolarchiverecords.com
Search the Record Shop
The Cobras – 'The Striking Sound of the Cobras'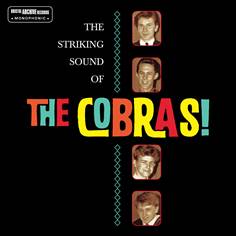 "The Striking Sound of the Cobras"
by The Cobras
Released on CD and Digital Download 29th June 2018 via Bristol Archive Records
Presented in a vinyl replica, greyboard-backed, front laminated 'flipback' sleeve (emulating a 1965-era LP release) with a vinyl style black CD and sleevenote insert.
Comes with a faithful reproduction of an April 1965 edition of Western Scene; a Bristol-based music paper, copies of which are now extremely hard to find.
The influence of Rock n' Roll cannot be underestimated, it has permeated all aspects of British life over the last 70 years. Fashion and Art owe something to the genre, but of course its influence on music has been the most significant. Rock n' Roll gave us such musical luminaries as Elvis Presley, Chuck Berry, Little Richard and Jerry Lee Lewis to name but a few. But it wasn't just the American artists that caught the attention of the record buying public, there was the home- grown talent as well, such as Cliff Richard and The Shadows, Johnny Kidd and the Pirates, Billy Fury and even The Beatles who all tried to emulate their American heroes.
Bristol four-piece band The Cobras were no exception, coming from a generation that had been weaned on the likes of Frank Sinatra, Bing Crosby and Dean Martin, a style of music that was more identifiable with their parent's teenage years than their own. Like most teenagers The Cobras were looking for their own form of excitement, an excitement they were to find in Rock n' Roll and its many derivatives such as Californian Surf Music.
Formed in the early 1960's, the Cobras through hard work and perseverance reached a level of musicianship that enabled them to credibly cover many of the hits of the day as well as performing their own material. Luckily for us they had the foresight to record for posterity many of their practise sessions, live performances, and very limited self-financed studio time.
Listening to the 14 tracks contained on this CD some 50 years later, is a real treat. Compositions from household names such as Chuck Berry, Gene Pitney, Bruce Welch, Little Richard, Duane Eddy and Lee Hazelwood sound as good today as they did when they were first performed all those years ago. And it wasn't just Rock n' Roll that The Cobras could turn their hand too, the Hazelwood/Eddy composition 3.30 Blues really hits the mark, but it's the self-penned tunes that really show what might had been had the Cobras landed that elusive recording deal. Their superb composition "Ghoulash" could easily have been included on any Shadows album or film soundtrack of the day.
The Cobras were never going to topple The Shadows from their exalted position, but with a little bit of luck, encouragement and guidance who knows what they might have achieved.
bandcamp
CD
Pre-Order
£12.00
Release Date: 29th June 2018
The Bristol Reggae Explosion – Best of the 70's and 80's – Various Artists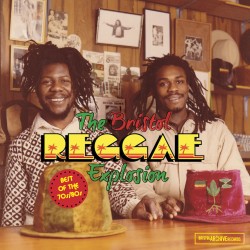 "The Bristol Reggae Explosion – Best of the 70's and 80's"
by Various Artists
Released on CD and Digital Download 25th May 2018 via Bristol Archive Records
Eight years ago, Bristol Archive Records released "The Bristol Reggae Explosion 1978 – 1983", probably the first attempt to document the development of a localised British reggae scene and capture that unique period of the late seventies and early eighties. Despite many hurdles, it was a time that allowed the music to thrive as a voice for a mostly disenfranchised black Bristolian community centred around the inner-city areas of St. Pauls and Easton. The rich vein of recordings made against the odds and ranging from roots through dub to Lovers' Rock, struck a chord with a worldwide audience and allowed us to continue our musical exploration with a further two volumes painting a vivid picture of a scene that was in danger of being forgotten and lost to history.
With the first two volumes deleted and before we continue the story of Bristol reggae with further volumes, we decided we should keep many of the best tracks readily available with a single album compiled from the first three Bristol Reggae Explosions, "The Bristol Reggae Explosion – Best of the 70's and 80's".
This new compilation contains 17 tracks kicking off with "Africa (Is Our Land)", the Dennis Bovell produced classic from Joshua Moses, originally released in 1979 on the More Cut label and a record that regularly fetches three figures for original copies purely on its musical strengths. Joshua makes a second appearance with "Rise Up", a track taken from "Joshua To Jashwha Thirty Years in The Wilderness" which gives a career spanning overview of one of Bristol's most unique voices.
Another distinctive voice is Bunny Marrett represented by his rare 1980 12" cut, originally released on Shoc Wave, "Times Are Getting Harder", a nice slice of underground British roots. In contrast, his second contribution is the more jazz influenced "I'm Free". With a musical career spanning more than fifty years Bunny can probably lay claim to be the patriarch of the local scene. Founding members of Talisman Dennison Joseph and Dehvan Othieno started their musical careers more than forty years ago as Revelation Rockers. Under both names Talisman lead the field with three contributions, "Jah Praises", "Takin' The Strain (Cave Mix)" and the 7" mix of "Dole Age". It's good to know that this label's reissues helped encourage Talisman to reform in 2010 and since then they've gone from strength to strength, even surpassing the great performances they gave in the seventies and eighties.
Two other bands that share very similar line-ups are Zion Band and Restriction, the latter being formed by members of the former. The two bands provide a brace of nice early eighties tracks, "Twelve Tribes" and "Four Point Plan", both originally released on scarce local 12" pressings. The St. Paul's riot of 1980 provides inspiration for 3-D production's "Riot", an overlooked gem when originally released on 7" and a single which is very difficult to find, even in Bristol. Like the rest of the tracks on the album it's worthy of wider exposure.
The late great Popsy Curious, who provided this label with so much encouragement and support, showcases his own unique style with "Chant Down Bobby Rome" before making a second appearance with an entirely different approach as part of Vibes with "My Love". Vibes also featured Veereal and the vocal talents of Winston Minott who lent his distinctive voice to Cool Runnings on the soulful "Playhouse" and "You Can't Pay Me". Unfortunately, female voices are somewhat scarce in the reggae world, but we were able to include Sharon Bengamin's top drawer slice of Lovers' Rock "Mr. Guy". Last and by no means least is another veteran of the Bristol scene Dennis McCalla aka Dallas and "Peacemaker".
"The Bristol Reggae Explosion – Best of the 70's and 80's" is the perfect introduction to the amazing underground reggae scene that flourished without any support from major labels and bears testimony to the talents of the original Bristol bass sound. The album is released on CD and digital download on 25th May 2018, distributed by Shellshock and available from leading retailers and on major digital platforms.
bandcamp
CD
Pre-order
£9.00
Release Date: 25th May 2018
Make Me Special (The Ultimate Collection 1987-1990) – Love Jungle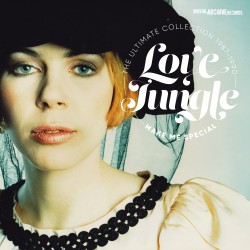 "Make Me Special" (The Ultimate Collection 1987-1990)
by Love Jungle
Released on CD and Digital Download 25th May 2018 via Bristol Archive Records
Love – definition: "a profoundly tender, passionate affection for another person; a feeling of warm personal attachment or deep affection; sexual passion or desire; a love affair." 
Jungle – definition: "a wild land overgrown with dense vegetation, often nearly impenetrable, especially tropical vegetation or a tropical rain forest."
Mix those two definitions together and you have a well-named band, Love Jungle. Finally, their work in the late 1980's and early 1990's is set to see the full light of day through the CD and online release of the 'Make Me Special' 21 songs album via Bristol Archive Records.
At the heart of this Bristol quartet was the creative and personal dynamic between guitarist, Neil Darby and singer/keyboardist, Angela Huggins, not an unusual thing in bands at the time. The likes of The Sundays, T'Pau, Skin Games and Eurythmics saw the musical mixed with romantic between the female singer and male guitarist (usually). Love Jungle had a small part of the elements in those acts, but had a lot, lot more to them.
 'Am I Good Enough?' is a question that many will have asked of themselves especially in the world of romance and relationships in general. It has a lush Echo and the Bunnymen era sound-bed topped by Huggins vaulting vocal pyrotechnics, producing a heady, whipped cream explosion. 
The journey through the late 1980's continues with the tougher, strident Cult evoking 'This Covenant'. Love Jungle show serious rock teeth here. In total contrast 'When I'm Gone' summons up something of a Sixties Phil Spector era 'wall of sound' theme and production in full folk opus mode, while the bitter-sweet summery pop vibe of 'Peace and Love' pulls apart some of the preconceptions in the phrase.  
Some more redemption can be found in the sparkling 'Holy Water', full of sonic textures and soaring vocal harmonies. This song was an example of a band stretching its' wings and exploring as many new possibilities as they could, a process they took forward in recordings made in studios in the Bath and Bristol area. 
'Make Me Special' is a sturdy body of work that shows off a talent from a satellite town near Bristol hacking its way through the steamy wastelands of hope, emotions, fun, disappointments and other experiences to a point of clarity and excitement. Delve in, it's worth the journey.
bandcamp
CD
Pre-Order
£8.00
Release Date: 25th May 2018
The Bristol Recorder 4 – Various Artists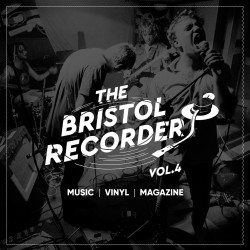 THE BRISTOL RECORDER 4
by Various Artists
Released on Limited Edition Clear Vinyl, Gatefold sleeve with 20-page magazine (500 copies only) for RECORD STORE DAY 21 st April 2018
Back in 1979 The Bristol Recorder was one of Bristol's most unusual musical entities and in 2018 The Bristol Recorder Volume 4 aims to restore a vinyl voice for Bristol and its music through our relaunch of its original incarnation.
The Bristol Recorder is a unique combination of vinyl record and topical magazine devoted to the music and cultural life of the city. The gatefold sleeve of our LP becomes the front and back cover of the magazine exploring, celebrating and challenging all things Bristol. The ten vinyl tracks are by local and nationally recognised artists and the magazine's twenty pages are chock full of engaging articles on Bristol's cultural and social scene, past and present. We have a strong design aesthetic, completely black and white, reflecting our heritage and featuring original photography and illustrations. We are also grateful for the support of both local and national advertisers in the magazine pages.
Most magazines and newspapers are discarded within weeks, if not days, whereas the Bristol Recorder is kept for years. Original copies from 1979 and 1980 are now collectors' items.
Our musical and editorial standards are high, and the artists featured on vinyl give an eclectic view of Bristol's music scene, reflecting the huge diversity and quality on offer in our wonderful city.
bandcamp
Fear Of Darkness – 'The Virgin Land'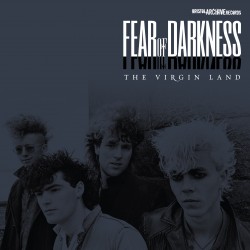 THE VIRGIN LAND
by Fear Of Darkness
Released on CD and Digital Download on 2nd March 2018
When you come from a small town, then as the song goes, the only thing you want to do is to get out. That certainly was the aim of Fear of Darkness. They tuned into their hearts, picked up guitars and drums and set about their business. 'The Virgin Land' is a punk-driven yell of rage from the mid-1980's, turning into a healthy racket, all straight down frantically picked and plucked T-Rex rock and roll, merging into a maelstrom slalom ride of energy and expression of youth. The 18 tracks on this 17 song album – you get 2 versions of the band's self-titled epic – pack a punch and have plenty to say.
'All Fall Down' sees FOD come over more as a Goth version of The Clash, with overtones of Gene Loves Jezebel and The Cult, very electric reaching out with thunderbolts of spaced-out, raise the roof guitar squalls and sonic boom boy grooves, taking in a James Bond homage en route: 007 and rising. It's a feature that recurs. 'After the Fire' and 'Keys of Time' is filled all the light pours out of me, forceful, youthful, aggressive, questioning, impassioned, no playing dead, sometimes naïve but never less than enthusiastic energy. 'Inside Your Heart' oozes a more pop-rock sensibility, with a near crooning backing vocal. 'Chains and Gates' almost pre-dates the modern romantic gesture of putting locks on bridges, railings and gates.
Fear of Darkness was a band that could effortlessly translate their textured and spacious sound into a gig. Tracks like the live version of their eponymous tour de force show that off to thunderous effect. And they slay The Ruts classic 'In A Rut'. The band's attitude bristles from the opening salvos.
Sometimes the band over-stretched themselves, but it was always in the spirit of getting the maximum from what they had available. These 4 young lads from out in the sticks of Bristol made a good fist of trying to plug into a more anthem-driven, punch the air and raise the cell phones – or in these days of cigarette lighters – big crowd sensibility. They didn't quite get to that level in the life of the band and their career, but it wasn't for want of trying.
'The Virgin Land' is a worthy addition to the canon of 80's alternative guitar albums. Check it out!
bandcamp
CD
Pre-Order
£9.00
Released Date: March 2nd  2018
Essential Bop – 'Chronicles'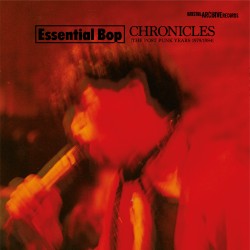 CHRONICLES (The Post Punk Years 1979-1984)
by Essential Bop
Released on CD and Digital Download on 19th January 2018
Too weird for the straights and possibly too straight for the weirdos Essential pop emerged from Bristol's post-punk maelstrom along with the Art Objects, The Glaxo Babies, The Pop Group and a bunch of other lesser-known outfits that came to dominate the Bristol scene for a few years. Formed by a bunch of refugees from earlier Bristol acts, including punk pioneers The Cortinas, they became known for a rather manically chaotic stage act and a slew of eclectic recordings which enthralled, bemused and confused by turn. Punk, Prog, Art Rock, Psychedelia, poetry – you want it, you got it.
Suffering, as did many Bristol bands of that time, from being 'prophets without honour' outside their home town they became surprisingly popular in places as far afield as Holland, Italy and the USA, but couldn't get arrested in Beaconsfield…
Two popular singles ('Raiders Blues' and 'Croaked') sounded like they might do something, and assorted tracks on compilations, including 'Chronicle' on the famous 'Avon Calling' album – reputedly one of John Peel's favourites – didn't do any harm, either. These led to an NME cover (a big deal in 1981) and a Paul Morley interview. An album 'The Flick Was Boss' followed in 1984, by which time the band's principal actors singer Steve Bush and keyboardist Simon Tyler had decamped to try their luck in The Smoke – along with virtually every other 'New Wave' musician in Bristol – where the band flickered, smoked, withered and then died. A reunion is threatened from time-to-time, but has yet to be realised.
The 'Essential Bop Chronicles' album combines the singles A and B sides, the best of the 'Flick Was Boss album', some live tracks plus the songs that originally appeared on 'Avon Calling' and the 'Bristol Recorder' compilations. Originally issued in the noughties, the album has been remastered and includes extensive sleeve notes and a selection of rarely seen photos, posters and other artwork.
For those seeking an insight into what was happening in Bristol in the days before Massive, Tricky and Portishead put Bristol firmly on the musical map Essential Bop's 'Chronicles' will do the job, and some. The band may be a footnote in Bristol's musical history, but they wore very large shoes.
bandcamp
CD
Pre-Order
£9.00
Released Date: January 19th  2018
'Shapes of Things to Come' – The Reaction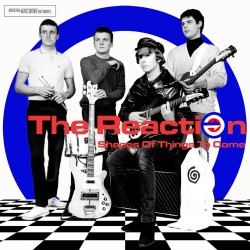 SHAPES OF THINGS TO COME
by The Reaction
Released on CD and Digital Download on January 12th 2018.
For the many fans of 1960s music, we are sure this retrospective album by The Reaction will come as something of a surprise. Very rarely do you come across a band that has managed so successfully to recreate the unique electric 12 string sound of the 60s American West Coast.With seven original well crafted, self penned songs, and four cover versions once performed by the likes of The Yardbirds, The Creation, The Beatles and The Byrds, the new album 'Shapes of Things To Come' can sit very confidently along side any other album from that era.
Bristol based The Reaction were formed in the mid 1980s greatly influenced by the music and dress of the 60s, a combination that appealed to many of the Mod Revivalists of the day. With the young Mods enthusiastic support, The Reaction were quickly riding high on a wave of popularity and independent record sales. Everyone that either heard the band or were lucky enough to see their live set, were left with no doubt the band were destined for a brighter future than many of their peers. Even though they managed to gain much coveted Radio 1 airplay from the likes of John Peel and Andy Kershaw, and the backing of the Waterloo Sunset Records, their popularity was never properly harnessed. Within three years they were gone, but not thankfully without leaving behind the tracks that are now available on this album.
The Reaction were of their time, with the potential to have progressed way beyond their revivalist image and following. They were unique in that they did not conform to everyone's idea of what a revivalist band of the time should be, whilst the likes of The Jam, Secret Affair and the Chords were all trying to push some 'angry young man' message, The Reaction were singing of a more idealistic world, a world of Sun, Surf and Sex and damned good at it they were too. If there is such a thing as reading between the musical lines then this is it. Listening to these tracks some 30 years after their inception – we cannot help but think 'what if'.
bandcamp
CD
SOLD OUT
Release Date: 12th January 2018
`This Is 80's Pop (Out West)` – Various Artists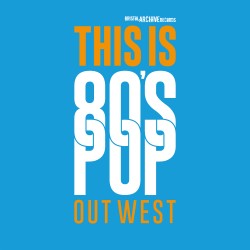 THIS IS 80'S POP (OUT WEST)
by Various Artists
Released 6th October 2017.
Do you think of the West Country in the 1980's as a source of plentiful pop acts? Go on, pull the other one! With the music that's normally associated with Bristol, Bath and places out west, a number of stereotypes come to mind. That can be down to the known success stories or just plain perception.
There has always been a broad picture of the scope of music that has come out of the west end of the M4 and M5 in general, from the more fundamental areas of rock, indie, reggae, rap, R 'n B and dance music, through to the more arcane areas of post-punk, jazz, punk-funk, punk jazz, art-rock and even once in a while a moody singer-songwriter.
The boys (and girls) from the region have always made a right old variety of noise! It hasn't always been accompanied by mainstream acceptance with the resulting sales. That heady creativity included more straight up pop music and the 'take' that could be put on it, with the hope that acclaim would follow. Dig a little deeper into the western region's musical history and they weren't alone in ploughing a furrow into the field marked '80's Pop'. It was no wonder. The ground in that decade was fertile for sowing the seeds of possible pop perennials.
bandcamp
CD
£10.00 + Delivery
Release Date: 6th October 2017  
'Music from a Festival Field' – Various Artists
VARIOUS ARTISTS
'Music from a Festival Field'
CD and Digital Download (Limited Edition)
Womad co-founder Thomas Brooman has written his autobiography, My Festival Romance, to be published by Tangent Books on 2nd June 2017.
As a musical companion to the book, Thomas has put together a great selection of rare and unreleased tracks by artists from all over the world. All of them relate to the lifelong passion for music that Thomas expresses in his book. Many of these artists have played at Womad Festivals in years gone by and other tracks are simply some of his all-time favourites.
"All of the artists featured are fantastic and fearless collaborators, making music that reaches across cultural divides and established genres. It has been a privilege of my life to have worked with all of them."
The compilation kicks off with the fantastic groove of Algerian superstar Hamid Baroudi. Sidi is the title track to Hamid's third solo album, released in 1990. Highlights continue with Colombian Latin Grammy winner Totó la Momposina and then Groovin' by Pato Banton.
Ghostland bring a brilliant track called Faith in Love featuring a guest vocal performance from Cara Dillon. David D'Or performs a Jewish liturgical song in the Hebrew language, an emotive, haunting arrangement of Lecha Dodi. followed by Pakistani Qawwali singer Nusrat Fateh Ali Khan. Every track is outstanding. Other artists featured are Kanda Bongo Man from Central Africa, The Well Oiled Sisters, Michael Messer's Mitra and Billy Cobham, working with Cuban band Asere. The compilation concludes with a beautiful song by Lior, one of Australia's best-loved singer songwriters, and then The Lion Spirit of the Hunter by Chartwell Dutiro from Zimbabwe.
My Festival Romance is an affectionate account of artists and music, people and places, dedicated to the teams that brought these many events together and to audiences all over the world. Music from a Festival Field captures the spirit of the book.
bandcamp
CD
Limited edition CD (16 tracks carefully selected by Thomas Brooman with sleeve notes written by Thomas)
£10.99 + Delivery
My Festival Romance – Autobiography by Thomas Brooman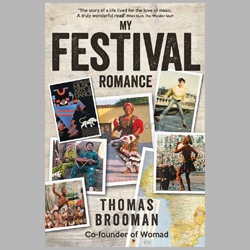 MY FESTIVAL ROMANCE
by Thomas Brooman CBE
Womad co-founder tells the truth, the whole truth and nothing but some of the truth.
Thomas Brooman CBE releases his autobiography My Festival Romance on Thursday 1 June 2017.
Brooman was one of the organisers of the first Womad festival, held at the Royal Bath and West Showground in Shepton Mallet, Somerset, in 1982. That first event was an artistic triumph but a financial disaster.
Womad survived, just, and Brooman went on to organise more than one hundred and fifty Womad festivals around the world. His career with Womad came to an end in 2008, just weeks before the announcement that he was to be awarded a CBE by the Queen in her Birthday Honours List for services to music and charity.
In his autobiography My Festival Romance, Brooman explores the musical influences of his childhood in Bristol and Buenos Aires; he describes how Womad developed out of the Bristol punk scene of the late Seventies; recalls his time organising festivals and travelling the world with some of the biggest names in music; and reflects upon life after Womad.
The book includes black and white and colour photography.
"My Festival Romance is the story of a life lived for the love of music. A truly wonderful read." Miles Hunt, The Wonder Stuff"
bandcamp
Book
Signed copy of the book
£11.99 + delivery
Format: Book
Release date: 1st June 2017
Cat No.: BARC003
Book and CD
Signed copy of the book with a limited edition CD (16 tracks carefully selected by Thomas Brooman with sleeve notes written by Thomas)
£20.00 + delivery
Format: Book and CD
Release date: 1st June 2017
Cat No.: BARC003Bundle