RELEASES

Wholesale and Retail enquiries please email for prices info@bristolarchiverecords.com
Search the Record Shop
Make Me Special (The Ultimate Collection 1987-1990) – Love Jungle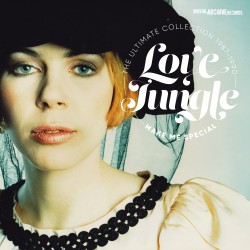 "Make Me Special" (The Ultimate Collection 1987-1990)
by Love Jungle
Released on CD and Digital Download 25th May 2018 via Bristol Archive Records
Love – definition: "a profoundly tender, passionate affection for another person; a feeling of warm personal attachment or deep affection; sexual passion or desire; a love affair." 
Jungle – definition: "a wild land overgrown with dense vegetation, often nearly impenetrable, especially tropical vegetation or a tropical rain forest."
Mix those two definitions together and you have a well-named band, Love Jungle. Finally, their work in the late 1980's and early 1990's is set to see the full light of day through the CD and online release of the 'Make Me Special' 21 songs album via Bristol Archive Records.
At the heart of this Bristol quartet was the creative and personal dynamic between guitarist, Neil Darby and singer/keyboardist, Angela Huggins, not an unusual thing in bands at the time. The likes of The Sundays, T'Pau, Skin Games and Eurythmics saw the musical mixed with romantic between the female singer and male guitarist (usually). Love Jungle had a small part of the elements in those acts, but had a lot, lot more to them.
 'Am I Good Enough?' is a question that many will have asked of themselves especially in the world of romance and relationships in general. It has a lush Echo and the Bunnymen era sound-bed topped by Huggins vaulting vocal pyrotechnics, producing a heady, whipped cream explosion. 
The journey through the late 1980's continues with the tougher, strident Cult evoking 'This Covenant'. Love Jungle show serious rock teeth here. In total contrast 'When I'm Gone' summons up something of a Sixties Phil Spector era 'wall of sound' theme and production in full folk opus mode, while the bitter-sweet summery pop vibe of 'Peace and Love' pulls apart some of the preconceptions in the phrase.  
Some more redemption can be found in the sparkling 'Holy Water', full of sonic textures and soaring vocal harmonies. This song was an example of a band stretching its' wings and exploring as many new possibilities as they could, a process they took forward in recordings made in studios in the Bath and Bristol area. 
'Make Me Special' is a sturdy body of work that shows off a talent from a satellite town near Bristol hacking its way through the steamy wastelands of hope, emotions, fun, disappointments and other experiences to a point of clarity and excitement. Delve in, it's worth the journey.
bandcamp
CD
Pre-Order
£8.00
Release Date: 25th May 2018
The Bristol Recorder 4 – Various Artists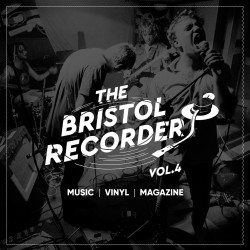 THE BRISTOL RECORDER 4
by Various Artists
Released on Limited Edition Clear Vinyl, Gatefold sleeve with 20-page magazine (500 copies only) for RECORD STORE DAY 21 st April 2018
Back in 1979 The Bristol Recorder was one of Bristol's most unusual musical entities and in 2018 The Bristol Recorder Volume 4 aims to restore a vinyl voice for Bristol and its music through our relaunch of its original incarnation.
The Bristol Recorder is a unique combination of vinyl record and topical magazine devoted to the music and cultural life of the city. The gatefold sleeve of our LP becomes the front and back cover of the magazine exploring, celebrating and challenging all things Bristol. The ten vinyl tracks are by local and nationally recognised artists and the magazine's twenty pages are chock full of engaging articles on Bristol's cultural and social scene, past and present. We have a strong design aesthetic, completely black and white, reflecting our heritage and featuring original photography and illustrations. We are also grateful for the support of both local and national advertisers in the magazine pages.
Most magazines and newspapers are discarded within weeks, if not days, whereas the Bristol Recorder is kept for years. Original copies from 1979 and 1980 are now collectors' items.
Our musical and editorial standards are high, and the artists featured on vinyl give an eclectic view of Bristol's music scene, reflecting the huge diversity and quality on offer in our wonderful city.
bandcamp
Fear Of Darkness – 'The Virgin Land'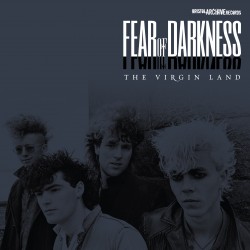 THE VIRGIN LAND
by Fear Of Darkness
Released on CD and Digital Download on 2nd March 2018
When you come from a small town, then as the song goes, the only thing you want to do is to get out. That certainly was the aim of Fear of Darkness. They tuned into their hearts, picked up guitars and drums and set about their business. 'The Virgin Land' is a punk-driven yell of rage from the mid-1980's, turning into a healthy racket, all straight down frantically picked and plucked T-Rex rock and roll, merging into a maelstrom slalom ride of energy and expression of youth. The 18 tracks on this 17 song album – you get 2 versions of the band's self-titled epic – pack a punch and have plenty to say.
'All Fall Down' sees FOD come over more as a Goth version of The Clash, with overtones of Gene Loves Jezebel and The Cult, very electric reaching out with thunderbolts of spaced-out, raise the roof guitar squalls and sonic boom boy grooves, taking in a James Bond homage en route: 007 and rising. It's a feature that recurs. 'After the Fire' and 'Keys of Time' is filled all the light pours out of me, forceful, youthful, aggressive, questioning, impassioned, no playing dead, sometimes naïve but never less than enthusiastic energy. 'Inside Your Heart' oozes a more pop-rock sensibility, with a near crooning backing vocal. 'Chains and Gates' almost pre-dates the modern romantic gesture of putting locks on bridges, railings and gates.
Fear of Darkness was a band that could effortlessly translate their textured and spacious sound into a gig. Tracks like the live version of their eponymous tour de force show that off to thunderous effect. And they slay The Ruts classic 'In A Rut'. The band's attitude bristles from the opening salvos.
Sometimes the band over-stretched themselves, but it was always in the spirit of getting the maximum from what they had available. These 4 young lads from out in the sticks of Bristol made a good fist of trying to plug into a more anthem-driven, punch the air and raise the cell phones – or in these days of cigarette lighters – big crowd sensibility. They didn't quite get to that level in the life of the band and their career, but it wasn't for want of trying.
'The Virgin Land' is a worthy addition to the canon of 80's alternative guitar albums. Check it out!
bandcamp
CD
Pre-Order
£9.00
Released Date: March 2nd  2018
Essential Bop – 'Chronicles'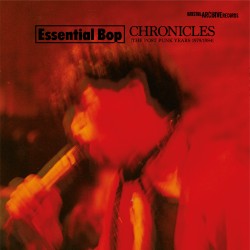 CHRONICLES (The Post Punk Years 1979-1984)
by Essential Bop
Released on CD and Digital Download on 19th January 2018
Too weird for the straights and possibly too straight for the weirdos Essential pop emerged from Bristol's post-punk maelstrom along with the Art Objects, The Glaxo Babies, The Pop Group and a bunch of other lesser-known outfits that came to dominate the Bristol scene for a few years. Formed by a bunch of refugees from earlier Bristol acts, including punk pioneers The Cortinas, they became known for a rather manically chaotic stage act and a slew of eclectic recordings which enthralled, bemused and confused by turn. Punk, Prog, Art Rock, Psychedelia, poetry – you want it, you got it.
Suffering, as did many Bristol bands of that time, from being 'prophets without honour' outside their home town they became surprisingly popular in places as far afield as Holland, Italy and the USA, but couldn't get arrested in Beaconsfield…
Two popular singles ('Raiders Blues' and 'Croaked') sounded like they might do something, and assorted tracks on compilations, including 'Chronicle' on the famous 'Avon Calling' album – reputedly one of John Peel's favourites – didn't do any harm, either. These led to an NME cover (a big deal in 1981) and a Paul Morley interview. An album 'The Flick Was Boss' followed in 1984, by which time the band's principal actors singer Steve Bush and keyboardist Simon Tyler had decamped to try their luck in The Smoke – along with virtually every other 'New Wave' musician in Bristol – where the band flickered, smoked, withered and then died. A reunion is threatened from time-to-time, but has yet to be realised.
The 'Essential Bop Chronicles' album combines the singles A and B sides, the best of the 'Flick Was Boss album', some live tracks plus the songs that originally appeared on 'Avon Calling' and the 'Bristol Recorder' compilations. Originally issued in the noughties, the album has been remastered and includes extensive sleeve notes and a selection of rarely seen photos, posters and other artwork.
For those seeking an insight into what was happening in Bristol in the days before Massive, Tricky and Portishead put Bristol firmly on the musical map Essential Bop's 'Chronicles' will do the job, and some. The band may be a footnote in Bristol's musical history, but they wore very large shoes.
bandcamp
CD
Pre-Order
£9.00
Released Date: January 19th  2018
'Shapes of Things to Come' – The Reaction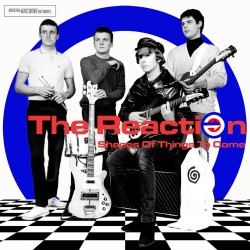 SHAPES OF THINGS TO COME
by The Reaction
Released on CD and Digital Download on January 12th 2018.
For the many fans of 1960s music, we are sure this retrospective album by The Reaction will come as something of a surprise. Very rarely do you come across a band that has managed so successfully to recreate the unique electric 12 string sound of the 60s American West Coast.With seven original well crafted, self penned songs, and four cover versions once performed by the likes of The Yardbirds, The Creation, The Beatles and The Byrds, the new album 'Shapes of Things To Come' can sit very confidently along side any other album from that era.
Bristol based The Reaction were formed in the mid 1980s greatly influenced by the music and dress of the 60s, a combination that appealed to many of the Mod Revivalists of the day. With the young Mods enthusiastic support, The Reaction were quickly riding high on a wave of popularity and independent record sales. Everyone that either heard the band or were lucky enough to see their live set, were left with no doubt the band were destined for a brighter future than many of their peers. Even though they managed to gain much coveted Radio 1 airplay from the likes of John Peel and Andy Kershaw, and the backing of the Waterloo Sunset Records, their popularity was never properly harnessed. Within three years they were gone, but not thankfully without leaving behind the tracks that are now available on this album.
The Reaction were of their time, with the potential to have progressed way beyond their revivalist image and following. They were unique in that they did not conform to everyone's idea of what a revivalist band of the time should be, whilst the likes of The Jam, Secret Affair and the Chords were all trying to push some 'angry young man' message, The Reaction were singing of a more idealistic world, a world of Sun, Surf and Sex and damned good at it they were too. If there is such a thing as reading between the musical lines then this is it. Listening to these tracks some 30 years after their inception – we cannot help but think 'what if'.
bandcamp
CD
SOLD OUT
Release Date: 12th January 2018
`This Is 80's Pop (Out West)` – Various Artists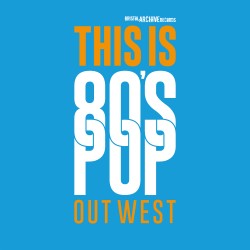 THIS IS 80'S POP (OUT WEST)
by Various Artists
Released 6th October 2017.
Do you think of the West Country in the 1980's as a source of plentiful pop acts? Go on, pull the other one! With the music that's normally associated with Bristol, Bath and places out west, a number of stereotypes come to mind. That can be down to the known success stories or just plain perception.
There has always been a broad picture of the scope of music that has come out of the west end of the M4 and M5 in general, from the more fundamental areas of rock, indie, reggae, rap, R 'n B and dance music, through to the more arcane areas of post-punk, jazz, punk-funk, punk jazz, art-rock and even once in a while a moody singer-songwriter.
The boys (and girls) from the region have always made a right old variety of noise! It hasn't always been accompanied by mainstream acceptance with the resulting sales. That heady creativity included more straight up pop music and the 'take' that could be put on it, with the hope that acclaim would follow. Dig a little deeper into the western region's musical history and they weren't alone in ploughing a furrow into the field marked '80's Pop'. It was no wonder. The ground in that decade was fertile for sowing the seeds of possible pop perennials.
bandcamp
CD
£10.00 + Delivery
Release Date: 6th October 2017  
'Music from a Festival Field' – Various Artists
VARIOUS ARTISTS
'Music from a Festival Field'
CD and Digital Download (Limited Edition)
Womad co-founder Thomas Brooman has written his autobiography, My Festival Romance, to be published by Tangent Books on 2nd June 2017.
As a musical companion to the book, Thomas has put together a great selection of rare and unreleased tracks by artists from all over the world. All of them relate to the lifelong passion for music that Thomas expresses in his book. Many of these artists have played at Womad Festivals in years gone by and other tracks are simply some of his all-time favourites.
"All of the artists featured are fantastic and fearless collaborators, making music that reaches across cultural divides and established genres. It has been a privilege of my life to have worked with all of them."
The compilation kicks off with the fantastic groove of Algerian superstar Hamid Baroudi. Sidi is the title track to Hamid's third solo album, released in 1990. Highlights continue with Colombian Latin Grammy winner Totó la Momposina and then Groovin' by Pato Banton.
Ghostland bring a brilliant track called Faith in Love featuring a guest vocal performance from Cara Dillon. David D'Or performs a Jewish liturgical song in the Hebrew language, an emotive, haunting arrangement of Lecha Dodi. followed by Pakistani Qawwali singer Nusrat Fateh Ali Khan. Every track is outstanding. Other artists featured are Kanda Bongo Man from Central Africa, The Well Oiled Sisters, Michael Messer's Mitra and Billy Cobham, working with Cuban band Asere. The compilation concludes with a beautiful song by Lior, one of Australia's best-loved singer songwriters, and then The Lion Spirit of the Hunter by Chartwell Dutiro from Zimbabwe.
My Festival Romance is an affectionate account of artists and music, people and places, dedicated to the teams that brought these many events together and to audiences all over the world. Music from a Festival Field captures the spirit of the book.
bandcamp
CD
Limited edition CD (16 tracks carefully selected by Thomas Brooman with sleeve notes written by Thomas)
£10.99 + Delivery
My Festival Romance – Autobiography by Thomas Brooman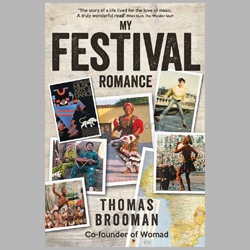 MY FESTIVAL ROMANCE
by Thomas Brooman CBE
Womad co-founder tells the truth, the whole truth and nothing but some of the truth.
Thomas Brooman CBE releases his autobiography My Festival Romance on Thursday 1 June 2017.
Brooman was one of the organisers of the first Womad festival, held at the Royal Bath and West Showground in Shepton Mallet, Somerset, in 1982. That first event was an artistic triumph but a financial disaster.
Womad survived, just, and Brooman went on to organise more than one hundred and fifty Womad festivals around the world. His career with Womad came to an end in 2008, just weeks before the announcement that he was to be awarded a CBE by the Queen in her Birthday Honours List for services to music and charity.
In his autobiography My Festival Romance, Brooman explores the musical influences of his childhood in Bristol and Buenos Aires; he describes how Womad developed out of the Bristol punk scene of the late Seventies; recalls his time organising festivals and travelling the world with some of the biggest names in music; and reflects upon life after Womad.
The book includes black and white and colour photography.
"My Festival Romance is the story of a life lived for the love of music. A truly wonderful read." Miles Hunt, The Wonder Stuff"
bandcamp
Book
Signed copy of the book
£11.99 + delivery
Format: Book
Release date: 1st June 2017
Cat No.: BARC003
Book and CD
Signed copy of the book with a limited edition CD (16 tracks carefully selected by Thomas Brooman with sleeve notes written by Thomas)
£20.00 + delivery
Format: Book and CD
Release date: 1st June 2017
Cat No.: BARC003Bundle
Mercury Rain – St. Matthieu (Remastered and Reborn)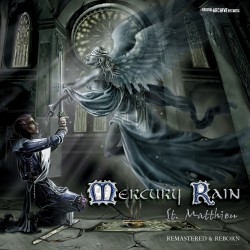 MERCURY RAIN
'St Matthieu (Remastered & Reborn)'
Released on CD (Deluxe Edition 300 copies only) and Digital 7th April 2017
Formed in 1994 by young veterans of the Bristol music scene, Mercury Rain started life unpromisingly as three guys who 'just wanted to play metal'. Ex-Crisis bassist Jon Hoare and bandmate and drummer Andy Pester had hooked up with guitarist Dion Smith, but Mercury Rain lacked both a singer and a direction until Sonia Porzier gave them both. Responding to a 'vocalist wanted' advert she brought to the band both a fabulous voice and a copy of Nightwish's second album 'Oceanborn'. At this time the metal female voices genre was still pretty much in its infancy, but Jon in particular was immediately attracted to the scene – the originality of the operatic vocals and symphonic soundscapes – and recognised its potential. Sonia's arrival not only filled the void behind the mike stand but also set them on the path to being possibly the best-known British band of the genre.
Five songs had already been completed instrumentally so with Sonia signed up 'Where Angels Fear' was completed in November 2000. Although the band now see this as no more than a glorified demo, it's an accomplished release, imbued with the spirit of the metal female voices genre. Instead of gigging, the band defaulted to writing mode, Jon working on the grounds that although 'Where Angels Fear' was a good place to start the band had better to offer. So with just one gig at Bristol's Louisiana separating the releases the band unveiled 'Dark Waters'. For their first full-length release Jon decided to pull the stops out, and the result was an album with swathes of orchestration, complex arrangements and a deep gothic vibe. With confidence at an all-time high he contacted the organisers of Bloodstock who were impressed enough to book Mercury Rain to open the main stage at the 2003 festival (ironically the night Nightwish headlined) making them the first band from the burgeoning new genre to play that event. To maintain the momentum, once they'd completed the tour of which Bloodstock had been the centrepiece Jon proposed that the band get back into the studio. The aim was simple: to better 'Dark Waters'; and the result was stunning.
'St Matthieu' showcases the best of the genre. With its intro 'Tales From Beyond' sung in French, 'St Matthieu' features a brace of songs which thunder along, with furious riffs underpinning lush orchestration and Sonia's vocals floating above the metal furore. The songs are cleverly written so as not to reveal themselves too early, and even the shorter material twists and turns like the Minotaur's labyrinth. The highlight is undoubtedly the ten-minute title track, while 'Chimaera' is as close to a traditional neck-wrenching metal workout as you can get and the uncompromising 'The Messenger' features guest growls from Chris Neighbour, frontman from Weston-super-Mare's face-shredding Four Way Kill.
Slimmed back to a four-piece once more – guitarist Rich Shillitoe had been recruited towards the end of the 'Dark Waters' sessions but left before work on 'St Matthieu' began – Mercury Rain completed the album in June 2004. The band were invited to open for Therion and Tristania on the French leg of their European tour later in the year, although, suffering from hearing damage, Andy was forced to bow out and a temporary replacement for the hugely successful tour was found in Rodrigo Oliviera from Brazilian band Korzus.
With their name spreading, and a clutch of great reviews for the latest album, Mercury Rain were also invited to play the third annual Metal Female Voices Festival in October 2005, the first UK act to grace the Belgian stage. For this show and the dates arranged around it Jon decided to radically re-arrange the band's sound; given that the metal female voices genre was now awash with bands treading a similar path Jon decided to ditch the symphonic backing tracks the band used onstage and re-arrange the material for two guitarists. Still unable to recruit a suitable drummer, these gigs (which also included a slot at the UK Female Voices Of Metal festival) featured Claudio Diprima from Thy Majestie behind the drum kit.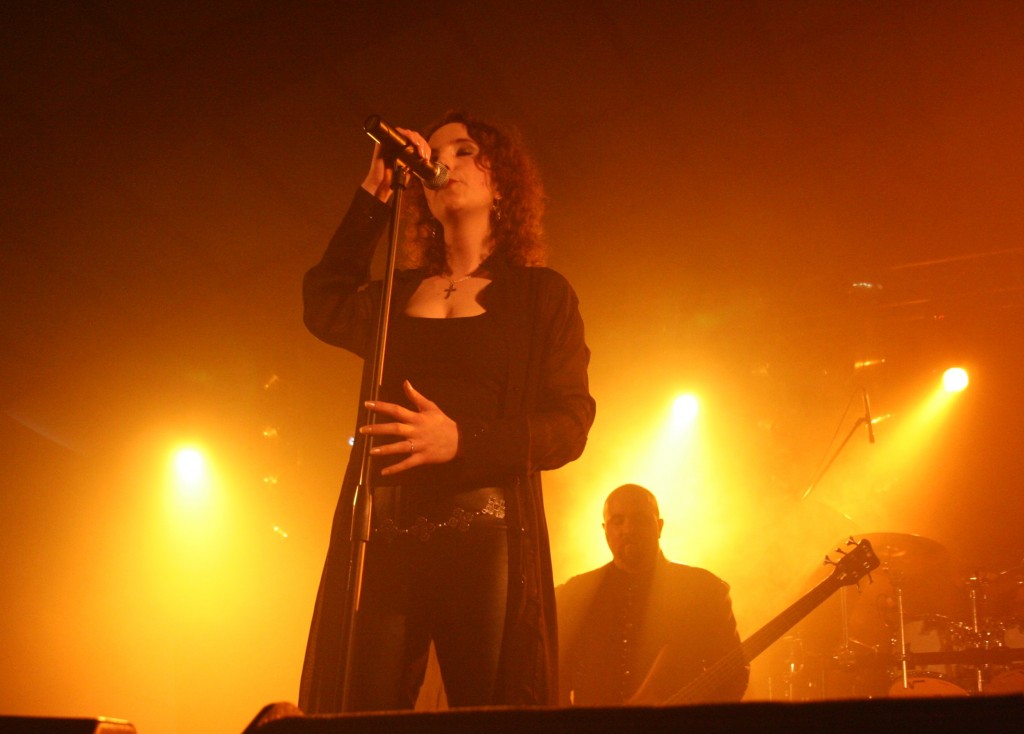 Despite the success of the MFVF show in particular, Jon wasn't happy with the new direction and, as the tour finished just as he was getting heavily involved in putting on the first ProgPower UK festival, he put Mercury Rain on hold. The band effectively split in January 2006.
But of course that's not the end of the story. In 2008 Jon and Sonia met up with Rich Shillitoe once more and began writing material for a new album 'Sands Of Time'. And although this never saw the light of day, and families, mortgages and sensible shoes took over from chord progressions and metric rhymes, the trio started working together again eight years later towards the end of 2016.
'St Matthieu – Remastered & Reborn' showcases the band at its finest. The compilation features the album in its entirety, augmented by three cuts from 'Dark Waters' ('The City Of Ys', 'Bride Of the Dark' and 'The Boat Of The Dead') and 'Incubus' and 'Amber Reflections' from the band's extremely rare 'Where Angels Fear' debut. With all tracks recently remastered, a lengthy interview with Jon and Sonia and previously unpublished photos, 'St Matthieu – Remastered & Reborn' emphasises what an exciting and ground-breaking album this was for the UK metal female voices genre.
Sleeve notes and photos by John Tucker
bandcamp
CD
Limited Edition Deluxe CD package Comes with extensive sleeve notes and photos by John Tucker. CD package designed and made by Mr Sam Giles. Strictly limited to 300 copies only. Remastered and reborn by Steve Street. 
£10 + Delivery
CLAYTOWN TROUPE 'HEY LORD'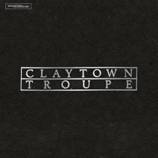 CLAYTOWN TROUPE
'HEY LORD'
Strictly Limited edition (300 copies) Coloured Vinyl EP with Insert, Screen printed jacket and numbered
Released 24th March 2017
Storming out of Bristol in the late 1980s, alternative goth rockers Claytown Troupe snared three major record label deals and built an enviable national following. If the band never quite fulfilled their enormous potential, they have left a remarkable recorded legacy. That's about to be completed by Bristol Archive Records with the first public release of the legendary original 'Dungeon Demos' that got the quintet signed to Island Records back in 1988. Long thought lost, these recordings were recently unearthed by band founder and frontman Christian Riou, who was surprised to find how great they still sound after all this time. A must-have for fans, the four raw and unvarnished tracks include the original versions of Claytown Troupe's first two singles 'Hey Lord' and 'Prayer', alongside 'Real Life' and 'Chiricahua Sun'. Each of these appeared in reworked form on the band's debut album, 'Through the Veil', which was released in 1989.
Christian had formed Claytown Troupe in Weston-super-Mare way back in 1984. His original ambition was no more than to bag local support slots with bands he enjoyed. There was little competition. The likes of The Cult, The Sisters of Mercy and Spear of Destiny were in their heyday, but the only acts from Bristol to make any national impact hailed from the indie scene. After a year or so, Christian and keyboard player Rick Williams decided to revamp the band and write some new songs. They recorded a few demos in Bristol studios, but never managed to achieve the sound they craved. A friendship with Oxford band Chatshow led to the recommendation of Ascot's Dungeon Studios. Here at last they found an engineer who understood what they were trying to achieve: music that took as much from Hothouse Flowers as it did from The Cult.
In what was a novel move for the time, the band members also chipped in £400 each to finance their own music video from a Soho production company that had shot promos for Pop Will Eat Itself and Morrissey. It was this full audio-visual package, proving they looked as good as they sounded, that helped them stand out from the pack and led directly to the Island Records deal. Indeed, Claytown Troupe became the fastest signing in the venerable label's history.
Because the demos were so strong, Christian originally proposed releasing them on a fake indie label. But he was overruled by Island, who promptly dispatched the band to the studio to record that debut album. So these fascinating recordings have gathered dust ever since. Finally, a vital piece of Bristol music history can now be heard.
bandcamp
Vinyl
Strictly Limited edition (300 copies)
Beautiful screen printed jacket, full colour insert, numbered on Blue Vinyl. Purchases via our bandcamp site and website will be signed by the band. 
£9.99