RELEASES

Wholesale and Retail enquiries please email for prices info@bristolarchiverecords.com
Search the Record Shop
Mercury Rain – St. Matthieu (Remastered and Reborn)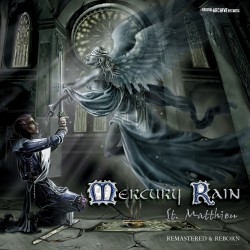 MERCURY RAIN
'St Matthieu (Remastered & Reborn)'
Released on CD (Deluxe Edition 300 copies only) and Digital 7th April 2017
Formed in 1994 by young veterans of the Bristol music scene, Mercury Rain started life unpromisingly as three guys who 'just wanted to play metal'. Ex-Crisis bassist Jon Hoare and bandmate and drummer Andy Pester had hooked up with guitarist Dion Smith, but Mercury Rain lacked both a singer and a direction until Sonia Porzier gave them both. Responding to a 'vocalist wanted' advert she brought to the band both a fabulous voice and a copy of Nightwish's second album 'Oceanborn'. At this time the metal female voices genre was still pretty much in its infancy, but Jon in particular was immediately attracted to the scene – the originality of the operatic vocals and symphonic soundscapes – and recognised its potential. Sonia's arrival not only filled the void behind the mike stand but also set them on the path to being possibly the best-known British band of the genre.
Five songs had already been completed instrumentally so with Sonia signed up 'Where Angels Fear' was completed in November 2000. Although the band now see this as no more than a glorified demo, it's an accomplished release, imbued with the spirit of the metal female voices genre. Instead of gigging, the band defaulted to writing mode, Jon working on the grounds that although 'Where Angels Fear' was a good place to start the band had better to offer. So with just one gig at Bristol's Louisiana separating the releases the band unveiled 'Dark Waters'. For their first full-length release Jon decided to pull the stops out, and the result was an album with swathes of orchestration, complex arrangements and a deep gothic vibe. With confidence at an all-time high he contacted the organisers of Bloodstock who were impressed enough to book Mercury Rain to open the main stage at the 2003 festival (ironically the night Nightwish headlined) making them the first band from the burgeoning new genre to play that event. To maintain the momentum, once they'd completed the tour of which Bloodstock had been the centrepiece Jon proposed that the band get back into the studio. The aim was simple: to better 'Dark Waters'; and the result was stunning.
'St Matthieu' showcases the best of the genre. With its intro 'Tales From Beyond' sung in French, 'St Matthieu' features a brace of songs which thunder along, with furious riffs underpinning lush orchestration and Sonia's vocals floating above the metal furore. The songs are cleverly written so as not to reveal themselves too early, and even the shorter material twists and turns like the Minotaur's labyrinth. The highlight is undoubtedly the ten-minute title track, while 'Chimaera' is as close to a traditional neck-wrenching metal workout as you can get and the uncompromising 'The Messenger' features guest growls from Chris Neighbour, frontman from Weston-super-Mare's face-shredding Four Way Kill.
Slimmed back to a four-piece once more – guitarist Rich Shillitoe had been recruited towards the end of the 'Dark Waters' sessions but left before work on 'St Matthieu' began – Mercury Rain completed the album in June 2004. The band were invited to open for Therion and Tristania on the French leg of their European tour later in the year, although, suffering from hearing damage, Andy was forced to bow out and a temporary replacement for the hugely successful tour was found in Rodrigo Oliviera from Brazilian band Korzus.
With their name spreading, and a clutch of great reviews for the latest album, Mercury Rain were also invited to play the third annual Metal Female Voices Festival in October 2005, the first UK act to grace the Belgian stage. For this show and the dates arranged around it Jon decided to radically re-arrange the band's sound; given that the metal female voices genre was now awash with bands treading a similar path Jon decided to ditch the symphonic backing tracks the band used onstage and re-arrange the material for two guitarists. Still unable to recruit a suitable drummer, these gigs (which also included a slot at the UK Female Voices Of Metal festival) featured Claudio Diprima from Thy Majestie behind the drum kit.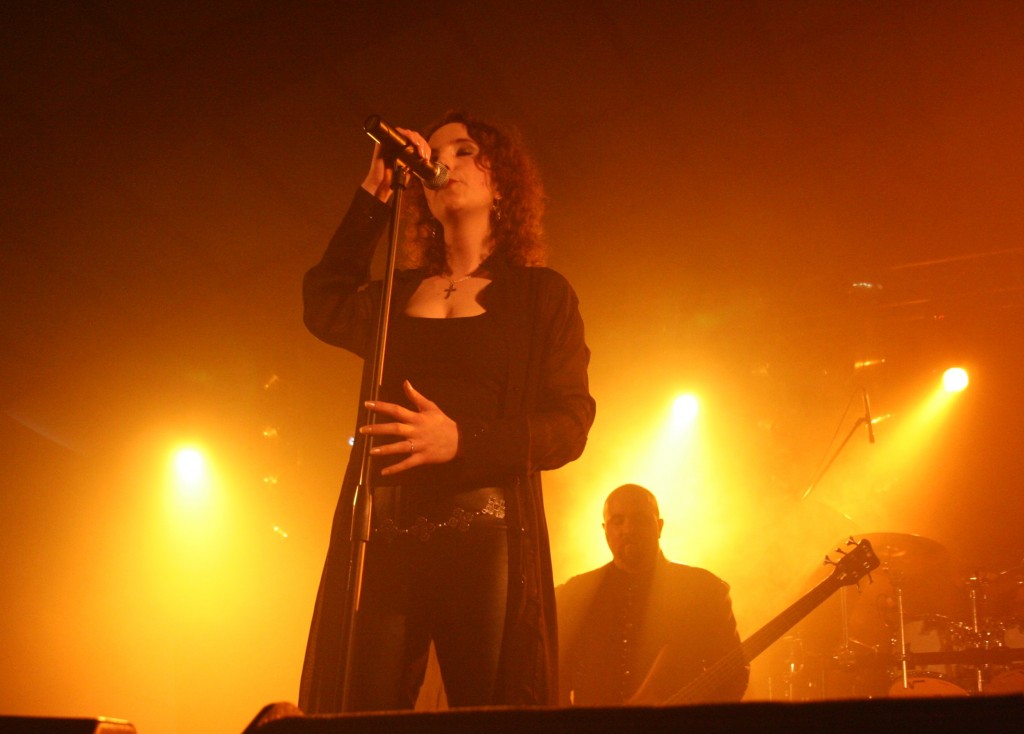 Despite the success of the MFVF show in particular, Jon wasn't happy with the new direction and, as the tour finished just as he was getting heavily involved in putting on the first ProgPower UK festival, he put Mercury Rain on hold. The band effectively split in January 2006.
But of course that's not the end of the story. In 2008 Jon and Sonia met up with Rich Shillitoe once more and began writing material for a new album 'Sands Of Time'. And although this never saw the light of day, and families, mortgages and sensible shoes took over from chord progressions and metric rhymes, the trio started working together again eight years later towards the end of 2016.
'St Matthieu – Remastered & Reborn' showcases the band at its finest. The compilation features the album in its entirety, augmented by three cuts from 'Dark Waters' ('The City Of Ys', 'Bride Of the Dark' and 'The Boat Of The Dead') and 'Incubus' and 'Amber Reflections' from the band's extremely rare 'Where Angels Fear' debut. With all tracks recently remastered, a lengthy interview with Jon and Sonia and previously unpublished photos, 'St Matthieu – Remastered & Reborn' emphasises what an exciting and ground-breaking album this was for the UK metal female voices genre.
Sleeve notes and photos by John Tucker
bandcamp
CD
Limited Edition Deluxe CD package Comes with extensive sleeve notes and photos by John Tucker. CD package designed and made by Mr Sam Giles. Strictly limited to 300 copies only. Remastered and reborn by Steve Street. 
£10 + Delivery
CLAYTOWN TROUPE 'HEY LORD'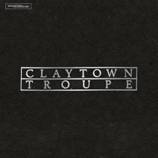 CLAYTOWN TROUPE
'HEY LORD'
Strictly Limited edition (300 copies) Coloured Vinyl EP with Insert, Screen printed jacket and numbered
Released 24th March 2017
Storming out of Bristol in the late 1980s, alternative goth rockers Claytown Troupe snared three major record label deals and built an enviable national following. If the band never quite fulfilled their enormous potential, they have left a remarkable recorded legacy. That's about to be completed by Bristol Archive Records with the first public release of the legendary original 'Dungeon Demos' that got the quintet signed to Island Records back in 1988. Long thought lost, these recordings were recently unearthed by band founder and frontman Christian Riou, who was surprised to find how great they still sound after all this time. A must-have for fans, the four raw and unvarnished tracks include the original versions of Claytown Troupe's first two singles 'Hey Lord' and 'Prayer', alongside 'Real Life' and 'Chiricahua Sun'. Each of these appeared in reworked form on the band's debut album, 'Through the Veil', which was released in 1989.
Christian had formed Claytown Troupe in Weston-super-Mare way back in 1984. His original ambition was no more than to bag local support slots with bands he enjoyed. There was little competition. The likes of The Cult, The Sisters of Mercy and Spear of Destiny were in their heyday, but the only acts from Bristol to make any national impact hailed from the indie scene. After a year or so, Christian and keyboard player Rick Williams decided to revamp the band and write some new songs. They recorded a few demos in Bristol studios, but never managed to achieve the sound they craved. A friendship with Oxford band Chatshow led to the recommendation of Ascot's Dungeon Studios. Here at last they found an engineer who understood what they were trying to achieve: music that took as much from Hothouse Flowers as it did from The Cult.
In what was a novel move for the time, the band members also chipped in £400 each to finance their own music video from a Soho production company that had shot promos for Pop Will Eat Itself and Morrissey. It was this full audio-visual package, proving they looked as good as they sounded, that helped them stand out from the pack and led directly to the Island Records deal. Indeed, Claytown Troupe became the fastest signing in the venerable label's history.
Because the demos were so strong, Christian originally proposed releasing them on a fake indie label. But he was overruled by Island, who promptly dispatched the band to the studio to record that debut album. So these fascinating recordings have gathered dust ever since. Finally, a vital piece of Bristol music history can now be heard.
bandcamp
Vinyl
Strictly Limited edition (300 copies)
Beautiful screen printed jacket, full colour insert, numbered on Blue Vinyl. Purchases via our bandcamp site and website will be signed by the band. 
£9.99
THE BRISTOL HEAVY ROCK EXPLOSION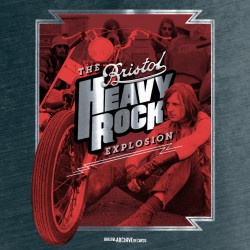 VARIOUS ARTISTS
Released on CD and Digital Download 11th November 2016
The critically sanctioned history of Bristol music tells us that the melting pot of punk and sound systems spawned a generation of musicians who skipped arm-in-arm from hip hangout the Dugout Club to conquer the world with the fabled 'Bristol Sound'. All of which is true. But it's not the whole story. That great sage Mr. Rob Zombie has described metal as the biggest underground movement in the world. There are outposts in every major city – even cooler-than-thou Bristol. Mostly unnoticed by the local and national press, the city's hard rock and metal acts have created an impressive and remarkably diverse body of work over the years.
Of course, we shouldn't over-state the case. Bristol isn't the West Midlands. The city has never produced a Led Zeppelin, a Black Sabbath or a Judas Priest. Nor has there ever been a local hard rock/metal 'scene' as such; indeed, many of the bands in this compilation are not known to one another. If you choose to play this type of music, you cannot afford to succumb to the great Bristol band syndrome of cliquishness and insularity. No metal band has the slightest chance of becoming a big fish in this small pond. So as much through necessity as ambition – and there's been no shortage of the latter quality – Bristol's purveyors of the heavy stuff have tended to be much more outward-facing than their peers. And the rest of the world has been listening, from the NWOBHM-obsessed likes of Metallica's Lars Ulrich and James Hetfield lapping up Jaguar's proto-speed-metal and recycling it into world-conquering thrash to Max Cavalera of Brazil's Sepultura and key members of the early Scandinavian black/death metal scene gorging on the hugely influential anarcho-punk/metal crossover of Amebix.
Spanning nearly 25 years from the early '70s to the mid-'90s, The Bristol Rock Explosion celebrates the city's unfairly overlooked rock talent. Its 17 tracks, many of them rare and previously unreleased, also take in early space rockers Magic Muscle, punk rockers-turned-thrash metal titans Onslaught, the mighty goth-rockers Claytown Troupe, Shiva's pioneering prog-metal, the accomplished classic rock of  Lautrec and Stampede, classy melodic rockers Bronz, Headmaster's saucy pin-up rock, the '90s sounds of Voodoo and Mirror Mirror, and much, much more.
Additionally, the extensive, anecdote-rich sleeve notes tell the frequently eye-opening stories behind this great music, written by Robin Askew.
bandcamp
CD
Comes with a 16 page CD booklet with extensive sleeve notes written by Robin Askew Includes rare and not seen before photos supplied by the bands. 17 tracks from the heaviest bands in the area circa late 70′s to early 90′s. Lets Rock!
£8.00 + Delivery
HUNTED 'FALLEN ANGEL' (THE COLLECTION)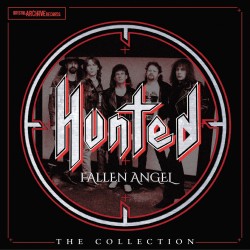 Released on CD and Digital Download 28th October 2016
Limited Edition Deluxe gatefold card sleeve.
15 Track cd 'best of' from one of Bristol's best Hard Rock bands. We present 'Fallen Angel' (The Collection), the first 50 copies come with a signed A3 poster.
If talent and timing are the two prerequisites for success, Bristol quintet Hunted had only one of them working in their favour. Back in the early 1990s, the fashion in rock music was to schlep around in plaid shirts pretending to be glum in emulation of such grungemeisters as Nirvana and Pearl Jam. This was not a time to launch a career in well-crafted melodic hard rock with soaring twin lead guitars. With the odds stacked against them from the outset, the remarkable thing about Hunted was that they managed to achieve so much during their all-too-brief flowering, winning a national battle of the bands contest and building an enviable live following.
Guitarist and Hunted founder Bob Starling had already tasted a modicum of success with Bristol NWOBHM Stormtrooper, whose 'Pride Before a Fall (The Lost Album)' is also available on Bristol Archive Records. Joining forces with old chum and fellow guitarist Dave Preston in the spring of 1992, Bob swiftly secured the services of vocalist Andy Milsom, bassist Mark Williams and drummer Andy 'Woody' Knight. By Christmas, the band had clocked up gigs at all the key venues on the local live circuit, including the Bristol Bridge Inn, the Fleece and the Bierkeller.
But 1993 was to be Hunted's big year. In January, they recorded their first, self-financed EP, 'Streets of Fire' , as a statement of intent to become more than just another bunch of wannabes playing local pubs for beer money. On a roll, they entered and won Radio 1′s Rock Wars contest in June, bagging a recording session at the legendary Maida Vale Studios. This was broadcast twice on The Friday Rock Show, in August 1993 and January 1994. Now established as Bristol's leading hard rock act, they secured coveted local support slots with Steve Grimmett's Lionsheart and ex-Iron Maiden men Paul Di'Anno and Adrian Smith's respective solo projects. The year was capped with a memorable Christmas gig at the Bierkeller. Headlining a bill that included fellow local acts Brabazon, Devious and Joker's Wild, this was the venue's biggest selling local show of 1993, pulling 400 punters. Despite the efforts of an over-zealous pyro operator who managed to flood the 'keller with a bilious cloud of evil-smelling smoke, the performance was a triumph that was to prove the high-water mark of Hunted's live career.
1994 continued on a high with an invitation to go to New York to discuss a potential development deal with RCA. Six new songs were recorded for the occasion and the A&R people were suitably enthusiastic, as A&R folks so often are. Back in the UK, Hunted played the Marquee and recorded more material for their proposed debut album, 'Crawl'. But the RCA deal fell through, hitting the band hard. With disillusion setting in, it was only a matter of time until the inevitable split.
What they left behind are the tracks collected here for the very first time, which amount to Hunted's complete recorded output. Opening track 'Strangers' is the perfect introduction: a huge riff, screaming guitars, powerful vocals, thunderous drums and a lyric dealing with lady trouble (something of a preoccupation with Hunted). But there's plenty of versatility here, from driving rock to more intricate arrangements drawing on a variety of influences. 'Judgement' is built on a huge groove; the anthemic 'I See the Sun' boasts terrace-chant vocals that would give Def Leppard a run for their money; 'Fallen Angel' is a rare example of the non-weedy power ballad; the ridiculously catchy 'Three Wise Monkeys' brings the funk in a style that recalls 'Pornograffiti'-era Extreme; and 'Victim' sees Hunted at their most atypically punky. Arguably, the best is saved till last with the epic, Ritchie Blackmore-style, Eastern-tinged guitar showcase, 'Swing of the Pendulum', which still holds its own against the titans of post-millennial prog-metal. It's all hugely accomplished stuff. In an alternative universe, they've got an A-list producer, a string of Platinum albums and a packed touring schedule of the world's biggest enormodomes heaving with devoted fans. They probably have just as much lady trouble, mind.
bandcamp
CD
Limited Edition Deluxe gatefold card sleeve.
15 Track cd 'best of' from one of Bristol's best Hard Rock bands. We present 'Fallen Angel' (The Collection), the first 50 copies come with a signed A3 poster
£8.00 + Delivery
AVON CALLING VARIOUS ARTISTS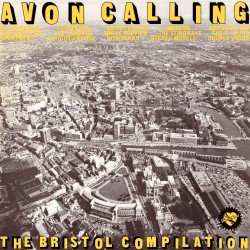 (The Ultimate Regional compilation album)
Released on CD and Digital Download 21st October 2016
Limited Edition Vinyl Replica card sleeve with mini fold out poster.
After the huge success of Attrix Records' Brighton compilation Vaultage 78, there was something of a vogue for regional albums, and the obvious man to throw the West Country's musical hat into the ring was Simon Edwards, head honcho of Bristol punk and post-punk indie label Heartbeat.
When Heartbeat distributors Cherry Red demurred, Edwards convinced them with the 4 Alternatives EP featuring excellent tracks by The X-Certs, 48 Hours, Joe Public and The Numbers. It more than did the job, though only The X-Certs went on to appear on the album.
It was recorded at Crescent Studios, Bath, with David Lord and Glen Tommey at the controls with two bands recording per day, one in the morning and one in the afternoon, sharing gear where possible. This was a fantastic studio, but not cheap so time was of the essence.
The finished result, Avon Calling, was everything that Simon and Cherry Red had hoped for and then some. It's now regarded as a post-punk and pop-punk classic and a cult favourite in countries like Japan, where The Stingrays tour every year, and their Avon Calling track Sound is a show-stopper every night.
The ever-canny John Peel declared Avon Calling "…really the standard by which the others must be judged in future because it really is superb. There are fifteen tracks on the LP, genuinely not a bad one amongst them and a lot of really good stuff."
And he wasn't wrong, of course.
Avon Calling comes home so to speak and gets a welcome rerelease via the Bristol Archive Records imprint. Released on CD and Digital Download on 21st October 2016
bandcamp
CD
Limited Edition Vinyl Replica card sleeve with mini fold out poster.
The original 15 tracks reissued on cd. The ultimate regional compilation album comes home to Bristol. All tracks digitally restored and remastered by Bristol's legendary recording engineer Steve Street. First 50 copies include an A3 signed poster by Simon Edwards
£7.00 + Delivery
ARTIST: Various Artists
TITLE: Avon Calling
RELEASE DATE: 21st October 2016  
LABEL: Bristol Archive Records
DISTRIBUTION: Shellshock / SRD
FORMAT: CD and Digital Download
CAT NO: ARC302CD
BARCODE: 5052571069226
GENRE: Punk, Post Punk
Punks on Scooters: (The Bristol Mod Revival 1979-1985) – BOOK
Signed copy of the book by MW Salter with limited edition poster.
Like many young people in the mid 70s Michael Salter adopted punk as his protest against 'no future' politics, dreary chart music and the pomp and excess of prog rock. But as the punk sub-culture split and evolved, Salter and his friends moved away from the spiky haired shock tactics to the sharp-suited, 1960s retro-style of the mods.
The mod revival embraced the music of 60s bands such as The Who and created new acts such as The Jam and Secret Affair. It also saw the revival of scooter clubs across the country.
But as in the 60s when mods and rockers fought running battles, the mod revival was steeped in violence and Salter doesn't pull his punches in recalling the violent scenes played out most nights at Steamers night club in the centre of Bristol or the suburban violence which saw mods being attacked and leading the attacks in and around the pubs of Kingswood, Downend and Winterbourne.
Punks on Scooters is Salter's autobiographical account of the fashion, music and violence of the mod revival. The book also includes appendices with pieces on The Newbeats and Colonel Kilgore's Vietnamese Formation Surf Team and contributions by mod girl Eve Pearce, leading Bristol mod Geoff Rice, Steamers DJ Jerry Cripps and Jon Andrews of Bristol mod band Mayfair.
Punks on Scooters is a collaboration between Tangent Books and Bristol Archive Records and accompanies the BAR CD Mods, Power Pop, Scooter Boys 1979-1987 (CAT NO: ARC287CD).
Shipping 1st October 2016 – Preorder
Book
Signed copy of the book by MW Salter with limited edition poster.
£8.00 + delivery
Format: Book
Release date: 1st October 2016
Cat No.: BARC002
Book and CD
Signed copy of the book by MW Salter with limited edition poster and CD of Mods, Power Pop, Scooter Boys (The Soundtrack).
£15.00 + delivery
Format: Book and CD
Release date: 1st October 2016
Cat No.: BARC002Bundle
STORMTROOPER 'Pride Before A Fall – (The Lost Album)'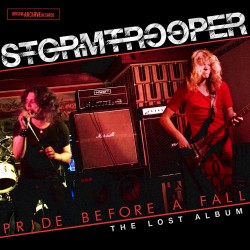 CD includes a limited edition A3 poster signed by the band (100 copies only)
Cast your mind back to a time when new music was coming at the public in 'waves'. First there was the 'new wave' of punk rock. Then 1979 and into the early 1980's, taking its' cue from those shorter haired thrashings, the then mighty music press in the form of Sounds came up with the laborious name of the 'New Wave Of British Heavy Metal' for the deluge of new rock bands that were emerging from all over the country.
In a story that is little appreciated, bar amongst the bands' fiercest fans, Bristol's very own Stormtrooper were ahead of the 'N.W.O.B.H.M', as they had originally formed in the mid 1970's. But they were right in there more than holding their own with the likes of Def Leppard, Iron Maiden, Saxon and Motorhead in terms of seeing their music released in the slip-stream of that catch-all 'brand identity'.
Bristol as a city has no claim to being a rock stronghold, but the band didn't let that hold their campaign back. Their passion, talent and ambition enabled them to launch themselves to gain recognition, and their hard work and blistering live shows paid off when 'Pride Before A Fall' became one of the singles released through the unlikely means of local Heartbeat Records operation, run by Simon Edwards in Bristol.

Released 19th August 2016 via Bristol Archive Records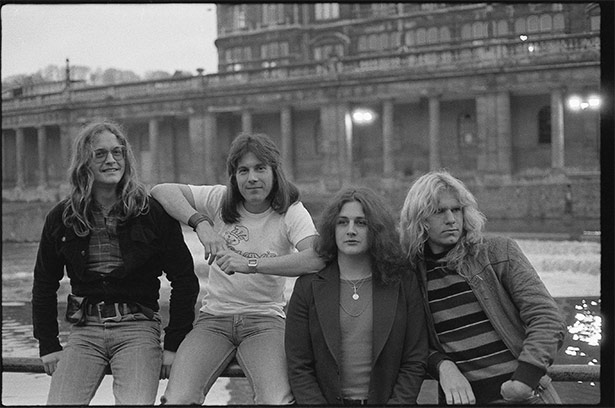 bandcamp
CD
£8.00 + Delivery
ARTIST: Stormtrooper
TITLE: "Pride Before A Fall – (The Lost Album)"
RELEASE DATE: 19th August 2016
LABEL: Bristol Archive Records
DISTRIBUTION: Shellshock / SRD
FORMAT: CD
CAT NO: ARC297CD
BARCODE: TBA
GENRE: Rock / Prog / Metal

Rita Lynch 'Story to Tell' (Anthology 1988 – 2011)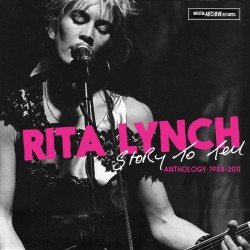 A worthy heir of Patti Smith, The Velvet Underground, Poison Girls, Iggy Pop and Pauline Murray and gutsy contemporary of PJ Harvey, Liz Phair, Kirsten Hersh and Juliana Holter releases.
This documents Rita's 30 years of work in the world's musical underground. She has produced nine outstanding studio albums to date. This compilation spans her career and includes unreleased demos, mixes and classic tracks which truly represent the breadth of Rita's song writing ability. Songs like 'Beautiful Eyes' and 'Call me your Girlfriend' and 'Rolla Coaster', included on this album, have been soundtracks to many people's lives. Her recent work with Blue Aeroplanes drummer and bassist; Jon Langley and Mike Youe have been her most productive yet.
Includes a limited edition signed poster (100 copies only)
bandcamp
Format - CD
£8.99 + Delivery (Available to Preorder now)
ARTIST: Rita Lynch
TITLE: "Story to Tell"
RELEASE DATE: 22nd April 2016
LABEL: Bristol Archive Records
DISTRIBUTION: Shellshock / SRD
FORMAT: CD and Digital Download
CAT NO: ARC288CD
GENRE: Punk, Indie

Bristol Boys Make More Noise! Mods, Power Pop, Scooter Boys – 1979-1987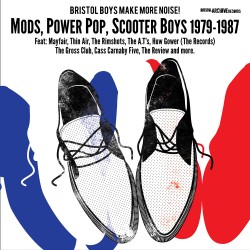 Bristol Archive Records have been telling the story of the incredibly diverse Bristol Music scene for several years now. The label has gained incredible success with their three previous releases 'The Bristol Reggae Explosion' series – Volume one, two and three covering 1978 to the end of the 80's. They followed the Reggae vibe with another critically acclaimed release, The Bristol Punk Explosion 1977-1983 which covered 1977 and The Cortinas through to Onslaught and the oncoming of Thrash Metal.
Now they turn their attention to another SUB CULTURE – Mods, Power Pop and Scooter Boys.

"I love a subculture, particularly when the fashion sense is sharp and the music is full of youthful energy. Even better when it's homegrown in the provinces and not in London, then there is a feeling of authenticity and sense of place. That is exactly what is captured on this 21- track album 'Bristol Boys Make More Noise' released by Bristol Archive Records.
From the jangly pop of Huw Gower's 'She's Still a Mystery' to the pop romanticism of Thin Air's 'A Thousand Burning Voices' or my personal favorite, the fusion of ska and mod on Sky High's 'Maryanne', this album is a testament to Bristol's mod/ power pop revival and those boys and girls who weren't afraid to embrace diversity in their music".
Pauline Black (The Selecter) – Feb 2016
bandcamp
Format - CD
£8.00 + Delivery
ARTIST: Various Artists
TITLE: "Bristol Boys Make More Noise! Mods, Power Pop, Scooter Boys 1979-1987"
RELEASE DATE: 1st April 2016
LABEL: Bristol Archive Records
DISTRIBUTION: Shellshock / SRD
FORMAT: CD and Digital Download
CAT NO: ARC287CD
GENRE: Mod, Power Pop, Ska
The Bristol Roots Explosion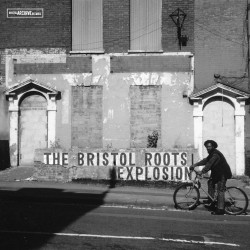 Nine tracks of classic Bristol Roots Reggae including two previously unreleased tracks. The LP comes with a limited edition, signed, numbered poster (100 copies) only available from Band camp and the Bristol Archive Records website.
bandcamp
LP and Digital Download
SOLD OUT
ARTIST: Various Artists
TITLE: 'The Bristol Roots Explosion'
RELEASE DATE: 4th March 2016 
LABEL: Bristol Archive Records 
DISTRIBUTION: Shellshock / SRD
FORMAT: LP and Digital Download
CAT NO: ARC279V
BARCODE: 5052571064412
GENRE: Reggae, Dub
WEBSITE: www.bristolarchiverecords.com  
PRESS CONTACT:
Mike Darby, E: mike@sugarshackrecords.co.uk
T: 07885 498 402