Monday, June 16th, 2014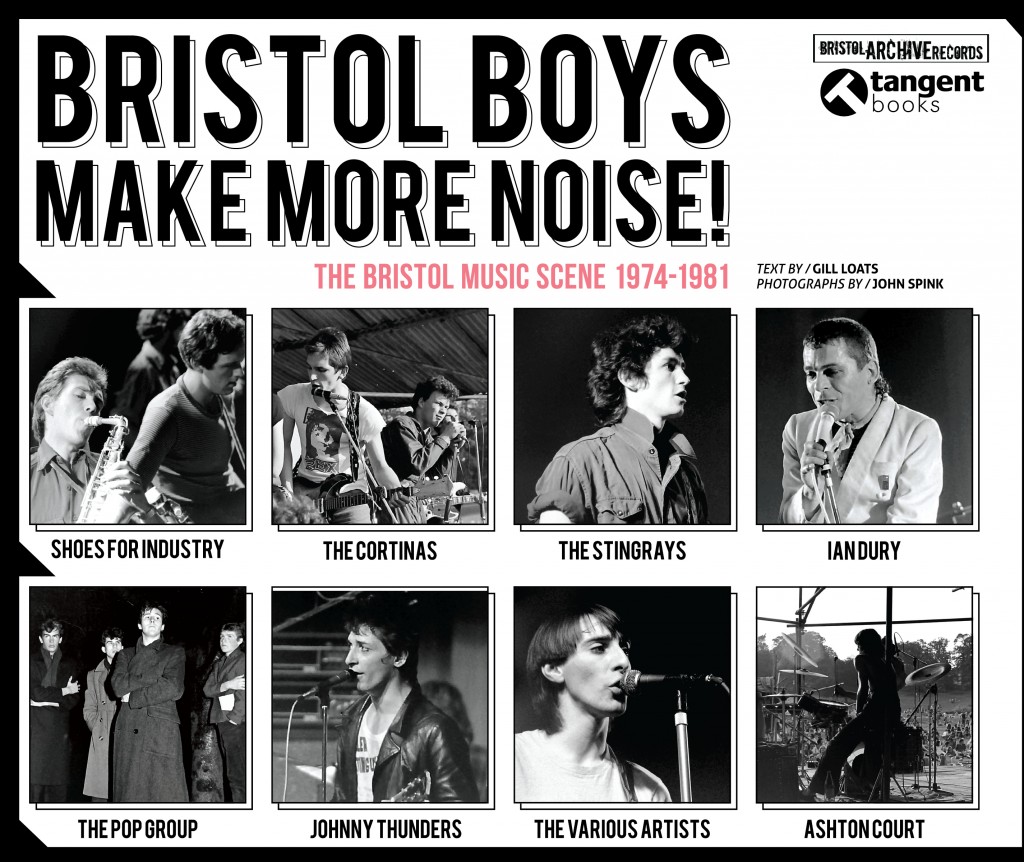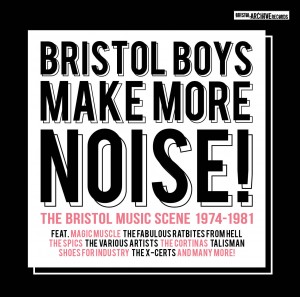 Press Release for Bristol Boys Make More Noise – The Book, CD and Digital (Two Years in the planning and here on 6th October 2014)
Press Release
Book, CD and download celebrates Bristol music scene 1974-1981
Bristol's leading counter-cult…ure publishers Tangent Books and Bristol Archive Records have joined forces to produce a photographic book, download and CD celebrating the Bristol music scene 1974-1981.
The book, Bristol Boys Make More Noise is based on the work of John Spink one of the few photographers to capture the Bristol music scene from the mid 1970s to the early 1980s. John moved to Bristol from London in 1972 and fell in with the band Magic Muscle who lived in the communal 'Fun House' in Cotham' He worked as an occasional photographer for music mags as well as performing in some early shows by the surrealist Crystal Theatre.
He pioneered a technique of processing black and white film using X-ray developer which enabled him to shoot in low light (such as clubs) without using flash. This collection not only captures the Bristol scene during these years as Bristol music moved from 70s rock (Magic Muscle) through punk (The Cortinas) to the experimental adventurers The Pop Group and The Various Artists but also showcases John's unique photographic style.
In 1981, John left Bristol for New York where he worked for Caroline Records. He now lives in Northern California and works as a tour manager for a large music merchandising company.
John's pictures are put in context by author Gill Loats who was at the heart of the Bristol music scene working as a DJ at the infamous Dug Out Club and watching live music most nights of the week.
The release of the book is accompanied by the launch of a CD and download. The CD features 22 tracks including contributions from Magic Muscle, The Cortinas, Shoes for Industry, The Various Artists, The Ratbites From Hell, The Spics and The X-Certs.
more
The limited-edition CD features a 44-page booklet with sleeve notes by Thomas Brooman CBE who played drums with The Media, The Spics and The Sidneys before going on to co-found WOMAD and Real World Records with Peter Gabriel..
Said Richard Jones of Tangent Books: 'I've known Mike Darby from Bristol Archive Records for many years and we both work in similar areas celebrating Bristol's rich counter-culture, but this is the first time we've worked together. It's a really exciting project bringing together John Spink's photography and Gill Loats' written memories with a CD and download. It's a fantastic package that begins to make sense of the early years of the Bristol Sound.'
Ends
Notes to Editor
Hi-res images available on request ¬– contact Mike Darby (07885 498402 or mdarby@sugarshackrecords.co.uk) or Richard Jones (07890 267983 or richard@tangentbooks.co.uk)
Contact Mike Darby to arrange interviews with featured artists.
Bristol Boys Make More Noise: The Bristol Music Scene 1974-1981
Photography by John Spink, words by Gill Loats • £14 suggested retail • 200 pages
• 203mm x 241mm (landscape) • Isbn: 978-1-910089-07-1 • Available 6th Oct, 2014
Distributor: Central Books • 0208 986 4854 • www.centralbooks.com
Sales: Richard Jones • 0117 972 0645 • richard@tangentbooks.co.uk
CD
Bristol Boys Make More Noise: The Soundtrack 1974-1981
ARTIST: Various Artists
TITLE: Bristol Boys Make More Noise: The Soundtrack 1974-1981
RELEASE DATE: 6th October 2014
LABEL / DISTRIBUTION: Bristol Archive Records / Shellshock
FORMAT: Limited Edition, numbered, 44 page booklet and Digital Download
CAT NO / BARCODE: ARC270CD / 505257105612
CD Tracklisting:
Bristol Boys Make More Noise: The Soundtrack
1. Magic Muscle: Free As A Bird
2. The Cortinas: Defiant Pose
3. The Spics: You And Me
4. Gardez Darkx: Bliss
5. The Radicals: Nights Of Passion
6. Talisman: Run Come Girl
7. The X-Certs: Queen And Country
8. The Media: New Blood
9. Joe Public: Yellow Runs Forever
10. The Spics: Angels In The Rain
11. Sneak Preview: Slugweird
12. The Various Artists: Unlucky In Love
13. The Various Artists: Time Of My Life
14. The Stingrays: Exceptions
15. The Untouchables: Keep On Walking
16. Wendy Partridge & Joanna Swan (The Spics): Fire
17. Shoes for Industry: Sheep Dog Trial Ina Babylon
18. C.C. Sager: Deathbed Lullaby
19. The Fabulous Ratbites From Hell: Sparkle
20. The Dragons: Best Of Both Worlds
Bonus Tracks:
21. The Vultures: She'll Be Back
22. The Sidneys: Bleak Grey Skies