Tuesday, May 28th, 2013
'THE BRISTOL REGGAE EXPLOSION
LIVE' – VARIOUS ARTISTS
17 Track CD / 11 Track DVD & Digital Download. Released 3rdJune 2013.
For the past three years, Bristol Archive Records have shone the spotlight on the City's musical legacy, particularly reggae. Last year we decided we'd turn the spotlight on the artists themselves and so in August, a who's who of Bristol reggae artists gathered together for The Bristol Reggae Explosion Live. It was a unique chance to enjoy more than ten of the city's finest veterans sharing the same stage, in some cases for the first time in two decades.
The show was a huge success with the whole crowd and all the artists going home with large grins on their faces, having enjoyed one of the best shows and some of the nicest vibes in years. By chance, young film makers from 8th Sense Media and the "Dubplate To Dubstep" Ujima Radio film project were in attendance to document the evening and although we hadn't planned a commercial release, the show was such a great success we decided that perhaps we should share the footage.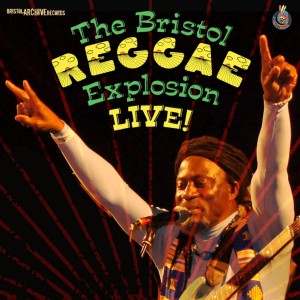 With many of the artists coming from St. Paul's and with most of them having been involved in past carnivals, it seemed obvious to turn this celebration of Bristol and St. Paul's musical legacy performed by the elders and filmed by the youths into something that could benefit the community and the next generation of performers.
Knowing of the yearly struggle to raise funds for St. Paul's Carnival, Bristol Archive Records will be releasing "The Bristol Reggae Explosion Live 2012" as a CD/DVD package on 3rd June 2013 with profits donated to The St. Paul's Carnival.
Although technical issues mean that not every artist is represented, the DVD contains eleven performances from Lord John Hutchinson, Bunny Marrett, Dennis McCalla aka Dallas, Popsy Curious, Glen Crookes, Dan Ratchet, Jashwha Moses and the mighty Talisman, who also provide backing for the other acts.
The accompanying CD contains 17 studio recordings from the acts involved and as well as those featured on the DVD, we get to enjoy the talents of Winston Minott, Veronica Morrison aka Veereal, Vibes and Cool Runnings with several tracks previously unreleased.
A special mention must go to Michael Jenkins and Steve Street whose hard work on the video and soundtrack respectively, made this release possible and of course the young film makers who captured the evening.
Whether you were fortunate enough to be present on that August night, are a fan of the acts or the label, want to support St. Paul's Carnival or are just curious, you are sure to enjoy this package.
St. Pauls Carnival takes place in Bristol on 6th July 2013.