The 80′s – We loved it!
"This Is 80's Pop (Out West)"
Released on CD and Digital Download 6th October 2017
TO BUY: https://bristolarchiverecords.bandcamp.com/album/this-is-80s-pop-out-west
Do you think of the West Country in the 1980's as a source of plentiful pop acts? Go on, pull the other one! With the music that's normally associated with Bristol, Bath and places out west, a number of stereotypes come to mind. That can be down to the known success stories or just plain perception.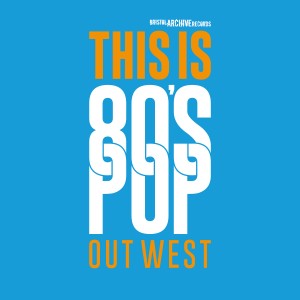 There has always been a broad picture of the scope of music that has come out of the west end of the M4 and M5 in general, from the more fundamental areas of rock, indie, reggae, rap, R 'n B and dance music, through to the more arcane areas of post-punk, jazz, punk-funk, punk jazz, art-rock and even once in a while a moody singer-songwriter.
The boys (and girls) from the region have always made a right old variety of noise! It hasn't always been accompanied by mainstream acceptance with the resulting sales. That heady creativity included more straight up pop music and the 'take' that could be put on it, with the hope that acclaim would follow. Dig a little deeper into the western region's musical history and they weren't alone in ploughing a furrow into the field marked '80's Pop'. It was no wonder. The ground in that decade was fertile for sowing the seeds of possible pop perennials.
It maybe didn't help that down the road in and near Bath, they had plenty of music emigrees who settled there and in the West Country having seen major league national and international success. The likes of Peter Gabriel, Midge Ure and even Stranglers front-man Hugh Cornwall made their homes and mark in the area.
But the most prominent of the acts to have been born, raised and emerged from the city of Bath itself were Tears for Fears in the 1980's. It begged the question that if Tears for Fears could 'make it' big, did any other pop-orientated acts from the region come through, and if so what happened to them? Were they any good? Did they get any exposure and recognition? If not, why not?
This prompted Bristol Archive records owner, Mike Darby, and the long-time music industry creative and journalist, Dave Massey, to go through their extensive archive of local music and see if there was an album that could be compiled of those acts tracks that could be regarded as 'lost hits'. Darby had done this with 'lost gems' by punk, mod and rock acts from the west and released well researched and beautifully presented compilations. Now it was time for the pop acts.
Dave Massey was right in the thick of it when this music was being made in the 1980's. He was in the fortunate position of covering the many genres of music in his capacity as the Bristol and West country regional correspondent, and as the decade progressed somewhat uniquely for each of the weekly music papers in turn – firstly the NME, then Sounds, followed by Melody Maker.
These papers all had massive readership and circulations at the time. A Wednesday during the week was always the day to buy which paper was your source to find out what was happening to your favourite acts and music!
Massey also had moved to London in the late 80's to work as an A&R man for a music publishing company. He trawled the whole country for new talent, but always kept a close eye on developments in his former back-yard. The range of music for him to assess was extensive, but the music industry has always regarded pop as a staple ingredient in its cash flow planning. Like it or not, he had to consider that, but he was always a fan of the genre if it 'said' something.
From their trawl Darby and Massey uncovered pop gold, and this wonderful compilation demonstrates that to the full. Many of the acts were seen live, reviewed and interviewed by Massey and other local journalists, featured on local, and in some instances national radio, and some made it on to local and national TV. Utilising the industry contacts he had built up through his writing Dave even ended up managing a couple of them briefly.
There was no lack of talent in these acts, or indeed ambition, and in a stylised era there was a keen appreciation of the right 'look' too. All kinds of strategies were used to promote themselves. Tracks were circulated on cassette tapes in order to solicit interest from an industry drowning in pop. Some went further and actually got as far as putting out independent releases. Gigs were done in 'unusual' venues. Videos were made in whatever surroundings would work.
These acts have stories of 'got so close' and 'what might have been'. Many of the creators of these great tunes have gone on to success in careers that still involved music, whether as writers, producers or session players, or led to them running their own prosperous businesses, and even down to one of their number chairing and running a local Championship level football club!
But in the end the 20 tracks on the compilation do the 'talking'. They are worthy contenders to be heard on day-time radio, in a top line club, blasting out of a TV screen or from in a car with the windows wound down on a sunny summer's day, and just listened to by any pop fan through whatever means they choose to enjoy their music.
It's a treasure trove of glorious commercial, but savvy and sexy pop music. Get into the groove of this wonderful west of England sonic pleasure feast!
www.bristolarchiverecords.com
ARTIST: Various Artists
TITLE: "This Is 80's Pop (Out West)"
RELEASE DATE: 6th October 2017
LABEL: Bristol Archive Records
DISTRIBUTION: Shellshock / SRD
CAT NO: ARC323CD
BARCODE: 5052571072622
Tracklisting:
1. Hey Belaba 'Can't Stop Running'
2. Wadi Vision 'Forwards Backwards'
3. Vicious Circle 'Sorry'
4. Bush and Clarke 'I'm Satisfied'
5. Umo Vogue 'Who's Sorry Now'
6. Frame by Frame 'Kill For Less
7. Great Naked 'Narrow Bed'
8. Kick City 'Cover Your Eyes
9. The Works 'When The Glitter Fades'
10. Paul Sandrone (Pola) 'I'm Alone'
11. Umo Vogue 'Make It Real'
12. Snapshot Parody 'Money Makes Money'
13. Vicious Circle 'Temptation'
14. Great Naked 'Hanging Around my Door'
15. Wadi Vision 'This is Ha Ha'
16. The Big Outdoor Type 'Don't Be a Stranger'
17. Bush and Clarke 'Guru Maserati'
18. Hey Belaba 'Call Of The Wild'
19. Pola 'Mistakes'
20. Vicious Circle 'Woman's World'