JOhn Spink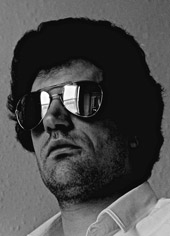 Moved to Bristol from London in 1972, and mixed with the folks from Magic Muscle, a band, and residents of what police called the "Fun House" on Cotham Brow.
This led to participating in some early Crystal Theatre shows, first as an actor, then as lighting director. Also worked as driver & backline guy for a couple of local bands.
Started taking pictures around 1976, and found that black & white film could be made extremely sensitive if processed in X ray developer. Ideal for taking pictures in low light situations, such as clubs, without using a flash. Started photographing the Bristol music and skateboard scene as things got exciting again in late '76 and '77. Took pictures of shows and some publicity pictures for Fried Egg Records, Out West Magazine and the National Music paper Sounds.
In 1981 left Bristol for New York City and worked for Caroline Records. Now living in Northern California and working as a tour manager for a large music merchandising company.
Art Attax, Anson Rooms, Bristol Oct 77

Big Youth

Crystal Theatre Co. Ashton Court

Dave Cohen » Dave Cohen Page

Dr Feelgood at The Colston Hall

Elvis Costello

Hot Bear Club 1977

Ian Dury Stiff Tour

Joe Public » Joe Public Page


Johnny Thunders

Mink deVille

Nick Lowe

Punk People

Radio B

Shoes for Industry » Shoes for Industry Page

Social Security » Social Security Page
Spikey and the Mango Band 1975

Straits
The Android Pups

The Cortinas » The Cortinas Page

The Media » The Media Page

The Models



The Only Ones

The Pirates

The Pop Group » The Pop Group

The SPICS » The SPICS Page

The Stingrays » The Stingrays Page

The Untouchables » The Untouchables Page

The Various Artists » The Various Artists Page

The Vultures

Wreckless Eric