Vibes Album Review – Reggae Vibes
'Reminisce'
Vibes
Bristol Archive Records
CD
Release date: July 18, 2013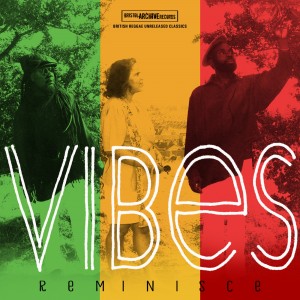 Track list
1. My Love
2. My Love Dub
3. Jah Hold Back The Rain
4. Jah Hold Back The Rain Dub
5. Reminisce
6. Must Go Home/Jah Jah Children(Extended Mix)
7. Judgement On Creation
8. Judgement On Creation Dub
9. Hurting So Bad
10. Sell Out
11. Sell Out Dub
12. Tribulation
13. Must Go Home(Steve Street Mix)
14. Jah Hold Back The Rain(Steve Street Mix)
15. My Love(Steve Street Mix)
Rating : from 5 (excellent) to 1 (poor)
*Vocals : 5 *    *Backing : 4,5 *    *Production : 5 *
*Sound quality : 5 **Sleeve : 5 *
There are countless chapters in the evolvement of British Reggae Musik that have been written but now; some are just being read. The ever reliant Bristol Archive Records(big up Mike Darby) have dusted off one of these chapters and it's all good! The Roots trio Vibes laid down some brilliant tracks back in 1992 that never saw the light of day. It's mind boggling how "Reminisce" is just now available! Listeners-rejoice and reminisce……..
Vibes' career lasted a mere two years but the members were seasoned veterans of many groups. Hailing from Bristol, the same northern town that saw the dawn of Black Roots, Dan Ratchet, Jashwa Moses and numerous others; Vibes has a unique story. Founding members Popsy Curious (showcased on "Bristol Reggae Explosion series) and Winston Minott (formerly of Cool Runnings) were singing together in a band called Black Flames. These veterans were yearning for a classic Roots harmony trio sound; so they searched for the link. After a few mismatches, they ran into a talented young Veronica "Veerael" Morrison. They had their sound with Empress flavor. The trio immediately recorded a few tracks but the masters disappeared. Word got around and soon they were performing with backing from members of Black Roots and Talisman! They found the affordable Diga Studios and these tracks were laid down (unmixed). Due to various circumstances, these songs got lost in the sands of time. The trio continued until 1994, when members went separate ways. Well, at last year's acclaimed "Bristol Reggae Explosion Live" concert; all three members performed as solo artists and were magically backed by Talisman (full circle style).
"Reminisce" is a purely joyful affair. It's ambience can be described as ethereal and timeless vibrations. The musicianmanship is ably provided by Talisman's Dehvan Othieno (guitars), bandmate Dennison Joseph (bass) and Chris on keys. Dave "Oldwah" Sangford was brought in to mix the tracks and the genius Steve Street adds his mastery touch. /My Love/ showcases the raw beauty of Veronica's talent. Her soaring voice combined with Winston's and Popsy's harmonies make this a Lover's special. Bubbling keys and lilting basslines stand predominant-pure magic here. The Dub is killer. The dissected riddim is overlayed proper with floating vocal overlays. /Jah Hold Back The Rain/ is something special. Popsy tells us of feeling the first rain upon returning to the U.K after visiting Ethiopia and is sung in timeless and heartical fashion. The drum machine flows evenly amongst the killer guitar chops, bubbling bass and floating harmonies. The Dub brings the bass to forefront and everything falls into place just nice. /Reminisce/ shows Veronica at her regal best again. A cover of "Caught You In A Lie"; she captures it with authority and conviction. Standout selection with great key work from Chris. /Must Go Home/Jah Jah Children/ is a classic Roots anthem with Winston taking lead. Totally heartfelt lyrics and urgent delivery make this song an instant classic. The extended mix showcases the Talisman greatness.
The Roots vibe continues on /Judgement On Creation/. A Dread delivery-"just another diversion to deceive the population." The classic Roots harmony trio formula is in full operation here. The riddim is more modern than others on this collection but totally works. The Dub is wicked-an intoxicating bassline emerges and layers of dimensional niceness follows. /Hurting So Bad/ is a gem of the Highest Order. Popsy leads a beautiful Love song peppered with ites bass and key work.
Veronica's backing voice punches more emotion into this absolute work of art. /Sell Out/ has masterpiece written all over it. On top of a guitar and key driven riddim, Winston advises us to be true to ourselves (played this track five inna row). The Dub will guarantee to twist your waist and move yer shoulder. The ambient guitar, bass and key workings meld together so nicely with the floating voices of the trio. We are treated to three Steve Street mixes of select songs. This mastermind has been so instrumental in the Bristol Archive/Sugar Shack releases. /Must Go Home/ is polished to a sparkling diamond. Steve adds subtle touches to /Jah Hold Back The Rain/ and gives it more gumption. /My Love/ sounds like it's being performed live in your living room! Fantastic engineering work all around.
Vibes' "Reminisce" is an example of the "no expiration date" of Real Roots Reggae Musik. Whether it was released back in 1992 or a hundred years from now; it would command instant attention. Every song upholds grace, compatibility and pure class. The relationship of the trio was and is more than amicable and it shows and flows through every song.
There's raw yet refined emotion from start to finish. Nuff accolades to the engineers and those who bought Vibes alive. One of the more unique releases in a while. Highest recommendation. Go deh!!!!!!
–
Respect & one love….
Teacher & Mr. T (RAW #1050)
Reggae Vibes Productions NL
Reggae Vibes Website :