Stormtrooper Interview – Vents Magazine
Can you talk to us more about your album "Pride Before A Fall"?
Yeah, it's an album that unfortunately never saw the light of day. We had 'Pride Before A Fall the single' released on Heartbeat Records in 1980, and it did quite well, we made two further visits to studios in Bath and Bristol and recorded a cross section of our stuff that we thought would secure us a record deal, 10 tracks in all. Heartbeat were based in Bristol as well, but they were primarily a punk and new wave label. They mainly produced singles and unfortunately passed on the idea of releasing an album. So we had to look further afield. We had no manager. We were musicians, we had no management skills and we found it difficult to promote the band and our music outside of Bristol. And just two months after we recorded our last two tracks, things fell apart and our 5 year journey came to an end.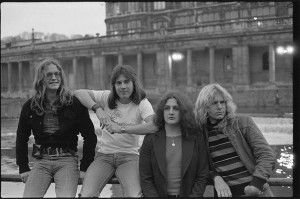 How did this album get lost in the shuffle and how did you find it?
Bob and I paid for the studio sessions and the masters. The band were given cassettes at the time, we should have had access to the 2″ masters that were kept at the studios and copies of the 1/4″ tapes. The 2″ masters were destroyed when the Studios closed in the late 80′s. And we had no idea what happened to the 1/4″ tapes. About five years ago I was approached by a German label, they were aware of the band through the single and heard a couple of other tracks I had uploaded to YouTube from one of the old cassettes. On the strength of that alone they were very keen in releasing an album. We sent them what we could, but they kept asking for better quality raw material which we didn't possess at the time. I also felt a bit precious about my songs and dealing with a company in Germany wasn't an ideal situation regardless of how much money they were offering up front and things just petered out.
Enter Mike Darby and Bristol Archive Records?
Yeah, I got a call out of the blue from this bloke who had the original 1/4″ tapes which contained 4 tracks from the first session at Crescent Studios in Bath. He had got them from Simon Edwards who owned Heartbeat records. I was astonished! He asked if we had anything else, I said we did but I didn't know if it could be salvaged. Within a couple of days of that telephone conversation by pure coincidence Bob was clearing out his attic and came across a pile of unlabelled 1/4″ tapes. We borrowed an old reel to reel player, and amongst other things they contained 4 tracks from the missing second session from Crescent Studios and a further two tracks recorded as SAM Studios in Bristol. Mike Darby picked up the tapes along with an acetate and a cassette I had. And we waited with anticipation. The restoration and remastering incidentally was carried out by the same guy that engineered the original session at SAM 35 years earlier! The results were incredible it was like stepping back in time, I swear they sounded better than they did all those years ago. And only one track from the three sessions didn't make it. We now had a brilliant album and a locally based Record company we could work closely with. Happy days.
How was the recording and writing process?
We didn't have a lot of money and we needed to get things done quickly. The songs were supposed to be and to a certain extent still are demos. The album was recorded in just two Saturday mornings and one Sunday afternoon. I'd say out of the nine tracks only two were second takes and one of those was because of a technical issue! The rest were all first takes. I think maybe Bob overdubbed a little feedback on one track and we had a bit of wind and thunder added on another track. But it was basically a live recording in a studio environment. Apart from a little tidying here and there, there's not a lot more we would have done to them anyway, In fact I love the spontaneity and urgency found in the tracks. The songs were written over a 5 year period with two different vocalists. I was a little bossy when it came to writing. The longer tracks I wrote, were quite complicated and I would present them to the band in sections at rehearsals sometimes over a period of several weeks. No internet then! There are a couple of tracks on the album born out of Bobs riffs, I would then frame them musically and Paul or Nigel would do their thing and write the lyrics. I was quite lucky to be given a free rein, I'm sure they would have kicked me if I'd got it wrong though.
The album plays with different styles – does one tend to shine the most depending on the lyrics' theme?
As I said the songs were written over a period of time and obviously as a writer and as musicians we were evolving and improving all the time. Our musical tastes were heading in different directions as well. And subsequently our music is not easily categorised. That's why this album is so brilliant. It's so diverse but nothing is out of place. There are commercial songs and songs with such weird time signatures and structure it would take a good musician a month to work them out and there's everything in between. It's got everything. But as a collection it really holds together, because of our approach and delivery. I love every aspect of it.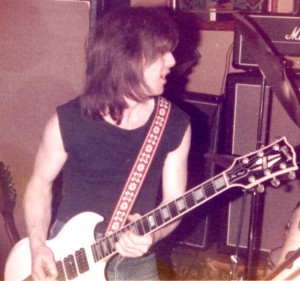 What role does the 70s plays in your music?
To answer that question I really need to go back to the 60′s melody was everything then, I loved The Beatles and The Beach Boys. But The Kinks and The Small Faces, combined attitude with melody, which was something at a tender age and coming from a rough neighbourhood I latched onto. The first band I ever saw was Montrose with Sammy Hagar in 1974 and a little later that decade Zeppelin and Rush. All three bands had an affect on my thought process when it came to writing.
Any plans to hit the road?
We are all doing different things musically now, but if the album does well who knows?
Anything else happening next in Stormtrooper's world?
Yeah, we have a dozen or more songs from the Stormtrooper days that didn't make it to the studio, and we are at present rerecording them. We're also trawling through live recordings of the band with a view of putting out a live album. It all depends on how 'Pride' is received, but the recordings deserve to be released one way or another and I'm sure they will.
Interview conducted with 'Boggy' Bond – Bass – STORMTROOPER
(Taken from the forthcoming Interview in Vents Magazine)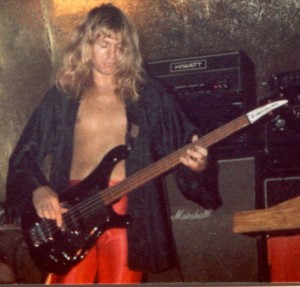 Tags: bristol, heavy rock, NWOBHM, pride before a fall, Rock, stormtrooper