Live Review – The Pop Group – London Sept 2010
The Pop Group: still blazing a trail that makes rock look conservative
More than 30 years ago, the Pop Group ransacked free jazz, dub reggae, noise and funk. But I never imagined they'd still sound so vital in 2010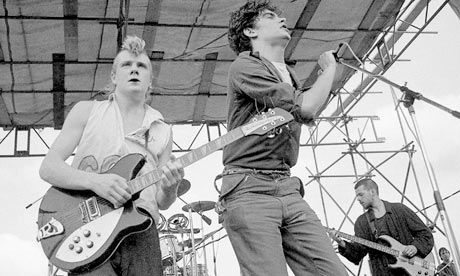 Like Franz Kafka fronting Funkadelic … Gareth Sager and Mark Stewart perform at Alexandra Palace. Photograph: David Corio/RedfernsI saw the Pop Group just a couple of times back in the day, once in broad daylight at an outdoor festival in east London around about the summer of 1978. I've never forgotten that performance. It was the shock of the new writ large.
As far as I can remember, one member was wearing a skirt of some kind, another was sporting a Mohawk haircut. The lead singer sang though a kerchief and, later, though a megaphone. Every song seemed like a statement of wild intent, an unholy noise that merged funk, dub and avant-garde noise.
Back then, the Pop Group were almost too much to take in: pretentious, arrogant, noisy, chaotic, violent to the point of implosive. For me, they signalled the moment that punk mutated into something new and infinitely more ambitious, a chaotic merging of dub, funk, avant-garde noise with paranoid, often politically charged, lyrics. Their music spoke of a future free from the few already exhausted chords that rock'n'roll was built on.
I was reminded of all this on Saturday night at the Garage in north London, when the Pop Group, reformed with all but one of their original members, tore into We Are All Prostitutes, a song that sounds as tumultuous and deranged now as it did 30-odd years ago. I had gone to the gig with mixed feelings. When a beloved group reforms after years of silence, the heart sinks. What price memories if they are trampled on for nostalgic or economic reasons? The original Pop Group burned, and burnt out, in a few years. Now, 30 years on, older, portlier, unable to draw on the untramelled energy and optimism of youth, they were back. Would they still burn?
The answer, against all the odds, is yes. Nick Cave, once described the Pop Group's music as "unholy, manic, violent, paranoid and painful". To a great degree, that remains the case. They still sound like nothing before or since. And Gareth Sager still rushes on stage like a gleeful maniac and grabs whatever instrument is to hand – in this case, a keyboard – and unleashes a salvo of atonal noise to set things rolling. Then, a short silence broken by a familiar crash and what Cave once described as one "of the greatest ever openings of a song"; the bestial howl that begins We Are All Prostitutes.
The song rumbles and clatters along in its barely cohesive way, just about grounded by Bruce Smith's extraordinary drumming and a taut bassline that shakes the floor. I was reminded immediately of Sager's singular – and often overlooked – brilliance as a rhythmic lead guitarist of fierce intensity, a blur of movement chopping out dissonant shards of sound that punctuate the songs and undercut Mark Stewart's anguished vocals. "Our children shall rise up against us," Stewart chants, half-warning, half-hoping, still raging against those Babylonian forces of oppression.
How to describe the sound of the Pop Group? It is, more than anything else, a rhythmic noise, fractious and uneasy, dense and chaotic, but imbued with its own inner logic. It does not welcome you in, but instead provokes a reaction of some kind: fewer people leave the room tonight than used to. The vocals seem to emerge from another space than the music, a deeper, darker, even stranger, realm of the imagination. At times, it's like Franz Kafka fronting Funkadelic; at others, like a madman with a megaphone ranting at the world over some strange collision of Ornette Coleman and Lee Perry.
Unsurprisingly, things often threaten to fall apart but the sheer propulsion of the rhythm section pulls it all back from the brink. It's the exhilaration of watching a tightrope walker. The familiar thrust of We Are Time is as close as they get to a riff-based song but it careers off at warp factor 10 within seconds. The bass rumbles like an earthquake, one drumbeat echoes across another, dubbed-up, ghostly. Thief of Fire begins with an even more primal howl than We Are All Prostitutes, then stutters and judders along, frenetic, impatient.
Sonically, things can get strange when there is this much abrasiveness and distortion. You hear noises within noises: strange echoes, floating dismembered vocals, reverberations that seem to emerge from underneath your feet. And then there's the lyrics. Mark Stewart has a post-Pop Group reputation as one of the great conspiracy theorists of the British music underground, but he is a singular songwriter all the same. She Is Beyond Good and Evil remains utterly unique, utterly spellbinding: an existential love song that posits a Nietzscheian worldview over a dub-funk maelstrom that perfectly echoes the lyric's fraught articulation of all-consuming desire. Here, love is a unified front against a hostile and threatening world:
"Our only defence is together as an army/ I'll hold you like a gun."
No one has written lyrics this strange and startling since the Beats except maybe for the aforementioned Mr Cave when he was rooting though the southern swamplands with the Birthday Party. (An old Gareth Sager quote from 1978: "We are the beatniks of tomorrow".)
Back in 1979, She Is Beyond Good and Evil, produced by British dub wizard, Dennis Bovell, sounded like the most extraordinarily adventurous pop single I had ever heard. On Saturday night, it blazed anew, the guitar much more upfront in the mix, altering the contours of the song altogether. Stewart told the rock writer Simon Reynolds that the song was "an attempt to mix up poetic, existentialist stuff with political yearnings". It is all that and more, something truly beautiful and breathtaking in its formal risk-taking.
The Pop Group were young, fearless and full of themselves when I first encountered them, unafraid to be overambitious, even pretentious in order to express their impatience with pop music. They ransacked free jazz, dub reggae, noise, funk and the outer reaches of experimental rock and, for a few brief moments, before the conspiracy theories, the relentless politic ranting and the faux-tribal stylings took over, they blazed a trail that few, if any, have had the imagination or the bravado to follow. It was good to be reminded of how singular and beautifully abrasive the Pop Group could be, and how dreadfully conservative most rock music since sounds in comparison.
http://www.guardian.co.uk/music/musicblog/2010/sep/14/pop-group
Tags: post punk, the pop group