Jashwha (Joshua) Moses RIP
I've just heard the incredibly sad news that Jashwha (Joshua) Moses passed away yesterday. Jash was a very dear friend of mine and a tremendous supporter of the record labels. In recognition of his enormous talent and with Jashwha's full support, involvement and blessing, Sugar Shack are releasing his 'Best of' next week. Blessed love and thinking of you always. Mike Darby/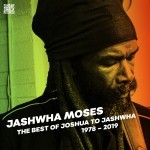 "The Best of Joshua to Jashwha 1978-2019"
JASHWHA MOSES
Released on CD and Digital Download
26th July 2019 via Sugar Shack Records
It's more than three decades since I first saw Jashwha Moses in concert. He was already a seasoned performer and there was no mistaking he was someone special; as with the best performers he oozed charisma, and his performances were mesmerising. He is a rare and genuine talent and to this day his live performances are just as captivating.
Jashwha's recording career got off to a flying start with the Dennis Bovell produced "Africa (Is Our Land)" a British roots reggae classic – released under his original name Joshua Moses which disappeared into the relative obscurity that swallowed so many independent releases and deprived the artist of greater success and a wider audience. Jashwha followed up "Africa (Is Our Land)" the following year with the more lovers orientated "Pretty Girl" and although he continued to perform and to record, it was to be more than thirty years before Jashwha released anything new when our Bristol Archive Record's imprint released "Joshua To Jashwha – 30 Years In The Wilderness".
The album was well received allowing for his discovery by a new generation of fans whilst reconnecting Jashwha with those who knew him from old. With his career reinvigorated and a fruitful long-term musical collaboration with producer Mikey Taylor Hall, Jashwha returned to performing full time and over the next three years released two albums of brand-new recordings "No War on Earth" and "The Rising".
Forty years after his first release we thought it was time to celebrate Jashwha's unique career and his numerous achievements by selecting 17 of his finest recordings and packaging them together as a 'best of' compilation, although that description hardly does the music or artist justice.
The tracks on this compilation are firmly in the 'roots reggae' tradition. Jashwha writes and sings with total conviction, this is the life he has lived, the things he believes, and every word resonates with that belief. Naturally we start at the beginning with "Africa (Is Our Land)" a hard act to follow, but something Jashwha achieves with the remaining selections. The thirty-five years between that debut and Jashwha's first proper album "No War on Earth", provides an additional six tracks that were recorded over a twenty-year period yet fit perfectly with both his debut and the songs from his later albums. Jashwha's song writing has always been an evolutionary process building on what's gone before rather than jumping on whatever bandwagon is currently fashionable, therein lies one of his strengths. Several of the additional eleven songs we've included from Jashwha's follow up albums demonstrate that evolutionary process, as earlier versions were reworked through performance and in the studio, sometimes just tweaking and improving what went before and at other times completely reconstructing those earlier ideas.
Jashwha's music has naturally evolved as he's aged, but the message, the joy and the outstanding quality have remained consistent, these songs are his manifesto for a better world, a world where music can make a difference. "The Best of Joshua to Jashwha" is released on Sugar Shack Records on 26th July 2019, distributed by Shellshock Distribution and available on CD and digital download.
ARTIST: Jashwha Moses
TITLE: "The Best of Joshua to Jashwha 1978-2019"
RELEASE DATE: 26th July 2019
LABEL: Sugar Shack Records
DISTRIBUTION: Shellshock / Proper
CAT NO: FOD130CD
BARCODE: 5052571081921
Track Listing:
1. Africa (Is Our Land)
2. Suffering Is in The Past
3. No Weep
4. No War
5. Jah Time Has Come
6. Rise Up
7. Sign of The Times
8. Good Over Evil
9. Steel
10. I Believe
11. The Free Bird
12. Nothing to Lose
13. People of Power
14. Bobby Wrong
15. What A Situation
16. No! Not I and I
17. Children of The Light