Interview: Rita Lynch
If you're a fan of great music and have a modicum of knowledge about the local scene then Rita Lynch should need no introduction. A highly regarded live performer she has a new anthology covering her career so far (Story to Tell (Anthology 1988 – 2011)) brought to us by those splendid people at Bristol Archive Recordings. The album is being launched at the Thunderbolt on Friday 6th May and Rita took time to answer a load of questions for us prior to the show.
What was the first record you ever bought and where did you buy it?
The first record I bought was Slade. Merry Xmas Everybody from Woolworths.
What was the most recent record you bought and where did you buy it?
I can't remember the most recent, it's been years since I had a record player.
What record do you stick on the deck to sooth your soul?
I don't play records any more but the song I play a lot lately to soothe me is Peggy Seeger, Swim to the Star.
Have you bought a record on the basis of a great single and then been disappointed by the rest of the album? If so, tell us all about it…

Yes, Oasis with Wonderwall and the album was terrible, I loved their first album, Definitely Maybe, but the second was very disappointing.
What record do you turn up to maximum to get in to that party mood?
It changes a lot but recently has been The Saints, Know Your Product.
If we had the ability to land you at the recording of one classic LP so you could witness the whole recording process, what would you choose and why?
Patti Smith recording Horses, I'd love to hear what she had to say in between recording those songs and just to watch her would be amazing.
Ever bought a record solely because you liked the sleeve? If so, what was it and did it delight you or disappoint you?
No.
Oh no, your house is burning down and you can only rescue one record! What would it be and why?
I have so few records that I wouldn't bother with them, but I'd try to get my Telecaster guitar out if I could.
What's your favourite record sleeve? Tell us all about it (and whether or not the music gives you as much pleasure as the sleeve).
One of my favourite record sleeves is The Freewheelin' Bob Dylan and I love the songs as well; it's an all-round absolute hit.
Morbidity alert: what record(s) would you like played at your funeral?
The End, by the Doors (the beginning bit only) and a couple of songs by the Brian Jonestown Massacre from Revelation and Amazing Grace; one of my own: It Feels Like the End of The World.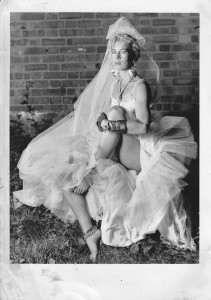 Looking back, what were both the best and worst things about being a musician when you started out?
One of the best things was my own youth and belief that I could really "make it". One of the worst things was my own lack of knowledge of the music business and how to go about making it happen. Also one of the best things was my belief in music itself as a worthy and moral useful thing to do with my life. One of the worst things was the sexism towards women at that time.
And by contrast what are the best and worst things about being a musician right here, right now?
One of the best things now is I have confidence in what I do. I find it easier to write songs but no longer have absolute faith that there is a whole lot of point in song writing any more when so much about the music world is not about if your songs are any good but how well you can promote yourself and "big yourself up" to get attention. It's become a "bragger's paradise", but then the whole social media thing is a great platform to show people your work and the "open mic" thing is a great way for anyone to demo their songs.
How important do you think artwork is for bands in these digital days?
Artwork is always important.
The N.M.E., Kerrang!, Mojo, Classic Rock – how important is print media to a working band in the age of social media?
Absolutely as important as it ever was, anyone can be a bit of a star on social media but getting something in a magazine is a true commendation.
Speaking of the digital world: vinyl, CD or download – what's your preference?
I think it means more to have a physical album on CD or vinyl with the artwork as well. But if you want to hear a certain song then it's by any means possible. I still use tapes and record on a tape machine so whatever it takes really.
How does it feel to look back over your career as anthologised on the new recording?
I am really happy that Mike Darby has put out this Anthology. I feel proud of my staying power and the fact that I have written so many songs over the years. I have enough songs to do an Anthology 2 and 3 and I have nearly finished recording a new album to be released later this year. I hadn't quite realised how many songs I'd written over the years. It's not bad for a life's work and I continually write songs at the moment – it's a bit like a CV. Also I've written a longer biography for this album, with much more detail than any before. It is very honest. It has made me remember the days of punk and the young woman I was then; of how important it has always been for me to be myself and find my uniqueness even if it is not currently trendy or fashionable. And has reminded me, again, of why I do music.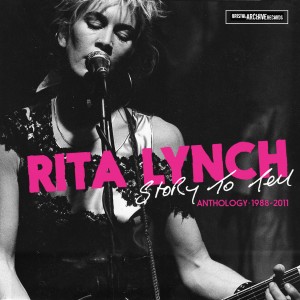 If you could hop back in time, is there any single key choice you've made that you'd like to change, and if so, what & why?
I wish I had been more confident when I first started. There are things I regret but, I'm still here writing songs, doing music and still gigging. I love singing, especially since stopping smoking. It still feels new and exciting, I am more hopeful now than I've been in a long while.
Women in the music business have come a long way since Billie, Janis & Aretha; do you think women artists now have true equality with their male counterparts?
Women artists do not have true equality with men. They have the equality that men allow them. The same as in every other aspect of life. A lot of changes still have to happen. Both men and women have to look in to their own hearts, to be open and honest about these inequalities. It is not an easy task but I am hopeful.
What's the best thing about the Bristol music scene…?
The best thing about the Bristol music scene is its diversity. Having lived in St Pauls for over 30 years I really appreciate the mix of cultures and ethnicity that is reflected in the music here.
…and keeping it positive, what would you say needs the most improvement in the scene?
I think more cheap venues would be good with bands playing every evening.
How has the music scene in town changed since you first started out (assuming it has changed in any significant way)?
It has changed and evolved as everywhere has in the last 30 years. I think there are more bands in Bristol now than there used to be.
Do you think Bristol is a good place for a band to launch a career, and if so why…and if not, why not?
I think Bristol is as good a place as anywhere to launch a career. With computers these days it's not so important where you are located as long as you have a strong presence on the internet. And, as in so many other areas, it's not so much where you are as who you know.
What have been some of your most memorable gigs in town?
One of my most memorable gigs in town was Sound City in about 1993 or 1994. I played on Castle Park; it was exciting – John Peel was there. Playing at the Fleece as part of Ladyfest in 2003 or 2004 when the Gossip headlined; playing at the Bierkeller when I was filmed for Channel 4. All these gigs stand out but there have been so many. Playing at Ashton Court Festival was always great.
We've lost some great venues over the decades (the Granary, Western Star Domino Club, the Dugout etc.); anywhere that you particularly miss?
The Western Star Domino Club was totally great, a really cool venue, The Malaap was great for a while.
Outside of town people have a perception that it's all trip-hop round these parts; but Bristol has always had a wildly eclectic scene (the Brilliant Corners to Onslaught; the Seers to the Blue Aeroplanes), what's your take on outside perceptions of the Bristol sound?
People always will focus on the bands that gain success and fame because they're the bands they hear about. The Blue Aeroplanes have been very successful as well but don't tend to get the same recognition.
Building on that question, is there anything that you think makes the scene here unique?
I used to enjoy the squat gigs, they were always so exciting and allowed many people a platform to start from. My first band ever, Rita and the Piss Artists, played mostly squat gigs. There was always such an air of excitement and possibilities at those shows. Maybe it was the same in other cities, but at the time I felt it to be unique to Bristol. It's a shame it's all become quite corporate now.
Would you care to mention a few of your favourite local bands – new outfits to check out, under sung acts from the past and any defunct groups worthy of resurrection?
So many bands, too many to mention but, from the past, God Bless You were brilliant – intense and dark, brilliant melodies. They were like the Bristol sound before the Bristol sound was invented.
So we're finally getting an arena…probably. What's your view…what impact do you think it will have on the musical landscape?
Artists on my level rarely get to play in big venues like the proposed Arena. I suppose it will make a few rich people even richer.
Pix: Jens Holm
Taken from and © http://www.bristol247.com/channel/culture/music/interviews/interview-rita-lynch-part-2
Tags: bristol, Punk, Rita Lynch, singer/songwriter, woman