BRISTOL BOYS MAKE MORE NOISE: MODS, POWER POP, SCOOTER BOYS 1979-87 (REVIEW/INTERVIEW)
BRISTOL BOYS MAKE MORE NOISE:
MODS, POWER POP, SCOOTER BOYS: 1979-87
(Bristol Archive Records: www.bristolarchiverecords.com, AVAILABLE APRIL 1)
Like many buzzwords, the definition of Mod depends on who coins it. If you lived in London, you could plug into a readymade subculture – whether you caught the Who in their '60s prime, or the unfairly-overlooked late '70s/early '80s "second wavers" (like the Chords, for instance) – and connect the dots. So firmly had the late Pete Meaden's now-famous definition ("clean living under difficult circumstances") imprinted itself on the UK's psyche.
So what did you do, then, if you lived far from the madding capitol crowd, and its oh-so-cool aura? One answer lies in Bristol Music Archive's latest compilation, BRISTOL BOYS MAKE MORE NOISE: MODS, POWER POP, SCOOTER BOYS: 1979-87, featuring 21 underdog nuggets that fell short of wider exposure (either appearing on small 7-inch single runs – or previously unreleased – that ain't limited man, that's incarcerated!). Further reinforcement will come with a novel, TO BE SOMEONE: BRISTOL MOD 1979-85, by Michael W. Salter, which Bristol Archive Records and Tangent Books will co-publish later this year.
"Bristol's always been an amazing city for producing great bands. Whether it be any subculture (Punk, Mod, Ska, Reggae, Goth, Dark Wave, Rock, Metal), you can always find a great band that fitted the genre," notes Mike Darby – who staked out his contribution as lead singer of the Rimshots, and now runs Bristol Archive Records. "Mod was quite small I would say in Bristol, Power Pop bands were much more commonplace. But the Power Pop bands were all influenced by the progression from punk into New Wave and then post punk (White shirts, thin black ties, skinny jeans)."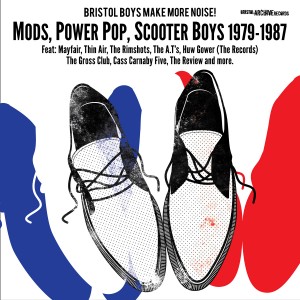 Phil Olerenshaw, drummer of Thin Air – also featured here – heartily seconds those sentiments "The great thing is, that there were dozens of bands gigging in Bristol at the time, and it was a really creative time. The Rimshots were the flagship for ska/bluebeat, and we were certainly grateful to them for giving us a lot of support slots in the early days," Olerenshaw recalls. "Both bands fitted together well, and had a decent fan base. The Ska 'thing' actually only lasted 12-18 months in terms of fashion, and inevitably we all moved on in different directions.
"Personally, I always enjoyed the 'Arty' Bristol bands like Sneak Preview, The Hybrids, Creature Beat and The Controls. These bands were very clever musically, with plenty of social commentary, and catchy melodies. They were all gigging regularly at a number of venues, and it was easy to get to know their material. The other great thing to mention is that a lot of the bands supported each other, and it was very common to see faces from other bands in the crowd. There was none of the 'rivalry' bollocks that existed elsewhere. That's how it should be."
Playing in a local band had one other side benefit – the chance to open for your musical heroes. In the Rimshots' case, that meant 2-Tone bands like the Selecter, the Specials, and the English Beat. Of the Rimshots' latter opening slot, Darby recalls: "An amazing experience. The Beat had just blown up HUGE, so the place was packed, nearly 1,500. The whole building was jumping, the dance floor used to be like a trampoline.
"My lasting memory was asking Saxa to sign a copy of one of their 7-inch singles for me. He politely refused, saying that no musician would do this for another, we were all the same. I quickly changed approach and asked if he could do it for my younger brother, which of course he was delighted to do – I have still have that treasured 7" vinyl."
Thin Air's initial peak – supporting the Jam, at the Locarno – coincided with the horror of John Lennon's murder, (December 8, 1980), as Olerenshaw vivdly recalls all too well: "He was assassinated in the early hours of the morning (UK time), so the whole crowd, and indeed the bands, were in a state of numbness by the time of the gig that evening." The Jam's singer-guitarist, Paul Weller, responded by dedicating "Start" – which nods melodically to the Beatles' "Taxman" – in Lennon's memory.
"For the gig itself, I remember coming on stage in darkness with the lights down, while the intro music played, and seeing pairs of eyes literally everywhere (there were 3,000 people watching!)," Olerenshaw says. "I remember the silence for a couple of seconds when our first song ended, followed by a huge roar! Finally, I recall Paul Weller telling us to go back for an encore, when we'd finished, because we'd 'gone down' really well, and the crowd were calling for us.
"We also got the best seats in the house to watch the Jam themselves, who were at the 'top of their game' at the time, and had been number 1 in the charts with their album, SOUND AFFECTS, and both singles ('Going Underground' and 'Start'). Finally I remember signing autographs, giving away drumsticks, and getting home at 2 a.m., with school the next day!!"
With all those memories still ringing vividly in their holders' minds, how do we start examining this thing called Bristol Mod? In this case,start with the opening blast of "Too Young Girl" (The A.T's: 1980), which combines all the essential ingredients – a smart call and response vocal hook, a rousing chorus and a raveup that would do the Who or the Yardbirds proud – into a rumbling Mod-Pop recipe. Various Artists pull off the same trick on their contribution, "Weekends" – released on their own label, in 1981 – whose length (an epic 5:09) shouldn't put you off – especially after you hear the extended coda that kicks in halfway through, and lifts the song to a whole 'nother level.
As this disc makes plain, the line between its main genres – Mod, power pop and ska – is razor thin, one that Bristol's finest relished blurring, and often to glorious effect. For examples, check out "A Thousand Burning Voices" (Thin Air: 1982, previously unreleased), whose anthemic blast offers a tantalizing glimpse into what might have been – had the proverbial "suits" resisted the temptation to break rock 'n' roll's Unwritten 11th Commandment (Thou Shalt Not Mess With What's Already Good).
Olerenshaw cites "Voices" as an example of singer-guitarist Paul Sandrone's newfound maturity as a songwriter: "We learnt the song in a day (during the school holidays) and it evolved into a clever song with excellent dynamics, having a reflective, acoustic verse, and then it launches into a euphoric punchy chorus. Personally, I loved the way that the tempo goes from half-time in the verse, to standard-time in the bridge , and then double-time in the chorus which makes the song 'take off'. The harmonies on that song were also pretty spectacular and the Beach Boys influence was very evident! It's a clever song, about love and self doubt…and it became popular in the live set."
This being the '80s – and the twin spectres of yuppie drones and Margaret Thatcher's aggressive monetarism ravaging the British landscape – it's hardly surprising that a fair slice of social commentary runs through the proceedings here. Choice examples include the Rimshots' "I Was Wrong" (1980), and its deadpan sendup of looking for work that doesn't remotely promise any idea of fulfillment ("My mum said I would get a very good job/I went down to Bristol to get a job/I was wrong"), and the Cass Carnaby Five's "November Rain" (1985), a propulsive look at the isolation of urban life ("He looks out of his window, hoping for more than he's seen before/Just another day in November rain"). And, in "Fleet Street," the Review gives the fourth estate a sound kicking, though the lyrics are a bit hard to make out (I'll have to give that track another shot and try again, I suppose).
Other chordsmiths chose to work the lovelorn angle, such as Huw Gower – the biggest name here, who went on to the Records (and also played on bills with the Jam, incidentally). He turns is a moody, but shimmering slice of pop in "She's Still A Mystery" (1981), which laments that perennially unavailable "girl who knocks you off your feet." In a fairer world, this song – buoyed by a swirling, insistent guitar and keyboard line – should have snagged a smash hit for its composer. Then again, rock isn't a meritocracy, or else compilations like this one wouldn't be necessary, right?
At the same time, it's also worth remembering that other styles coexisted comfortably under the Mod umbrella – with R&B, soul and ska providing the musical common denominator. Power pop and rock weren't the only flavors of the day – though, in some cases, it meant going back to home base and turning a genre on its head. That's what the Newbeats do on "Somebody's Girl," whose double-tracked vocals, shimmering guitars and telegrammatic lyrics ("I want to hold her tight through the night") could slot comfortably in the Merseybeat file (albeit — released in 1985). By contrast, the Untouchables confidently mine the R&B angle on "Keep Your Distance" (1980) , which barrels along a prominent harmonica hook and solo that would give Lew Lewis a run for his money.
Other outfits preferred to fly the ska banner, as exemplified by Sky High's "Maryanne," which drives its romantic discontent home with a hefty dose of horns and organ. The CD ends with a pair of live tracks from Blue Riverside, who also show a definite '60s-ish influence. For my money, "Experiments In Colour" is the stronger performance – though both tracks boast plenty of rip-roaring guitar to pull you along. (These bands always had good guitarists, which is only one reason that I – being a musician myself – appreciate this particular sub-genre.)
To untrained ears, ending with these two tracks seems like a curious choice – since the fidelity isn't immaculate – but I'd much rather hear a basement show captured in all its gritty glory than a dull performance recorded immaculately. If nothing else, Mod is about rowdiness, sweat and passion, which is why the Blue Riverside tracks provide an apt exclamation point. Compilations are often hit or miss affairs – depending on who's included, or excluded – but that's not the case here.
Obviously, it helps to have a theme, but there's plenty of strong material on offer (I just listed the ones that caught my attention first) – which is why you should pick up this release, and give it time on your shelf. In short, MODS stands up as a timely reminder of an era that casts a strong ripple effect on today's culture, as Darby explains: "The Mod scene has never really gone away and it's still fairly big to this day with the following bands having reformed and still out gigging, some to huge crowds – The Specials, The Selecter, Madness, The Beat (three versions), Bad Manners, the Chords, Secret Affair, The Purple Hearts and new mod bands that have just appeared, like The Spitfires."
"I think it's simply a great era to celebrate," agrees Olerenshaw. "Mod and Ska has stood the test of time, and to this day, a lot of football grounds play stuff like 'The Liquidator' and 'Double Barrel' before matches. It's the ultimate feelgood music, and I think it will always be popular!"
FURTHER INFO
BRISTOL ARCHIVE RECORDS: http://www.bristolarchiverecords.com/
BANDCAMP PAGE: http://bristolarchiverecords.bandcamp.com/
RIMSHOTS DISCOGRAPHY: http://www.bristolarchiverecords.com/bands/Rimshots.html
THIN AIR DISCOGRAPHY: http://www.bristolarchiverecords.com/bands/Thin_Air.html
INTERVIEW © Chairman Ralph's Ministry Of Truth