The primates
Live at The Dugout 1977 ARC108

Featured Track

Live at the Dugout 1977
Parrot Fashion
My Generation
Parrot Fashion
Crax
God Save Us from Religion
White Lies
Wild Boys
New Blood
Security
Bad Boy
Generation Warfare
My Generation
Recorded live at The Dugout Club in 1977.
Engineered by Simon Edwards.
The Line up:
Johnny Britton - Guitar, Voice
John Shennan - Bass, Voice
JJ - Drums
Remastered by Steve Street
Live at Barton Hill Youth Club 1977 ARC115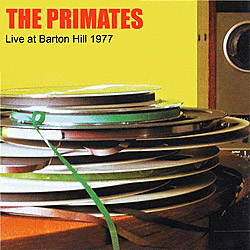 White Lies
Crax
One Good Question
Parrot Fashion
Wild Boys
Generation Warfare
Security
My Genetles
My Generation
Down Town
Anarchy in the UK
Recorded live by Simon Edwards in 1977 at Barton Hill Youth Club, Bristol.
Mastered by Steve Street July 2009
The Line up:
Johnny Britton - Guitar, Voice
John Shennan - Bass, Voice
JJ - Drums
People Section: John Shennan