The Long March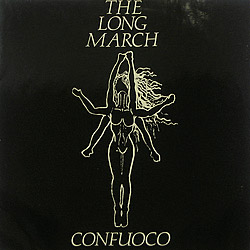 Featured Track

The Long March
When Reason Sleeps
When Reason Sleeps
Drowning
Weakness
Black Friday
Themes for Dance
Risk
Heaven and Hell
My Six Miracles
Pride and Joy
Laugh Until You Cry
Arena Days
I Am Your Ghost
Infantry
Tracks 1, 2, 3 & 13 recorded at PIJ Studios Bristol, Kings Square, Bristol, and 1986-88.
Track 12 "I am Your Ghost" recorded live at Ashton Court Festival 1988.
Track 4 - 11 Recorded at Emergency Plus and McArthur Yard.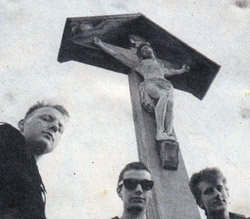 The Long March

'The Long March' was originally called 'Map of China'.
It was a song-writing vehicle for William Waine and Dave Cullum.
Dave Cullum was formally lead guitarist and song writer for 'Rhythm Puppet'. and renamed the band 'The Long March', before leaving the band and moving into higher education in Manchester.
After numerous line-up changes, including Mike Darby on lead vocals, the permanent line-up became:
William Waine (Bass Guitar/Lead Vocals)
David Simpson (Lead Guitar/additional percussion)
Shane Leonard (Drums/Percussion
This line-up was occasionally augmented with violin and cello played by Justine and Kate Dobbins ("The String Sisters")
After the usual rigmarole of live shows and sporadic recording, the group finally came to a juddering halt after playing, arguably, their best show at the Bristol Studio.
William and Shane went on to play in various Rhythm & Blues and Fifties style rockabilly bands.
William is now lead vocalist and double-bassist in the swing inspired band 'Dynamos Rhythm Aces'
David went on to form a band called 'Insect', which continued the work of 'The Long March'. He is now the co-owner of Heron Music, a long established, independent guitar shop/musicians tea party! He still has the pleasure of assisting The Black Jester and a few good friends in their fight against musical apathy.
Thoughts and memories from the band on the BRISTOL MUSIC SCENE...
"Very dull and parochial" (William)
"The thing I remember the most, there were a lot of bands in Bristol who were completely unappreciated by the people in Bristol" (Shane)....
... "Anyone who was any good in this town had to leave" (William)
"I tell you what I remember about Bristol around the time of 'The Long March', Bristol was full of too many young people who thought Jazz was a good idea and dodgy Blues musicians. The fashion at the time was for 'poodle-perm metal' and other such vile rock excesses.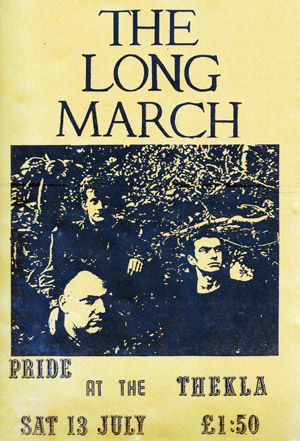 The thing I loved about 'The Long March', from the minute I met William & Shane, they had no truck with such hideousness. 'The Long March' loved punk rock, classical music and drums...lots and lots of drums! We wrote and played the music we loved and if you didn't like it you could fuck off! We never wrote music just to be liked or popular or to please our friends. We tried to stand up for something more than just local popularity. If, when you're listening to these old tunes, you don't like them, you can still fuck off!
We set the 'Youth-ometer' to 10 and we honour fire. Long may it be" (Dave)