The Escape
The Escape 1981-1984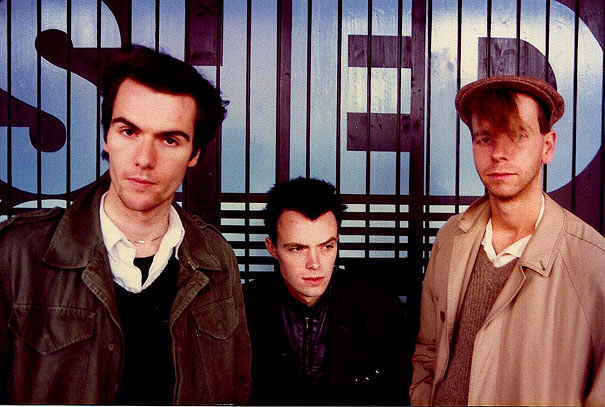 After that summer I carried on working with Emil, besides being a really interesting drummer he also had very concrete views on music & visuals.
We continued writing new songs, demoing tracks late in 1980 into '81, searching for a way out... One of these new songs 'The Retrospect' definitely stood out for us & it pointed to a new direction. Apocalyptic, Dystopian, Edgy, Gothic.
More types of these songs quickly emerged & we became 'The Escape'. We found a bass player & did a couple of low-key gigs to try out the material & bassist. Material was promising but we were not convinced we had the right bassist, so we started looking around.
Steve Street who was by now buried away at SAM studios in Stokes Croft busily recording many a Bristol band, was one of the first people we asked, as he knew loads of musicians. He mentioned Stuart Morgan who had been in another aborted Bristol band named 'Sound To Light' was interested.
Trouble was Stuart was really a guitarist, & we needed a bassist. Anyway we met up a few times, he was very keen & basically went out & bought a bass guitar & bass gear straight away! He just rose to the challenge.
Late '81 into 82 we played loads of gigs & got better fast, we even got the attention of the national music paper 'Sounds'& had a full page interview/feature.
Back in Bristol we had come across Dave Massey a local writer (who later wrote for both Sounds & NME) who had heard our demo tape. He was very enthusiastic & encouraging, he also helped out getting gigs for us up & down the country.
This included 'The 5-day Nightmare' which was a blitz of five back to back gigs in London-slumming it around in a gear laden Ford transit van mid 1982.
By this time we'd decided rather than just hang around waiting to get signed, we would record & release our own 7"single on our own Voltitle record label.
'NoGo' & 'I'll Pretend To Kill You' were both recorded at SAM Studios with Steve Street in June & released in Sept 82.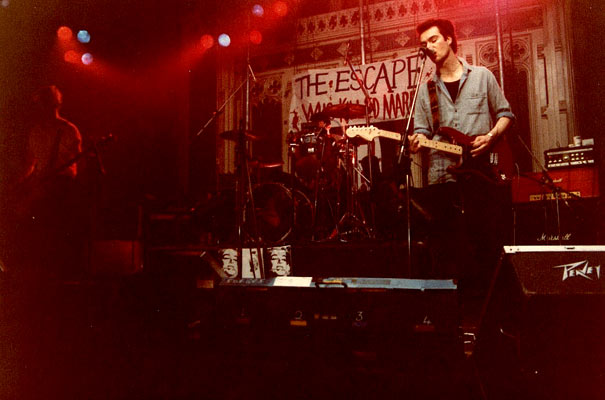 We even shot our own live performance video of 4 songs with the help of Frank Passingham in Bristol entitled 'Victims At 3am'
We sent the 7"single, the video, the demo tape & all the press clippings to loads of people.
Completely out of the blue in autumn 82 I got a phone call from the BBC Radio One DJ Peter Powell who has heard the demo tape... & really likes it!!?
Straight away he offers us the opportunity to record a 3 track radio session for his show.
But the real icing on the cake was that he was gonna front a new BBC television music/magazine show called 'The Oxford Road Show' & he asked The Escape to appear on it in a specially shot music video.
This was too good a chance to miss out on, national exposure on television & radio - both within the same week.
So we did the BBC video shoot at Ashton Court House in Bristol, which was quite a good laugh as I remember.
Up until now we'd been getting a fair amount of interest from various major record companies in London.
Lots of interesting 'noises' from these people but no real deals on the table.
The Escape video on the 'Oxford Road Show' changed all that & Phonogram offered The Escape a major recording contract immediately. This is what we were looking for, a proper chance to do it for a living & get to a wider audience.
As the finer points of the Phongram deal were being finalized, Emil suddenly decided to quit playing the drums & doing music!! This came as a complete surprise & at the time I thought a really crazy decision after working so long & hard to get signed.
He decided to give up music & totally get immersed into his love of photography & visuals.
So Stuart & I signed the Phonogram deal.
Back in early '83 the whole synth pop sound was really the big flavor of the day, our edgy guitar sound was pretty much put on the back burner & this caused a lot of artistic friction. Timing is everything... and ours sucked.
We worked with a number of different producers Alan Rankine, Nigel Grey, Ross Cullum-but all their efforts really didn't click.
The band chemistry had changed & we were quickly becoming a diluted version of what we were before we signed, & it felt fake.
We also didn't have any management & this ended up with us having many disagreements & having to fight our own corner.
We were in a crap situation with Phonogram of having to fit in to others peoples expectations of what we should do & be.
We released 2 singles, which really didn't do anything & by the end of 1984 Phonogram decided to pull the plug.
Like so many new bands that were signed around that time- we basically got chewed up & spat out.
On a lot of levels it was a huge learning curve, tons of experience but also extremely frustrating & painful.
In the aftermath of the Phonogram deal I felt pretty numb for quite sometime & wasn't sure what to do next. The thought of having to start over again was really the last thing I wanted to do.
So through various contacts I made I started getting work as a session guitarist. I worked briefly with a new band in London at the time called Vitamin Z & also did some TV appearances with Talk Talk.
In early 1985 I was suddenly asked to fly to Los Angeles to replace a guitarist on the Tears For Fears world tour. So I quickly headed off to the US, learnt the whole TFF set & played my first show with them starting in Tokyo. Their album 'Songs From The Big Chair' had just started to go globally ballistic.
The Tears For Fears tour lasted 8 months (away from home) & by the end of it, we had pretty much played everywhere. It was a fantastic but also exhausting experience to have been part of all that.
After the tour ended, the prospect of now becoming a full time session guitarist left me somewhat unfulfilled, as Im really a writer & I started to miss it.
In the session world you can turn up, play on someone's track, everyone thinks its totally amazing, completely loves it. Then you finally get to hear the finished mix & your playing is either buried deep within the mix or better still, they've decided not to use it after all. You have to become pretty thicked skinned about it.
Alan Griffiths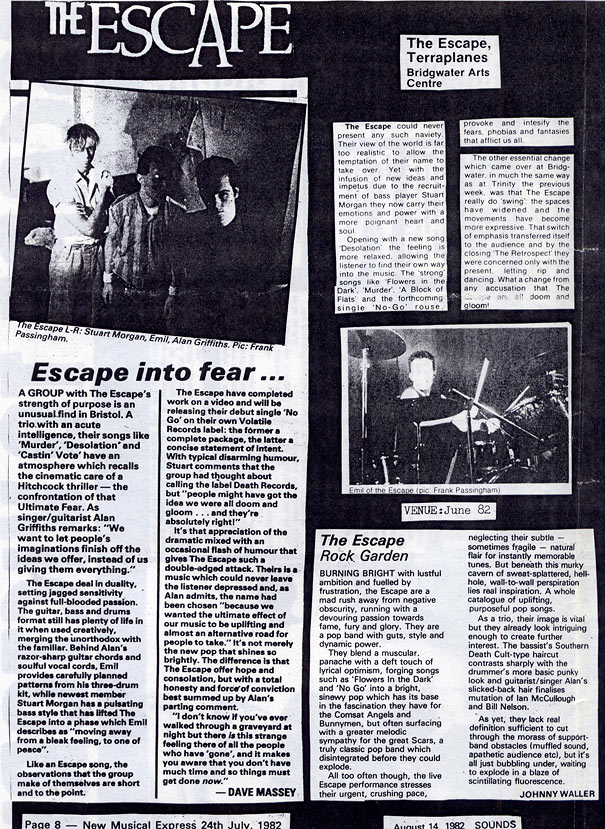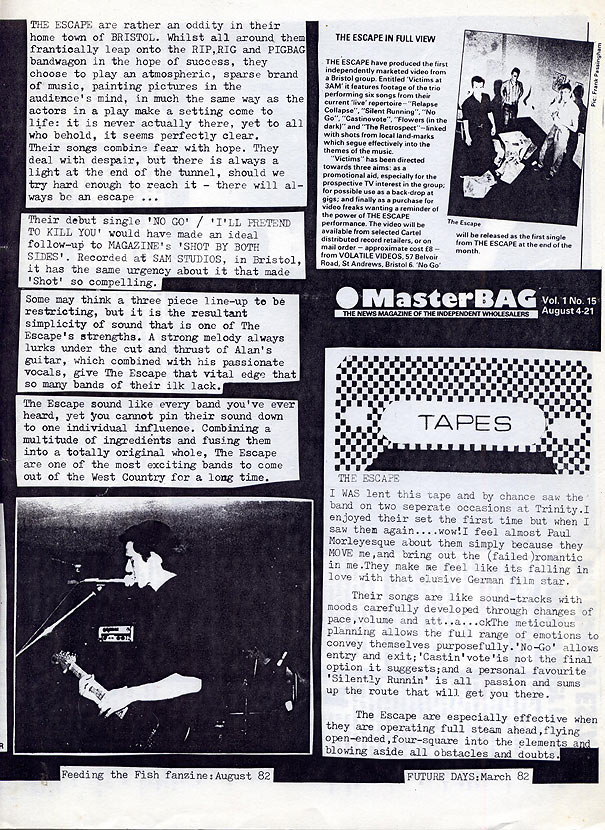 THE ESCAPE 1981-1984
Alan Griffiths Vocals/Guitar
Emil Drums
Stuart Morgan Bass
Next: White Hotel 1981-1984
THE ESCAPE -
The Gigs
Plus other known dates and events
23rd OCT 1981
Trinity Hall - Bristol (supporting The Electric Guitars & Mouth)
7th NOV 1981
Trinity Hall-Bristol (supporting Pigbag)
25th NOV 1981
Trinity Halll-Bristol (supporting Delta 5)
11th DEC 1981
Trinity Hall -Bristol
29th JAN 1982
Trinity Hall -Bristol (supporting The Builders)
3rd MAR 1982
The Venue - London
6th MAR 1982
Bristol Poly
9th MAR 1982
Warwick University
12th MAR 1982
Bristol University
19th MAR 1982
Bath University
26th MAR 1982
Trinity Hall -Bristol (supported by Lunatic Fringe + Mind Tunnel)

APR 1982
Stuart Morgan joins the band replacing Neil on bass.

4th MAY 1982
Tiffanys - Bath (supporting Crown Of Thorns)
9th-16th-23rd MAY 1982
Video Recording - 'Victims At 3am' Frank Passingham- Bristol
28th MAY 1982
Bristol
4th JUNE 1982
Trinity Hall - Bristol (supporting The Blue Orchids)
12th JUNE 1982
Arts Centre- Bridgwater (supported by Terraplanes)
23rd JUNE 1982
Recording 'NoGo' & 'I'll Pretend To Kill You' - SAM Studios with Steve Street - Bristol
2nd JULY 1982
Phoenix Centre - Cirencester (supported by Play Dead)
9th JULY 1982
Midnight Express - Bournemouth
23rd JULY 1982
The Rock Garden : Covent Garden - London (supporting The Inmates)
18th AUG 1982
The Rainbow Club - Yeovil (supported by The Sessions)
27th AUG 1982
Trinity Hall - Bristol
SEPT 1982
'NoGo' / I'll Pretend To Kill You' single released on own Volatile Records label
17th SEPT 1982
Bristol Bridge Inn - Bristol (2 sets with covers)
25th SEPT 1982
Redland Poly - Bristol (supporting Flag Of Convenience )
29th SEPT 1982
Cardiff University
4th OCT 1982
University College Student's Union : Gower Street - London
5th OCT 1982
The Tunnel Club : Blackwall Tunnel Greenwich - London
6th OCT 1982
The Rock Garden : Covent Garden - London
7th OCT 1982
Goldsmith's College : Deptford - London
9th OCT 1982
Thames Poly Cellar Bar - London
28th OCT 1982
Raquel's - Basildon
NOV 1982
Recording Radio One Peter Powell session at Pebble Mill - Birmingham
22nd-25th NOV 1982
Peter Powell Radio One Session broadcast- ;Truth Drug' 'Eden' '24 Hours' 'Relapse Collapse'
6th NOV 1982
Canterbury University
12th NOV 1982
Central Poly - London
13th NOV 1982
Portsmouth Poly (supporting The Anti-Nowhere League)
20th NOV 1982
Keele University
26th NOV 1982
BBC TV Oxford Road Show- 'Eden' video broadcast
10th DEC 1982
Trinity Hall - Filming for BBC West 'RPM' program
18th DEC 1982
Trinity Hall -Bristol (supported by Restriction + Bikini Mutants)
MAR 1983
Sign Major Recording Contract With Phonogram Records - London

4th NOV 1983
Moles - Bath
9th DEC 1983
University Union - Bristol (supporting Darts)
1st DEC 1983
Civic Hall - Guildford (supporting Tears For Fears)
2nd DEC 1983
UEA - Norwich (supporting Tears For Fears)
3rd DEC 1983
University - Loughborough (supporting Tears For Fears)
4th DEC 1983
Royal Court - Liverpool (supporting Tears For Fears)
5th DEC 1983
City Hall - Newcastle (supporting Tears For Fears)
6th DEC 1983
Playhouse - Edinburgh (supporting Tears For Fears)
9th DEC 1983
Royal Centre - Nottingham (supporting Tears For Fears)
10th DEC 1983
Odeon - Birmingham (supporting Tears For Fears)
11th DEC 1983
Apollo - Manchester (supporting Tears For Fears)
12th DEC 1983
Colston Hall - Bristol (supporting Tears For Fears)

14th+15th DEC 1983
Hammersmith Odeon - London (supporting Tears For Fears)
16th DEC 1983
Winter Gardens - Margate (supporting Tears For Fears)
17th DEC 1983
Dome - Brighton (supporting Tears For Fears)
19th DEC 1983
Coliseum - St. Austell (supporting Tears For Fears)
20th DEC 1983
Leisure Centre - Gloucester (supporting Tears For Fears)
21st DEC 1983
Guildhall - Portsmouth (supporting Tears For Fears)
22nd DEC 1983
Arts Centre - Poole (supporting Tears For Fears)
Next: White Hotel 1981-1984