Temple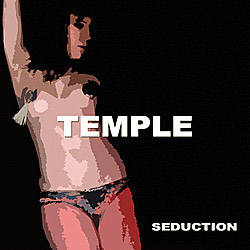 Featured Track
Seduction
Seduction
Intro
Book of Dreams
Twilight
Cabaret of Death
In Our Darkness
Jewell
Seduction
Renewal
Lilith
Spine
Temple
Book of Dreams
Renewal
The Temple Album was recorded between Jan 1986 and May 1987
I met Mathew Butler in Weston Super Mare where I was forced to live for six years due to a parental decision. Weston can be found at the end of the M4 and many say it's the end of the world, closed all winter and full of tourists all summer. He caught my eye one day, walking in the high street with his friend Sean and god knows why they chose to visit Weston, I suppose even Goths like the sea side. I approached them and introduced my self as a musician looking for a vocalist and Matt said he was up for singing if I could form a band. So without even knowing if he could even sing, I agreed.
I travelled to Bristol to write songs with Matt at his parent's home and we wrote Cabaret of Death on the first meeting which was the first song we recorded and it was always our big song with audiences back then. Influenced by bands like Southern Death Cult (later the Cult) Christian Death and the post punk new wave. We rehearsed in a shed on a farm where we could play as loud as we liked which was just as well as we played very loud. John Murray was our drummer and I played Bass we had a lot of guitarists who were never quite up to the mark.
We gigged at the Mars Bar and the Rummer Cavern and a The Bastille Club in Kings Street, Bristol run by Dave Darling who worked at Virgin Records, he looked a bit like Bowie and used to tell customers he was Zoe Bowie. During one of those early gigs we met Adrian Bennett or just Ben in those days. He had a cool look and said he wanted to work with Matt, so we said he could join the band as keyboard player without even knowing if he could play the keyboards.
We rehearsed in a huge warehouse back then where they made gaskets, when we cranked it up the whole place used to buzz because of all the metal sheets lying around. It turned out that Ben was a better guitarist than he was a keyboard player so we reformed the band with him on guitar.
We recorded quite a lot back then as I owned a recording studio and we had all the free time we needed. One track we recorded was "Book of Dreams". It was such a simple song and after gigging it loads we all hated it. Ironically our friends the Claytown Troupe learned it and played it when we all supported the Fields of The Nephilim to take the piss out of us, they were so bad at playing it that it was hilarious.
We enjoyed a status as one of the best bands on the Bristol live scene at that time. Ben used to surprise us with his crazy costumes one time turning up as a samurai with sword and all. Another time he showed up as an Australian with a hat with corks hanging from it.
Ben quit the band after an uncomfortable ego stand off and joined the Claytown Troupe and we where back looking for a guitarist again.
Ian Pirrie. Dec 2009