Claytown troupe
Hey Lord ARC305V
TRACKS:
Hey Lord
Prayer
Real Life
Chiricahua Sun
Storming out of Bristol in the late 1980s, alternative goth rockers Claytown Troupe snared three major record label deals and built an enviable national following. If the band never quite fulfilled their enormous potential, they have left a remarkable recorded legacy. That's about to be completed by Bristol Archive Records with the first public release of the legendary original 'Dungeon Demos' that got the quintet signed to Island Records back in 1988. Long thought lost, these recordings were recently unearthed by band founder and frontman Christian Riou, who was surprised to find how great they still sound after all this time. A must-have for fans, the four raw and unvarnished tracks include the original versions of Claytown Troupe's first two singles 'Hey Lord' and 'Prayer', alongside 'Real Life' and 'Chiricahua Sun'. Each of these appeared in reworked form on the band's debut album, 'Through the Veil', which was released in 1989.
Christian had formed Claytown Troupe in Weston-super-Mare way back in 1984. His original ambition was no more than to bag local support slots with bands he enjoyed. There was little competition. The likes of The Cult, The Sisters of Mercy and Spear of Destiny were in their heyday, but the only acts from Bristol to make any national impact hailed from the indie scene but by late '87 the band were treading water, so re-jigged the lineup and Christian and Rick wrote eight new songs in a month which became the 'Through the Veil' tracks
They recorded a few demos in Bristol studios, but never managed to achieve the sound they craved. A friendship with Oxford band Chatshow led to the recommendation of Ascot's Dungeon Studios. Here at last they found an engineer who understood what they were trying to achieve: music that took as much from Hothouse Flowers as it did from The Cult.
In what was a novel move for the time, the band members also chipped in £400 each to finance their own music video from a Soho production company that had shot promos for Pop Will Eat Itself and Morrissey. It was this full audio-visual package, proving they looked as good as they sounded, that helped them stand out from the pack and led directly to the Island Records deal. Indeed, Claytown Troupe became the fastest signing in the venerable label's history.
Because the demos were so strong, Christian originally proposed releasing them on a fake indie label. But he was overruled by Island, who promptly dispatched the band to the studio to record that debut album. So these fascinating recordings have gathered dust ever since. Finally, a vital piece of Bristol music history can now be heard.
Claytown TroupeARC144
Featured Track
A Good Day to Die
TRACKS:
Patience
A Good Day to Die
Smile 4
Take It On Up
Part Of Me Now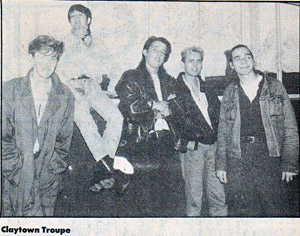 PDF Downloads
Review Venue Patience Demo 1987
Feature Deadline Mag 'Through The Veil'
Review Metal Hammer for 'Through The Veil'
Thanks to John Murray and Christain for permission to use the pics and press cuttings
Album Notes:
Patience
I wrote this about how frustrating it was trying to get the band up the ladder

A Good Day To Die
Always had an interest in the Native American culture since I was a boy. We used samplers on this, even live which was rare for a small band.
Smile 4
This was about seeing all my friends having to leave for London to get work
Take It On Up
Drugs played a large & negative role in the local music scene & caused many later casulties, I saw it coming & wrote about it.
Part Of Me Now
usual young man in a relationship angst
Line up:
Christian Riou - Vocals
Rick Williams - Keyboards
Keith Simson - Guitar
Diane - Bass
Andrew Holt - Drums
Recorded:
Foxhole Studios - Henleaze
Self produced & engineered by studio owner Martin Hillier In 1987
CLAYTOWN TROUPE - Back in the late 80's this lot were the only real alternative to The Cult. More anthemic and more authentic than Astbury & Co's rawk; Moving a few hundred thousand units internationally over their short period in the limelight, they even broke the UK top 40 before disappearing.
Formed in Bristol in 1984 by lead singer Christian Riou (who claimed in a 2004 interview that a famous local clairvoyant advised him to form a band called the Clayton Troop!)
Claytown Troupe was an Alt-Rock act touted as a cross between The Cult's fake rock and the authentic crusty rock of Pop Will Eat Itself and Crazyhead.
In truth there was more to them than that and they suffered much in coming from England at a time of 'Crusty'; a time when high expectations in Rock, and Rock itself, were generally frowned upon.
By 1986 they had an accomplished yet chaotic live show which earned them an exciting reputation on the underground scene.
They signed to Island Records in 1988 without management, Christian & Rick then assigned Steve Abbott, (known as Abbo, who had been the singer in seminal punk act UK Decay) who was introduced to them by The Bolshoi manager Pete McCarthy.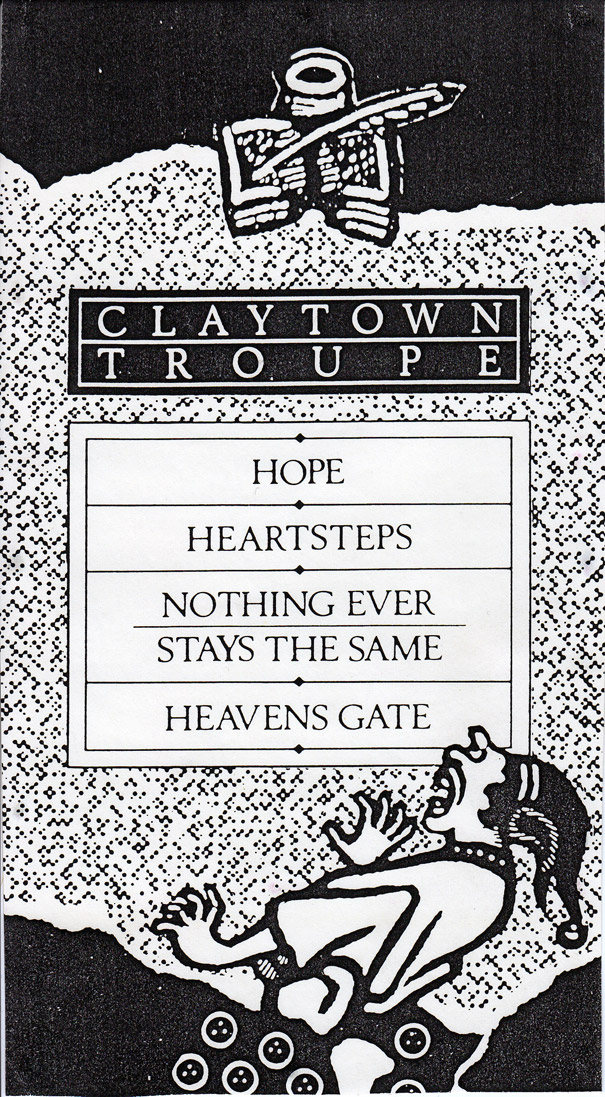 Songs Of The Swan ARC202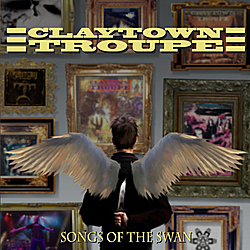 TRACKS:
Revenge
Strange Feeling
Giving In
Middle Of The Night
Gone Tomorrow
Something Waits For Me
Day In The Life
Why Sit At Home
Samaritans Say
Guilt
Through the late '80s and early '90s, Claytown Troupe were renowned for being one of the UK's leading 'Indie Rock' bands.
From the release of their much lauded 'Through The Veil' and 'Out There' albums, their fierce headline shows and support slots to The Cult and Pearl Jam continued to drive them forward, gaining them a hardcore and seriously solid fan base which even after nearly 2 decades still runs strong.
Following a recent support slot to The Mission, the continued interest in the band has led to the imminent release of these previously unheard tracks recorded live in the studio in late '92.
Featuring frontman and vocalist Christian Riou, guitarist Ben Bennett, bassist Paul Waterson and drummer Andrew Holte, these tracks bring a much harder, leaner, biting side of the band to the fore, although sadly without the imaginative keyboards & writing skill of Rick Williams, who after 7 years left the band just before the songs were recorded.
We can hear a darker, more venomous lyrical content from Christian, with an open anger spewing forth over a melee of songs stripped down to the bare knuckles and driven by huge guitar riffs and pounding bass lines.
Mixing full on Rock'n'Roll and Indie infusions with their own inimitable style, but essentially this is the sound of a great band that should have become greater, imploding.
They kick off with:
Revenge - an up tempo, drum driven track that's a real grower, then dive into the sliding melancholy of :
Strange Feeling - a haunting number with wisps reminiscent of The Doors thrown into the mix:
Giving In - kicks up its heels with a barrage of guitars and drums whilst:
Middle Of The Night - shows its more indie face, irresistible toe tapping grooves whisking it along:
Gone Tomorrow - is an angst riddled tune offering up a much darker sound that has vocalist Christian Riou spitting cajole and vitriol in equal quantities, searing over pounding drums and a pulsating bass line:
Something Waits For Me - is a huge pulsating number, slowing things down with pleading guitars and screaming vocals, an unsettling, raw and edgy sound formed well before the days Bush used it to such effect:
Day In The Life - kicks the tempo up again into punky indie territory.
Why Sit At Home - keeps the indie beat going with a fun, feisty little number forging its way comfortably through ground between 'Wild Thing' and The Wonderstuff!
Samaritans Say and Guilt - swing back into much harder rock ground.
A bastard child of Claytown Troupe heart.
Warrior Soul vocals & Cultesque guitars, throwing up soaring melodies with lively beats into the air as we raise our arms up and sing like we used to, an uplifting indie cracker of an album and Claytown Troupe at their finest.
The Claytown Troupe were a band that finished before their time, their crown picked up too easily by 'Bush', but these songs are a rare glimpse into what could have been a fresh start for them in 1993.
Judith Fisher January 2011