Rimshots
It's a weird feeling writing this biog because for months now I've been pleading, begging or just plain asking musicians from the dark era (1977 onwards) to write stories for me to go along side their re releases on the Archive. Some people find it extremely easy others have only got not only writers block but also a COMPLETE MEMORY BLOCK!
Let's see what I can remember about THE RIMSHOTS.
We came from North Avon as it was known back then in the late 70's, most of us went to the same school, The Ridings High in Winterbourne. I'd formed the original line-up straight after my school band Mike and The Mole men had split up and we rehearsed in a Scout Hut in Coalpit Heath, funny enough right across the road from Speed's house who was later to form a great Bristol Goth band – Necromancy.
The original line-up was:
Mike Darby, Greg Embury, Martin Codrington, Adrian Cavill and Fuzz (Mike Fursman)
We didn't do any gigs as we weren't up to much but Greg did write 'Stuck in a Boat' which the later line up recorded as our first single for Shoc Wave Records.
I can't remember how we split or how the line up changed but I suspect Fuzz had something to do with it as he was a fantastic guitarist and had played in Rock bands through school, one of which was Humph which featured Wayne Hussey (Pauline Murray and The Invisible Girls, Dead or Alive, Sisters of Mercy and The Mission) – Wayne came from Yate you see, a mecca for budding Rock Stars ( Bob Locke, Pete Webb and Angelo Bruschini) .
I suspect Fuzz wanted to play with kids that could actually play properly, how he stuck with me as the singer God only knows!
Anyway the line up changed to:
Mike Darby, Nick Waring, Rich Bentley, Simon Heathfield and Fuzz.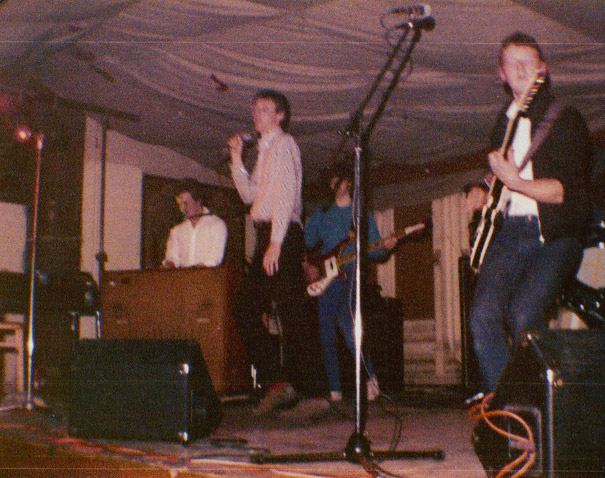 Simon was from Yate and a great bass player, Rich or Bantler as we called him was a keyboard player from the cabaret circuit who we convinced should try and be a pop star, Nick Waring was 2 or 3 years younger but already had amazing talents as a drummer and Fuzz, well Fuzz a genius on the old guitar.
We recorded our first demo at a studio in Yate and dreadful it was too but I posted it off to The Beat and we ended up securing a support slot at the Locarno in front of a full house – 1500 people. In the late 70's big touring bands would often allow a local support to play, I suppose it was a continuation of the punk rock mentality.
Anyway we promptly organised some shows so we could practice our pop/ska/white reggae songs and ended up at the Stonehouse and Trinity Hall. My wife remembers the gig at the Stonehouse with deep affection as I'd passed her a flyer outside the Prudential Buildings in town and convinced her we were the business. Barb and her sister walked out after a couple of tunes which still pisses me off but apparently we weren't any good! Surprise Surprise!
The bullshit and enthusiasm I had for leading the band was infectious and almost immediately after the gig with the Beat we secured a singles deal with Shoc Wave Records.
We recorded a two track single 'I Was Wrong / Stuck in a Boat' at Crescent Studios in Bath with Glen Tommey engineering. When I look back I still think how lucky we were to get a record out almost immediately we started as most local bands could only dream of such an honour.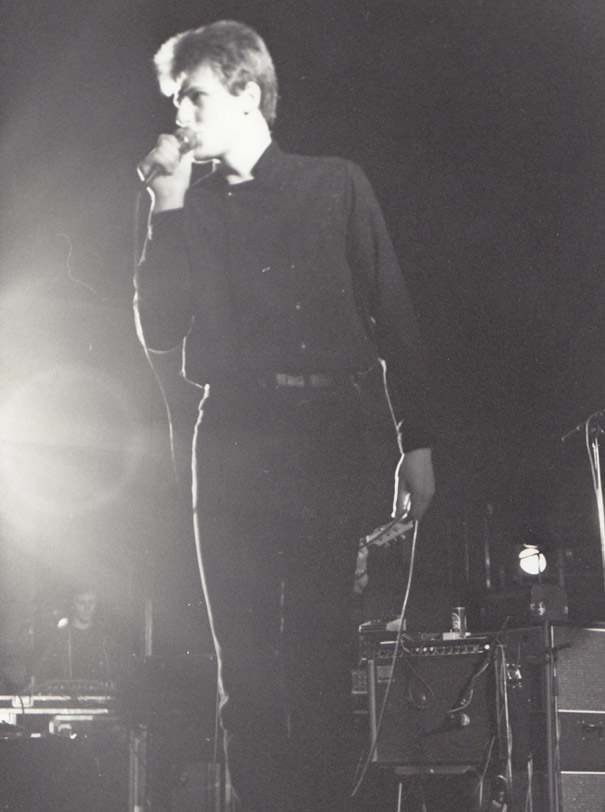 Shoc Wave was a label based in Easton and primarily had released Dominican / Jamaican acts such as Joshua Moses and Bugs Durrant. They or should I say Gene Walsh was prepared to diversify and take a risk/chance and that's how he ended up with five middle class white kids from North Avon on his books.
We had great fun with Gene and it was a great learning experience, going to the Blues, trying but failing to play at the St.Pauls Carnival, supporting Talisman and Black Roots, Bristol's premier Reggae acts.
We also managed to play some shows in London and support The Body snatchers, Hazel O'Connor as well as The Beat.
As we got better musically we started to record our demos with Steve Street at his GBH Studios in town, he had now changed the name to SAM Studios but in essence it was the same place. We recorded three demos over the course of time all of which are on this album, musically I think we were brilliant especially with how quickly the boys learned to play and feel the Reggae vibe. Vocally it's not great but then hey I never was great so I shouldn't be surprised with how they sound now.
In many respects the band should have sacked me right from the start and I learned that Gene had encouraged the boys to do this when recording the first single!
Thanks guys for sticking with me as I suppose it helped that whilst I couldn't sing very well I'm told I was a great front man and I was the leader in terms of organising most things.
Over the years we played with many local bands at all the venues, The Stonehouse, The Green Rooms, Trinity Hall, Redland Poly, Bower Ashton College, Bristol Uni, Yate Entertainment Centre, Cawardines and Scamps .My favourite bands were The Various Artists, Talisman and The Electric Guitars all of which you can find re-releasing their material via The Bristol Archive and what a thrill and pleasure its been working with these great people again. Our mates if you like were Out of Order later to become Thin Air.
I can't to this day understand why The Various Artists or The Electric Guitars weren't huge?
We recorded a second single at Crescent 'Little Boys and Little Girls / At Night' which we released on Spectro Records and recorded a track for a Circus Records compilation album.
The pop/ska direction was now getting a little old hat so we tried to become more rocky and recruited Angelo Bruschini as another guitarist. Fuzz could be flaky at the best of times and we were always very hard on him, with hindsight too hard most of the time, as he did contribute to all of our songs and all the hooks, melodies. I was always moaning at Fuzz for breaking strings at gigs or not sticking rigidly to the guitar parts as rehearsed, Fuzz got bored very quickly so he'd like t go off and play what he wanted, IMPROVISATION I think they'd call it these days. SORRY Fuzz for being an old nag!
Anyway the revised line up recorded one further demo with Steve Street, 'Intruders' and 'Race Against Time' before the band started to fall apart.
Simon and Angelo went off to form The Blue Aeroplanes. Nick and I formed a new act Mirror Mirror with Nick McAuley from the Numbers, we recorded one demo which you can find as a bonus track on this album ' A Way With Words,' not strictly a Rimshots track but I've included it as I think it was the best thing I ever sang. Nick then split and went to Birmingham University.
To be honest I don't know what Bantler did but Fuzz and I hooked up again some months later in the first line up of The Long March with William Waine and Eddie John before I finally hung up my boots when William sacked me to take over the vocal duties.

Anyway so here is the Rimshots album. I haven't included the four tacks that we released as singles, you can check these out as a separate release and there are two tunes that I've missed out, 'Race Against Time' as the recording is damaged and the second version of 'Spitting Out Sparks' which we recorded a Crescent but didn't include on our second single.
I had great fun throughout my time in the band and I had great fun being out and about in the late 70's and early 80's in Bristol. I must have seen hundreds of gigs with Simon as we seemed to be out every night of the week checking out the opposition as we thought at the time.
Thanks to:
Simon, Fuzz, Nick, Rich and Angelo.
Gene Walsh and all at Shoc Wave
Steve Street for being the man
Merv Woolford (Deceased) Bass on 'A Way With Words'
The Bank Manager
All the Mods that supported us in the early days
All the kids who came to see us at Frome side and bought the records
Our mums and dads for allowing us to dream
Mike Darby August 2009