Apache Dropout
Apache Dropout History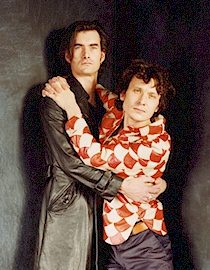 Bristol may be best known as the city that brought the world Massive Attack, Portishead and Reprazent, but the seam of talent runs far deeper. Is Bristol a big town or a small city? Whatever, it's a place where musicians tend to respect different styles. Massive Attack formed as The Wild Bunch in the Eighties and DJ-ed at the Dug Out Club a legendary night spot that also featured Reggae and Punk DJs. Bristol is too small to sustain cliques and too big to be a one-sound-town.
No Bristol musician is more at home with that mix of influences than guitarist Mike Crawford, who was equally comfortable fronting his jazz blues band The Nitecaps as he was playing session guitar for drum-n-bass artist Krust of Roni Size - Reprazent.
But the project dearest to his heart and that best expresses his musical vision is Apache Dropout. The self-titled debut album is a collaboration between Mike Crawford and singer/lyricist Rich Beale once of Head and Pregnant who is now involved with musical mavericks Don Mandarin and a project involving Patrick Duff (late of Strangelove)....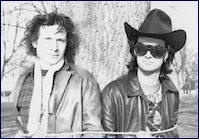 They met by accident, "I'd just come back from LA after failing to get my King Of Tears record released and was depressed with the music biz in general. We bumped into each other at a party and decided to write a track together. Before we knew it we had an albums worth of material and decided to record it". Just as they had eschewed the conventional 'form a band, gig, record' route so they approached recording from a different angle. " I'd just done six months hard labour in a studio in the US and was sick to death of the sterile sauna like atmosphere, so we decided to record the album in my house"....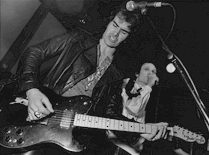 Christened 'Velvet Villas' for the duration of the recording they followed in the footsteps of The Band with music from 'Big Pink' and The Stones with 'Exile on Main Street'. "We stuck the drums in the basement, punched a hole in the ceiling to feed the cables through, recorded guitars in the garden and the kitchen and put a baby grand in the coal cellar - for that really dark sound!"....
The relaxed atmosphere overseen by engineer Corin Dingly and supervised by Angelo Bruschini, guitar player for Massive Attack, allowed the songs a loose, orgainic feel which also encouraged the intensity of the vocal performances.
Interview - Rich Beale (Apache Dropout)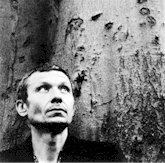 There is much noise emanating from all corners. A persistent hammering that won't cease until...silence. For a brief moment anyway that is until a procession of transport carriers flies overhead filling the skies with a deafening noise that sets alarm bells ringing. Rapid eye movement ceases and reality is temporarily restored.
This is a small reflection of the world and vision of Rich Beale (aka Don Mandarin) lead singer of Bristol's Apache Dropout who have recently witnessed the release of their only album-to-date on Sugarshack Records.
From confessional tales of alcoholism, deep paranoia, and a general longing for better times, it came as something of a surprise that Apache Dropout's album ever bore fruition.
Despite the ever present sense of self-destruction that is a constant throughout, Rich Beale maintains that making Apache Dropout's one and only album was never a difficult task.
"There is no doubt about the musicianship on that album," says Beale without a trace of self-doubt. "We were playing at a very high standard that largely stemmed from practising for up to four or five hours in one session and then going back to have some beans on toast!"
May be the healthier choice of diet and constant musical workouts helped to stave off the inner turmoil Rich Beale had been going through. Perhaps it was his subtle use of words that provided some form of catharsis to help regain an ounce of normality to his life.
"It was a cathartic experience making the album but it's quite difficult going back to it now," explains Beale. "I know that may sound very dramatic, but it is in a way. I was listening to it [Apache Dropout] with my girlfriend the other day and I had to switch it off. It was a difficult period and a fairly highly charged time as well. Having said that, I am not ultra-sensitive. It must be the same for Mike [Crawford] whereby his feelings must be somewhat...no, that's unfair. I was going to say that the recordings have more positive connotations for him, but that's completely unfair."
Galilee is perhaps the clearest indication of the personal torment that Rich Beale was going through. Performed in the style of a lullaby but with some serious dark visions flowing through its poetic lines where 'methylated mermaids' swim by, Galilee was the boldest statement Beale could make and a definite cry for help.
"With Galilee, I was being encouraged by people, who were trying to help me with my addiction problems, to have a look at spiritual and religious traditions which is self-evident in the song. With the Apache Dropout album, the thing that really motivated me was the recovery from drug addiction and simply realising that I had managed to do that through much help. There was an idea within the band for everyone to treat each other with respect, although it was difficult because there were quite a few neurotics in the band with me probably being the worst!"
It must have been encouraging, though, to have such talent around you as Mike Crawford who's wonderfully crafted a succession of pop gems that offers an uplifting side to the whole album - again reiterating that the recording process must have been a cathartic experience.
"It was the first time I was in a band that I was listening to these really good virtuoso passages from these people who were literally playing for the love of it. This idea introduced me to a new method of working. I knew that's what I wanted it to be like but that's the first time for me with people who were doing that."
Since the demise of Apache Dropout there have been several encouraging signs on the horizon. Not only did the recent remix of the song Silence, lifted from 'Apache Dropout', garner some rave reviews within the hierarchy of club land, but even had the likes of Annie Nightingale of Radio One drooling over its very contents: "Oh God this so gorgeous...it's making me cry."
With a brief performance scheduled for this year's Ashton Court Festival, there is a slight possibility of an Apache Dropout reunion on the cards!
"I get impatient because I really do believe in the shelf-life of bands. The thought of doing anything for more than two or three years I find quite difficult to comprehend. Although there was only the one album, we had been together for three or four years before that which was enough. What provided the motivation was a desire to do something different and that was it, my time was up with Apache Dropout. Since then, I have been true to form by working with various musicians and avoid the restrictions that a band scenario can create."
Nathan Haines (Sugarshack Records)
Live Review
The reference points of the music are many and varied "I never try to hide what I've listened to," says Mike, "but just by writing with someone else the simplest ideas automatically take on a new shape and meaning. The lyrics are full of influences and ideas not normally found in rock songs. Rich Beale has an obsession with various obscure forms of writing from modern novels to nineteenth century poets, he's brought a huge literary quality to the band but he presents it in the style of Mick Jagger or Iggy Pop".
The Crawford/Beale partnership has produced a sound that has many reference points - think of it as an English REM........The result is quite frankly, remarkable.
(Richard Jones, Bristol, April 2000)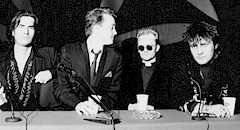 LIVE REVIEW - APACHE DROPOUT - THE MALAAP, BRISTOL
If you boiled them up and siphoned them into a bottle of Jack Daniels you couldn't ask for a finer distillation of Bristols' pop aristocracy than Apache Dropout. With prominent ex-members of Head, Vice Squad, The Spics and Gee Baby I Love You aboard you can expect the sound to be as electric as it is accomplished. And so it proves. Without in any way coming over as derivative, there's a world-wise appreciation of every fad and fashion that each member has touched on in the past decade. With understated aplomb guitarist Mike Crawford and team lay down a relaxed groove. From flanged guitar to folksy violin, even, its all layered with impeccable craftsmanship allowing front man Rich Beale to writhe and warble in his own inimitable way. Theses are unique tonsils which reverberate between Scott Walker and Sinatra, from the Lizard King to Tim Booth.
The Dropouts (as there not known to anyone but us) are bona fide rock-n-roll stars (in the most avant-garde sense of the word, guys!), mellowed by experience and all the more powerful for that.
They refuse to rest on their laurels, they're still trying to impress : catch a drop of Apache Dropout before the cavalry comes over the horizon and spoils it all.
(Mike Gartside, Venue)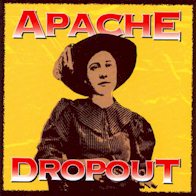 TRACKS...
1 YELLOW FEVER
2 SYRIA
3 STORY OF LAVE
4 WOE
5 FRANCIS
6 DREAMTIME
7 GALILEE
8 SILENCE
9 WASHINGTON
10 BELLE STAR
11 BABY IN BLUE
12 SNAKE IN THE GRASS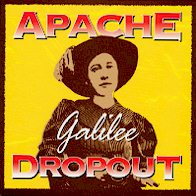 GALILEE
TRACKS...
SIDE A
GALILEE
SIDE AA
STORY OF LOVE
SUGAR SHACK RECORDS UK
FOD 022 7" VINYL Apache Dropout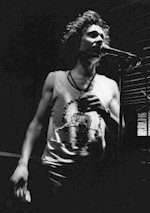 APACHE DROPOUT ARE...
Vocals: RICH BEALE
Guitars: MIKE CRAWFORD
Guitars, Lead: MARC CLEMENTS
Bass: JOHN CHILCOTT
Double Bass: BOB LOCK
Keyboards,Violin: CHARLIE ROSE
Drums: JAMES RYAN
Percussion, Synth: CORIN DINGLY
Trumpet: MATTHEW
Acoustic Guitars: ANGELO BRUSCHINI Rich Beale

APACHE DROPOUT REVIEWS
Apache Dropout formed in Bristol in 1997, the brainchild of ex-Head vocalist Rich Beale and former Spics and Nitecaps guitarist Mike Crawford, who has been known to pluck the six string for Krust and Roni Size. Though originally planned as a studio project, the duo recruited former Crazy Trains and Vice Squad bassist 'Rockin' Jon Chilcott, plus a cast of thousands, and secured a deal with Postcard, resulting in a tour with Edwyn Collins.
This album, which was to have been named 'Hey Dopey' never saw the light of day due to the demise of Postcard, but finally, thanks to Sugar Shack, here it is.
If the above all seems a little unlikely, listen to the broody and melancholic sounds on offer, topped off with Beale's distinctive vocal style and some off-beat pop touches, and with some perseverance you can see the Postcard connection.
Shane Baldwin Record Collector August 2000
Apache Dropout 'Francis'
Rich'n'Mick surface with some heroic, melodically fragrant cabin-boyrock. Mentions works of renowned drunk and writer Malcolm Lowry.
ROY WILKINSON SELECT AUGUST 2000
APACHE DROPOUT APACHE DROPOUT (SUGAR SHACK)
Bristol duo Apache Dropout's self titled debut offering, although encompassing some rather diverse influences (drum 'n' bass to jazz blues), is a rather meek affair. If you like the thought of the New Radicals morphing into Suede with lo-fi lyrics of a melancholic narrator, this could be the album of the fortnight.
HOT PRESS AUGUST 2000 7/10
This album was originally scheduled for release in 1996 on ancient indie label Postcard. And where that label's trademark imagery made knowing use of kilts and curling, this duo has similar eyebrows-raised fun with frontier western chic. The music is entirely in keeping, full of mellifluous slide guitar and sounding like some stylized, hyper-real bar band. The best is Francis, which sounds like a collaboration between Billy Idol and The Boatman's Call-period Nick Cave, and showcases both ex-Head front-man Rich Beale's sumptuously rich voice and a quotation from notoriously drunken author Malcolm Lowry. Welcome, then, the West Country's very best in arthouse country and western.
*** Q MAGAZINE - ROY WILKINSON MARCH 2001
APACHE DROPOUT 'SILENCE'
Despite its title I can't imagine this track getting me out of bed-its far too lovely and cuddly and frankly is more likely to make you snuggle down under the duvet with a nice up of tea. Silence comes on like early Balaeric-it could easily be a lost classic from THe Beloved or even Talking Heads, but its not-it was crafted in Bristol. Now theres a reason to be cheerful.
**** BIG ISSUE JAN 2001
Silence
APACHE DROPOUT Vs Omnivore - 'Silence Hey Dopey'
(12'' remix)
With Silence being championed as a "breakbeat" classic from various DJ sources, and the likes of Ken Fan (Ministry of Sound), Groove Armada, and Jason Holmes (Fat City) waxing lyrical about this slice of remixed Bristol pop, Apache Dropout have good reason to breathe more easily.
The recruitment of Omnivore to apply a deft touch to the reworking of Silence - taken from Apache Dropout's eponymous debut album - has created something of a stir in the corridors of club land. A curious decision considering the irony of the song but a decision that is so far proving fruitful, especially since Annie Nightingale (Radio One) confessed her love for the song: "Oh God this is so gorgeous...it's making me cry."
Understandable that such honest sentiments are difficult to conceal when Silence confronts the listener with a cool, mellow mix of large, drawn out beats accompanied by a distinct, yet delicate vocal that barely rises out of its slumber providing the perfect backdrop for the more chilled-out spaces of the nation's dance venues.
With more remixes planned at Omnivore London Studio, Silence could be the tonic that Apache Dropout need to propel their poetic vision into the hearts of the public. In the meantime, this instant love affair is more than enough to fill those early morning blues.
FOD 023 APACHE DROPOUT 'Silence (Hey Dopey)' - 12" vinyl (Released JAN 29th)
Quotes from the clubs and radio .....
1... Annie Nightingale, Radio One ... Oh God this is so Gorgeous ... its making me cry. This chhon is an instant love affair, this should be one of the new year's first big blow ups.
2... Lee Oliver Deeprose, Ocean Rooms, Brighton ... I've got a few Omnivore releases so it was good to hear them on this remix. This works really well on the dancefloor, up tempo, strong bassline. Excellent!
3... Jason Frost, Dexterity, Lancs ... This is rather good and a definate grower. The bassline lifts this tune into the realms of a Bristol breakbeat classic.
4... Crawford Tait, Hi Karate, London ... Not quite like anything I've heard before, and has an unusual vibe reminiscent of some 80's stuff! Has a nice lazy funk and I went for the instrumental, where you can really hear the live elements.
5... Martin Brew, Fat City, Manchester / Paris .... The instrumental is superb, a lot of people have come up to me to ask what it is - a good sign.
6... I'm into this, great beats and funky head nod. Not something I can play for a dance floor reaction, but great early on for radio!
7... Emmet Keane, Catch the beat, London .... The instrumental is a breakbeat classic, can't get enough of it.
8... I can hear the Head connection, and it has a Screamadelica ( the track ) feel - not enough of a hook but I like it and it grows on you.
9... Hardwire, London ... Top chart potential, really like the floaty vocals and pads, not really club material but nice early on in the warm-up.
10... Robert Webb, Rhino Club,S.Coast .... Top Top Track, proper soul. Love it!
Apache Dropout Masters
I remember several people tried to help us kick this collection of songs into shape Adrian Utley, Fat Paul to name but two and plenty had an opinion about them - what where we doing ? We are a duo, and write in Mike's basement, I put vocals down on his backing tracks and at the time of writing it was the same scenario as on the first album: PERSONAL CRISIS TIME! Break ups! Break downs! Speaking only for myself.
Then the weight of the product as opposed to the lightness of the process;
The work itself was like a big white horse carrying the players out of a war zone, the trouble with the finished thing is that it was never fucking finished.
Impossible!
For me Apache Dropout is all about 2 men getting together to write and record Their ideas, there is enough evidence of the art and the heart of the matter to make it a worthwhile listen and a few tracks will stand my test of time.
Forever.
I leave you to guess which ones.
Rich Beale Oct 2015

1. You That I Want
Rich Beale: Vocals, Backing Vocals, Mike Crawford: Acoustic Guitars, Electric Guitars, Tambourine, Dan Moore: Piano, Stew Jackson: Bass, Drums

2. Silver Fox
Rich Beale: Vocals, Mike Crawford: Acoustic Guitar, Tenor Sax, Harp, Tambourine, Stew Jackson: Electric Slide Guitar, Adrian Utley: Electric Guitar, Charlie Jones: Bass Guitar, Andy Price: Piano, Clive Deamer: Drums, Marcus Dahl: Trombone

3. Sing
Rich Beale: Vocals, Backing Vox, Mike Crawford: Guitars, Percussion, Adrian Utley: Guitars, Charlie Jones: Bass Guitar, Clive Deamer: Drums, Baritone Sax: Ollie Moore, Backing Vox: Yolanda Quarrie

4. Stairwell
Rich Beale: Vocals, Mike Crawford: Acoustic Guitar, Slide Guitar Philicorda, Adrian Utley: Guitars, Charlie Jones: Double Bass, Bowed Bass, Violins: Gina Griffin

5. Leadership
Rich Beale: Vocals, Mike Crawford: Acoustic Guitars, Electric Guitars, Tambourine, Ukelele, Organ, Stew Jackson: Slide Guitar, Bass, Drums

6. Perfected
Rich Beale: Vocals, Mike Crawford: Acoustic Guitars, Banjo, Backing Vox, Adrian Utley: Acoustic Guitar, Joe Allen: Double Bass, Dan Moore: Organ, Clive Deamer: Drums, Stew Jackson: Pedal Steel Guitar

7. Bouncing Ball
Rich Beale: Vocals, Mike Crawford: Acoustic Guitar, Slide Guitar, Piano, Programmed Strings, Backing Vox, Tambourine, Adrian Utley: Guitars, Programmed Percussion, Charlie Jones: Double Bass

8. Massachusetts
Rich Beale: Vocals, Mike Crawford: Electric Guitars, Hand Claps, Tambourine, Backing Vox, Adrian Utley: Electric Guitars, Charlie Jones: Bass, Andy Price: Piano, Clive Deamer: Drums

9. Bastard
Rich Beale: Vocals, Mike Crawford: Acoustic Guitars, Ukelele Pizzicato, Tambourine, Adrian Utley: Guitars, Bass, Ukelele Pizzicato, Kettle Drums, Cymbals, Synths, Clive Deamer: Drums

10. Dead Cowboys
Rich Beale: Vocals, Mike Crawford: Banjo, Acoustic Guitars, Slide Guitar, Cardboard Bass Drum, Tambourine, Melodica, Piano, Bass, Glockenspiel

11. Train
Rich Beale: Vocals, Mike Crawford: Electric Guitars, Acoustic Guitars, Backing Vox, Tambourine, Adrian Utley: Electric Guitars, Bass, Paul Horlicks: Drums, Clive Deamer: Snare Drum

12. JC
Mike Crawford: Acoustic Guitar, Jon Chilcott: Inspiration, Car Noises: Ashley Rd
Recorded at: Adrian Utley's house, Mike Crawford's basement, Mike Crawford's garden, SOA studios and The Robot Club. Thank you to all the great musicians who contributed to this Cornucopia, especially Adrian Utley and Stew Jackson for their production skills and patience.