Andy Fairley
Fishfood vs Birth of Sharon ARC063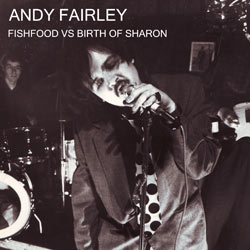 Dry ice hot (Purse)
Seventeen Eels (Purse)
Modern Dance Crazy (Purse)
Now (Fairley,Purse)
Film Titles (Fairley,Purse,Galvin,Bozwell)
Art of Wanking (Fairley,Purse,Galvin)
Sex Is A Language (Fairley,Purse,Galvin)
Man Made It So (Fairley,Purse,Galvin)
Volition (Fairley,Purse,Galvin,Bozwell)
In the early nineteen eighties when freaks, musicians, poets, dreamers and others on the margins of society were still supported and patronised by the state in the form of the dole, art school dropouts Howard Purse and Doug White landed in Bristol and masterminded the creation of Fish Food. Joined by local drummer Dan Swan, ex of the Cortinas and poet Andy Fairley the group began cooking up their fractured slices of surreal beat and recorded the three songs that open this collection for local magazine/LP The Bristol Recorder. Always on the fringe of the Bristol scene the four rehearsed in their squat, a haunt for the likes of The Pop Group, Pig Bag and Scream & Dance, and played supporting local groups such as The Electric Guitars and The Art Objects and supported The Slits.
Featured Track

Andy Fairley
Track 6
Art of Wanking
This text will be replaced by the flash music player.
When the band split Howard had some success with Animal Magic but several years later, joined by artist Jim Galvin on guitar and Animal Magic drummer Rob Bozwell, he reunited with Andy to form The Birth of Sharon and produce the remaining tracks in this collection. Featuring analogue synth base, tape sampling, and found sounds their un self-conscious blend of Funk, Punk, Germanic beats, English pop and Beef heart was years ahead of it's time. Never before available but legendary amongst those who heard or saw the band at the time and pre dating recent work by local favourites Portishead by twenty five years maybe only now is the world ready for the creativity, sonic experimentation, humour and sheer nerve of these songs.