Manic Ears Records

Introduction by
Shane Dabinett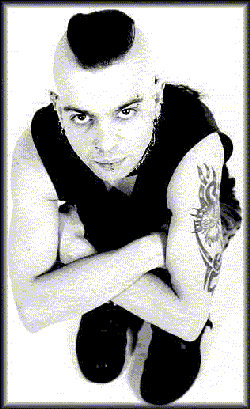 Between 1983 -1985 I used to produce a fanzine in Bristol entitled 'Manic' which four issues were published. The most popular issues were #3 and #4, partly because the design and layout was finally comprehensive and neat but also because because I had worked on getting the zines around the UKHC underground. That is, the UKHC network of fanzine writers, mail order distributors and tape and record label owners. Around 1984 I started and tape label by mail order, Lethal Dose Tapes, which featured demos and live recordings from bands such as Ripcord, Chaos UK, Disorder, Political Asylum, Ad Nauseum and some others. Also, I started distributing fanzines, tapes and records by mail order under 'Manic Distribution'. Manic Distribution and Lethal Dose Tapes was operated in shared office space with Tim Bennett of Children Of The Revolution Records (COR Records) at the back of a left wing political bookshop called 'Full Marks Bookshop'. In 1985 Full Marks Bookshop changed premises and as their was not any office space there for us we had to move all equipment into our homes and bedrooms. Before that, I teamed up with another Bristol fanzine writer, Mark, who produced 'Ears Of A Dead Man' who thought up the name 'Manic Ears Distribution' from the titles of our fanzines and for approximately a year we jointly ran 'Manic Ears Distribution'. Needless to say, Mark moved on and I was left to run it on my own. This was the time that Chaos UK asked me to put out a split LP with Extreme Noise Terror (an unknown band from Ipswich at the time) and the idea to start Manic Ears Records was born.

Finance & Setup
To start the label I needed to gather some finance. Manic Ears Distribution was a semi-profit making service, however, all proceeds went back into buying new stock to sell and tapes to produce. So, I went to a Jobclub that helped unemployed people set up businesses and business plans who also had a link with the 'Prince Of Wales Trust Fund' which changed into the 'Youth Enterprise Scheme'. The business plan and application to the Youth Enterprise Scheme took about a year to get through where I successfully obtained a loan of £2000 to start the label with. A £500 overdraft facility was secured with a bank and the label was ready to record and start in business. Manic Ears Records started officially in business on the 6th September, 1986 with its first release, a Chaos UK/Extreme Noise Terror split LP, in November 1986.
Manic Ears - The Beginning
For the first two years Manic Ears Records was run out of converted room attached to my bedroom in a house share with Chaos from Chaos UK, Bear & Beano (who went on to publish 'Skate Muties From The Fifth Dimension' fanzine from there) and D' Arcy, a friend with smoke. Extreme Noise Terror had delivered their side of the album about one year before its release and recorded it for something rediculous as £82-00! Chaos UK recorded their songs for nearer £400-00 at SAM Studios in Bristol. When 'Earslaughter' was released it did not get the reception expected from the mainstream music media until at least two years later. John Peel played Extreme Noise Terror then saying on air that someone should talk to their manager! Only two years later with the rise of Napalm Death on Earache Records did Extreme Noise become his favourite band! However, 1500 copies of the 'Earslaughter' split LP where initially manufactured (yellow label) followed by 500 more. I had initially planned two record releases to get the label up and running. The second album was a debut by Civilised Society? entitled 'Scrapmetal'. Civilised Society? were from Yorkshire and had very good friend, Hammy, who used drum for the Instigators, on vocals and also ran a small mail order distribution service called 'Peaceville'. 1000 copies of 'Scrapmetal' were initially pressed followed by a further 500. Civilised Society? and 'Scrapmetal' received some surprising airplay from the Rock orientated Tommy Vance Show and John Peel opened his show with 'The Fairer Sex' from the album on numerous occaisions. 'Scrapmetal' was welcomed by the Metal press, Kerrang! and Metal Forces with open arms as hardcore metal crossover was emerging. At this point the label had nothing new to release. Finance had run low and returns from the record sales were not happening. I had a Manufacturing and Distribution deal with Revolver Distribution, who were based in Bristol, and before any returns come to the label all the cutting and manufacturing costs were recouped first. Then, Tim COR announced the closure of his label, Children Of The Revolution Records (COR), and passed over a couple of his releases due on the COR release agenda and the COR mail order service.

Manic Ears - Children Of The Revolution, The Connection.
Manic Ears never actually took over the operation and running of COR as some people were led to believe. What actually happened was that Tim Cor wanted to close his label and already had two releases planned. He passed these two onto Manic Ears to help the bands get their records out on a label. I agreed, I thought it would my release scheldule and the COR mail order business would generate some money to prepare a Ripcord debut LP. The 'Digging In Water' compilation was initially started by Tim COR and finished of by Manic Ears. Digging In Water was undoubtly and COR LP, however, it was stylised to incorporate Manic Ears and it was released as co-release on COR/Manic Ears. COR's mail order service was basically handed over to Manic Ears to continue providing this service. So, contrary to popular belief, Manic Ears never actually bought or took over COR Records, it just basically handled a couple of new releases and its mail order service. Myself and Tim COR had worked together on different things for years and were good friends. Basically, we lived in squats with various bands and people, action groups and fanzine writers. We did the same things but mainly separately run by ourselves but with communication and co-operation to fulfill our ideals.
The Arrival Of Britcore
from 1987, The Stupids (COR and Vinyl Solution Records) had been maing a big impact upon the mainstream music media. John Peel had become very fond of the band and had recorded various sessions for his show by them and their sub-bands. The next band to make such a big impact on the UKHC scene and the mainstream media were Napalm Death (Earache Records). The weekly music press began to take an avid interest in hardcore, 'Sounds' labeled it 'Britcore' which in turn was taken up by the 'NME' and 'Melody Maker', and John Peel further promoted the music by giving numerous bands such as Napalm Death, Extreme Noise Terror, Carcass, Electro Hippies, Dr & The Crippens and Ripcord. The Hardcore/Metal/Crossover music scene was making quite an impact and this was particularly fueled by John Peel's enthusiasm for the music. The three UKHC labels at the forefront of all this was Earache, Peaceville and Manic Ears. As a matter of fact, all three labels utilised the music press to our own advantages. This was done mainly for the fun of it all but also it helped get the music across to a wider audience. A lot of press 'scams' were organised particularly from Manic Ears to gain attention to the music for the mainstream. The Stupids and Napalm Death had front covers on Sounds and NME further enhancing Britcore and those music papers started writing weekly columns about the current hardcore music scene. John Peel was so excited by this new wave of music that he started releasing some of the sessions, Extreme Noise Terror, Napalm Death, The Stupids and Electro Hippies for example, on his Strange Fruit label which was dedicated to this purpose. He then followed it up with the infamous 'Hardcore Holocaust' compilations which contained tracks from of the hardcore sessions that had been recorded and not released as separate studio sessions. It was also at this time that Manic Ears had been planning (for two years previously) a similar UKHC compilation and was finally releasing. This was the infamous 'The North Atlantic Noise Attack' double LP and first Compact Disc (CD) release on the label. It must be pointed out herre that during that 1986 -1990 period hardcore CDs were not a viable product as was 12" vinyl was, however, this was to change with this release and the 'Hardcore Holocaust' LP/CD. In 1998, most hardcore can be found on CD! By 1988 - 89, Manic Ears Records had firmly established itself as one of the leading UKHC labels along with Earache Records, Peaceville and Vinyl Solution. However, behind all the publicity and hype, Manic Ears was suffering financially. By this type the label had built up a reputable catalogue of UKHC bands such as, Extreme Noise Terror, Chaos UK, Civilised Society?, Ripcord, Concrete Sox, DR & The Crippens and Sore Throat. Besides the Chaos UK/Extreme Noise Terror LP 'Earslaughter' being cited as a landmark in hardcore history by Napalm Death, 'The North Atlantic Noise Attack' made that category as well. What made this new wave of hardcore/metal/punk/crossover brand of music most appealing (particularly to John Peel) was the extreme nature of the music and its actual brevity. It broke down the convential barriers of song writing and mutated it the most extreme version. A song can now be 3 seconds long and have meaning. Another factor that aided the scene was the vast network of underground fanzine writers, record and tape distributors and labels that were the foundation of it all. This was partly inspired by the fanzine 'Maximum 'N' Roll' which provided communication on the underground from all parts of the world. The scene was not restricted to Britain only, it was occurring all the world in various different aspects under different government control systems. The bottom of the cover for 'The North Atlantic Noise' depicted this as a pastiche of the 'World Of Music, Arts & Dance (WOMAD)'.
The Press Scams
Manic Ears perpuated many press scams in the national weekly papers to get the label recognition and attention in the hope of boosting record sales that were badly needed. For the label, the success of Extreme Noise Terror, Ripcord, Concrete Sox, Dr & The Crippens and Sore Throat, the label became almost a pinnacle of UKHC. Earache and Peaceville Records had started moving into the Death Metal spectrum. One particular event thaat Manic Ears utilised in the press was the release of Sore Throat's LP 'Never Mind The Napalm, Here's Sore Throat'. The original test pressings (25 copies) were cut which contained a track recorded backwards slating Napalm Death. Shane Embury from Napalm Death got to here off this and made death threats to Hammy at Peaceville Records (also the Sore Throat drummer!). This story was leaked to the press and excellent coverage followed. The music press love nothing better than bands fighting amoungst each other. However, in Sore Throat's case it was a wind up and just a laugh for the commotion. It went so far that Revolver Distribution refused to release the cut version so the record had to be recut with the obligatory track missing. It was really funny that something that should be have been taken as a joke and scam was misunderstood by the masses. Still, it provided exposure for the bands involved ain attempt to help record sales whicch were not particularly high in ccomparison to Earache and Peaceville releases.
REKTUM -The Final Press Scam!
Rektum, alledgely, came from East Germany. When the Berlin Wall was coming down in 1989 and the Eastern Block borders began opening up, Rektum crossed through Hungary and made it to Bristol, England. Rektum were a highly sought after political Eastern Block punk which successfully escaped their system. The press reports in the Independent, NME, Sounds and Melody Maker were coming out thick and thin. Still gaining exceptionl coverage. Alledgely, Manic Ears Records housed them and started recorded their debut LP 'Sakredanus' and 12" single 'Real Horrorshow'. These two releases did appear, 'Real Horrorshow' on Manic Ears Records and 'Sakredanus' on the new formed Manic Ears offshoot label, PSI Records. John Peel phoned up Manic Ears HQ offering Rektum a session, however, the scam had to be broken to him. It was eventually broken in Sounds as Rektum were not a real band but a psydenonym of the (in)famous Gaye Bykers On Acid. The whole story was thought up by the band and the manager so that the Gaye Bykers On Acid could produce a thrash album and still gain their notoriety. This worked particularly well. Even top German magazine Stern fell for it hook, line and sinker!
DISCOGRAPHY
ACHE 001 - EXTREME NOISE TERROR/CHAOS UK: Radioactive Earslaughter Split LP (1986)
ACHE 002 - CIVILIZED SOCIETY?: Scrap World LP (1986)
ACHE 003 - Digging in Water Compilation LP (1987)
ACHE 004 - BAD BEACH: Cornucopia LP (1987)
ACHE 005 - RIPCORD: Defiance of Power LP (1987)
ACHE 006 - CIVILISED SOCIETY?: Violence Sucks LP (1987)
ACHE 007 - SPERMBIRDS: Something to Prove LP (1987)
ACHE 008 - SUBVERSE/DESECRATION: Split LP (1987)
ACHE 009 - PSYCHO: Hosebages From Hell LP (1987)
ACHE 010 - SONS OF ISHMAEL: Pariah Martyr Demands a Sacrifice LP (1987)
ACHE 011 - CONCRETE SOX: Whoops! Sorry Vicar LP (1987)
ACHE 012 - VICIOUS CIRCLE: Rhyme With Reason LP (1988)
ACHE 013 - ADVERSITY: Lost It All LP (1988)
ACHE 014 - DOCTOR AND THE CRIPPENS: Fired from the Circus LP (1988)
ACHE 015 - STIKKY: Where's my Lunchpail? LP (1988)
ACHE 016 - TRANSGRESSION: Cold World LP (1988)
ACHE 017 - The North Atlantic Noise Attack Compilation 2xLP (1988)
ACHE 018 - DOCTOR AND THE CRIPPENS: Raphanadosis 12" (1989)
ACHE 019 - SAW THROAT: Indestroy LP/CD (1989)
ACHE 020 - The Histyrical Years: 1986-1990 Compilation LP (1989)
ACHED 021 - CIVILISED SOCIETY?: You Were Warned 2xLP (1989)

EAR 001 - SORE THROAT: Never Mind the Napalm, Here's Sore Throat LP (1989)
EAR 002 - DOCTOR AND THE CRIPPENS: Avant Gardening 12" (1989)
Chaos UK/Extreme Noise Terror 'Earslaughter' Split LP Only.
This album was released in November 1986 and was way ahead of its time.'Earslaughter' was cited was as one of the most influential albums of all time by Napalm Death in 1988. However, its initial release reaction was not that invigorating except for the underground Hardcore scene. John Peel, played Extreme Noise Terror on his show suggesting that someone should to their manager! Two years later, Extreme Noise Terror becaame one of John Peel's favorite bands and were invited in aand recorded various Peel Sessions. Some of these sessions were also released on the Peel Strange Fruit label further highlighting his appeal with the band.
ACHE 002 - Civilised Society? - 'Scrapmetal' - LP Only
'Scrapmetal' was Civilised Society's debut album and way ahead of its time. Featuring ex-Instigators drummer and Peaceville, Hammy, the band had some good coverage for this album from the metal press. 'Scrapmetal' was early type of hardcore/punk/metal crossover album which could have gained more attention then it actually did. However, John Peel opened hiss radio show with 'The Fairer Sex' on several occaisions and even Tommy Vance played the aalbum on his show although he the band was Scrapmetal and the song Civilised Society?!! Civilised Society worked really hard in those days and gigged a lot eveen supporting MDC at Hammersmith at last minutes notice!
'Scrapmetal' contained 14 songs altogether which varied from a wide range of topics. They were very politically orientated with attitude which made a refreshing from the norm of metal bands. As said before, the album was ahead of its time and although it recieved some good airplay and reviiews in Kerrang! and Metal Forces magazines, the band found it increasingly difficult to strike out to the metal audience in general. The hardcore crowd was always in strong attendence but Civilised Society? wanted and needed to branch out and encompass different audiences. This they tried to do in many ways.
ACHE 003 - Various Artists - Digging In Water - Compilation LP Only
'Digging In Water' was initially compiled for release by COR Records. It was not fully completed so Manic Ears finished it off. That is why there is a mixture of COR and Manic Ears bands. Tim COR was really into joint label releases (previously COR released an Accused LP jointly with Earache Records) and 'Digging In Water' became a COR/Manic Ears joint label release although Manic Ears Records handled all the finishing touches to the LP and release schedules.

There are some real hardcore gems on 'Digging In Water' from the period 1984 - 1986. As this was intially started to be compiled by Tim COR some classic COR band songs appeared including The Stupids with Slumber Party and Potential Threat, Depraved (who later became Visions Of Change), Chaos UK and Disorder to name a few. The Manic Ears bands that appeared were DR & The Crippens and Extreme Noise Terror. The album was cover was made by myself and was a bit out of alignment with the track listings and epilogue that is because I suffer with a weird form of double vision so I probably could not see straight. This was also a low budget compilation LP as funds were very short at this time. However, it was received on the hardcore underground and John Peel played the Electro Hippies song from the album called 'Life'. He soon became fanatical about the Electro Hippies as well who released their albums on the newly formed Peaceville Records label fronted by Hammy as mentioned earlier.
ACHE 004 - Bad Beach - Cornucopia - LP Only
This was another release that was intended for release on COR Records. However, as Tim COR had decided to cclose his label this album was passed onto Manic Ears along with 'Digging In Water'. Bad Beach had a different style to the hardcore norm and was not well received in general. Only 1000 copies were pressed of this album and they proved incredibly difficult to sell. However, at leaset the album release tried to help the band because they moved on to Amsterdam's 'De Konkkurrent' label which was probably more appropiate for them than Manic Ears Records.
ACHE 005 - Ripcord - Defiance Of Power - LP Only
Ripcord hailed Weston - Super - Mare, quite local to Bristol so it was refreshing to see new emerging on the scene besides Bristol's UK punk stalwarts, Chaos UK, Disorder etc. Ripcord had prepared two demo tapes which were distributed and sold at gigs and by mail order so had been making a name for themselves on the hardcore underground. 'Defiance Of Power' was a classic 2 second thrash song album with a guy called Buzby on vocals who the band later sacked and replaced with a previous drummer on vocals, Steve.
ACHE 006 - Civilised Society? - Violence Sucks - LP Only
Civilised Society? surprised everyone with 'Violence Sucks'. This was hardcore metal or 'crossover' to the ultimate. The aalbum was received by the metal crowd as with the hardcore scene. The album was relaesed in 1987 and had some publicity in the metal press with 4.5 K's in Kerrang! aand 90/100 in Metal Forces. However, the album never sold more than 2-3000 copies, although considerable in small way, it could never match the standards of album saales that Earache Records could. In retrospective, with the the release of 'Scrapmetal' and 'Violence Sucks!' as a double album re-issue entitled 'You Were Warned.......' on Manic Ears in 1990 through the Trojan/Receiver Group, Hammy (now Peaceville Records guru) makes some clear statements how he feels and others that Civilised Society? were way ahead of their time.
'Violence Sucks!' was purely a crossover album. The music was a fusion of some of the metal and hardcore with definite attitude. According to Hammy, in retrospective with 'You Were Warned......',
Even supporting MDC at Hammersmith, and a feature in Kerrang! couldn't save thee baands dwindling attittudes towards their music. At the timeMETALLICA were described as NOISE. The world wasn't ready forr the metal band with attitude! Listen to the lyrics of 'TREEDOM'. 3 years before GREEN AWARENESS. HEAR the heaviness of 'EPITAPH' - before NAPALM DEATH were born. If ever there was a band before its time it was this.
This is true every respect. Civilised Society? had that problem. The baand could not fully reach the metal and hardcore fan. Probably, in the metal crowd the band lyrically had too much anti-establishment attitude whereas the hardcore scene found the album to be too metal oriented in possibly trying to 'sell-out'. Civilised Society's intention was to reach a different type of audience to their own in the hope of raising those people's awareness. The band broke up shortly after 'Violence Sucks! whhich was a real shame for the scene because Civilised Society? could have acheived their aims in the end.
ACHE 007 - Spermbirds - Something To Prove
The Spermbirds hailed from West Germany with an american singer, Lee. Very popular on the continent but not so in England except on the hardcore underground. For this type of band, The Stupids were making the biggest impact in Britain. Anyhow, 'Something To Prove' was first class skate/hardcore/thrash with some classic songs. I think thee band toured Britain some years later this aalbum was the Spermbirds in their prime. It was also their debut album.
'Something To Prove' never sold more than 2000 copies. It was limited to Britain only aalthough British sales of Stupids releases exceeded that countless times over. The album was released in America on a small independent label as well as We Bite Records being the intial label in West Germany. Spermbirds were an excellent skate thrash band who did not receive the attention in Britain they so rightly deserved. However, more importantly they were considered as classic hardcore on the underground scene.
ACHE 008 - Subverse/Desecration Split LP Only
This split LP came about through a variety of different factors. Some friends of Subverse stayed over at our house in St Michaels Park who had a Subverse demo with them. I thought it ws so extreme that it had to come out on vinyl. Also, at the time, I had gotten freindly with Jack of Desecration from Phoenix, Arizona, through a freind from Los Angeles in a band called Final Conflict, Ron Martinez. Ron subsequently stayed at our house while on holiday in Britain. So, the idea of a Subverse/Desecration split LP came about. Subverse were from Vancouver, incidently, so it was like a North vs South extreme US thrash album.
John Peel only played Hunger Pains by Subverse on his show from this album and the album was not well received by the mainstream music media. However, it was enjoyed by the hardcore underground scene and approximately 1500 copies were sold mainly by mail order and at gigs by myself and the bands involved. This was truly a DIY release in the end as the record shops were not interested in stocking it. Still, it was a worthwhile project and the bands involved gained some recognition for their efforts on the hardcore underground scene.
Licensed Releases:
ACHE 009 - Psycho - Hosebags From Hell - LP Only

ACHE 010 - Sons Of Ishmael - Pariah Martyr Demands A Sacrifice - LP Only

ACHE 012 - Vicious Circle - Rhyme With Reason - LP Only

ACHE 015 - Stikky - Where's My Lunchpail? - LP Only

Manic Ears Records went through a period of putting out American and Canadian music to get the muisc across to a wider audience as the bands felt involved. Unfortunately, these releases never sold more than a 1000 copies if that and were very difficult to publicise. They were accepted on the hardcore underground scene, however, not by the mainstream music media. Manic Ears Records, along with Earache Records and Peaceville Records had began to gain a reputation for releasing some of the best UK thrash bands so it was difficult to get these bands across. However, it was worth the effort and some of these albums were played on the John Peel show if not received elsewhere.

ACHE 011 - Concrete Sox - Whoops, Sorry Vicar! LP Only

Concrete Sox were the UK purveyors of hardcore metal. Their previous albums had all come out on different labels, 'Your Turn Next...' on COR Records, their debut, a split LP with Heresy on Earache Records and 'Whoops, Sorry Vicar!' was their third album on Manic Ears Records. Their subsequent releases came out on Col Latter's label (which I can not think of the name) who used to be the vocalist for Flux Of Pink Indians who were a seminal early eighties Crass orientated band. Concrete Sox were never popular with the mainstream music media but huge on the hardcore underground scene. Although the sound recording of 'Whoops, Sorry Vicar!' was not not entirely perfect it was a classic fusion of hardcore and metal with attitude.
Concrete Sox were not dissimilar to Civilised Society? in the attitude lyrically mainly covering animal rights issues, however, their style of hardcore metal was unique, very hard and fast and totally in your face. In fact, Concrete Sox did not want to sell out to the mainstream although they did crossover into the metal audience quite successfully. It was a time when it was not uncommon for hardcore enthusiasts to be standing next a total metalhead at a Concrete Sox show enjoying and sharing the experiences from the music. A few months after the release of this album, the guitarist - Vic, left the band and joined some glam metal outfit or so rumour has it.
ACHE 013 - Adversity - Lost It All - LP Only
Adversity were a 5 piece speedmetal hardcore outfit who hailed from Victoria, BC, Canada. 'Lost It All' was their debut album and I believe their only album ever released. They were well received by the metal press with rave reviews in Kerrang!, Metal Hammer and Metal Forces. Metal Forces liked the band so much that they gave them a double page interview and feature. The album was very expensive to record and produce and unfortunately did sell more than 1500 copies if that. At the time, speedmetal was very popular in the crossover scene and I would have placed Adversity in league with bands like Attitude Adjustment (Pusmort), however, the record sales could not match that kind of band. Pushead, a very respected scenester in the hardcore and crossover scene did not like the band at all and gave them a particularly bad review in Thrasher magazine.

Adversity's brand of speedmetal crossover was hard hitting, well produced and clean cut, with plenty of hardcore attitude in their lyrics. Although the the album was well received in the metal press and features and reviews were good their record sales could not rcover the costs involved in recording and production. Manic Ears Records really tried to push the band in the mainstream metal audience but the reccord buying public just were not interested. Also, Adversity were not that well accepted on the hardcore underground scene which was a shame in comparison to bands like Attitude Adjustment, DRI and Gang Green who were making more progress in Britain at the time.
ACHE 014 - DR & The Crippens - Fired From The Circus - LP Only
If there was ever a favourite Manic Ears band it was Dr & The Crippens. After recording 'Fired From The Circus' the label believed there would be a terrific future for this band. Their previous recording on the Digging In Water LP was not truly up their proper standards with 'Mr Parkinson' which the band dumped from their set. The album was well and truly liked by John Peel who practically played song from the album several times a night for well over a week. A first John Peel session followed although the mainstream music press did not really pick up on 'Fired From The Circus'. However, the band were making a big impact on the UK hardcore scene especially with their on stage antics which included costumes and exploding cabbages from heads!

Dr & The Crippens were weird but hard and fast. They never intended to replace The Stupids although tensions between the the bands overlapped due to the extroadinary humourous content and style of both bands. Dr & The Crippens also became strong favourites of John Peel and very soon the music press were coming around to the band although this occurred more so with the release of their second album and much UK touring. The band worked hard on the label and the label put a lot of effort into the band. Even the drummer, Dave Ellesmere (who, incidently, was the drummer for Discharge's 'Why' LP), worked for the label for a couple of years until the label was finally closed and sold. Therefore, the Manic Ears - Dr & The Crippens link was very strong and active.
ACHE 016 - Transgression - Cold World - LP Only
Transgression came from Indianapolis, Indiana, USA. They sent their demo to Manic Ears and the label liked them so much that an album deal was fixed up. A lot of time and money was spent on this album and although they received good reviews in the metal press and were played on the John Peel show, 'Cold World' never really took off. 1500 copies were pressed of this album and were hard to sell. Still, appraisal was due one night at a show when Mick Harris, drummer of Napalm Death, pulled me aside and siad it thee best album put out on Manic Ears so far!

Transgression played extremely fast metal hardcore with attitude. They played a lot of shows in the United States to promote the album, however, exports from the UK were extremely difficult get. The album did do well in the UK as well as expected and Transgression were forgotton in the midst of other bands on the scene. Still, a killer album with some fast and furious music. Totally extreme.

ACHE 017 - Various Artists - The North Atlantic Noise Attack - LP/CD Only
'The North Atlantic Noise Attack' was the compilation of the second half of the decade for the UK hardcore scene. It contained a vast majority of the then current UK bands aand few up and coming. John Peel went crazy playing this album regularly on his show. His own label, Strange Fruit, had released studio sessions as 12" LP's by Napalm Death, The Stupids and Extreme Noise Terror and had reased a compilation LP of the hardcore sessions called 'Hardcore Holocaust' which included Dr & The Crippens, Electro Hippies and many more. 'The North Atlantic Noise Attack' receiced a full page review in NME and reviews in Melody Maker, Sounds and all the metal magazines. This album was truly representative of the hardcore scene at the time and took two yearss to compile, complete and release.