Search the Record Shop
`This Is 80's Pop (Out West)` – Various Artists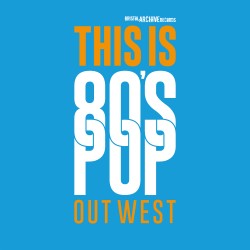 THIS IS 80'S POP (OUT WEST)
by Various Artists
Released 6th October 2017.
Do you think of the West Country in the 1980's as a source of plentiful pop acts? Go on, pull the other one! With the music that's normally associated with Bristol, Bath and places out west, a number of stereotypes come to mind. That can be down to the known success stories or just plain perception.
There has always been a broad picture of the scope of music that has come out of the west end of the M4 and M5 in general, from the more fundamental areas of rock, indie, reggae, rap, R 'n B and dance music, through to the more arcane areas of post-punk, jazz, punk-funk, punk jazz, art-rock and even once in a while a moody singer-songwriter.
The boys (and girls) from the region have always made a right old variety of noise! It hasn't always been accompanied by mainstream acceptance with the resulting sales. That heady creativity included more straight up pop music and the 'take' that could be put on it, with the hope that acclaim would follow. Dig a little deeper into the western region's musical history and they weren't alone in ploughing a furrow into the field marked '80's Pop'. It was no wonder. The ground in that decade was fertile for sowing the seeds of possible pop perennials.
bandcamp
CD
£10.00 + Delivery
Release Date: 6th October 2017