Search the Record Shop
The Escape – 'Live in 1982'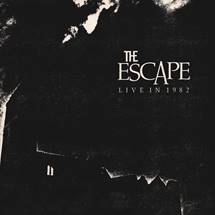 "Live in 1982"
by The Escape
Released on CD and Digital Download 27th July 2018 via Bristol Archive Records
From the stale suburbs, sleepy satellite dormitory districts of the outer reaches and inner city vacant Victorian vicinities of Bristol, three young men came together in the city with a vision to make the public sit up and listen. They wanted to get out there and gave themselves the right kind of name – The Escape.
They were fuelled on a diet of Comsat Angels, Bauhaus, Killing Joke, Echo and the Bunnymen, Television, Southern Death Cult, Theatre of Hate and the combined content of a typical John Peel radio programme, out there fanzines and the most alienated individual anywhere with their prized record collection. A constant input of dark, Goth, strident and nowhere to go angst and alienation combined with a desire to make serious waves drove the band.
In their electric live performances throughout 1982 The Escape seemed at the time like a band of brothers and a tight unit both musically and artistically. Bassist, Stuart Morgan, provided rooted but also sharp-edged lines and visual hair action; drummer Emil (just Emil, no surname) was an intense-eyed polyrhythmic machine of shockwave pulsating percussion, and guitarist / vocalist, Alan Griffiths created sonic mayhem to accompany his tales of searching and scorching assessment of life.
The music industry soon took note. The Escape were given a live review preceded by a full page feature in Sounds before they had even released any material. The NME wrote a smaller feature and the band got attention from local and national radio and TV, leading to sessions and appearances on BBC Radio One and the Beeb's new music show, 'The Oxford Road Show'.
None of the live recordings have ever been released – until now – in what is a seminal release on Bristol Archive Records. 'The Escape Live in 1982' features the band in their pomp playing at student union venues in their home city and in London, as well at a club in the appropriately dystopian surroundings of Basildon in Essex.
Stuart and the now, sadly, late Alan Griffiths – this album is something of a tribute to him – went on to work with U2 and Tears for Fears respectively. Emil stopped playing music altogether in order to eventually to pursue his interest in photography.
But these live recordings show the three of them blasting with early twenties energy, passion and sense of adventure. This is the sound of a young guitar band in full flow and at the top of their all too short game.
The questions were always calling for The Escape, and they answered most of them. Listening to this album may do the same for you.
bandcamp
CD
Pre-Order
£9.00
Release Date: 27th July 2018