Search the Record Shop
The Bristol Reggae Explosion – Best of the 70's and 80's – Various Artists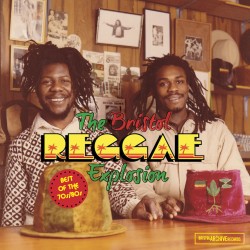 "The Bristol Reggae Explosion – Best of the 70's and 80's"
by Various Artists
Released on CD and Digital Download 25th May 2018 via Bristol Archive Records
Eight years ago, Bristol Archive Records released "The Bristol Reggae Explosion 1978 – 1983", probably the first attempt to document the development of a localised British reggae scene and capture that unique period of the late seventies and early eighties. Despite many hurdles, it was a time that allowed the music to thrive as a voice for a mostly disenfranchised black Bristolian community centred around the inner-city areas of St. Pauls and Easton. The rich vein of recordings made against the odds and ranging from roots through dub to Lovers' Rock, struck a chord with a worldwide audience and allowed us to continue our musical exploration with a further two volumes painting a vivid picture of a scene that was in danger of being forgotten and lost to history.
With the first two volumes deleted and before we continue the story of Bristol reggae with further volumes, we decided we should keep many of the best tracks readily available with a single album compiled from the first three Bristol Reggae Explosions, "The Bristol Reggae Explosion – Best of the 70's and 80's".
This new compilation contains 17 tracks kicking off with "Africa (Is Our Land)", the Dennis Bovell produced classic from Joshua Moses, originally released in 1979 on the More Cut label and a record that regularly fetches three figures for original copies purely on its musical strengths. Joshua makes a second appearance with "Rise Up", a track taken from "Joshua To Jashwha Thirty Years in The Wilderness" which gives a career spanning overview of one of Bristol's most unique voices.
Another distinctive voice is Bunny Marrett represented by his rare 1980 12" cut, originally released on Shoc Wave, "Times Are Getting Harder", a nice slice of underground British roots. In contrast, his second contribution is the more jazz influenced "I'm Free". With a musical career spanning more than fifty years Bunny can probably lay claim to be the patriarch of the local scene. Founding members of Talisman Dennison Joseph and Dehvan Othieno started their musical careers more than forty years ago as Revelation Rockers. Under both names Talisman lead the field with three contributions, "Jah Praises", "Takin' The Strain (Cave Mix)" and the 7" mix of "Dole Age". It's good to know that this label's reissues helped encourage Talisman to reform in 2010 and since then they've gone from strength to strength, even surpassing the great performances they gave in the seventies and eighties.
Two other bands that share very similar line-ups are Zion Band and Restriction, the latter being formed by members of the former. The two bands provide a brace of nice early eighties tracks, "Twelve Tribes" and "Four Point Plan", both originally released on scarce local 12" pressings. The St. Paul's riot of 1980 provides inspiration for 3-D production's "Riot", an overlooked gem when originally released on 7" and a single which is very difficult to find, even in Bristol. Like the rest of the tracks on the album it's worthy of wider exposure.
The late great Popsy Curious, who provided this label with so much encouragement and support, showcases his own unique style with "Chant Down Bobby Rome" before making a second appearance with an entirely different approach as part of Vibes with "My Love". Vibes also featured Veereal and the vocal talents of Winston Minott who lent his distinctive voice to Cool Runnings on the soulful "Playhouse" and "You Can't Pay Me". Unfortunately, female voices are somewhat scarce in the reggae world, but we were able to include Sharon Bengamin's top drawer slice of Lovers' Rock "Mr. Guy". Last and by no means least is another veteran of the Bristol scene Dennis McCalla aka Dallas and "Peacemaker".
"The Bristol Reggae Explosion – Best of the 70's and 80's" is the perfect introduction to the amazing underground reggae scene that flourished without any support from major labels and bears testimony to the talents of the original Bristol bass sound. The album is released on CD and digital download on 25th May 2018, distributed by Shellshock and available from leading retailers and on major digital platforms.
bandcamp
CD
Pre-order
£9.00
Release Date: 25th May 2018