Search the Record Shop
'Shapes of Things to Come' – The Reaction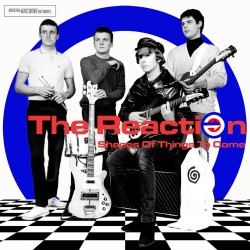 SHAPES OF THINGS TO COME
by The Reaction
Released on CD and Digital Download on January 12th 2018.
For the many fans of 1960s music, we are sure this retrospective album by The Reaction will come as something of a surprise. Very rarely do you come across a band that has managed so successfully to recreate the unique electric 12 string sound of the 60s American West Coast.With seven original well crafted, self penned songs, and four cover versions once performed by the likes of The Yardbirds, The Creation, The Beatles and The Byrds, the new album 'Shapes of Things To Come' can sit very confidently along side any other album from that era.
Bristol based The Reaction were formed in the mid 1980s greatly influenced by the music and dress of the 60s, a combination that appealed to many of the Mod Revivalists of the day. With the young Mods enthusiastic support, The Reaction were quickly riding high on a wave of popularity and independent record sales. Everyone that either heard the band or were lucky enough to see their live set, were left with no doubt the band were destined for a brighter future than many of their peers. Even though they managed to gain much coveted Radio 1 airplay from the likes of John Peel and Andy Kershaw, and the backing of the Waterloo Sunset Records, their popularity was never properly harnessed. Within three years they were gone, but not thankfully without leaving behind the tracks that are now available on this album.
The Reaction were of their time, with the potential to have progressed way beyond their revivalist image and following. They were unique in that they did not conform to everyone's idea of what a revivalist band of the time should be, whilst the likes of The Jam, Secret Affair and the Chords were all trying to push some 'angry young man' message, The Reaction were singing of a more idealistic world, a world of Sun, Surf and Sex and damned good at it they were too. If there is such a thing as reading between the musical lines then this is it. Listening to these tracks some 30 years after their inception – we cannot help but think 'what if'.
bandcamp
CD
SOLD OUT
Release Date: 12th January 2018