Search the Record Shop
Make Me Special (The Ultimate Collection 1987-1990) – Love Jungle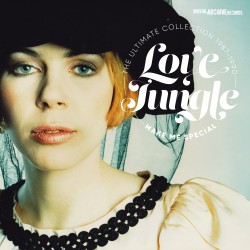 "Make Me Special" (The Ultimate Collection 1987-1990)
by Love Jungle
Released on CD and Digital Download 25th May 2018 via Bristol Archive Records
Love – definition: "a profoundly tender, passionate affection for another person; a feeling of warm personal attachment or deep affection; sexual passion or desire; a love affair." 
Jungle – definition: "a wild land overgrown with dense vegetation, often nearly impenetrable, especially tropical vegetation or a tropical rain forest."
Mix those two definitions together and you have a well-named band, Love Jungle. Finally, their work in the late 1980's and early 1990's is set to see the full light of day through the CD and online release of the 'Make Me Special' 21 songs album via Bristol Archive Records.
At the heart of this Bristol quartet was the creative and personal dynamic between guitarist, Neil Darby and singer/keyboardist, Angela Huggins, not an unusual thing in bands at the time. The likes of The Sundays, T'Pau, Skin Games and Eurythmics saw the musical mixed with romantic between the female singer and male guitarist (usually). Love Jungle had a small part of the elements in those acts, but had a lot, lot more to them.
 'Am I Good Enough?' is a question that many will have asked of themselves especially in the world of romance and relationships in general. It has a lush Echo and the Bunnymen era sound-bed topped by Huggins vaulting vocal pyrotechnics, producing a heady, whipped cream explosion. 
The journey through the late 1980's continues with the tougher, strident Cult evoking 'This Covenant'. Love Jungle show serious rock teeth here. In total contrast 'When I'm Gone' summons up something of a Sixties Phil Spector era 'wall of sound' theme and production in full folk opus mode, while the bitter-sweet summery pop vibe of 'Peace and Love' pulls apart some of the preconceptions in the phrase.  
Some more redemption can be found in the sparkling 'Holy Water', full of sonic textures and soaring vocal harmonies. This song was an example of a band stretching its' wings and exploring as many new possibilities as they could, a process they took forward in recordings made in studios in the Bath and Bristol area. 
'Make Me Special' is a sturdy body of work that shows off a talent from a satellite town near Bristol hacking its way through the steamy wastelands of hope, emotions, fun, disappointments and other experiences to a point of clarity and excitement. Delve in, it's worth the journey.
bandcamp
CD
Pre-Order
£8.00
Release Date: 25th May 2018