Search the Record Shop
JOSHUA MOSES – 'Africa (Is Our Land)' and 'Rise Up'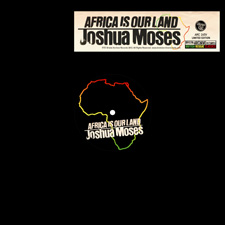 Two 12″ Vinyl singles released on 20th February 2012 Strictly Limited Editions
Bristol Archive Records are pleased to announce their first foray into the world of the reggae 12" single with a brace of releases from Bristol reggae legend Joshua Moses.
Both releases will be strictly limited to 800 copies worldwide and as well as a chance to purchase 'Africa (Is Our Land)' at a normal retail price this will probably be the only opportunity to obtain 'Rise Up/Rise Up Dub' as a physical release.
The first of the duo is 'Africa (Is Our Land)', originally released in 1978 on the More Cut label produced by Dennis Bovell it is now acknowledged as a classic slice of UK roots and on the rare occasions copies surface they regularly command over £100. We included the vocal side on 'The Bristol Reggae Explosion 1978-1983', now following numerous requests we've decided to issue it in its original format along with the original dub mix.
FORMAT - 12 "VINYL
Limited Edition 800 Copies Only
SOLD OUT
Release Africa (Is Our Land) / Home (Dub)
Released 20th February 2012
Cat No. ARC245V