Search the Record Shop
Darkwave The 80's (The Dark Side of Bristol) – Various Artists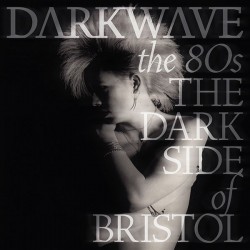 "Darkwave The 80's (The Dark Side of Bristol)"
by Various Artists
Released on Limited Edition CD – 25th June 2021 via Bristol Archive Records
Quentin Crisp going clubbing, Friar Tuck locked in a dancer's cage, an ageing man in yellow speedos on roller skates and a 70-year-old flashing her knickers whilst doing the Can Can on the dance floor! Members of the Cure, Bauhaus and Echo and the Bunnymen passing through and Bristol's beautifully preened punks waltzing to the Blue Danube by Strauss. All of these events and many more were happening at a club that was legendary and at the centre of a music scene that this compilation album represents.
The Bastille run by David Darling was a meeting point, party scene and the musical glue that tied these bands together. Bands that became internationally known such as Specimen and Claytown Troupe and others that made the Bristol scene an interesting and unique one. This album features Specimen, Claytown Troupe, Fear of Darkness, Necromancy, The Escape, The Royal Assassins, Ananda Maya, Temple, Exit Stance, Our Violet Hour, The Long March, Idiot Sideshow, Unity Station and Valve. It's an album that represents the darker side of Punk, Post Punk and then the scene that became known as Goth but represents the variety of musical influences and styles that were involved in those scenes.
This never before documented Bristol scene is acknowledged as having been a huge influence on Bristol's and the nations musical culture. Dedicated to the Bastille and its founder David Darling and with a sagely doff of the cap to music journalist Dave Massey (NME, Sounds) who supported and wrote about this scene in the mainstream and local music press at the time, this compilation presents the first overview of this scene. Another project instigated by Mike Darby and the wonderful Bristol Archive Records.
"Darkwave The 80's (The Dark Side of Bristol)" is released by Bristol Archive Records on Limited Edition CD on 25th June 2021, distributed by Shellshock and available from good retailers worldwide.
bandcamp
CD
£10.99
Release Date: 25th June 2021