Valve
Pulling Legs Off FliesARC157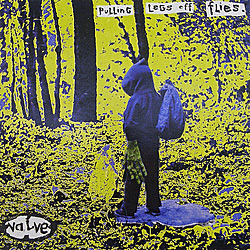 Featured Track

Pulling Legs Off Flies
Hunchback
This text will be replaced by the flash music player.
Drain My Will
Hunchback
Naive
Grow Your Hair
Fly Forever
Waiting for the Rain
Domination
Shrink
Play
Ride
Mosquito
All songs written and played by Hale, Holt, Waterson, Bennett.
Recorded on 8 Track by Matt Sampson 'The Pinball Lizard' at 'Bink Bonk', Bristol 1994.
Photo by Des
Original Artwork by Des, Rich, Paul, and Andy
Vocals and Guitar Paul Hale
Guitar Ben Bennett
Bass Paul Waterson
Drums Andy Holt