Uncle Po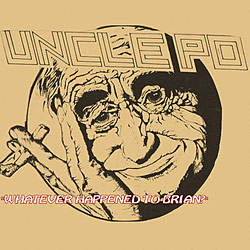 Featured Track

Uncle Po
What Ever Happened To Brian?
Worm In The Apple

Worm In The Apple (Andrew Wills / Rob Williams) demo
Men Tied Up (Gavin King) demo
Why Don't You Die? (Rob Williams) demo
Seonaid (Gavin King) live
Julie (Gavin King) live
A Night Back Home (Gavin King) demo
15 Minutes (Gavin King/Rob Williams) demo
2000 Years (Rob Williams) live
Like A Hammer (Rob Williams) live
Simple Simon (Rob Williams) live
Screw My Friends (Gavin King) demo
Night Night (Nanker/Phelge) demo
Speakeasy (gavin King) live
Tracks 1,2,3,6,7,11 & 12 recorded at Sound Conception, Bristol in September & December 1977.
Tracks 4,5,8,9,10 and 13 recorded live at The Lyceum, London on 12 April 1978 by the Rolling Stones Mobile Recording Unit.
Tracks 7 & 11 are demo versions of the 7" single released on Beeb Records (Beeb023) in March 1978 - track 11 was released under the title "Use My Friends".
Tracks 3,6 & 12 feature Steve Basher Barnnett on drums.
All other tracks feature Jimmer Hill on drums.

Gavin King - Vocals
Rob Williams - Guitar
Lyndon Parry - Bass, vocals
Andy Wills, sax, flute, vocals
Helen "Spike" Bevinngton - violin,keyboards

All tracks (except 12) are copyright and published by Uncle Po (MCPS/PRS).
Uncle Po was formed from the ashes of Bristol band Wispa in August 1976 with the joining of Gavin King on vocals to the line up of Rob Williams (guitar), Lyndon Parry (bass), Andy Wills (Sax and flute), Helen Spike Bevington (violins and keyboards) and Arrun Amun (drums). Drumming duties were soon taken over by Steve Basher Barnnett and later, Jimmer (Hill).
The band became very excited about the new energy in music which they were listening to - they ditched all their material, locked themselves away in the cellar rehearsal room (next to the dub room) in the Dockland Settlement for a few months, had a hair cut, and emerged as Uncle Po (NOT named after the famous Berlin club but after something far more nefarious and personal to the band).
During the band's existence form 1976 to 1978 they played almost 200 gigs all over the UK including many in London. Bristol venues played included Chutes, the Dockland Settlement, Bristol Poly and University.
Hungry for recognition they entered a Radio 1 Battle of the Bands competition (hosted by Alan Freeman!) and won - originally the prize was to record an album but this was dropped to a single (as the originator of the competition left Radio 1). The single "Use My Friends" (the Beeb rejected the original title "Screw mY Friends") c/w "15 Minutes" was finally realeased on the Beeb label in March 1978 (now rare as hen's teeth).
Undaunted by this, and supported by strong management from a close aide of Harvey Goldsmith, the band continued to record and play, establishing residencies at many of the London venues of the time - Dingwalls, the Red Cow plus prestige support slots at Wembley Empire and the Lyceum (where their set was recorded by the Rolling Stones Mobile).
After 2 years of playing endless gigs,starving to death etc the band decided to call it a day. Numerous demos and the live recording of the Lyceum gig have never been released until now.
Gavin went onto form Private Dicks (still going strong), Helen went to university and later joined Dexy's Midnight Runners on violin (aka Helen O'Hara), Jimmer and Lyndon joined Sneak Preview, Andy became involved in PA and lighting companies, Rob went onto to join The Fans, then later The Tropics, Tropical Hearts and Wise Children.
Next: Uncle Po Images