The Cortinas
Bristol band with an average age of 16. Chose the name Cortinas coz it sounded cheap and nasty!! Originally a r'n'b band but embraced the punk sound gruffing up the vocals and revving up the guitars. Two essential singles - Fascist Dictator / Television Families (1977) and Defiant Pose / Independence (1978). The future looked rosy supporting the likes of The Stranglers, Blondie and Chelsea etc and a good set list of songs including 'Gloria', 'Tokyo Joe' & Pose. Signed up for Step Forward by Ma 'Play It In The Subway' and other songs that were "gonna rate as classics in 1977" opined Steve Mick in Sniffing Glue 9.
However opinions at the time were divided about them and their commitment and they got some rough treatment in certain fanzines and the press which tended to focus unfairly on the way they looked. Signing to CBS was the death knell with an album and single that sank without trace. By then however they had already split up. Great band!
This whole Cortinas entry is comprised of a Q&A session with Dan Swan and Nick Shepherd from the Cortinas who kindly took time out to answer them:
How and when did the band form and who were the original members?
DW: The Cortinas formed in February/March 1976. The line up was always Jeremy Valentine (Vocals), Nick Sheppard (Guitar), Mike Fewings (Guitar), Dexter Dalwood (Bass), Daniel Swan (Drums). The line up never changed.

What was the average age?
DW: By the time we played our first shows in London in January 1977 our average age was 16.

What sort of music were you originally playing and the types of songs covered?
DW: We started off rehearsing 60's R&B and Garage Rock covers. I remember that the first song we played together was Bye Bye Johnny by Chuck Berry via early Rolling Stones. Soon after we added songs such as 96 tears (Questionmark and the Mysterions), I'll Go Crazy (James Brown), Brand New Cadilac (Vince Taylor) and Gloria (Them/Shadows of the Night).

NS: We had a great band intro during Gloria; everyone would be introduced as Johnny! "On bass - Johnny!" etc eventually Jer would wind up with "And my name is... Johnny!"

The choice of material before we started writing originals was very hip, and we had a very sharp image from the very beginning. Most of that was down to Jer - he definitely knew what he wanted. We all kicked in because we instinctively understood that it was time for a change.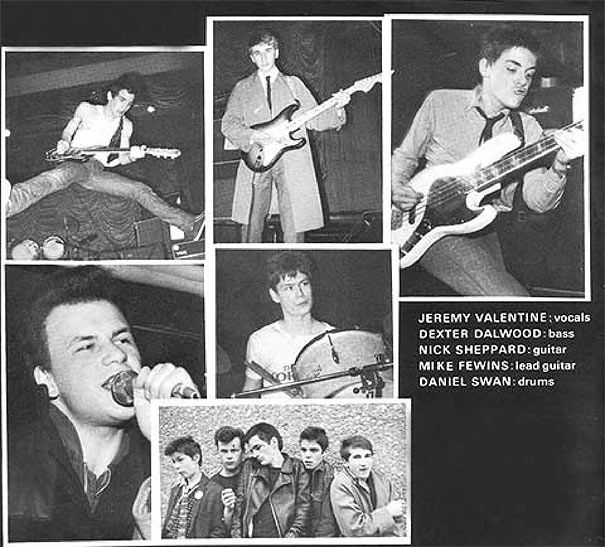 How did you first get into punk and how much did your sound change as a result of this? Was it a conscious sound and image change?

DS: We were all music fans and were listening to a pretty wide variety of stuff, but I would say that we got into punk through the familiar channels. In 1976 we passed around records by the New York Dolls, Modern Lovers, Stooges, Count Bishops, Eddie and the Hot Rods, the Ramones, John Cale, MC5, etc. We all read the music papers and heard about what was happening New York and London. Jeremy, Nick and Dexter all went up to London in the summer and autumn of 1976 to see bands such as The Stranglers and Ramones at the Roundhouse, the Sex Pistols at the 100 Club and The Clash at the ICA (you can clearly see Jeremy in the background of the famous Shawn McGowan ear biting incident photograph). By the summer of 1976 we started to wear ripped up, paint splattered clothes, funky sunglasses and introduced original material into our set. However, the first few months of our existence, when we were playing the pure 60's covers, were as much fun as anything that came after. Audiences were quite perplexed to see a band so young with short hair and suits. We were just as much a shock then as we were later. Like a lot of the musicians in London around the time, if you were playing fast paced R&B and listening to the records coming out of New York, you were a prime candidate for Punk Rock. It was a conscious decision to move in that direction in the middle of 1976.

NS: As I said before, it was time for a change. People of our age and disposition were searching out music that reflected how they felt. Dr Feelgood definitely inspired us initially, but things moved along very quickly, we soon started covering songs from the Nuggets compilation and 96 tears etc. We used to play Roadrunner and No Fun in rehearsals... For me the catalyst to write our own songs was the 4 July Ramones gig at the Roundhouse - for a start they were obviously into a lot of the same stuff as us BUT THEY WROTE THE SONGS! Also the crowd was full of PEOPLE THAT LOOKED LIKE US! You have to understand that, coming from Bristol in 1976, no one looked like us! Wearing straight trousers was a very definite statement of intent, and at that gig we realized that we were part of something big.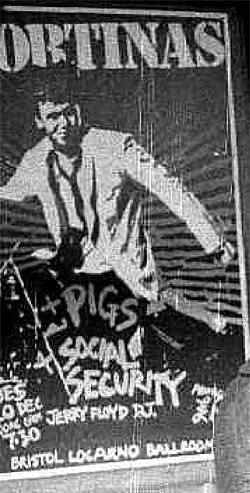 Was there a punk scene in Bristol i.e. the Pigs etc? What were the venues to play in Bristol and who were the other bands on the scene?
DS :There were us school kids and then a colourful gang of lads called "The Chaps" who discovered punk though the funk and "kit" scene. One of the chaps, Tim Williams, started Bristol's punk fanzine Loaded which came out in the early part of 1977. But in 1976 I don't recall any other punk bands in Bristol. The Cortinas started off playing schools, youth clubs and street fairs, then we moved into playing opening slots at clubs such as the Granary and Chutes.
NS: I think Dan's right - there were no other Punk bands in '76 - the scene started to grow through the last half of that year, and we were playing fairly often as I recall. Have a read of "Bovver" by Chris Brown; he talks about a few of the venues - I remember The BQ Club in St Pauls and Barton Hill Youth Club as the venues for the Punk bands that started to come through later - I think the Pop Group's first gig was at Barton Hill. They did a cover of "Pablo Picasso" by Jonathan Richmond. We all used to hang out at the Watershed Bar with the "The Chaps" as the bar manager would let us drink there, and we enjoyed the company of some of the hardest kids in Bristol; very handy when everyone wants to kick your head in!
How did you manage to mix playing in a band and going to school?
DS: I probably handled it the worst because the band started to take off as I was heading towards my O Levels and CSE exams. The others, who were mid-way through sixth form, managed it better and some of the band members picked up on their education after the band split up a year later. During the first six months of 1977, I would say that we did the maximum we could do with the band while still attending school.

NS: I completely lost interest in school in '77. Never stopped reading though... The punk scene we were involved in was not about being dumb. It was very sharp, very fast - an extension/development of the the Mod culture, I think.
Was supporting the Stranglers at the Roxy your big break?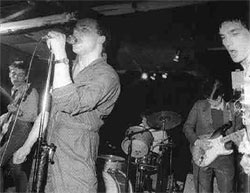 Cortinas live at the Roxy 77.
Photo - Erica Echenberg
DS: Yes, it was a real turning point and quite a fluke. A few months before, during the summer of 1976, Nick (the guitar player) had spotted Hugh Cornwall lounging in a park in Bristol. Nick had just recently gone up to London and seen the Stranglers at the Roundhouse with the Ramones, so he recognized him right away. Apparently, Hugh Cornwall had lived in Bristol a few years prior and regularly came back to visit old friends. Nick went up to Hugh and chatted for a while. He mentioned that he was in a punk band and asked if we could play a gig with the Stranglers. Not long after, a postcard arrived from Hugh saying "come and open for us the Roxy on the 22nd of January" (1977). After we performed that night at the Roxy we were immediately offered three more shows. Our only request was the show were on weekends as we were all still at school.
NS: My mum said as I left for the Stranglers gig , "Don't be too upset if they don't like you up in London"

The Roxy club must have been some eye opener as kids of around 16? What did you make of the place. The fashion, the people the sounds and the girls? Out of place or a giant playground?
DS: From my perspective as a fifteen year old, and in comparison to the hippy-rock venues and lout-filled discos of Bristol we had experienced, the Roxy seemed like a whole lot of fun! It certainly was just the basics and run in a very casual way by Andy Czezowski and his staff - very low pressure and informal. As we loaded our gear in late in the afternoon, Generation X, who had used the venue to rehearse in, loaded out. I remember looking in amazement and envy at their equipment, black leather outfits and died hair. As the club filled up that night it was apparent to us that we were a lot younger than most of the punters. It was pretty incredible to spot the faces of various punk band members hanging out the bar. We recognized them from their photos in the music papers we had been reading in the months prior. Before we went on that night I remember we were all shit scared, but with our nervous energy being bonus in a punk performance, we made it though. I remember Jeremy facing off some hecklers and lambasting the audience to a degree that there was a feeling we had stood our ground in spite of our young age.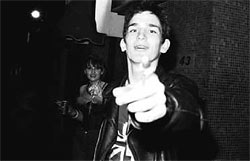 Nick and friend outside the Roxy
Photo - Dan Swan
NS:The Roxy was fantastic at first! Everyone was very friendly and into the whole scene. No Posers, no hierarchy, all inclusive - brilliant! Unlike Dan, I never recognized anyone. Occasionally I would be informed that I had just been blithering on to someone from the London inner caucus so to speak, but everyone was really unpretentious and very cool! That all changed fairly quickly as some peoples Pop Star fantasies started to come true...
A lot of people make a big deal out of the fact that Don Lets introduced Reggae to the Punk scene; Coming from Bristol we were already well into all of that. It was good music to play though...
The only beer on Tap was some foul lager; undrinkable, so everyone ordered Lager and Black. I remember the Saints looking on in shock as we all ordered what they obviously considered a poofters drink.
Out of interest can you remember anything of the Stranglers Roxy gig. After you left, the place got robbed.
DS: We were in my Dad's van on the M4 on the way back to Bristol when that happened. We just read about it in the music papers afterwards.
How did it differ from playing clubs in Bristol? Attitude, type of audience reaction etc.
DS: In Bristol by late 1976 there were no punk venues per se. But when we played gigs we brought in a large crowd of mainly school friends who were all in a very innocent way experimenting with the punk rock look. At the Roxy the crowed was a mixture of scenesters and musicians who had been in the punk scene a while and a certain number of people new to the game who were trying to figure out how to act "Punk." Some of them were acting and dressing demented, some pissing on the floor and some yelling abuse at the band. I remember being quite shocked that people were openly taking drugs at the Roxy as I had naively assumed that the Punk scene was anti-hippy and therefore not about drug taking.
NS: The Roxy was the first place I remember seeing the whole "Part Time Punk" thing; people trying very hard to be what they thought Punk was. Dumb - you can't try and be something, you either are or your not - you get it or you don't. It was also the first place we started to meet older people that were into the scene and understood it's wider ramifications; obviously a lot of these people (but not all) worked in the record industry.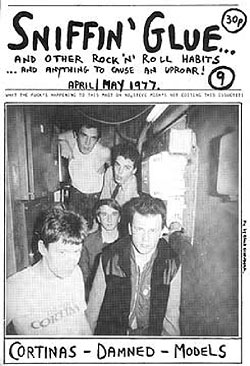 Who did you rate and who did you think was pants on the scene?
DS: I liked Dr Feelgood in 1976. But by 1977 things got a little more complicated because of the hype surrounding bands. By the time you saw them it was hard to separate the hype from the experience of seeing them. Having said that I saw some terrific shows by the Clash, the Damned the Jam etc. I think collectively the Cortinas felt that our friends from Bristol, the Pop Group, were "the pants." This was a little later and more post-punk than punk, but they really took things in another direction and we had a lot of admiration for what they did. But that all started to happen for them just as we broke up.
NS: The Clash were the band that blew me away - I can still vividly remember the first time I listened to their first album. Quite fortunate really... Things started to get polarized very quickly; cartoon Punk bands like Sham 69 turned up, as did the first of the post punk bands, new wave bands, power pop bands, Mod bands, Oi bands. A new genre every week...
How did you cope with gobbing and violence at gigs? What was the worst places for it? London or outside?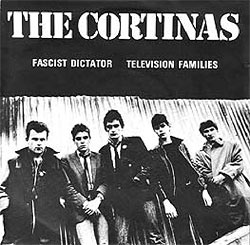 DS: I still have my drum set from that time in my parents attic an there is a wad of gob still on the rim of my tom tom that got baked on by stage lights! Probably need a hammer and chisel to get it off. But I was the drummer way at the back and I was the last to get hit. A couple of the others have stories of gob landing in their mouths as they were singing. I can assure you that there is no experience more bizarre than watching someone walk up to the stage as you are playing, hone in on you and fire a wad of spit atyou. All as a sign of appreciation! Some nights it was like the first twenty minutes of Saving Private Ryan, only with spit! I think the Electric Circus in Manchester gave the Cortinas the highest gob ratio of any venue.
NS: I still have a scar on my forehead from a gig we did in Southville, a really rough part of town, the week after the Grundy thing. We were massacred!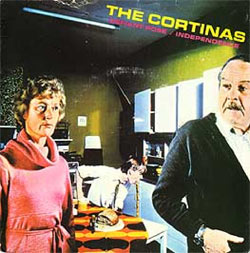 How did you get the deal with Step Forward? Was it based on your performances after playing the Roxy? Did you get any money from them? What was the support for the band like from them.
DS: Yes, it was all based on Miles Copeland and Mark P. seeing us at the Roxy. But we also had an offer from Jake Riviera at Stiff Records. I still have his letter offering us a record deal. We went with Miles and Mark P. at Step Forward and recorded at Polydor Studios in March 1977. They put us up in a hotel during the recording of the first single and later Miles showed us a great deal of support and enthusiasm. He put us up at his home many times. We used to enjoy hanging out at the Step Forward offices at Dryden Chambers with the staff and other bands (Chelsea, Sham 69, Squeeze, Menace, etc.). I remember only one royalty check for sixty pounds from Step Forward.
You did two classic punk rock singles - Fascist Dictator and Defiant Pose. How well did they sell and looking back what do you think of them now?
DS: I have an idea that they both sold quite well, certainly as much as some of the other singles in the second wave of punk bands at that time. I am proud of our first two singles and I enjoy listening to them today. We could tell when we recorded them that they were pretty damn good. Not bad for a bunch of schoolboys from Bristol.
NS: I think our second single is the best thing we released and our first single is an amazing achievement for such a young band. They are, as you say, classic Punk Rock.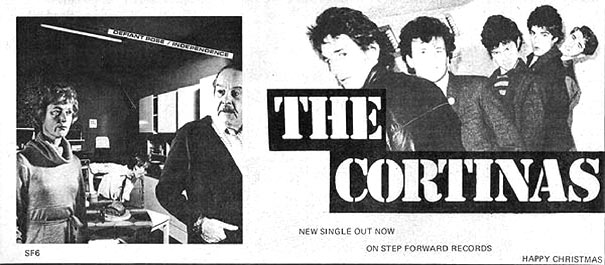 Tony Parsons gave you a bit of a hard time in NME for the lyrical content of fascist Dictator. What did you make of that?
DS: I don't remember there being too much confusion over the fact that the song was about an arsehole boyfriend, the type of jerk who got all the girls back in Bristol in those days. Tony Parsons had a point that we were playing fast and loose with an incendiary word, but that's the role of a journalist. God knows there were some bands saying some bizarre stuff back in those days so someone had to call them on it. I recall that he gave some other bands a lot harder time than he did us.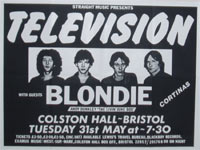 NS: Tony Parsons came down to Bristol to review the Television/Blondie gig we played on, and to interview us. He was speeding out of is head and a total wanker. He had decided to slag Television and heap praise on Blondie; not because he thought Blondie were great, but because everyone else had done the opposite! He then went back to London and slagged us off for living in roads that had trees in them - not "Punk" enough apparently. Wanker! PUNK IS NOT A STEREOTYPE! Look at the bill we were supporting - how different could two bands be?
You did a cracking John Peel session with some great versions of your songs. What do you remember of it?
DS: We had a great time. We couldn't believe our luck. John Peel liked us! That was a real high point for us. I remember a great deal about it. Big studios full of music stands for orchestras. We set up our tatty little equipment at one and blasted through 4 songs and then left. The soul group The Real Thing were recording next door and we chatted to them in the hallway. Very nice blokes as it turned out. I remember that the John Peel session aired the night before we started our summer tour with Chelsea and was quite a morale booster.
NS: I don't remember a thing...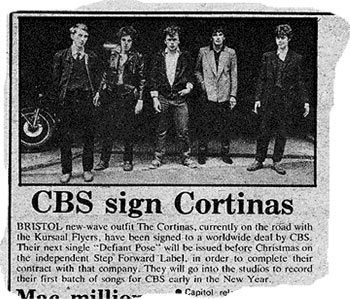 How did you come to get the deal with CBS?
DS: don't remember too much. Mumblings of what labels were interested in us. I don't think Miles Copeland wanted to put out albums on Step Forward. Since we had all quit or finished school, we needed some money to live on so it sounded like the right move. Also, the Clash were with CBS (in the Epic division) which was probably alluring to us.
NS: I imagine Miles needed some money to live on too...I remember signing the contract at Soho Square. Ellie, the head of press, had some Clash pants, which I thought was dead cool. They gave us the run of CBS' back catalogue, thinking we'd only pick out a couple of things, and were quite perplexed when we started asking for the entire Miles Davis collection!
Were there any punkier tunes that you used to play that you dropped?
DS: Yes, quite a few. I have demos and a live tape from the summer of 1977 and we dropped a lot of songs after that period. We probably thought that they were hastily written and perhaps a bit formulaic punk songs. We wanted to do better. I have often wondered what sort of an album we would have made if it had been recorded in the middle of 1977!
NS: There were also a lot that we didn't. We still had the fire and anger that made us a punk band; we just started to write songs that had stronger rhythms, and were more melodic. I think we dropped old songs that were inferior to the new ones for that reason alone.
How well did the records do with CBS and what was the difference being on a large label. Did they support you?
DS: We broke up long before anything came out on CBS and I have no idea how many records they sold. CBS did not support us, in fact they actively blocked us. I remember that they refused to release the album because they didn't hear a "hit single". We were completely flabbergasted by this! We could not understand why they signed this quirky, teenage Bristolian punk band and expected a hit single! It was this round of frustration with CBS coupled with our disappointment in the production of the album we had just made that finally led to us calling it quits. There were probably some other frustrations contributing to our break up. We were pretty miserable with the state of things but we did not fall out as friends. Miles Copeland managed to get us to reform for a show in London and Bristol when the album came out a couple of months later. We dutifully did the shows but we had no intention of reforming.
NS: No discussion before we recorded. No idea of what we wanted to do. No input at all. They were useless really. Miles was no better. It was as if signing to CBS was an end in itself. They really had nothing much to do with us.
Looking back how do you rate True Romances. A very different version of Higher Education from your John Peel session on it? Cover by Hipgnosis who did the Pink Floyd sleeves. A record company decision?
DS: I tend to look at True Romances as a post punk record. It was recorded in 1978 and reflected our desire to make our music a little more complex and lyrical. We were trying to present songs of teen frustration and angst in a relatively intelligent and tuneful way. As I mentioned earlier, there was enormous pressure at the time for bands to branch out and build from being scrappy little punk bands. The album could have been more fun to make. The producer was not the right choice and I think it clouded the recording sessions right from the start. This may sound weird, but I think in a way it was quite ballsy of us to strike out in that direction when we could have played it safe. For many years hearing the album would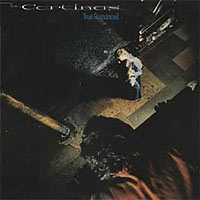 remind me of the sad and frustrating last few months of the Cortinas, but I have since been able to appreciate it for it's own merits. When you consider we were 16 and 17, the writing and the playing on the album is pretty good. I just think most people judged the album on the clothes we were wearing on the band shot on the back, for which my outfit was the greatest violation! I'll never live that one down.
NS: Miles chose the producer - he owed him money! He was totally wrong for us. We did some recording with Will Birch from the Kursals. He was far more sympathetic to what we wanted to do, really inventive and artistically involved as a producer. We needed to make a record, not just record our live set. We knew this, but couldn't articulate our ideas and didn't have the technical know how to do it ourselves. Hipgnosis also did the defiant Pose cover for Step Forward - our choice. We wanted to stress the ordinary-ness of our True Romances. That's why the kid leaning out of the window on the back cover isn't a punk.
I think there are great songs on that record recorded really badly - something that happened later on with another record I was involved with...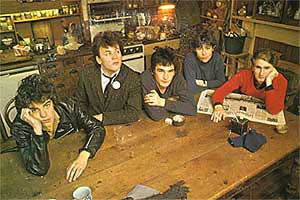 You seemed to undergo both an image and sound transformation. Were you pressurized to do this or was it a conscious decision to get out of punk the sinking ship.
DS: Looking back over the photos I have of us I can see that our look and image was always changing. We went from 60's suits to paint splattered clothes and then to a mixture of individual styles. Jeremy the singer would often wear a flight suit and a Ford factory worker donkey jacket, and the rest of us wore homemade t-shirts or things picked up the Oxfam shop. Mike the guitarist took to wearing a raincoat on stage with a suit underneath, Nick normally wore something stylish like string vest that would not hinder his incredible stage moves and Dexter and I would paint our own t-shirts. We were all school kids and did not have the money for clothing from the Kings Road boutiques so we had to be creative with what we had. By the middle of 1977 we had streamlined our look to simpler black and white shirts and jeans, and from the autumn into 1978 we got more colourful as we attempted a more melodic direction with our music.
NS: The whole scene got boring and stale. We had to try and find a way out. I think we figured out what we should do, and were right in our direction. However, no one around us understood what we were trying to do, and we were too young to articulate our ideas sufficiently. CBS signed a "Punk" band - not The Cortinas.
How did you think punk had changed?
DS: By the end of 1977 it felt like the whole scene had giant hangover and there was a feeling of "what are we going to do now." New bands were emerging not quite so shackled to the punk tag. We were also more in the presence of the rock establishment which seemed to delight in the fact that things had hit a tipping point and we would all be struggling for relevance. We were not one of those bands that could have morphed into an Oi band or a hardcore band. We hit a juncture and had to find a new direction. The euphoria of the punk movement felt like it was gone and it just felt like we were back to the same old music business again. Had we known that punk would become a profitable genre of music (for some) rather than an agent for change, we may have stuck with it. However, you have to understand there was a lot of pressure at that time for bands to develop beyond the initial eruption of punk. If you play the flip side of Defiant Pose, Independence, you can see where we were heading at the end of 1977.
NS: Punk became Sham '69
How was reaction to you from audiences after you changed?
DS: We probably started introducing some of the songs that ended up on the album during our tour with the Kursal Flyers in October 1977. However, there was no definable point where the band "changed" we just tweaked our set list and slowly developed our look. I remember that we continued to go down well as a live band.
NS: I remember some kids at the Nashville asking me why I was wearing bright blue pegs instead of leather strides. I remember Miles asking me the same thing. As Dan says, we gradually evolved as a band, and had we made a good album, that evolution would have made sense. Kim Turner, who basically produced the Defiant Pose single, had a good understanding of what we could do, and would have also been a useful person to have around, but he was working with Mark P by then. He ended up working for the Police.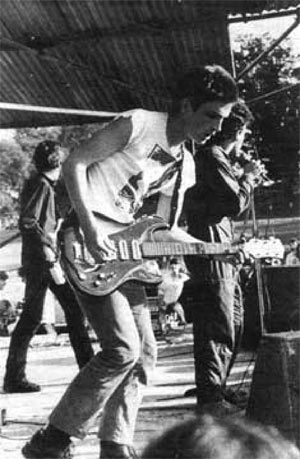 Ashton Court Festival 1977
Best experiences/worst experiences times question in the Cortinas?
DS: I remember in June 1977 we had our first headlining show at the Marquee Club. Other than the Roxy and some opening shows, this was our first time in a legitimate London rock club. After soundcheck we came back to the club to find a long line of people waiting to get in. We could not believe it. A whole load of our friends from Bristol had hired a coach and driven up that day to see us. That was a very enjoyable show.
NS: I remember a great night at The Roxy after we had finished recording Fascist Dictator. A brilliant week in Paris playing at Gibus Nightclub. Staying at some weird guys house in Leeds a couple of times and getting incredibly stoned. We had a great time pretty much all of the time. I feel very lucky to have been part of the whole Punk experience. I still draw on it ...
DS: I can think of some bad experiences, getting beaten up, spat on, all sorts of objects and fluids thrown at the stage, being put down by other musicians. However, when I look back at the photographs I have of us at that time, we just looked like we were having the time or our lives.
NS: Breaking up was pretty crap; it was sad to realize that some of us had lost belief in the band. Rehearsing for the two shows we did to support the albums release was also pretty depressing, although the shows I remember as really good!
How did it all end for the Cortinas?
DS: We broke up in June 1978 for reasons listed above.
Looking back how do you rate the Cortinas contribution to what became known as punk rock?
DS: Mojo Magazine did a countdown of British punk singles from the late 70's a few years ago and they put Fascist Dictator at 64th. We make into some retrospective books on that era and not others. I like to think that the Bristol music scene improved a lot after we did our thing and people saw what was possible. All of our friends started up groups because of punk rock and some of those groups were really good. Things only got more interesting in Bristol during the post punk period. It's hard to gauge what our contribution was. I hope that our unlikely successes in 1977 were an inspiration to some.
NS: Well obviously we are directly responsible for the whole Trip Hop/Bristol scene! Word! Seriously, we were the first of many bands to come out of Bristol, and I think being first counts for something - it proved it could be done.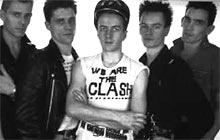 Nick in some little known band
that I can't remember
Are you still involved in music?
DS: Yes. I left Bristol a few years after the Cortinas split and after living in some far flung places I came to San Francisco where I eventually ended up playing in the indie pop group the Sneetches who released records in England on the Creation Label. I ended up working as an assistant at a small management firm in the San Francisco bay area who handled Green Day (during the initial part of their major label success) and also did work for the Muffs, Rancid, Offspring and Jawbreaker. I never thought I have anything to do with a punk scene again, but there I was! I now run a music booking agency and still play drums in bands here and there.
NS: Yes - I think most of my moves are fairly well documented. I moved to Australia in '94 and kept playing over here. I also DJ (doesn't everyone?). I recently arranged the music for "Gabba Gabba Hey" a musical using Ramones songs, and played in the band for the performances in Perth.
Credit: punk77.co.uk
Next: The Cortinas Press Cuttings