Spasmodics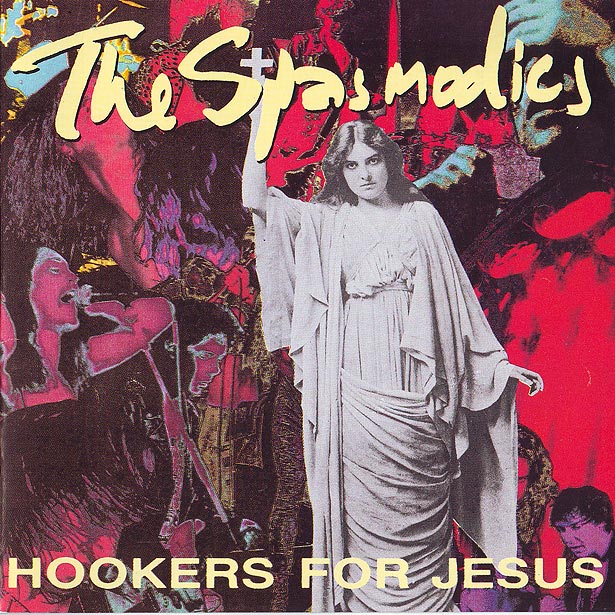 Featured Track
Spasmodics
Hookers for Jesus
Rite Of Exit
This text will be replaced by the flash music player.
Intro / Beautiful High (Live)
Rite of Exit (Live)
All Good Children (Live)
Hookers for Jesus (Live)
Ayami (Live)
Firewalk With Me (Live)
Come Around (Live)
Dark Night of My Soul (Live)
Kill the Past (Live)
Recorded live at Moles Club and Studio Bath June 1991
Released 1992 on Moles Records International
Published by Moles Music 2000 Ltd
Produced and Engineered by Mike Long with Pete Giles, Simon Flynn and Steve Watson
Vocals: Simon Flynn
Guitar: Pete Giles
Guitar: Steve Powell
Bass: Snoopy 'the happy shopper'
Mark 'the doc' Underhill - Hammond, Elka and Rhodes
Madonna - Skins and lips
Spasmodics History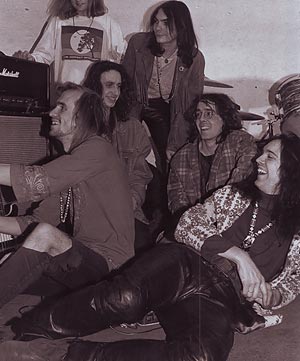 Formed in Bristol in the summer of 1989 by ex Gods Of Panic frontman Simon Flynn, The Spasmodics early live shows were blistering sonic assaults of wah-wah laden frenzied guitar noise with a lightshow to match. Early tracks included Instant Zen, Elvis Is Dead and Beautiful High. With influences ranging from Sixties garage right up to Spacemen 3 and Loop, the songs were riff driven with the emphasis on freak-out!! The band played regularly around the Bristol circuit and managed a few good supports to The Seers and The Moonflowers at this time, building a decent local following and a good few reviews in Venue.
By the summer of 1990 the band had added Donna to the line up on Farfisa organ, which had added a new dimension to the sound. The original drummer and bassist had been replaced by Darren Price, ex of the Groove Farm, on drums and Steve 'Snoopy' Taylor on bass. With their debut Ashton Court festival appearance beckoning, guitarist Simon Price headed off on holiday for 3 months! So Steve 'Nobbly' Powell was brought in to fill the gap, and with his wild-man antics on stage of guitar smashing and flailing arms it was decided that he should stay on as guitarist upon Simons return. This caused some problems as Steve and Simon shared a house together! Luckily it worked out for the best as Simon was able to form The Heads and the rest, as they say, is history! The remainder of the year was spent writing and recording the first demo in PIJ studios and playing gigs around Bristol and Bath, tightening musically along the way. New songs at this time included Beatitude, All Good Children and Fire Walk With Me.
1991 brought more line-up changes as Donna was replaced on keyboards by Mark 'The Doc' Underhill, ex of local faves The Ron Squad. Lead guitarist Dave left to join The Heads and so Pete Giles, ex of The Delegates, arrived to complete the line up on demento guitar!! It was with this line up that the band went from strength to strength. "It's sexual. Everything we do is sexual" pronounced bassist Snoopy in a Venue interview, who in turn described the band as "absolutelybleedingphenomenal" and a "Total Sonic Orgasm" They opened for The Manic Street Preachers, Bevis Frond, Sonic Boom and Thee Hypnotics. Now with a large following, the band spread their wings and played in London, Oxford, Bath, Exeter, Cirencester and Bridgwater. Finally a deal was set and a live album was to be recorded at Moles in Bath for release on the new Moles Records label. The band bused over a load of fans to the gig which was recorded and a great night was had by all!! The band also created a Bristol first by opening for the Doors movie at the Odeon on Union Street and raised a few eyebrows when they tried to set fire to the drummers' cymbals at the end of the set! What with a trail of broken guitars, microphones and pyrotechnic incidents, including the Fleece incident which made the local press, the band had caused quite a stir on their travels which resulted in them being banned from more venues than The Sex Pistols ever managed! Summer 91 saw the band appear on local TV for the first time and a headlining spot at that years' Ashton Court festival, complete with blood red smoke and helicopter sounds!
1992 brought more gigs and the continuing question of "when's the album coming out?" Hookers For Jesus had been delayed for well over 6 months for reasons unknown, but it eventually appeared in the spring of 92 to good reviews from Venue and Kerrang. John Peel played tracks from it and the band had a spot on national TV for the first time. EMI had been showing an interest in the band for quite a while, hoping for a new British band to rival the success of Guns N' Roses and the emerging US grunge scene. Little did they know that when the band drove to Warwick University in May 92 that they would meet their nemesis! For the support band that night had also had a lot of EMI interest and it was said that a record deal was in the offing for one of them. They were a 5 piece band from Oxford, lead by a singer with a bleach blonde mop of hair, who called themselves Radiohead!! It wasn't long after that gig that they had the deal and the rest is.......!! So with that disappointment the band headed off to France for a few dates and had a memorable time on tour! This proved to be The Spasmodics' swan song though, as upon return to Bristol the band slowly fell apart, with stress, money, drugs, and musical differences all being cited as reasons. All the clichés really!
By the autumn of 1992 the band had called it a day and gone their seperate ways. The various ex members have been involved in a lot of musical projects since, although none of them have really matched the summer of 91 and the great times we all had togethers!
Stephen Powell